Potential presidential candidate George Goh's 'non-establishment credentials' could be seen as 'no strings attached': Analysts
Entrepreneur George Goh - the second person to announce an intention to run for the Singapore presidency - has highlighted his lack of political party affiliations or political baggage.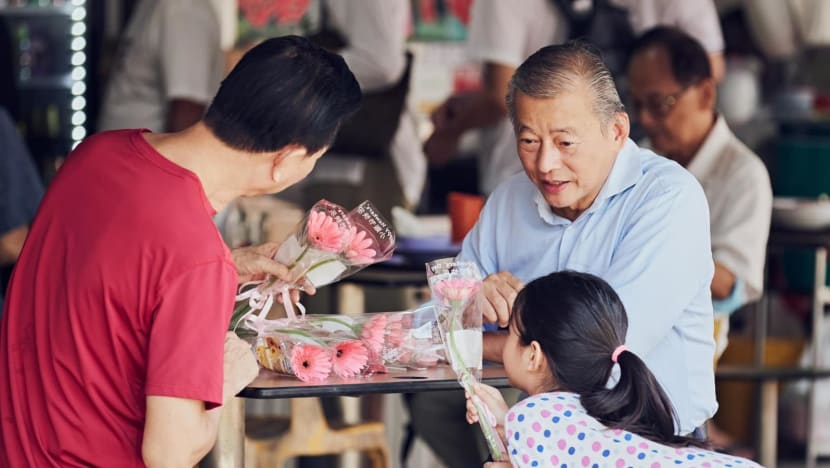 SINGAPORE: From his lack of political affiliation to vast private sector experience, it is "not surprising" that George Goh has chosen to highlight his "non-establishment credentials" in announcing his intention to run for the Singapore presidency against Senior Minister Tharman Shanmugaratnam, political observers told CNA on Monday (Jun 12). 
Mr Goh, a 63-year-old businessman and founder of Harvey Norman Ossia, on Monday became the second person to step forward after Mr Tharman announced his intention to run last Thursday. 
A statement from Mr Goh's media team said he will contest in the Presidential Election as an "independent candidate". 
"He has no political party affiliations - past or present. He has no political baggage. He was never in the public sector. He is an entrepreneur who started working at the age of 16, and has since built a business empire spanning 14 countries," it said. 
Pointing out that Mr Goh "obviously knows" that Mr Tharman is from the establishment, Singapore Management University's (SMU) law don Eugene Tan said Mr Goh has thus flagged his own "non-establishment credentials". 
"The idea that someone like him who has to be exercising certain custodial powers would be in a better position than someone who had been closely allied with the government … is going to be his key point," he said. 
"That he's someone who is better suited for the job because he will come with no baggage … he doesn't come with any preconceived ideas about the government; (he wants) to do right. Essentially, saying that he's in a better position to exercise the powers without fear or favour." 
Since Mr Tharman announced his intention to run for presidency, he has sought to address any concerns about his political affiliation with respect to the Elected President's role. 
Mr Tharman told reporters on Sunday that he would not be on the same team as the government if elected as president. Using a sports analogy, he said that "if anything, I'll be a referee".
Mr Tharman submitted his resignation letter to Prime Minister Lee Hsien Loong on Thursday, informing him of his intention to run.
In his response, Mr Lee said he was confident that Mr Tharman would carry out the presidential duties "scrupulously and with the independence of mind you have always displayed" should he be elected. 
Potential candidates who wish to run in the Presidential Election can apply for a Certificate of Eligibility from Tuesday. This is the first step in order to enter the presidential race. Prospective candidates must also submit a community declaration.
Mr Goh and Mr Tharman are currently the only candidates who have announced an intention to run for the election.
Media reports previously said the Presidential Election must be held by Sep 13, when President Halimah Yacob's term ends. The Elections Department (ELD) clarified on Monday that the election may be held at any time from Jun 13, and if it has not been held by the expiration of the term of the incumbent President, it should be held shortly after. 
PRIVATE SECTOR BACKGROUND
Political observers also highlighted Mr Goh's "palpable rich private sector experience" as a way of illustrating his "independent-mindedness". 
Assoc Prof Tan said Mr Goh uses his private sector experience to "contrast himself to Mr Tharman", who has "arguably spent his entire career in the public service". 
Mr Tharman, an economics graduate, spent most of his earlier professional career at the Monetary Authority of Singapore before he was first elected Member of Parliament (MP) in 2001 in Jurong GRC. 
He has been Senior Minister since May 2019, after serving for several years as Deputy Prime Minister, Finance Minister and Education Minister. He is currently also Coordinating Minister for Social Policies and advises the Prime Minister on economic policies. 
On the other hand, Mr Goh has, over 40 years as a business owner, incorporated more than 100 companies in multiple industries and owned companies like Ossia International, Harvey Norman and World of Sports, according to his website. He brought Australian electronics store Harvey Norman to Asia. 
While these attributes differentiate the two presidential hopefuls, Assoc Prof Tan said, "more pointedly, these are the attributes that (Mr Goh believes) will enable him to be more suitable to be elected President".
Dr Woo Jun Jie, a senior research fellow at the Institute of Policy Studies (IPS), added that as a potential private sector candidate, Mr Goh "may appeal to voters who prefer a candidate who is not linked to the establishment and who has more experience in business and industry". 
Echoing these sentiments, Nanyang Technological University's (NTU) political analyst Felix Tan said some might see Mr Goh's private sector experience as "no strings attached", which means "there is no affiliation to a particular political party".
This, Dr Tan said, leaves Singaporeans with a choice – that "there is another candidate not associated, yet again, with the People's Action Party or any other political party".  
"So this person comes from a neutral perspective – or so one would hope anyway." 
Noting that voters "know the government will not change" in leadership, Dr Mustafa Izzuddin, senior international affairs analyst at Solaris Strategies Singapore, said they may be "more amenable" to vote differently than in a General Election. Some may also engage in "protest voting to express their displeasure towards the government". 
"That said, voters may not just cast a ballot for someone who is not from the government as that person must prove he is worthy of their vote based on his credentials - the fact that the criteria is stringent for those from the private sector means that if the person is eligible, he is a man of calibre," he added. 
"Just because a candidate is from the establishment does not mean he is at a disadvantage, because if he can illustrate his independent-mindedness, he will capture the vote as his other credentials are impeccable." 
Mr Goh's upbringing may also be a differentiating factor. While the two potential candidates "are very strong in terms of economic experiences", Dr Tan noted they come from "very vastly different backgrounds". 
He recalled Mr Goh's personal story of how he "struggled from young all the way to being part of Harvey Norman". 
According to Mr Goh's personal website, his childhood was marked by poverty. At 16, he dropped out of school and came to Singapore to work in a shoe factory. He then set up his first business in shoemaking at the age of 22.
NEED TO PASS QUALIFYING CRITERIA, GAIN MORE SUPPORT 
But some political observers cautioned against assuming there would even be a contest, given the stringent qualifying criteria.
One of the criteria states that the prospective candidate must have held a senior public office or helmed a company that has at least S$500 million (US$370 million) in shareholders' equity for at least three years.
On their own, none of Mr Goh's companies meet the mark. However, a press statement from his media team said that his companies have, over the last 40 years, a collective market capitalisation value of S$3.15 billion.
"I'm a bit concerned that Mr Goh's announcement (to run for president) is making us get ahead of ourselves, because it's still unclear whether he clearly qualifies," said SMU's Assoc Prof Tan, adding that he should "clearly specify" why he believes he is eligible. 
"I suppose he's going to try to make the case that all the companies that he leads amount to S$3 billion in capitalisation, so that would be as good as or even better than running a company with (at least) S$500 million in shareholders' equity." 
People may get "very antsy" if Mr Goh doesn't qualify, as "there is a lot of pent-up anticipation on being able to vote", he added. "(They) may wonder if there is a larger conspiracy to engineer another walkover."
Singapore's last contested Presidential Election was in 2011. The 2017 election was a reserved election, in which only members of the Malay community were allowed to contest. Mdm Halimah was named President after other potential candidates failed to qualify.
But if all goes well, NTU's Dr Tan added that voters would "finally" be able to vote in a Presidential Election.
"You need the buy-in from the people, and that is very important. If our experiences have shown from the last situation where there was a walkover, I think certain segments of Singaporeans have been left rather disgruntled by the fact that they didn't have a choice," said Dr Tan. 
"It's very important to have Singaporeans make that decision, whoever the candidates are." 
Should he qualify, Mr Goh would need to do "a lot more" to "galvanise support for his candidacy", added Dr Tan.
Political observers had previously told CNA that the Mr Tharman was a "strong" contender, wielding considerable heft domestically and internationally. 
"George Goh is a little less well known amongst Singaporeans ... That could be a drawback somewhat because ... the vast majority of Singaporeans might not know who he is," said Dr Tan.
Nonetheless, "the very specific roles of the elected presidency means that regardless of whether they come from the public or private sector, all candidates will need to convince voters that they are the best candidate to play these roles", added IPS' Dr Woo.
"Namely, having a custodian role over the reserves as well as having an oversight over key public sector appointments."