Plus flats' 10-year minimum occupation rule aims to balance owner occupation and flexibility to move: MND
Minister for National Development Desmond Lee was responding to a parliamentary question on whether the minimum occupation period (MOP) can be shorter than 10 years for the new Plus flats.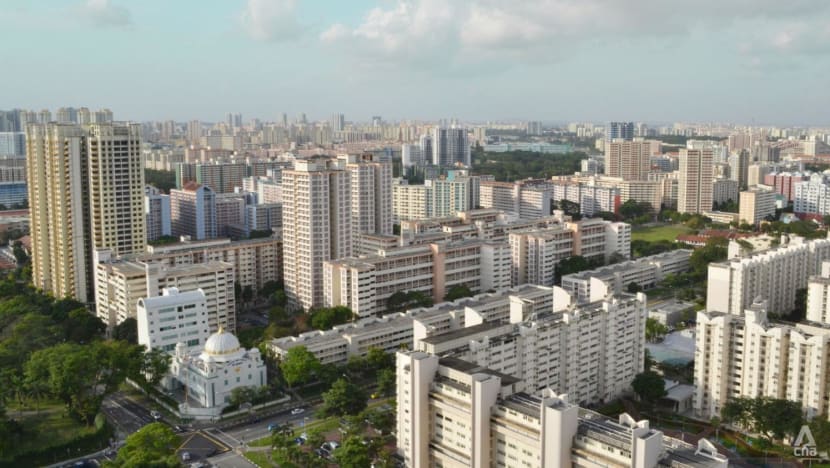 SINGAPORE: A minimum occupation period (MOP) of 10 years for new Plus Housing Board (HDB) flats seeks to strike a balance between strengthening the intent for owner occupation and giving home owners the flexibility of moving home for genuine reasons, said Minister for National Development Desmond Lee on Monday (Sep 18).
Speaking in parliament, Mr Lee said that in the Forward Singapore housing conversations, many Singaporeans supported imposing a longer MOP because they felt that HDB flats should primarily be for owner occupation.
The vast majority of HDB flats come with a five-year MOP, but most Singaporean households stay in their flat for 10 years or more before selling it, said Mr Lee in response to parliamentary questions about the new flat category.
"For those who genuinely need to move out before the end of their MOP, HDB will assess their appeal on a case-by-case basis," he added.
He was replying to MP Xie Yao Quan (PAP-Jurong), who asked whether Plus flats can come with a MOP shorter than 10 years. Mr Xie's question was among several posed to Mr Lee about a new framework for new public housing flats first announced at the National Day Rally last month.
From the second half of 2024, Build-to-Order (BTO) projects will be offered under Standard, Plus, or Prime models rather than whether they are in mature estates or non-mature estates.
Under the new framework, Standard flats are public housing flats built all over Singapore with HDB's standard subsidies and standard restrictions, including a five-year MOP.
Plus flats are in choicer locations within a region and will have more subsidies and tighter restrictions than Standard flats. Prime flats are in the choicest and most central locations of Singapore, and will have the most subsidies and tightest restrictions.
Plus and Prime flats both have 10-year MOP and are subject to an income ceiling at resale. First owners will also face a clawback of the additional subsidies given by the government. They will not be able to rent out their whole flat at any time.
This is to ensure that these flats are for owner occupation and not for speculative investment or rental yield, said Mr Lee.
Mr Lee said that the Ministry of National Development (MND) has heard many suggestions during its engagements with citizens. One suggestion was to impose a hard price cap on Prime and Plus flats.
But setting a hard cap can be "distortionary", as prices may not fully reflect the attributes of the flats, he said. Instead, the ministry's approach is to provide additional subsidies on top of the market discounts provided for Standard flats, to make the Prime and Plus flats more affordable to a wider range of incomes.
On top of these discounts, MND provides progressive grants to eligible first-time home buyers to provide more support to those who need it most, said Mr Lee.
Answering questions about how the new framework helps to maintain a good social mix in HDB estates, Mr Lee said that there will be a variety of flat types across Prime and Plus projects, to meet the different budgets and needs of Singaporeans.
To ensure that neighbourhoods remain inclusive, MND will continue to build rental flats in integrated blocks where possible, including in future Prime and Plus projects.
This was the case for River Peaks I, the first Prime Location Public Housing project launched in November 2021, he said.
"Some have asked if this new framework might cause our society to stratify further. In fact, on the contrary, this new framework seeks to achieve quite the opposite.
"Without the new framework, flats in choice locations will likely become more expensive and out of reach for many Singaporeans over time," said Mr Lee.
FISCAL IMPACT
Mr Xie asked how much more the government expects to spend each year on housing subsidies and grants to support home ownership, while Leader of the Opposition Pritam Singh asked about the anticipated fiscal impact arising from additional taxpayer subsidies extended to Prime and Plus HDB flats.

Mr Lee said that in FY2021/22, HDB recorded a deficit of around S$3.85 billion (US$2.83 billion) in its Homeownership Programme. Over the same period, HDB also disbursed S$372 million in grants for flats purchased directly from HDB and S$849 million in grants for resale flats and executive condominiums.
He added: "As Prime and Plus flats will come with more subsidies, the total fiscal impact is anticipated to be higher than if we keep to the status quo.
"The actual anticipated fiscal impact will depend on a number of factors, including market conditions at each launch, housing demand, the locational attributes of the sites and more."
MORE HOUSING FOR SINGLES
There were also questions on housing access for singles. MP Lim Biow Chuan (PAP-Mountbatten) asked if the age limit for singles to buy BTO flats can be reduced. Currently, singles must be at least 35 years old to buy a new BTO flat.
Mr Lee said the ministry is taking steps to enhance housing access for singles. They will be able to buy new two-room Flexi BTO flats islandwide from the second half of 2024, instead of only in non-mature estates.
HDB will be launching more two-room Flexi flats, he said. From 2024 to 2026, it will launch up to 14,000 two-room Flexi flats, an increase of about 30 per cent over the past three years.
"With the changes that we are already going to make, we can expect housing demand from singles to go up significantly. Our priority now is to build enough flats over the next few years to address this demand, before we decide whether to make any further changes," said Mr Lee.
"Having said that, we have been engaging singles on their housing aspirations and heard many suggestions on new housing typologies - such as co-living and inter-generational housing, and we are actively studying them."
On questions about the potential impact of the new housing framework on the resale market, Mr Lee said it will depend on many factors, including home buyers' preferences, market conditions, supply, demand, and financing. Analysts and researchers also have a range of views on the potential impact on resale prices in the wider market.
"Singaporeans who are looking for more affordable public housing in central or choice locations may wait for these new Prime and Plus flats to be launched on the market if they are able to, while others who have more immediate needs or who prefer flats without these new restrictions may choose to purchase existing flats in the resale market," said Mr Lee.
Prime and Plus flats will only come on to the resale market in about 15 years' time. In the longer term, MND expects that the tighter restrictions will moderate the resale prices to some extent.
"We will monitor the impact of the new housing framework on the broader resale market closely, and review them when necessary," said Mr Lee.