Meet the new generation of home owners exploring their identity, ideas of home via Instagram
Instagram accounts dedicated to one's humble abode are all the rage. But beyond mere aesthetics, what does the trend say about where we put down our roots?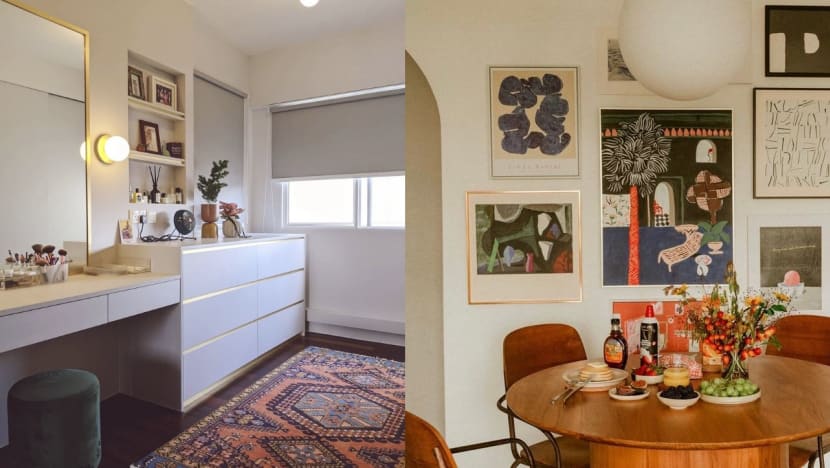 SINGAPORE: It could have been just another Instagram account with beautiful pictures of a home, but freelance writer Daniel Teo wanted his account to explore the relationship between physical space and personal growth.
For the 37-year-old, who lives by himself in a resale flat in Bukit Panjang, the interiors he discusses in his posts are as much about his shelves as they are about his self. 
And bucking the trend seems to have worked in his favour. His Instagram account @stayingonthehill, which was started in late August last year, has garnered about 6,300 followers to date. 
A slew of Instagram accounts dedicated to one's home design and renovation journey in Singapore started springing up during the last year of the COVID-19 pandemic. The rise of work-from-home could have encouraged people to want to design a better living space for themselves, suggested home owners who spoke to CNA about the trend. 
Many aboard the bandwagon tend to be millennial couples dishing out advice for other first-time home owners, alongside aesthetically pleasing photos of the different corners of their home. 
Few accounts are like Mr Teo's, which he started as a way to "fill a gap" in home ownership stories in Singapore and help fellow solo home owners feel "more seen and heard". 
"At that period of time, I was going through a lot of life transitions. … I was in the process of setting up this new home, adjusting to a new lifestyle, and at the same time, I was getting over the trauma from the pandemic, especially from the 'circuit breaker' the year before. I was trying to introspect and reflect on my journey in the past year – and all that ended up on my Instagram, because in buying a home, it was a new space and a new life," he said.  
"The other people I also wanted to help were people going through mental health struggles. That's really important to speak openly about in times like this … and in a way, I try to make it more palatable by giving it the frame of home ownership."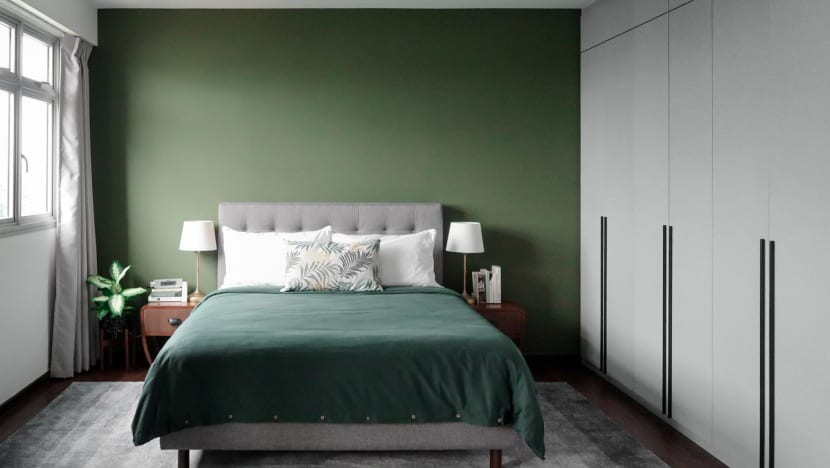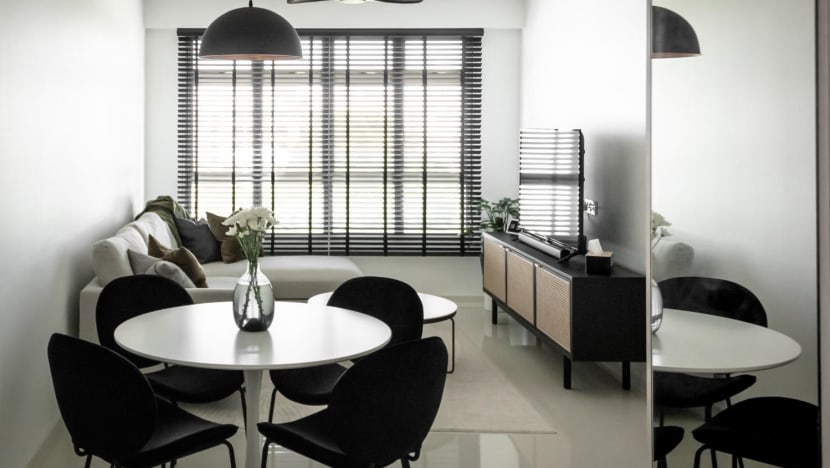 As such, while Mr Teo's captions tend to be lengthier and more reflective than the average home owner's, he is "gratified" whenever readers read until the end and engage with his posts. And he does this without compromising the aesthetic of his Instagram feed. 
"I'm kind of an interior design enthusiast. I was just joking with my friend the other day that my channel is about interiors but it's also about your interior," he said. 
"Designing and renovating a home is a life transition, but it's also a large part aspirational. You're trying to envision and physically create a lifestyle that you deem ideal. That to me ties in with exactly how you're feeling about yourself and what kind of environment you want to support your most ideal self."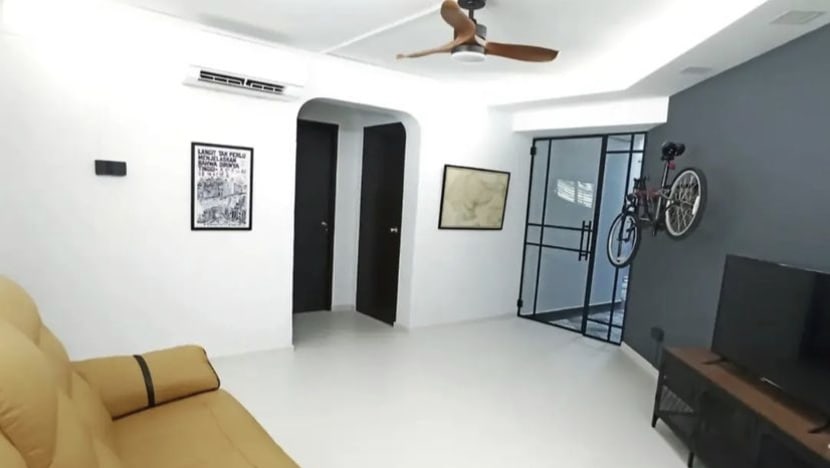 BEYOND CONVENTIONAL HOME OWNERSHIP 
While Mr Teo might not be the typical Instagram home owner, he is not alone in using the platform to track his personal journey beyond home ownership. 
Civil servant Nur Ilham Ismail started his Instagram account @singledadcrib in February this year, intending to only document the renovation process of his new home. The 39-year-old received standard queries such as the name of his interior designer or where he bought a specific piece of furniture. 
But that changed once he revealed that he was a single father of two – and that the home marked a new chapter in his life. 
Several home owners noted that such Instagram accounts tend to be from couples without children. But Mr Nur Ilham's unique position meant he started getting many direct messages from other single parents, despite his comparatively small following of about 300 people. 
Some messages pertained to the design of his children's rooms. 
"For example, when I posted a photo of my children's bedroom, (they could see) I put lights above the headboard. They said, 'Oh that's an interesting idea, why did you put lights over there?' And I shared with them that it's because my children like to read so it's better to have lights above them than lighting up the whole room," he said. 
Other times, the messages took on a more personal slant. Mr Nur Ilham found himself becoming a listening ear to other single parents who shared their struggles. 
"There were many single mums, single dads out there who are … having some difficulties and they said I inspired them to get a home for their children. And they were saying it's more challenging for single parents to afford a home on a single income," he said. 
"Other than answering queries, it's also about giving them support, telling them that their life is going to get better for them, and that it's actually possible to own a home." 
With the "minimalist living" style of Mr Nur Ilham's three-room resale flat, the physical space is a reflection of "the mental state" of him and his children, he pointed out. 
"Having a house that is spacious, having a space of our own gives us the confidence that we have a good starting point to move forward in life. For my children, it's about giving them a comfortable space to study, to rest," he added. 
"And for me, because I'm working from home, home is more than a home for me. It's a place where I do everything. It's almost like an extension of myself in the way I build my home for myself and my children."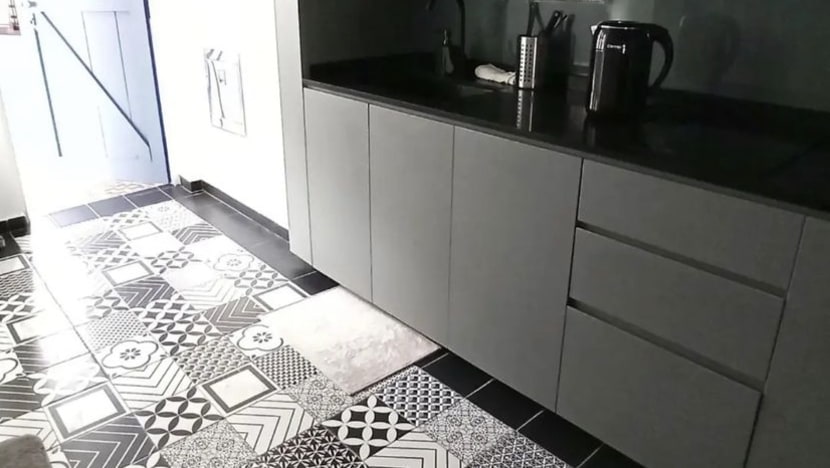 As anyone can create an Instagram account, this trend can also allow individuals who would not conventionally be included in the home ownership narrative, like Mr Nur Ilham, to explore what home means to them, a real estate agent told CNA. 
Another group is millennials who started renting during the pandemic. 
"Because of young Singaporeans wanting to move out and get their own place for privacy purposes or peace of mind, that was probably what led to more people creating content," suggested 47-year-old real estate agent William Tan, who is also the founder of Haus of Pride, a platform of real estate agents who "celebrate diversity and embrace inclusion" in home ownership.
He believes that showcasing one's home on Instagram "definitely inspires people to see how others are living". 
"Sometimes we might be in a situation like we don't feel good at home. But I think when we see people actually start showcasing (their homes), it gives people ideas," he said. 
That was the idea behind a recent video series titled My Haus, My Pride, which was launched to showcase "proud home owners", added Mr Tan. 
"We are not selling homes. We're just selling the idea of proud home owners, enjoying their home, telling us what they enjoy about their homes. Going back to our whole brand, it is about the emotional aspect of home ownership." 
PASSION PROJECT VS FULL-TIME JOB  
But even for those who choose not to share the more intimate struggles of their life, home owners say their Instagram accounts are just as much an expression of their identity. 
The owner of @micasa_fucasa, who only wanted to be known as Carolyn, started her account to craft her identity as a home owner after she decided to settle down in Singapore. She became a Singapore citizen a few years ago. 
Carolyn's four-room flat in Queenstown is, according to her Instagram bio, "inspired by mid-century modern with a dash of Singaporean pragmatism". 
The 42-year-old product specialist at a digital media company who lives alone wasn't always as "house proud" as she is now, she said. 
"I definitely like to stay home now way more than before. I also think it is because I probably made the place to my liking and I'm really comfortable with it. I do enjoy being in it versus wanting to be out all the time," she added. 
"There is thought put into the placement of things. And in the last two years ever since I moved in, there's also more thought put into the things I want to acquire. I'm definitely more selective." 
Carolyn applies the same selectiveness to managing her account. Her eclectic home has attracted one brand that worked with her on a sponsored post for linen bedsheets, a YouTube feature for local media outlet Stacked Homes and a few companies that wanted to potentially use her home for photoshoots. 
Still, she is mindful about not "posting for the sake of posting". 
"I post when I feel like it. This is still a passion project for me; I didn't want to feel like after a certain threshold, like 1,000 followers, that I needed to make this into a more regular thing. I suppose I could, but right now, how I approach it in my own way suits me at the moment," she said.
And right now, it is "fun". After all, despite her lack of interior design background, Carolyn found herself willingly helping someone to style their home. 
When first approached about her fee for styling, she told the person that she did not have one as she had no experience with interior design, but she was willing to help if she could.
"Long story short, I ended up helping her by giving advice. And I was pointing out to her a couple of options about changing up some of the furniture pieces," she recounted.  
"In the end, over a couple of months, she did it bit by bit. And then she showed me the end result of that, and she said she was very happy and very thankful for the advice. So that was fun."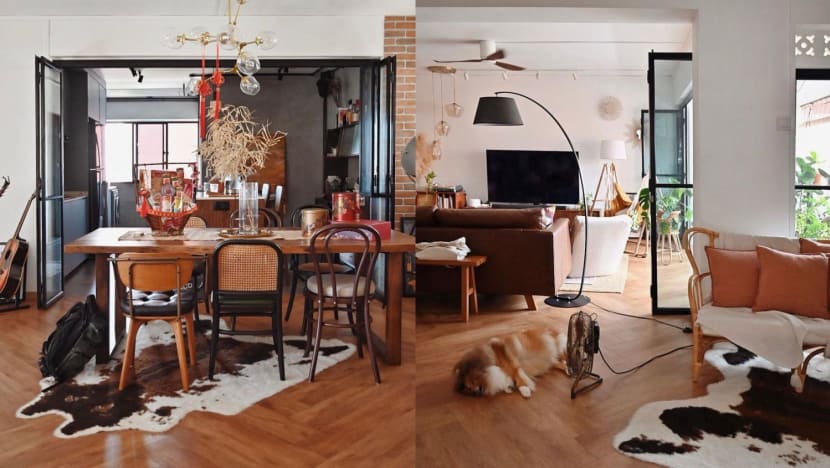 On the other hand, 30-year-old Geraldine Toh quit her full-time job to work on styling projects that she began getting barely half a year after she and her husband set up their Instagram account in late June 2020. 
With about 12,500 followers today, @ochre.home has also branched into a secondary account, @ochre.home.living, which features "curated and custom furniture".  
Ms Toh and her husband, who still holds a full-time job, started off with only home styling, which she differentiates from design. 
"For styling, we work on existing homes. No renovation works are involved; it's purely just changing up furnishing, wall decor. Then we realised there were a lot of requests that require some extent of renovation as well. So that's how we started to rope in different people who we met along the way; now we have a contractor we work with consistently, so he's able to help us manage the renovation portion," she said. 
"That's how we slowly transitioned into interior design as well. But I still don't consider us full-fledged interior designers. We focus a lot more on the styling aspect." 
While most designers "stop at the point where the owners move in", Ms Toh added that she and her husband differentiate themselves by "furnishing all the way". Even after the owners have lived in their home for a period of time, they "go back to do the styling".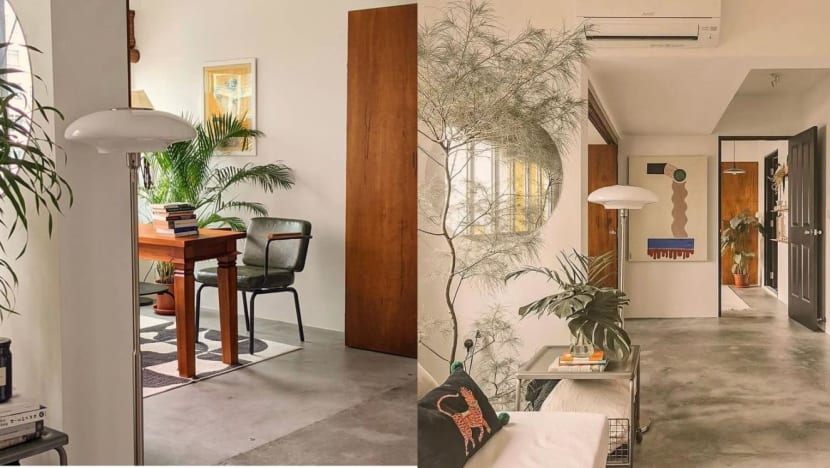 MORE THAN AN "AESTHETIC TREND" 
The opportunity to interact directly with home owners on the same journey seems to be a huge draw, especially for followers of bigger accounts. 
"With a pandemic, people had more time to be more interested in interior design. And perhaps I think we were also starting to realise the value of creating a space you can work and live in, given that we were spending a lot more time at home. So I think circumstantially that has created a sudden interest in home interior design," said 31-year-old Lauren Cheung. 
The civil servant and her husband are the brains behind @flat_bahru, one of the older home Instagram accounts before the trend took off. 
They have amassed more than 8,000 followers since starting the account in September 2019, while Ms Cheung's illustration account @dirtydoodies where she sells her own prints has about 1,000 followers. 
The initial intention for @flat_bahru was to document their renovation journey as they were doing it themselves and had "no expertise in that area", said Ms Cheung.
"We had no idea it would become (part of) a trend or (that the trend would) grow into a burgeoning community of home owners. Today, the account serves as a journal, and more importantly, exists within this community of home owners that we interact with quite frequently." 
It is these interactions that make such Instagram accounts "a little more than an aesthetic trend", shared Ms Cheung. 
"It's actually a platform that seems to fill a pre-existing gap, because at some point in time, everybody goes through this. And it's a very difficult process for people like me who are novices or who have no expertise in the field. There's no platform to foster an open, honest discussion," she said. 
"It's sort of like a Reddit that emerged where people could exchange ideas and advice on a very specific topic that previously did not exist. And I think that this is great because for a very long time, the power dynamics seemed quite steep (in favour of) the vendors." 
Ms Cheung highlighted the renovation process as an example. Many novices might not be aware of the nitty-gritty details involved until they embark on the journey. 
"Because now we have this platform to discuss this very openly, I have realised that people are becoming a little bit more knowledgeable as I did through this very painful process, and they're willing to share their experience and their advice with people," she said.  
"It really is more than just an aesthetic thing. It's something that people invest a lot of their time and money in, so it's worth the discussion. It's worth establishing platforms for communication."
AUTHENTICITY IN SPONSORED CONTENT TOO   
This level of connection with one's audience appears to be what some brands look for when they approach home owners. 
Even though home owners who spoke with CNA didn't begin their Instagram journey intending to work with brands, sponsored content has become increasingly commonplace. So they abide by the principle of being genuine and have no issue working with brands if the products are something they would normally use. 
"It seems like brands have started recognising the value of organic community and word-of-mouth. And a lot of these actually are small homegrown brands that I like and use regularly and I'm very happy to support," said Ms Cheung. 
"At the end of the day, my audience that follows me are primarily Singaporean home owners, and it seems to be a very active and tightly knit sort of community. I think that brands understand this, and they see this as a platform for that very specific sort of targeting, the kind that would create very organic conversations." 
Similarly, Ms Toh has rejected multiple requests for products she and her husband don't see themselves using. 
Examples of items they have turned down include a feng shui tree and fragrances that she knows she wouldn't use. 
Ms Toh also prefers brands that don't dictate too much about what they can post, as she admits she does stand her ground quite a bit. 
"There are some who product-drop us, and tell you you're free to share content organically, which means non-obligatory reviews. So those are the best type of sponsorships to receive, because we can post as and when we want, whenever we want. We don't have to be 100 per cent positive about their product and they are okay with that," she said.
"Whereas there are certain brands who really want to fact check your caption and then you have to include a whole ton of key details. They even tell you, 'Oh can you please don't slouch so much, can you smile more.' So when a brand goes to that extent, then it's not something I want to work with again in the future, because I'm not being true to my audience."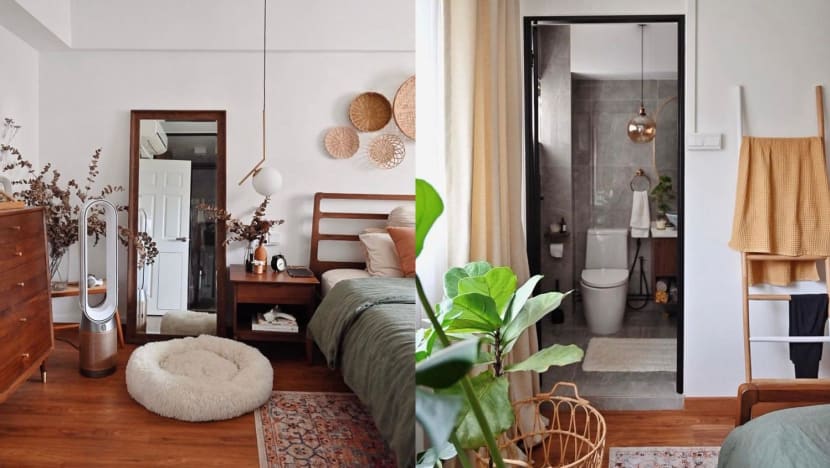 But for Mr Teo, whose account is more memoir than moodboard, decisions to take on sponsored content have been "a bit tough to negotiate". 
"There is that negotiation between what the brand values and what you value. And for me, I do have a niche compared to other home owners with Instagram accounts," he said. 
Mr Teo can also tell when brands approach him because of his follower count and not his content, or when brands don't understand his audience demographic. So he tends to ignore these requests. 
"I tried one or two (sponsored posts), but … I think my readers can tell as well. They don't fully resonate. So now I'm trying to be really careful about what I take on," he admitted. 
"If it's already something that I use or something that I want, I don't have issues with doing a sponsored post. But I always feel like it's falling short of some sort of ideal that I want to stay true to on that page. Ideally, (it would be) something to do with mental health, or a product that helps you take care of yourself better, improves the environment," he added. 
"It's always a challenge to tie vacuum cleaners to how it improves your mental state. I mean, you can, but sometimes I do feel stretched." 
Ultimately, Mr Teo remains grounded by his core motivations for beginning this journey. 
"What I'm hoping to do is to empower people to understand that home is something that you can create, wherever you are and whatever situation you're in. And I don't just mean at home in a physical environment, but also to be at home with yourself," he said.