IN FOCUS: How can Singapore ensure it has enough hospital beds to meet demand?
Even before COVID-19, public hospitals have grappled with bed crunches. CNA examines the factors behind this and possible solutions.
SINGAPORE: When a blood test at the polyclinic revealed that her elderly mother had a low platelet count, Ms Evelyn Lim rushed her to Singapore General Hospital for suspected internal bleeding.
But when they arrived at the emergency department on Oct 5, they were taken aback by how busy it was. 
Recounting the scene, Ms Lim said stretchers filled with patients were squeezed into every corner she could see, even spilling into the corridors.
Amid the loud beeping and whirring noises of medical equipment, the voices of patients, doctors and nurses zoomed in and out as staff juggled between tending to patients and answering queries from concerned family members.
Despite her growing anxiety, Ms Lim did not complain to the staff members about the long wait as it was clear how stretched they all were.
It would be another 20 hours before her mother finally got a hospital bed, and was discharged two days later.
Two weeks later, waiting times for admission at public hospitals surged, with bed occupancy rates reaching close to full capacity.
CNA has reported how some patients waited up to 50 hours for admission at some public hospitals, more than double the time that Ms Lim's mother waited.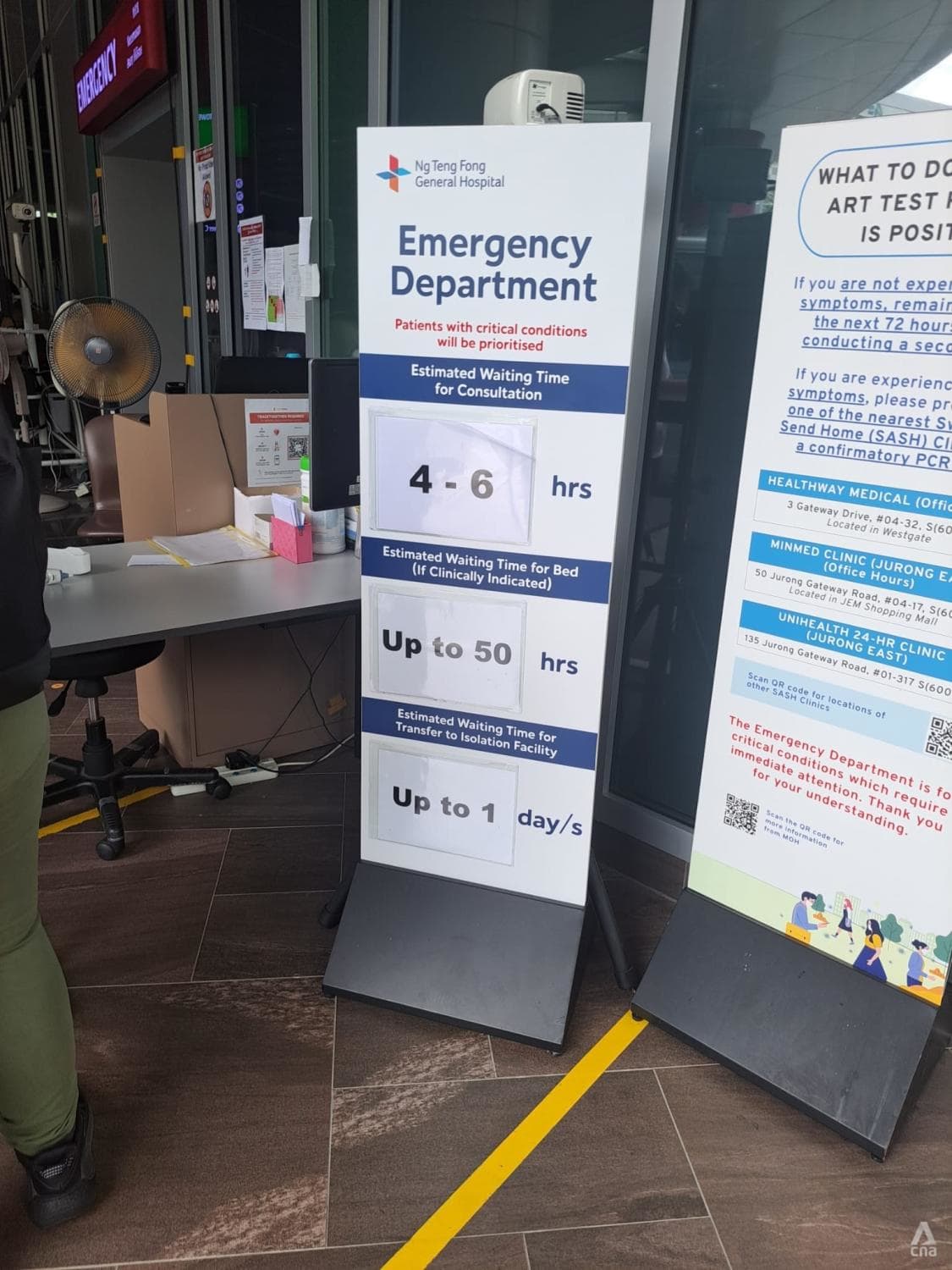 To relieve some of the pressure, authorities have implemented measures such as removing the need to set aside whole wards to cohort COVID-19 patients, as well as activating more transitional care facilities, in order to alleviate the crowdedness at emergency departments.
Recent data available from the Ministry of Health (MOH) showed that the median waiting time for admission to wards from emergency departments was between 1.2 hours and 24 hours during the week beginning Nov 20.
This was slightly higher than the median waiting times recorded during the week beginning Oct 23 – about two weeks before the new measures were implemented. 
Among hospitals tracked by MOH, bed occupancy rates ranged from 80 per cent to 98 per cent between Nov 20 and 26. This is compared to rates of between 79.7 per cent and 98.7 per cent recorded the week of Oct 23.
According to Associate Professor Jeremy Lim from the National University of Singapore's Saw Swee Hock School of Public Health, bed occupancy rates are always less than 100 per cent as it includes the special use of beds for paediatric, neonatal and delivery needs.
However, a bed occupancy rate of 85 per cent is usually the threshold for comfort, he said. 
In a parliamentary reply to Member of Parliament Leon Perera (WP-Aljunied) in March, MOH said that having a sustained bed occupancy rate (BOR) above 85 per cent may increase the risk of poor clinical outcomes due to the reduced access to hospital care.
"Based on our experience, operating with BOR less than 85 per cent has allowed for hospitals to have sufficient bed capacity to respond to sudden increases in bed demands, for example during mass casualty situations and pandemics," it said.
While there may be temporary increases over the recommended 85 per cent threshold, MOH said that public healthcare institutions have mitigated the risks by managing patient flows and using telehealth technologies to reduce the need for in-person consultations.
But while the COVID-19 pandemic has been instrumental in the current situation, the issue of hospital bed capacity is not a new one.
In 2014, Singapore faced a similar situation with bed occupancy rates rising to 87.2 per cent – higher than the recommended 85 per cent threshold. 
At the time, this was attributed to a combination of factors including an ageing population, a higher proportion of older patients being admitted to the hospital, and an increase in their length of stay.
To address this, the ministry's solution was to ramp up capacity with another 1,200 beds, including at community hospitals and nursing homes, added to the healthcare sector.
According to available data from MOH, the number of beds in public hospitals increased from 9,071 beds in 2018 to 9,610 beds in 2020.
Experts CNA spoke to said that while additional hospital capacity is necessary, ensuring that supply meets demand is an ongoing challenge. This is due to unexpected developments such as the COVID-19 pandemic, adding to already known challenges like the growing needs of an ageing population.
According to a report published by the Government's National Population and Talent Division this year, nearly one in five citizens is aged 65 and above.
However, the report said that by 2030, this will increase to around one in four or 23.8 per cent.
In a parliamentary response last month, Health Minister Ong Ye Kung said the proportion of patients with more severe conditions and who require more attention rose from 8 to 11 per cent between 2019 and 2022.
This works out to an increase of a few hundred patients every month, adding to the workload of emergency departments, he said. 
He added that the pandemic delayed the opening of several nursing homes and community daycare facilities, as well as Woodlands Health Campus and the Integrated Care Hub at Tan Tock Seng Hospital, which were originally slated to open this year.
Had the two facilities opened on time, Mr Ong said they would have added at least several hundred more beds during the pandemic. They are expected to open progressively from the end of next year, and together with the expanded Singapore General Hospital Medical Campus, they are expected to add about 1,900 more public hospital beds.
The pressure to find long-term solutions for the growing burden on Singapore's healthcare system has only intensified.
Pointing to the sandwich generation, which refers to the group of middle-aged adults who care for both their ageing parents and their own children, Assoc Prof Lim said their role as a caregiver will become increasingly difficult.
"Over time, it'll get harder and harder for a 70-year-old to care for a 95-year-old because it is just too physically demanding to look after someone who you have to carry to the bathroom," he said, adding that this might push more families to turn to the hospitals as the primary caregiver.
TO DISCHARGE OR NOT
While having more beds and healthcare workers can help to reduce long waiting times, experts say it is unlikely that they alone can offset the impact of the rising tide of an ageing population or the silver tsunami.
One factor that significantly affects waiting times is hospital bed turnover rates.
As the number of beds is finite, the longer a patient stays in a hospital, the longer an incoming patient will need to wait for that bed to be freed up so they can be admitted.
In a parliamentary response last month, Mr Ong said that the percentage of patients who stay longer than 21 days more than doubled to 3.8 per cent this year, up from 1.6 per cent of all hospitalised patients in 2019.
The problem is exacerbated when a patient prolongs their stay in the hospital despite being medically ready to be discharged. These individuals are referred to as "social overstayers".
Studies have shown that a prolonged stay in the hospital can increase the risk of hospital-acquired infections.
To ensure that hospital beds are available to patients requiring acute care, patients who have been certified to be medically fit for discharge but insist on staying will be charged the full cost of the period of their overstay.
However, this may not necessarily discourage a patient from overstaying as it does not sufficiently address the root of the problem, said Dr Lim Huai Yang, a public health specialist with an interest in organisational health.
"We must understand the profile and the challenges of the social overstayers, they tend to be families that are already complex and have a lot of social issues of their own," he said.
One former medical social worker, who used to work in a public hospital up until recently, told CNA that some patients might end up staying for months, depending on their condition.
"Some of them might be fit and want to go home, but the home is not ready for them," she said.
"The main thing is caregiver fatigue and they think that hospitals are the safest place for their family member to be, and so, if they don't have a helper, they just keep them in the hospital."
Healthcare workers interviewed in this story cannot be identified as they are not authorised to speak to the media.
HOME AND COMMUNITY CARE
To adequately address this problem, experts stressed the importance of having a network of patient care outside of a hospital.
This includes step-down care facilities, community hospitals and nursing homes, as well as caregivers who can take care of patients at home.
"We cannot just look at hospital beds alone, we have to take an ecosystem's viewpoint, because the entire raison d'etre for a healthcare system is to look (after) the sick people," said Assoc Prof Lim.
"People can be cared for in multiple settings, of which hospital beds is only one of the settings.
"But if we are inadequate in either quality or quantity for other parts of the healthcare system, then hospital beds will have to soak up because they are like the Swiss Army knife of the healthcare system. It doesn't matter what type of illness you have, you can go to the hospital."
To free up acute beds in hospitals, Singapore is activating more Transitional Care Facilities (TCFs), which admit medically stable patients from the public hospitals while they wait for a transfer to intermediate, long-term care facilities, or for their discharge plans to be finalised.
In response to CNA's queries, MOH highlighted how public hospitals facilitate the timely discharge of medically stable patients to appropriate care settings. These include TCFs, as well as community hospitals, nursing homes and patients' homes. 
Currently, there are three TCFs that are operated by private providers at wards in Sengkang Community Hospital, Expo Hall 10, and Crawfurd Hospital. Together, they have a capacity of about 400 beds.
At Sengkang TCF, which has a total of 164 beds and is run by Thomson Medical in collaboration with Sengkang General Hospital (SKH), about 20 to 30 patients are transferred to the facility each week, with most of them coming from SKH.
These are primarily elderly patients in their 70s and 80s, who require extensive nursing care such as regular turning, assisted feeding and toileting but cannot be discharged as they do not have a full-time caregiver at home. MOH said that older patients generally stay longer in hospitals because it takes more time for their condition to stabilise and for them to be eligible for discharge.
Together, teams from SKH and Thomson Medical work closely and share resources to provide continued care for these patients.
For instance, the TCF can leverage SKH for back-end support like catering, cleaning as well as supply of medications and consumables. It can also tap on specialists from SKH to get advice and support, enabling them to care for patients with a wider range of underlying conditions.
According to Dr Shang Lei, medical director of Thomson Medical, less than 10 per cent of patients sent to the TCF are re-admitted to an acute hospital due to a deterioration of their condition.
However, the TCF is currently seeing an "overwhelming demand" for its beds, with the facility almost reaching full capacity. The average waiting time for a transfer to Sengkang TCF is about five days, said Dr Shang. 
In addition, the average duration of stay in the Sengkang TCF is about one month but may be longer for some patients due to their family's preferences on care arrangements.
MOH said that while TCFs have been effective in alleviating the tight capacity at hospitals, they are an interim measure and not intended to be a permanent fixture in Singapore's healthcare landscape. The ministry said it will work on increasing care capacity in places such as nursing homes, transitional and community-based home outreach services and community-based aged care facilities.
Collectively, these will allow the majority of patients to recover in the community without needing a prolonged stay in hospital, said MOH.
While pairing more hospitals with TCFs can help to free up more hospital beds, it will take time to set this up and may not fully eradicate the problem of bed crunches, said experts.
"Think of the healthcare system as a sausage. In order to create more capacity in the hospital, you squeeze part of the sausage, pushing the meat – or patients – to the nursing home or community hospital part, and that will fill up rapidly," said Assoc Prof Lim.
"But if the end of the sausage is still tied up – which means you cannot flow the patients out into a home setting – there's no additional capacity, you just keep moving patients back and forth," he added.
"Ultimately, the only resource that is infinite is the home setting and so we need figure out what needs to be done to enable people to go home," he said, adding that this is a function of operational and technical support, as well as financing.
Sharing his experience as a house call doctor, Dr Lim said: "Having a good caregiver really makes a difference because I've seen those who are able to take care of the patient so well – whether it's chronic wounds, diabetes management, medication or exercise or diet – such that the individual is so stable that they hardly get re-admitted to the hospital.
"Conversely, for the less-informed or trained caregivers, patients under their care often move in and out of the hospital because they don't take their medication regularly or develop infections from their bed sores because their caregiver does not turn them regularly," he added.
"If we can keep them in their home, we can also relieve the need for nursing homes. Because if the family cannot take care of them at home, the next step is to admit them into nursing homes, which are also facing bed crunches."
CHANGING MINDSETS
Beyond improving home and community care, experts said addressing the perennial issue of hospital bed shortages also requires a mindset change.
Recent figures shared by Health Minister Ong revealed that non-urgent cases still make up about 40 per cent of emergency department attendances.
With the private sector accounting for the bulk of primary care providers, Dr Lim said many patients tend to rely on acute hospitals and emergency departments as their go-to for their ailments.
"Actually a lot of them could be treated at the primary care level," said Dr Lim, estimating that 10 to 20 per cent of cases can be adequately managed by a primary care provider.
"If we have a much stronger primary care, it means they don't need to go to the A&E and they can go to the 24-hour GP clinic and 24-hour urgent care clinics."
With more than a dozen public acute and community hospitals located across the island, access to emergency departments has also greatly improved, he added.
"We are a small country which means some people might live very near to a hospital emergency department and it might be so convenient that if they aren't well, they might just go to the A&E because it might actually be harder for them to find a 24-hour GP," he said.
Ultimately, experts said everyone including the public needs to play their part in order to alleviate bed crunches in hospital.
"We still do not have that sense of solidarity where if the hospitals are full, we should step up," said Assoc Prof Lim. "I have not come across many people who consider that someone else might need the hospital bed more than their family member and decide to take a week of leave to take care of them, instead of leaving them in the care of the hospital.
"It's not that Singaporeans are selfish but we need to think about how to make it easier for people to see that hospital beds are a common resource and a public good for all of us."