Traineeships, school schemes pick up slack with fewer jobs for fresh graduates in some industries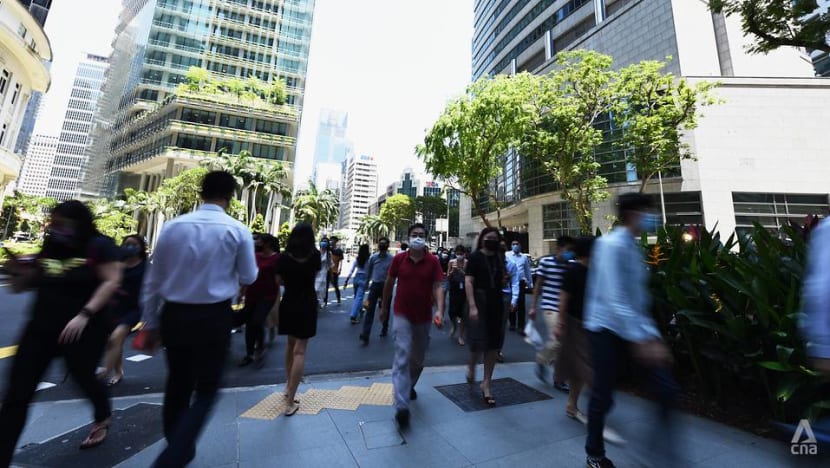 SINGAPORE: Fresh graduate Nur Tasleem Banu, who studied Applied Math, has been applying for internships, part-time gigs and jobs since May 2020. 
Although she is only graduating from the National University of Singapore this year, she wanted to get an internship or some work experience first, but had no luck until recently.
"You're like ... I haven't gotten a job and you're wondering when you're going to get a job. Is the economy going to recover? Are you going to be unemployed for a long time?" she said, adding that she knows many seniors who graduated last year and are still on traineeships.
And while she would prefer a full-time job, the 23-year-old told CNA that she is happy to pick up some skills and experience first as an intern or trainee. She landed a traineeship under the National Youth Council's YouthTech programme last month and started work last week. 
The whole process was mentally and emotionally challenging, not least because of the uncertainty, she said.
"It's very difficult to tell whether is it because I'm lacking skills or is it because of the pandemic," she said. "You have a lot of questions … like (when you get an offer), if I don't accept now, am I going to get another job offer?"
Her experience mirrors that of fresh graduates that CNA spoke to. While all have found work in some form, a number have taken up traineeships while they wait for a full-time position.
MANY IN TRAINEESHIPS
As of end-April, about 9,200 fresh graduates are in the SGUnited Traineeships Programme (SGUT), said Workforce Singapore (WSG).
The programme aims to help those graduating between 2019 and 2021 take up traineeships lasting up to six months. Trainees are given an allowance of up to S$2,500 a month that is 80 per cent co-funded by the Government.
"Most of the traineeships are still ongoing. Among these trainees, over 680 fresh graduates were offered full-time employment with their host organisation, or had found full-time employment elsewhere," a WSG spokesperson said.
For those graduating this year, WSG said it has one-to-one career advisory and preparatory workshops covering topics such as resume writing, virtual job interviews and personal branding. Fresh graduates can also seek career advice from lecturers or career guidance officers in their schools, it said. 
Since last year, institutes of higher learning have pushed out programmes to help recent graduates cope with poorer employment prospects.
The Institute of Technical Education (ITE) has offered its graduates from the class of 2020 and 2021 free continuing education and training modules. Graduates were also offered job counselling services, virtual career fairs, a one-stop job site (CareerNet@ITE portal) and a Telegram channel where they can get job alerts. 
HELP FROM SCHOOLS
Temasek Polytechnic (TP) began a career kick-starter programme last year with the onset of the pandemic and has extended it this year to 2021 graduates.
Graduates receive S$500 in course credits which they can use to enrol in short courses, and the polytechnic also provides career coaching, said Ms Tan Siew Kim, director of corporate communications at the polytechnic.
A third area of help is in matching them with job opportunities in the school.
"To help our graduates and to ensure that they're given the opportunity to pick up valuable experience amid this pandemic, internally in TP, we have actually created a total of 80 positions under our kick-starter initiative in 2021," said Ms Tan.
"We have seen a very healthy uptake from our TP graduates under this scheme."
Two graduates joined TP's corporate communications department this year under the programme, she added. 
"The main challenge for the kick-starter is really to address the shrinking number of employment opportunities in certain sectors, (such as) aviation and hospitality," she said.
FEWER OPENINGS IN INDUSTRIES AFFECTED BY PANDEMIC
JobTech, a start-up that provides AI job matching and labour market analysis, said that the ratio of new-graduate to total jobs remained constant from April 2019 to July 2021. 
However, as some industries faced a large decline in job openings, there are fewer new-graduate jobs overall, making job seeking difficult, said a spokesperson. Industries dented by the pandemic, such as tourism, are also the worst affected.
JobTech data also showed a large spike in SGUnited Traineeship openings around the second quarter of 2020 when the scheme was introduced, but concluded that they did not seem to reduce the amount of new graduate job postings in many cases.
WSG career coach Vimala Ramasamy said that for Singaporeans who have recently graduated from ITE, polytechnic, university and private educational institutions, entering the job market at this time can be "quite nerve-racking". 
"However, the future is not bleak. The key is to be versatile and stay adaptable," she said.
"Before they proceed on their job search, it is important for them to first understand about themselves (their profile), their strengths and weakness, towards the objective of identifying as many options as possible that tap on their strengths and career interests. Then, they can apply for job roles that are aligned to their personal growth and interests."
DON'T SETTLE, SAYS RECRUITMENT EXPERT
Ms Jaya Dass, Randstad's managing director for Malaysia and Singapore, said that the graduating class this year may be in a better position to secure a job compared to last year, in part due to the recovering economy. 
However, there are other factors to consider. For one thing, the SGUnited traineeship programmes are slowly retiring. 
"This means that employers will need to revert to pre-pandemic hiring budgets, which some of them may not be prepared to do," she said. 
Many employers Randstand works with also want more digital capabilities, she said. 
"Employers are also more likely to look to younger talent to bring new ideas to drive digital-led initiatives that have potential to drive business performance and productivity," she said.
"So while there are more job options for them to pick from, graduating students need to note that job requirements are very different from previous cohorts."
She said that graduating students should be patient and take time to conduct extensive research on the employer.
"While the urgency to secure a job as quickly as possible is justifiable, it is critical to take the time to evaluate your options and really understand if the employer and job is a good fit for you," she said. 
"If personal income and expenses allow, we always advise candidates to find a job that fits what they are looking for. The last thing any job candidate wants to experience is to settle for a job that doesn't quite meet their requirements, only to restart the job searching process all over again in a couple of months."