From Olympics gold to drug confession: The Joseph Schooling timeline
From becoming Singapore's only Olympic Games gold medallist to his drug confession, Joseph Schooling has had his fair share of ups and downs in his career. Here is a timeline of what has happened since his historic win.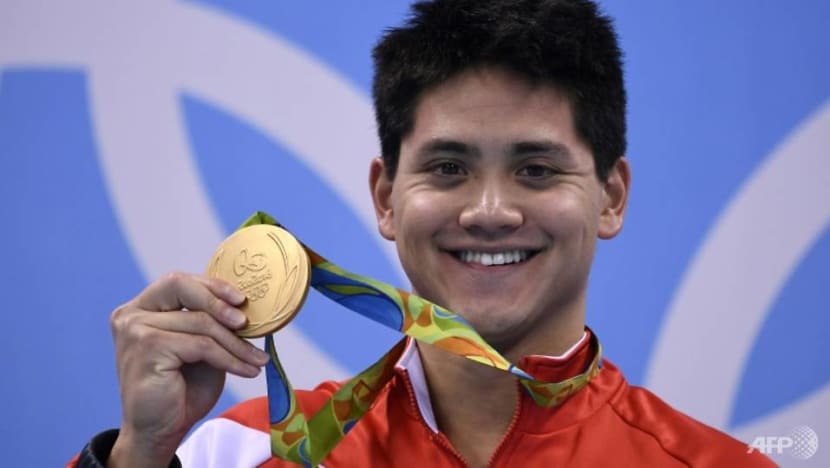 SINGAPORE: The gold medal win in the 100m butterfly event at the 2016 Rio de Janeiro Olympic Games propelled Joseph Schooling to international stardom. 
But he has since been unable to replicate the form that saw him win Singapore's first and only Olympics gold.
On Tuesday (Aug 30), his career suffered a major blow when the Defence Ministry said in a statement that the 27-year-old confessed to consuming cannabis in May this year.
CNA retraces Schooling's path since his historic triumph in 2016. 
2016 Rio de Janeiro Olympics
Aug 13, 2016: Schooling, then a student at the University of Texas, won Singapore's first Olympics gold medal, beating the likes of Michael Phelps and Chad le Clos in the 100m butterfly event. He also set a new Olympic record of 50.39s, eclipsing Phelps' mark of 50.58s set at Beijing 2008.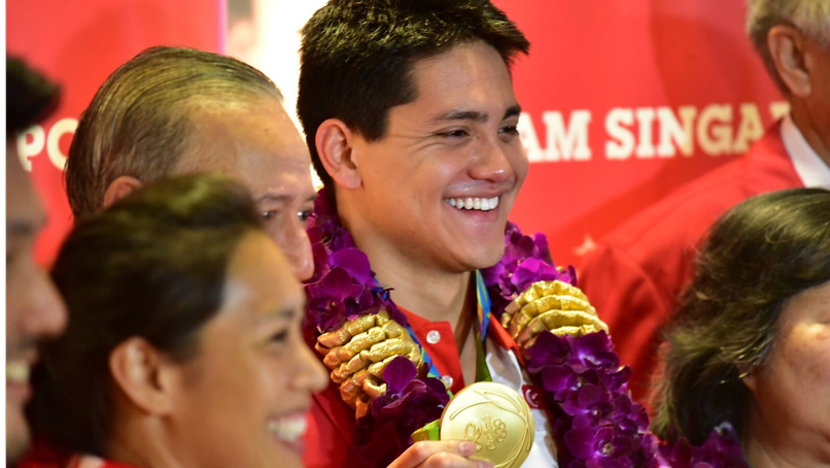 Aug 15, 2016: A triumphant Schooling returned home to screams and cheers from hundreds of fans at Changi Airport after the Rio Games. He was also formally received in Parliament, which moved a motion to congratulate him for his historic win. 
Aug 18, 2016: Thousands of people lined the streets to cheer Schooling as he went on a three-stop victory parade on a red open-top bus. 
His journey began from the Singapore Sports Hub and covered three stops - Marine Terrace Market, Singtel Comcentre Plaza and Raffles City Shopping Centre.  
Schooling stopped to sign autographs and take photos with fans at each stop, while those who could not reach him waved the Singapore flag and banners at him.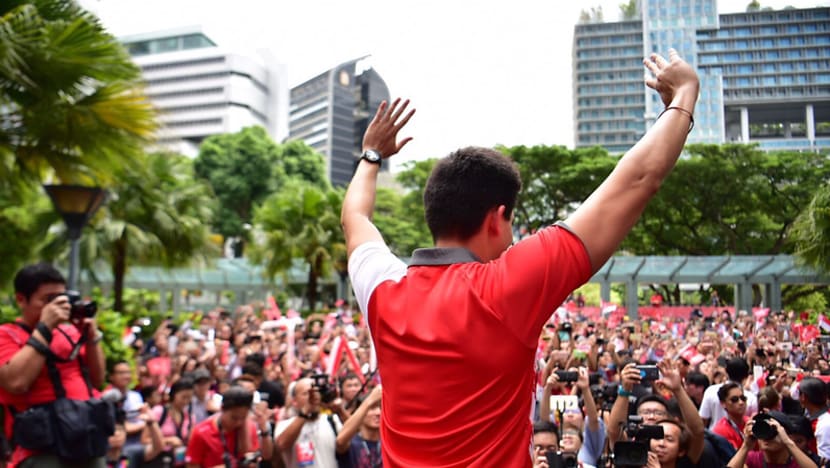 Nov 24, 2016: Schooling received his S$1 million prize for his Olympics gold, the first person to get the top award in the Multi-Million Dollar Award Programme.
2017 FINA World Championships
July 30, 2017: Schooling finished joint third in the 100m butterfly event at the FINA World Championships in Budapest, Hungary, with a time of 50.83s.
The bronze medal is a repeat of what he had achieved at the 2015 edition in the Russian city of Kazan.
29th SEA Games in Kuala Lumpur

August 2017: Schooling bagged six gold medals in three individual and three relay events.
March 2018: Schooling turned professional and was named a Hugo Boss ambassador, the first Singaporean ambassador for the luxury fashion brand. 
April 2018: He signed a three-year partnership with DBS. 
Jun 27, 2018: The swimmer launched Swim Schooling, a new swim school that teaches children aged 3 to 11. 
2018 Asian Games in Indonesia
August 2018: Schooling won gold in both the 50m and 100m butterfly events, and helped the men's 4x100m and 4x200m freestyle relay teams to bronze. His winning time of 51.04s in the 100m butterfly was an Asian Games record.
2019 FINA World Championships in South Korea

July 2019: Schooling failed to qualify for the semi-finals of both the 50m and 100m butterfly events.

30th SEA Games in Philippines

December 2019: Schooling won four gold and two silver medals in the six events he competed, including a gold in the men's 100m butterfly.
He finished second to compatriots Teong Tzen Wen and Darren Chua in the men's 50m butterfly and 100m freestyle events respectively. 

Aug 31, 2021: The athlete's deferment for National Service ended. He had been on long-term deferment from NS since 2014.
Nov 18, 2021: Schooling's father, Colin Schooling, died at age 73. He had been diagnosed with liver cancer in June 2021.
He was known to be a strong supporter of his son's swimming career. To help him fulfil his potential, Mr Schooling reportedly sold a house in Perth and cashed out on an endowment plan, forking out more than S$1 million to finance his son's training in the United States.  
2020 Tokyo Olympics 
July 29, 2021: Schooling failed to retain his Olympics title in the 100m butterfly event. He did not qualify for the semi-finals. 
He clocked 53.12s to finish last in his heat at the Tokyo Aquatic Centre to place 44th overall.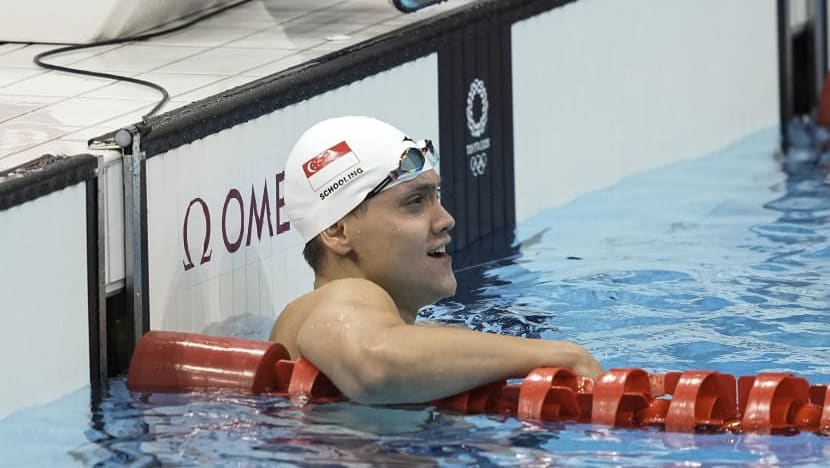 January 2022: Schooling enlisted into National Service. His deferment was originally due to expire after the 2020 Tokyo Olympic Games, but was extended as the Olympic Games was postponed to 2021 due to the COVID-19 pandemic. 
The topic of NS deferment for male national sportsmen was addressed in Parliament earlier in 2018, with Defence Minister Ng Eng Hen saying that the Ministry of Defence "will only defer individuals very selectively if their deferment serves Singapore's interest first and foremost, never their own".
March 2022: Schooling competed in his first meet since the Tokyo Olympics at the 52nd Singapore National Age Group Major Games Qualifier. He clocked 52.09s in the 100m butterfly finals, his best time in more than two years.
Due to his timing, he made the "A" cuts for the Asian Games and Commonwealth Games.
31st Southeast Asian Games in Vietnam
May 14, 2022: Schooling's 4x100m freestyle relay team, comprising himself, and fellow swimmers Quah Zheng Wen, Mikkel Lee and Jonathan Tan, finished first but were later disqualified due to a fractionally early start by a swimmer. 
May 16, 2022: Schooling won a gold medal in the men's 100m butterfly. He also won a gold in the 4x100m medley relay with Maximillian Ang, Quah and Tan. 
Aug 30, 2022: Schooling confessed to consuming cannabis overseas when he was on short-term disruption from full-time NS to train and participate in the Southeast Asian Games.
His urine test returned negative for controlled drugs but he confessed to taking cannabis in May. 
The Defence Ministry said Schooling will no longer be eligible for leave or disruption to train or compete while in NS due to his abuse of disruption privileges.