Singapore recruiters hiring Myanmar nationals face extra paperwork, mounting regulations
Regulations imposed by the military junta following the 2021 coup are making it increasingly difficult for Myanmar nationals seeking to leave the country.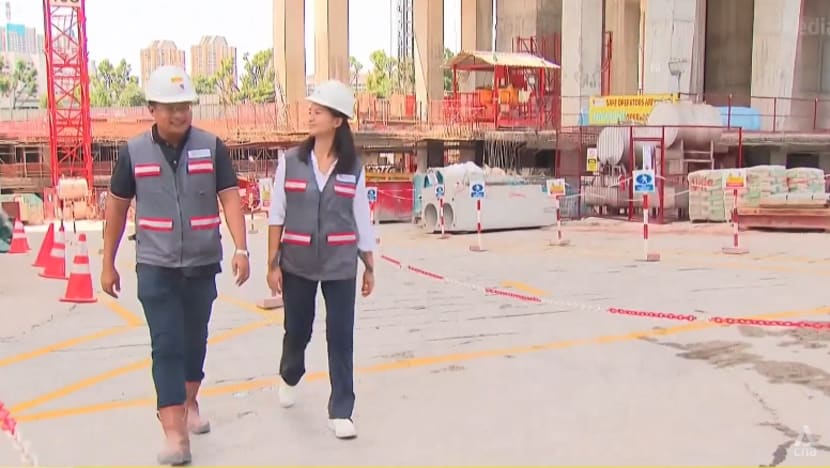 SINGAPORE: It has been 10 months since Mr Phonne Myat Soe Win left Myanmar to work as an engineer in Singapore.
The Myanmar national said he had to go through a long and cumbersome process to land a job at a construction firm here.
"One thing is the OWIC – the Overseas Workers Identification Card – application. To apply for that, we need the official offer from the Singapore company," said the 36-year-old, who works on quality assurance and checks at United Tec Construction.
"Even (after) we get the offer, sometimes we need to wait from three weeks to two months to get the card," he added. "Before (the coup), there was no process like that."
 
He said that regulations imposed by the military junta following the 2021 coup are making it increasingly difficult for Myanmar nationals seeking to leave the country and find work overseas.
MORE PAPERWORK FOR EMPLOYERS
For Mr Phonne Myat Soe Win's employer, this means a longer wait time and extra paperwork – some of which are unprecedented in the sector.
"Basically, there's a lot of paperwork which slows down the process. There are a lot of undertaking letters," said Mr Allan Tan, the construction company's managing director.
"Just to recruit one worker, I need to sign a power of attorney letter, which has never happened before in the industry."
He added that the recruiting process takes about two to three months for each worker and has become more expensive.
Myanmar nationals make up about 10 per cent of Mr Tan's workforce and while they are "fast and hardworking", recruiting them is "tedious and tough", he said.
Mr Tan warned that firms may turn to sourcing workers from other countries such as India and Bangladesh if recruitment from Myanmar continues to be slow and complicated.
PASSPORT ISSUES
Out of 200 workers at the Clavon condominium construction site, 30 are Myanmar nationals.
Some Myanmar workers at the site told CNA that much of the construction work has been suspended in their country since the coup, and many people they know back home are hoping to venture to Singapore to find jobs.
However, among the increasing number of roadblocks, the current most pressing difficulty facing both Myanmar employees and Singapore employers is the lack of passport services.
Myanmar's political situation has made the process of applying for a passport and renewing them more complex.
"Getting a passport now is very hard," said domestic helper Ma Aye, who left Myanmar before the coup to work in Singapore.
"Myanmar is chaotic now and it is difficult to make passports to travel out. Government offices that deal with passport requests are shut," she told CNA in Mandarin.
The employment agency that brought her here said business over the past two years is down by 20 per cent, despite a demand for Myanmar domestic workers in Singapore.
"(After prospective employees) have done the entire interview, then we realise that they can't actually come into Singapore because of the passport issue," said Mr Malcolm Lim, founder of 12Hire Employment Agency.
Mr Lim added that his business has been significantly affected as about 70 per cent of his workers are Myanmar nationals, and uncertainties in the hiring process has caused some clients to look elsewhere.
NO SHORTAGE OF APPLICATIONS
While the number of applicants from Myanmar seeking work in Singapore has increased since the coup, getting them here remains unpredictable, said another employment agency.
Mr Kevin Koh, director of Future Employment Agency, said his firm has faced difficulties in hiring Myanmar workers who used to be employed in their country's healthcare and civil service sectors.
Mr Koh said some Myanmar nationals who passed their interviews and were hired by his firm were blocked at the customs and prevented from leaving the country.
Lack of education is also a factor affecting their employment, he said.
Many younger candidates seeking work dropped out of school during the coup. As a result, they are unable to meet the minimum requirement to apply for an S Pass for certain jobs in Singapore, Mr Koh said.
However, the agency said it has been easier to bring in workers for the hospitality sector, now that the tourism industry in Myanmar is not doing well.
"Tourism in Myanmar is at a standstill. When people don't have work, they cannot spend and tourists are not going there much. Lots of (hospitality) employees lost their jobs," Mr Koh said.
"We have been able to get experienced and qualified people, we have good applicants to interview and shortlist from."