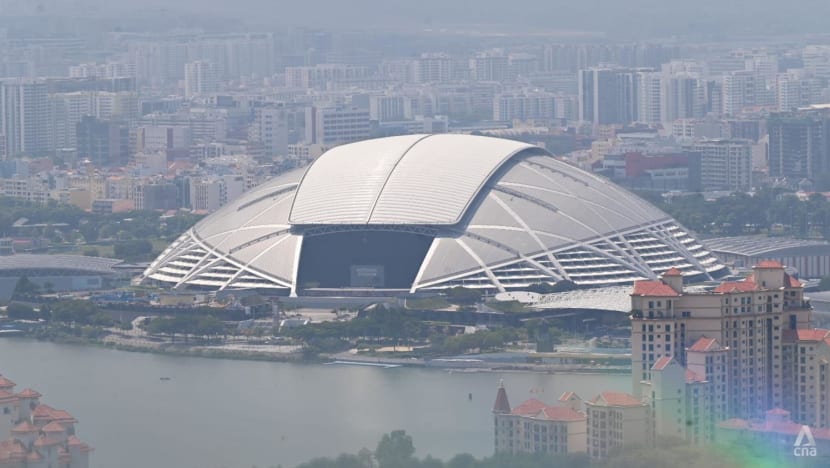 SINGAPORE: The Singapore Sports Hub and inflation are two topics that will be in sharp focus at the next Parliament sitting on Monday (Jul 4), based on the number of questions filed on these issues.
Twenty parliamentary questions have been tabled on the dissolution of the Singapore Sports Hub private-public partnership. They range from questions on the financial aspects of the partnership and the reasons for the termination of the partnership to queries on future plans for the facility and the National Stadium.
MP Darryl David (PAP-Ang Mo Kio) asked if there are any concrete plans for key national community events like the National Day Parade to be held at the National Stadium, while MP Seah Kian Peng (PAP-Marine Parade) asked what is the total amount spent by the Government in financing the development since its inception.
Meanwhile, MP Gerald Giam (WP-Aljunied) wants to know how SportSG can use the takeover of the Sports Hub as an opportunity to develop sports excellence at the junior level to "grow a broader pipeline of future high-performance athletes and sports champions".
Several MPs submitted questions on inflation, a recently announced S$1.5 billion support package for Singaporeans and the impending Goods & Services Tax (GST) hike.
MP Desmond Choo (PAP-Tampines) asked in what ways Singapore's economic performance will be affected by global and domestic inflation. 
MP Yip Hon Weng (PAP-Yio Chu Kang) asked whether the Government will consider postponing the impending GST hike in 2023 and introducing additional subsidies to help households and affected businesses that are struggling with rising inflation.
MP Saktiandi Supaat (PAP-Bishan-Toa Payoh) asked if the recently announced S$1.5 billion support package and the Assurance Package unveiled during Budget 2022 will be able to offset five to 10 years of additional GST expenses for Singaporean households, given higher inflation.
MPs also filed questions on food security and Malaysia's recent ban on chicken exports.
MP Joan Pereira (PAP-Tanjong Pagar) asked if the Ministry for Sustainability and the Environment will consider setting some local production targets for poultry and poultry products under the "30 by 30" food production target of the Singapore Food Agency to "enhance the resilience of Singapore's supply of poultry".
Following a recent spate of fatal workplace accidents, MPs also asked for statistics of reports on unsafe workplace acts and if workers have sufficient recourse to report unsafe practices.
There are a few questions on disease outbreaks including COVID-19 infections, monkeypox and tuberculosis.
Some MPs also put in questions on the high transaction prices of coffee shops in Housing Board estates and how that might affect food prices, as well as the Selective En-bloc Redevelopment Scheme, following the recent announcement that some blocks at Ang Mo Kio have been selected for the scheme.
There will be a ministerial statement by Law and Home Affairs Minister K Shanmugam on prison conditions and rehabilitation. A Public Defenders Bill is also scheduled to be introduced.