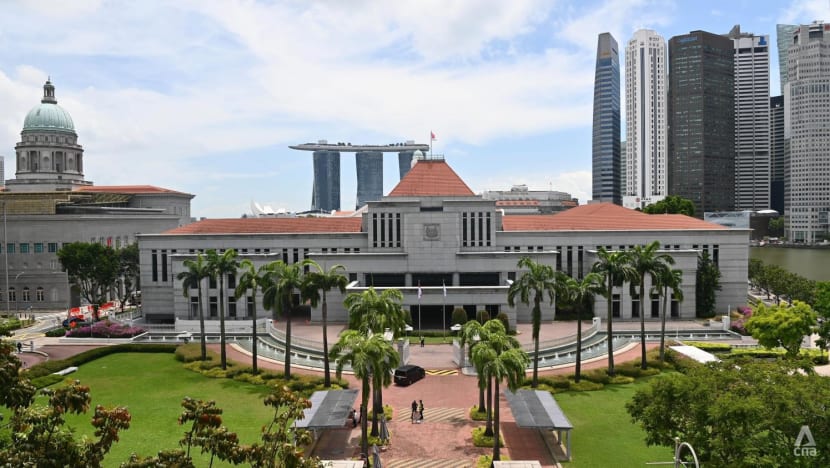 SINGAPORE: The current COVID-19 situation in Singapore, the Auditor-General's Office (AGO) audit of public agencies for the year 2021/2022 and the S$7.4 billion loss recorded by the Monetary Authority of Singapore (MAS) in the last financial year are among the topics that will be discussed at the next Parliament sitting on Monday (Aug 1).
Several MPs have also filed questions on wildlife in Singapore after recent reports of monkeys entering residential areas. 
After featuring prominently in the House earlier this month, the Singapore Sports Hub will again be discussed, with Minister for Culture, Community and Youth Edwin Tong expected to deliver a ministerial statement on the subject.
Labour MP Melvin Yong (PAP-Radin Mas) will also speak for up to 20 minutes in an adjournment motion on the issue of workplace safety. 
And NCMP Leong Mun Wai (PSP) has submitted a petition calling for a review of the Selective En bloc Redevelopment Scheme (SERS), and the imposition of a moratorium on SERS pending the findings and recommendation of the review.
He had previously filed a petition in Parliament regarding the scheme, on Jul 4.
On the COVID-19 pandemic, questions have been filed by Members of Parliament on reinfections, vaccination for young children and the recent deaths of two children from the disease.
MP Wan Rizal (PAP-Jalan Besar) asked for an update on an ongoing study by the Health Sciences Authority and the Expert Committee on COVID-19 Vaccination, on the safety and efficacy of vaccines for children under the age of five.
Additionally, MP Dennis Tan (WP-Hougang) asked if the deaths of two children as a result of COVID-19 - on Jun 27 and Jul 17 - are raising concerns about the susceptibility of children to new coronavirus strains.
MP Joan Pereira (PAP-Tanjong Pagar) asked if the Government has noticed a rise in reinfections amid the emergence of Omicron subvariants, and whether second booster shots will be made available to younger people. 
And MP Seah Kian Peng (PAP-Marine Parade) asked the Ministry of Health (MOH) for an estimate of the proportion of Singapore's population that has been infected with COVID-19, including unreported cases. He also asked if Singapore has attained herd immunity with that infection level.
AGO AUDIT, MAS LOSS
Several MPs asked questions about the AGO audit, zeroing in on lapses relating to SkillsFuture Singapore and the Ministry of Home Affairs (MHA).
MP Sylvia Lim (WP-Aljunied) asked about remedial actions being taken by SkillsFuture as a result of fraud and disbursement lapses highlighted in the AGO report.
She also asked for the total amount that has been defrauded or overpaid since the introduction of the scheme; how much has been recovered; and whether anyone overseeing the grant schemes has or will be held accountable for the loss of public funds.
MP Yip Hon Weng (PAP-Yio Chu Kang) asked why SkillsFuture was lax in collecting Skills Development Levy funds and why the discrepancy went undetected for more than five years.
MP Tan Wu Meng (PAP-Jurong) asked about the AGO finding that GST Voucher-U-Save rebates could have been given to ineligible households, while MP Murali Pillai (PAP-Bukit Batok) asked about quotation authenticity for two development projects under MHA.
Singapore's central bank will also be in the spotlight with questions filed by three MPs.
MP Ang Wei Neng (PAP-West Coast) asked if the Government is prepared for MAS to continue making net losses over the next one to two years, and if Government funding will be affected by MAS' financial position.
MP Vikram Nair (PAP-Sembawang) also asked if the Government's budget will be impacted by the loss, and whether a reconsideration of MAS contributions in the Government budget is needed.
A question on the impact of the MAS loss on the Government's strong Singapore dollar policy and overall budget position for the current financial year was filed by MP Liang Eng Hwa (PAP-Bukit Panjang).
OTHER QUESTIONS
Mr Seah asked if there has been an issue of overpopulation of animals such as monkeys and otters in recent years, and asked for the Ministry of National Development's assessment of the disadvantages of such overpopulation.
Jurong MPs Mr Tan and Mr Shawn Huang asked for data on monkey attacks and the intrusion of monkeys into homes, and about MND's strategy to manage the habitat and population of long-tailed macaques.
MP Nadia Ahmad Samdin (PAP-Ang Mo Kio), meanwhile, asked about public outreach efforts to better understand sentiments regarding coexistence with wildlife.
On the Sports Hub, MP Edward Chia (PAP-Holland-Bukit Timah) asked about lessons learned from its terminated public-private partnership (PPP), and about new guidelines that will apply to Government agencies and statutory boards for future PPPs.
He also asked about the total cost to the Government to keep the PPP going, and the anticipated cost of having the Sports Hub run fully by the Sport Singapore (SportSG) statutory board.
Dr Wan Rizal asked how SportSG will encourage better utilisation of the Sports Hub's facilities and how it intends to attract high-level competitions and talent.
Apart from his adjournment motion, Mr Yong, who is also assistant secretary-general at the National Trades Union Congress (NTUC), asked about the manpower ministry's plan to improve workplace safety and health for food delivery riders.
Mr Yong highlighted that riders may endanger their lives as they are incentivised by platforms to make as many deliveries as possible during peak hours.
Other topics to be discussed include sexual health and sexuality education in schools; former Sri Lankan president Gotabaya Rajapaksa's presence in Singapore; and race- or community-based data being shared in closed-door settings with community leaders and groups.