Tharman Shanmugaratnam: The student activist who wants to bring his 'practical idealism' to the presidency
Presidential candidate Tharman Shanmugaratnam shares more about his school days, relationship with his wife and how he can help the 4G leadership if he becomes President.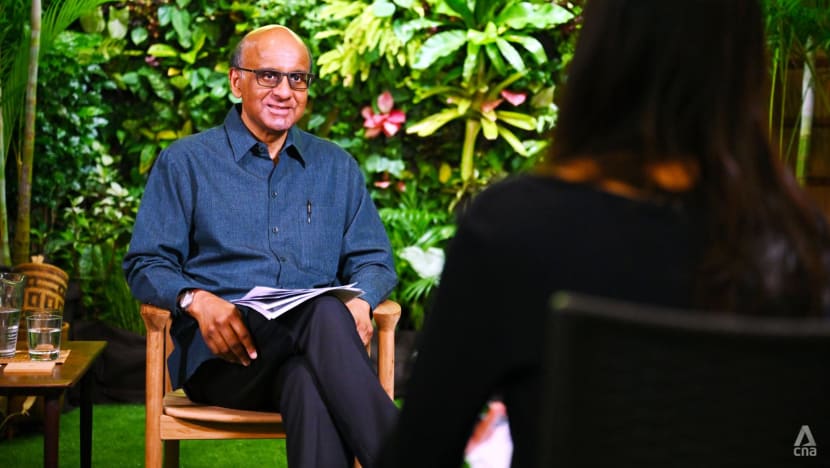 SINGAPORE: Taking a drink in the middle of his interview, Mr Tharman Shanmugaratnam joked: "Don't worry, I'm speaking the same language."
It was a reference to Prime Minister Lee Hsien Loong's "magic cup" – a blue tea cup that gained fans online after Singaporeans noticed he often takes a sip out of it before switching to another language during his speeches.
The former Senior Minister, who is up against former GIC chief investment officer Ng Kok Song and former NTUC Income chief executive Tan Kin Lian in the race to be Singapore's next President, was expounding earnestly on Singapore's leadership transition, among other things, when he dropped this unexpected jibe.
Sitting in front of a vertical garden at Greenology, a greening consultancy, he shared much about his vision and ideals, but was also unexpectedly open when questions touched on his personal life.
Mr Tharman, 66, is the son of Mr Kanagaratnam Shanmugaratnam, an emeritus professor at the National University of Singapore who was known as Singapore's "father of pathology". While other presidential hopefuls have publicised their rags-to-riches stories, Mr Tharman is an alumnus of Anglo-Chinese School (ACS), which in a country obsessed with brand-name schools, is synonymous with privilege.
The avid school athlete furthered his studies in UK at the London School of Economics and did his master's in economics at the University of Cambridge.
When asked about his less-than-humble background, Mr Tharman said he didn't grow up a "rich kid", and was one of the few students at ACS who took public transport.
"My family wasn't poor but we weren't rich … and we had a very frugal lifestyle. My mother was like that – I had just enough for the bus fare and one drink at recess time, and that was it."
He recounted how he went to university with three pieces of clothing: One shirt, one pullover and one pair of pants, which he wore "nonstop".
"Unfortunately, because I washed them together, one of the shirts was red, one was white and eventually the white one became pink," he said.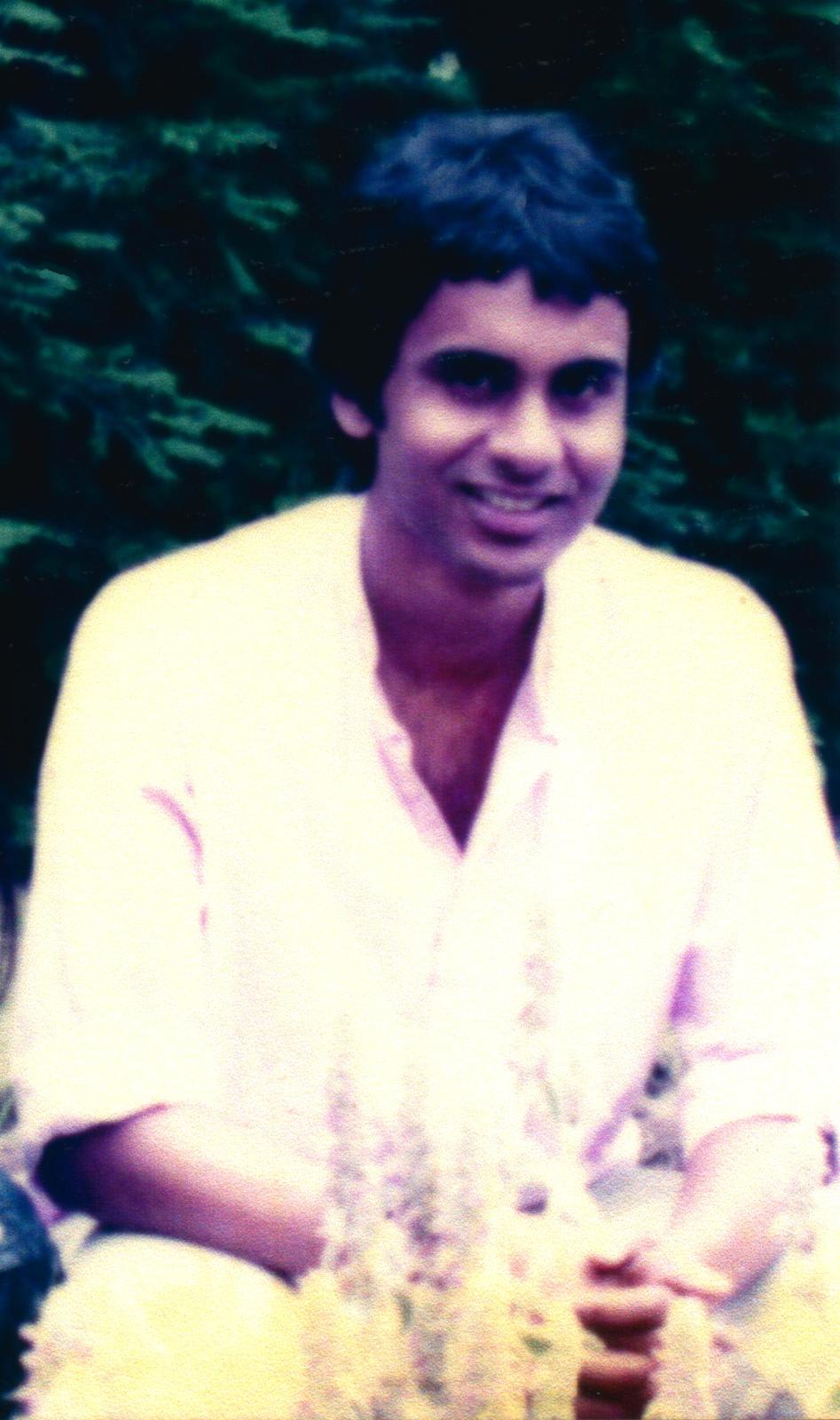 "One day I was in college – and because I was still quite a sporty guy – to take a shortcut, I hurdled over a barrier rather than take a long walk to go out. And that pair of pants, which was made of corduroy that had grown quite thin by then, tore in a very awkward part.
"And I had to clutch my pants and just rush to a clothing store to buy a new pair of jeans."
He also went for about two years in the UK without eating meat, getting by with a bursary provided by Cambridge, and not relying on his father.
"I went and bought wholesale nuts because it was actually very cheap … and banana and yoghurt and then you mix it up and I had it for breakfast, lunch and dinner, and I thought it was delicious."
"NO FIRST AND LAST WORD"
The UK was also where he met wife Jane Yumiko Ittogi, who had done her master's at LSE and moved in the same social circle of friends who were "deeply interested in social issues".
While there's a running joke in Mr Tharman's ward, Taman Jurong, that his wife always has the last word, that's not the case, he said.
"Whenever we have our small discussions and so on, I'll usually start off saying something … then we've always had the practice of having her come in with an additional perspective, but it's always been a joke because we are really equals," he said. 
"There's no first and last word … my wife and I discuss issues very closely and we both come to the last word together."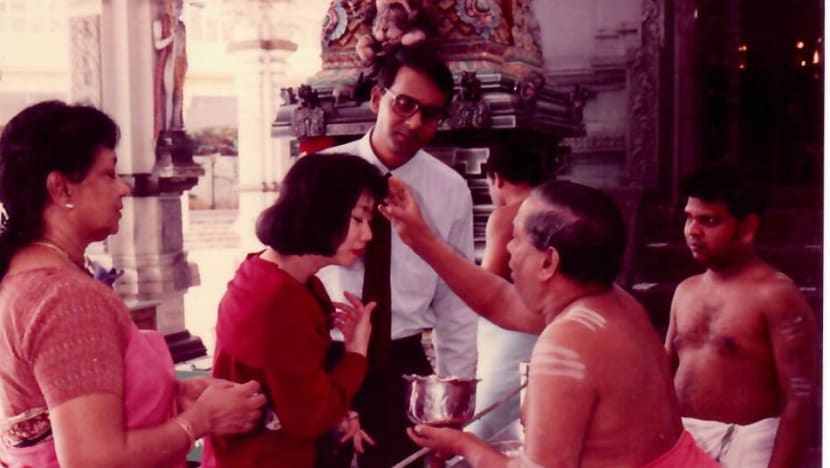 During the interview, she sits by the side filming Mr Tharman with her phone. At one point, they sort through photos and Mr Tharman picks up a photo of their four children, saying that he will tell an amusing story about their fecundity.
Mrs Tharman gently suggests a simpler word – "fertility" – and he muses out loud if the two words have the same meaning, eventually settling on "productivity". While Mr Tharman was unwilling to go into much detail about his children, he happily told reporters how they were conceived.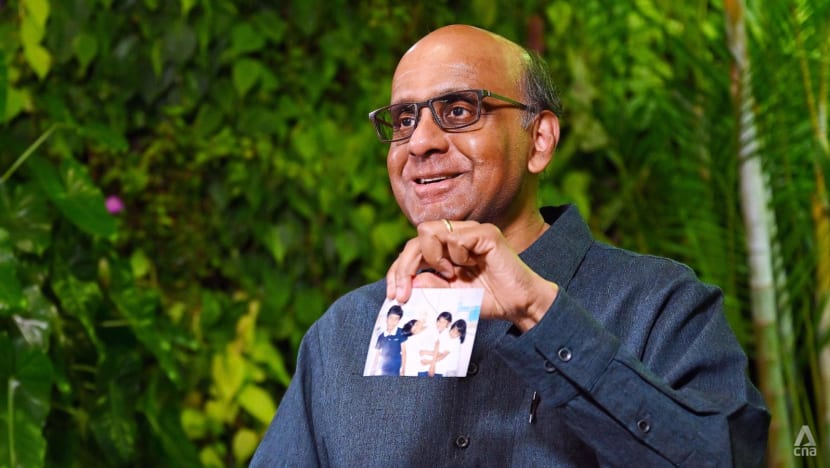 "When we got married, we weren't particularly young. We wanted to be productive and have children. So we did a bit of research, and we found that there was a tribe in Africa called the Yoruba tribe that had incredible fertility and in fact, had lots of twins," he said. 
The tribe ate a lot of yams so he and his wife, who is Teochew, decided to eat as much orh nee, a yam dessert, as they could.
"We used to go to a whole range of hawker stores and restaurants around town eating orh nee," said Mr Tharman. 
"Didn't know whether the husband should eat or the wife should eat, so we both 'whacked' and not bad, we had four children in quick succession."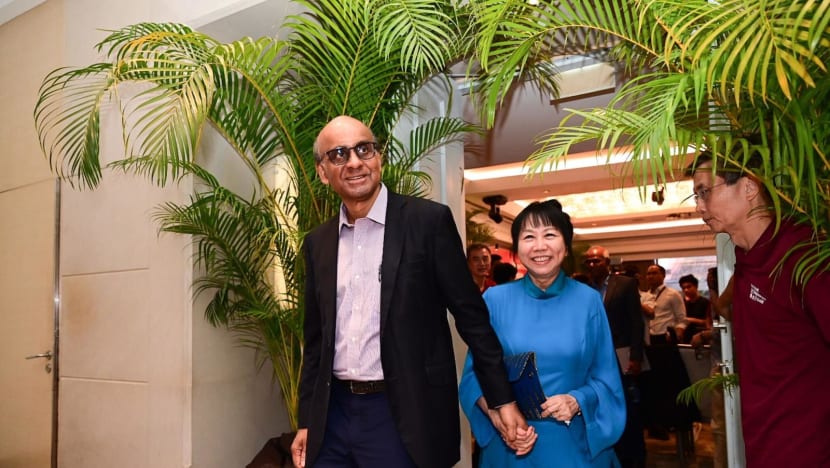 "I WAS SO MUCH OLDER THEN"
Mr Tharman is now firmly a part of the establishment, having been a People's Action Party (PAP) Member of Parliament for 22 years and a Cabinet minister for two decades, but it's no secret that he was once a student activist.
After completing his studies and returning to Singapore, he joined the Monetary Authority of Singapore (MAS) and eventually became its chief economist. He had a stint at the Ministry of Education as Senior Deputy Secretary for Policy, before returning to head the MAS.
Most assume the former activist had a change of heart along the way, which prompted him to join the ruling party and become an MP in 2001. But Mr Tharman said he has always been on a path of "practical idealism" and has not wavered, although his methods have changed.
"I was a student activist because I was concerned about not the establishment, but about the fact that we had economic and social systems which I felt were not very fair. I was in search of alternatives," he said.
During the late 60s and 70s, a lot of people in Singapore were poor and he was deeply concerned about inequality, he said. He began studying these issues and tried to raise awareness.
"I used to go around Singapore a lot (observing things), when I was in the UK I used to do the same. I interacted for instance with British coal miners and in fact, I spent the whole day in the tunnels … just to understand their lives. So I like interacting with people and learning something from them."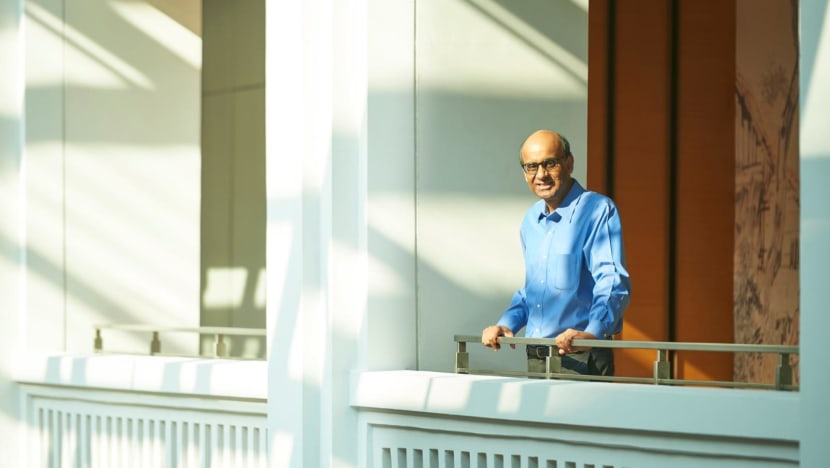 By the end of his university years, he came to the position that socialist systems were not working well, and he would have to find ways to make market economies fairer and help incomes rise for the majority.
"That's been the core for me all along, through my years as a chief economist and as managing director at MAS and certainly in politics," he said.
He thinks he is more idealistic now than he was 20 or 30 years ago, explaining that this is because he recognises that a fair and progressive society can be achieved not just by the actions of the state but also by transforming lives on the ground.
"There's an old Bob Dylan song that says: But I was older then, I'm much younger than that now.
"I believe in collective responsibility as the best way to support personal responsibility. And I believe personal responsibility gives people the greatest satisfaction and they own their own success," he said. 
"We've got to help people achieve and that's a much fuller form of idealism where you think of not just the role of government, but the role of volunteers, the role of communities and the role of individuals."
LEADERSHIP TRANSITION
That idealism spills over to what he intends to bring to the presidency, a post that he believes will become more important than before as the world enters "troubling times".
Singapore is going through a leadership transition, with Prime Minister Lee Hsien Loong slated to retire and the fourth generation or 4G leaders, led by Deputy Prime Minister Lawrence Wong, stepping up.
"I believe Lawrence not only has what it takes, but will be a leader for the times, with a very different style," said Mr Tharman.
Change is coming not just in the leadership. Society is going through a "healthy evolution" where it has become more complex with more diverse views, and there is a shift of the balance between the PAP and the opposition, he added.
"It's critical that as this happens, it's not just a transition with an uncertain end but a transition that leads to a strong centre – a centre of beliefs and aspirations that most people hold to," he said. 
"And the most important fundamental is that we've got to deepen our respect for ordinary Singaporeans."
Given that the President does not shape policy, how does Mr Tharman envision his role?
Speaking of his long and close relationship with Mr Wong, he said: "I have confidence that I'll be able to have a relationship of trust with him where I can provide advice independently, and I think we will both take each other seriously."
He added that as his conversations with Mr Wong will take place privately, it does not impinge on the fundamental role of the President as independent of the government.
He also hopes to be the country's "voice of reason" internationally. Mr Tharman has held key positions or led committees at international organisations including the World Economic Forum, the International Monetary and Financial Committee, the United Nations, the Global Commission on the Economics of Water and more.
"I come ready with a set of relationships and with some standing that can help Singapore never be regarded as too small, always be taken seriously. Particularly with the new Prime Minister and leadership having to spend a lot of time on domestic challenges. I think that international role will be particularly useful," he said.
SPEAKING THE SAME LANGUAGE
While Mr Tharman is known for his intellect and policymaking experience, he emphasised that his time on the ground was the best part of his years in politics.
While many Singaporeans think of him as a former Deputy Prime Minister, Senior Minister or Finance Minister – positions he held in his long political career – residents of Jurong have seen a different side of him.
"The bulk of my time ... has been on the ground – interacting with people, getting to know them, sharing their joys, their frustrations – and that's been the most important part of my life in the last 22 plus years," he said.
Right after the quip about speaking the same language, Mr Tharman answered a question about what his style will be if elected President.
"I'm not going to change my style ... I'm always just listening to people and just trying to feel what they feel ... that can only be done through very personal interactions."
He would not have been as effective as a policymaker without all that ground engagement, he reflected.
"It's not a different part of the brain ... You're the same person, but you're playing different roles, and it is such a privilege to play those different roles, and find that actually they fit together. I would not have been as effective as a national policymaker if I was not on the ground, a lot of the time."
Mr Tharman's experience in policymaking and politics has also led some to say that he is "overqualified" for the role of President, but he disagrees.
"All the experience that I've built up in government, in politics on the ground and internationally is going to be absolutely useful," he said. 
"This is not just going to be a ceremonial responsibility, it's going to be an active responsibility, domestically, supporting initiatives on the ground."
But having resigned from all his political appointments and from the PAP, what does he intend to do after the vote on Sep 1 if he loses? 
"I'll cross that bridge when I get to it. I've never planned my life all these years. One thing for sure – I'm not going back to government or politics."
This is the second in CNA's series of interviews with each of the candidates running in Singapore's Presidential Election. The interview with Ng Kok Song was published on Aug 23 and the interview with Tan Kin Lian was published on Aug 25.