'Great pity' if Ong Teng Cheong, Tan Cheng Bock did not qualify for presidential race because of political links: Tharman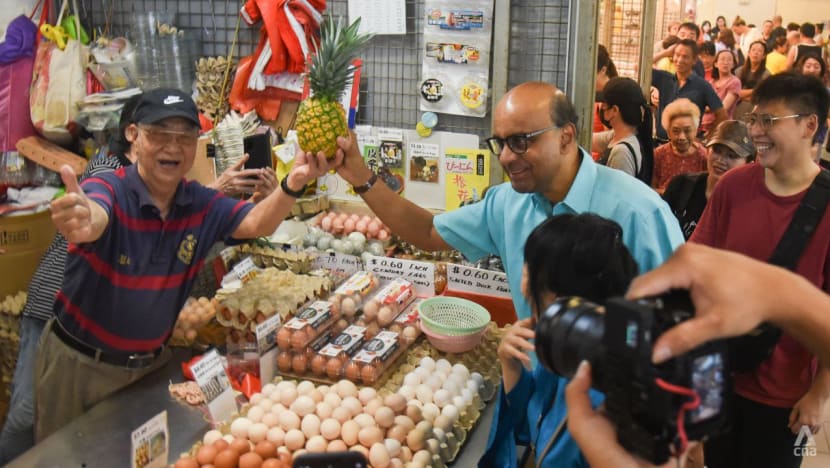 Rival candidate Ng Kok Song said this week that resigning from political appointments shortly before running for President "misses the spirit" of the Constitution
Mr Tharman held several key appointments in government, before retiring from politics as Senior Minister in July
Mr Ong Teng Cheong and Mr Tan Cheng Bock were members of the People's Action Party for many years
 
SINGAPORE: It would have been a "great pity" if former President Ong Teng Cheong, and 2011 presidential candidate Tan Cheng Bock had been ruled out for the post because they had been in politics before, said Mr Tharman Shanmugaratnam on Saturday (Aug 26).
Facing the media in the middle of a walkabout at Tiong Bahru Market on Saturday morning, Mr Tharman was asked to respond to a comment by his rival Ng Kok Song.
Mr Ng had said that quitting political appointments shortly before being nominated as a presidential candidate technically complies with the Constitution's requirement for candidates to not belong to any political party, but "misses the spirit of it".
"I would say it would have been a great pity if we have to rule out Mr Ong Teng Cheong, Mr Tan Cheng Bock and several other people," said Mr Tharman.
"Let's focus on the individual because this is a leadership contest and a very important leadership contest."
Mr Tharman, 66, had been a People's Action Party (PAP) Member of Parliament for more than 22 years. He headed several ministries, including the Ministry of Finance for eight years, before becoming Deputy Prime Minister and Senior Minister.
He resigned from all his posts and from the PAP in July 2023.
Mr Tharman urged people to move beyond "political affiliations" to look at a person's character and "what they're bringing to the future".
"It's too important a contest to reduce it to the simplicity of past affiliations and when you do reduce it to the simplicities of past affiliations, I must say there are more affiliations that each of the candidates have besides mere membership of the PAP," he added.
Mr Tharman is running in the Presidential Election against Mr Ng, former chief investment officer at GIC and ex-NTUC Income chief Tan Kin Lian. Mr Ng has been presenting himself as a "non-partisan" candidate.
Mr Tan was once a member of the PAP, but quit many years back. Members of the opposition are among his key supporters, including the proposer, seconder and assenters who signed his nomination for President.
Mr Ng also said at a forum on Friday that there could be "conflict of interest" if a former Minister of Finance becomes the President and the new Finance Minister or the Prime Minister was someone who had worked with him, or was mentored by him.
Current Deputy Prime Minister and Finance Minister Lawrence Wong, who is widely expected to become the next Prime Minister, had worked closely with Mr Tharman before.
To this, Mr Tharman said: "That might happen if we have two weak individuals and you have a President that doesn't know how to stand his ground. But I think that's certainly not been the case with me."
The media interview was held in the middle of Tiong Bahru Food Centre and Market where Mr Tharman met hawkers, market stall holders and diners.
Several people were seen wearing shirts bearing pineapple images, and a few even pressed the fruit - which is Mr Tharman's election symbol - into his hands.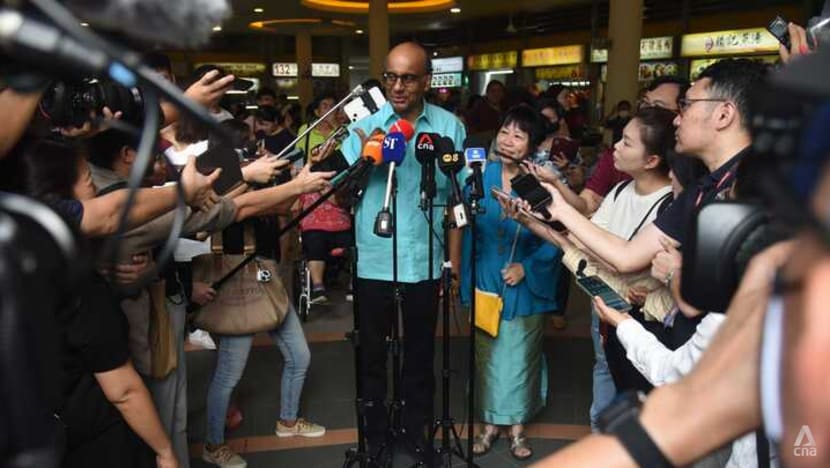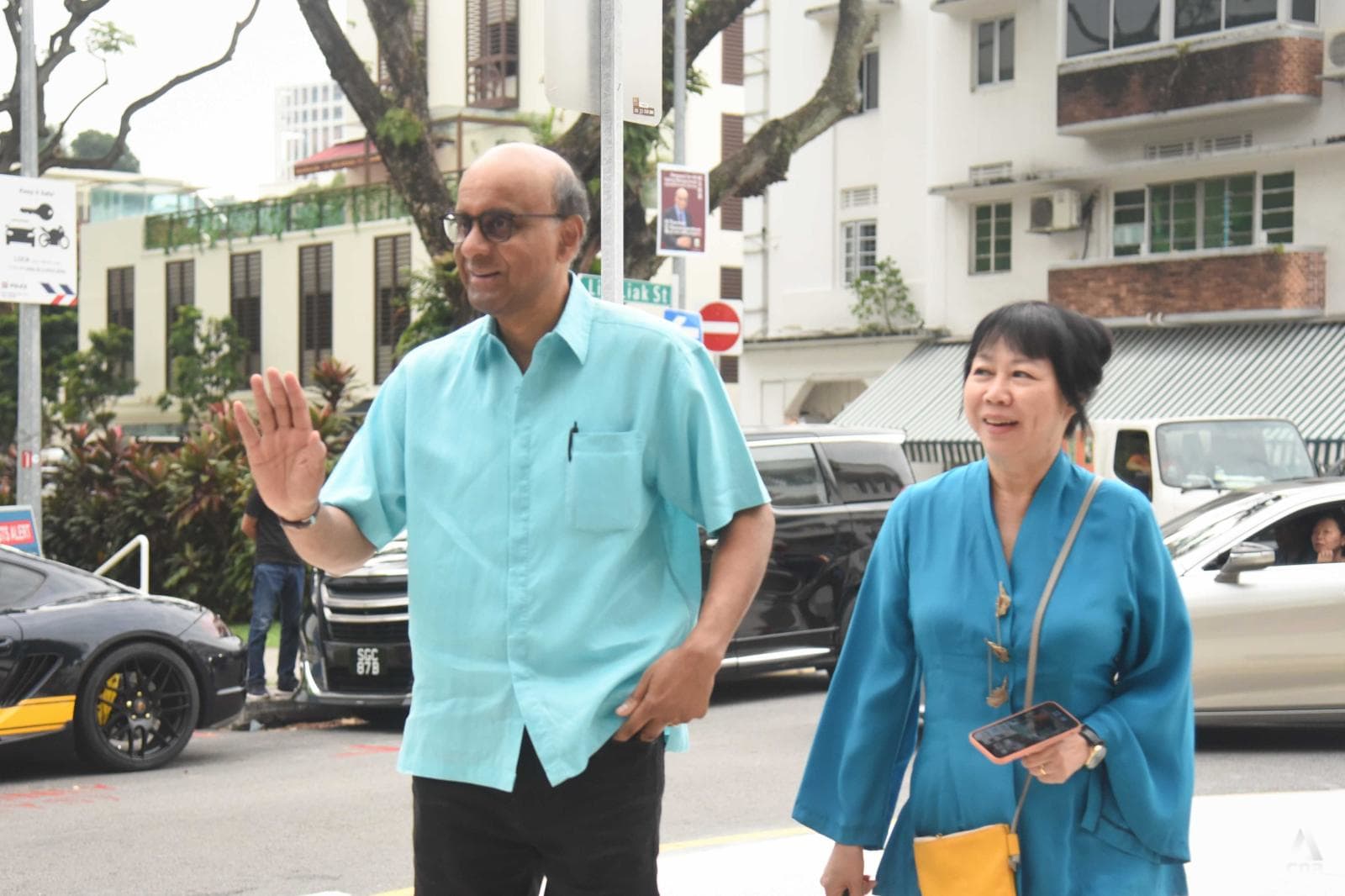 When asked how he would reach across the political divide as President, Mr Tharman said that his track record "speaks for itself" on how he has treated opposition party members over the years.
As for engaging "hardcore opposition supporters", he said: "We must accept differences of views ... sometimes you can't reach them immediately.
"But we are all Singaporeans together, we are all partisan for Singapore ... and that unites us."
Mr Tharman was also asked about the Council of Presidential Advisers (CPA), a body that advises the president. While the President has some constitutional powers, such as the ability to veto any inappropriate use of the reserves, he or she is expected to act in accordance with the CPA's advice.
Should a presidential veto contradict the CPA's recommendation, Parliament can overrule the president through a motion supported by at least two-thirds of all MPs.
Mr Tharman said the system was "designed that way", as one of several constitutional checks and balances.
"I understand the system very well. I will work with respect to the CPA but as you know, no one in the bureaucracy or anywhere else can fool me on any matter to do with government finances."
The presidential candidate, whose campaign slogan is "respect for all", was also asked how the Singapore identity has evolved.
Mr Tharman said that it's "a remarkable achievement" for Singapore to have come so far and for both the leadership and ordinary Singaporeans to get along, but the country needs to "go further".
"We have to deepen our multiculturalism in the years to come ... and it will make the Singapore identity an even greater source of strength."