Condo owners shelving plans to downgrade, others who sold homes are stuck, say agents after cooling measures
Property agents expect the rental market as well as demand for smaller HDB flats to heat up after the Government implemented fresh cooling measures.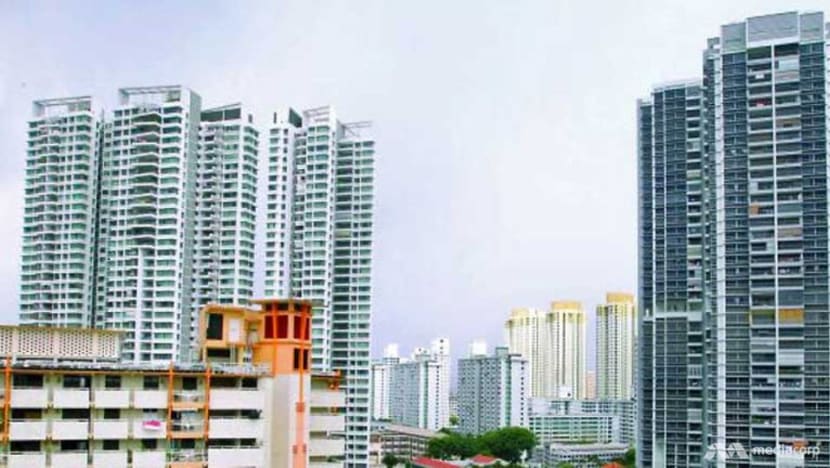 SINGAPORE: Some condominium owners are postponing plans to cash in on their home and downgrade to an HDB flat, while those who have sold their property are now in a difficult spot, property agents told CNA on Friday (Sep 30).
These private property owners will have to enter a red-hot rental market to lease a place for more than a year before buying an HDB flat, or consider moving to a smaller but cheaper condo unit, the agents said.
This comes after the Government announced its latest property cooling measures late on Thursday, in a bid to moderate demand and ensure prudent borrowing amid rising interest rates and sky-high resale prices.
One measure imposes a 15-month wait-out period for private home owners before they can buy a non-subsidised HDB resale flat. The period will kick in after they sell their property.
This new rule will not apply to people aged 55 and above who are moving from their private property to a four-room or smaller resale flat.
Previously, private home owners were allowed to buy an HDB resale flat on the open market if they sold their private properties within six months of purchasing the HDB unit.
PropNex agent Shafik Yusope said he has helped clients sell their condos after they signalled plans to use the extra cash to fully pay for an HDB flat.
"Their intention is the moment the proceeds come in, they would want to purchase an HDB flat," he said.
"But now with this cooling measure ... they cannot buy. So they are very anxious, (saying): 'Where am I going to stay? I have committed to my sale already, now I need to buy. What you want me to do?'"
RENTAL MARKET TO FURTHER HEAT UP
Mr Shafik said these owners will most likely have to rent an HDB unit during the wait-out period, although he foresees challenges with this too.
"Already at this point of time, the rental market is very difficult, meaning to say, demand is higher than supply," he said.
"It's going to get even hotter because these people, after downgrading, they have to rent. It's going to be a tough time for them to look for a house."
Data from 99.co and SRX show that condominium rental prices rose by 1.7 per cent in July, rising for the 19th consecutive month, while HDB rental prices rose 1.5 per cent, the 25th consecutive increase.
Even before the cooling measures were announced, Mr Shafik said he got 50 enquiries in the first hour of advertising a "super basic" HDB flat in Yishun for rent. With the measures, he expects demand to skyrocket.
"Because these (condo sellers) are downgrades, they have, I would say, quite healthy proceeds. So, they have the ability to rent, financially," he said.
"Whether they are able to get a house for them to rent for at least 15 months, that's a different question."
PLANS ON HOLD
Fellow PropNex agent Daron Ang said he has three clients below 55 years old who wanted to capitalise on the currently "attractive" condo prices by selling their home and buying an HDB flat.
According to data released by the Urban Redevelopment Authority in July, prices of non-landed private properties increased by 3.6 per cent in the second quarter, compared to a 0.3 per cent decrease in the first quarter.
"They were just a bit annoyed because they were looking forward to cashing out and holding on to more cash," Mr Ang said.
"But right now they have to shelve their plans for at least 15 months."
Mr Ang, who spent the morning answering queries from concerned clients, said he is still considering how to advise these private home owners on their next move.
"If their ultimate goal was to cash out, (they can) move to a private property that is one size smaller," he said.
"So let's say now they're holding on to a big three-bedroom (condo) worth S$2 million plus, then at the most they just move out to a two-bedroom - if they can accept it - worth S$1.5 million. Then they cash out the difference."
"VERY DRASTIC MEASURE"
Another property agent from ERA, who only wanted to be known by his surname Ng, said he has clients who are condo owners in their mid-40s with similar plans to "downsize back to HDB and cash out their savings".
These clients have to revisit their plans and consider buying a condo that is smaller or located in a more affordable area, he said.
"This is a very drastic measure that money cannot solve," he said, referring to how some buyers could contend with previous cooling measures that limited loan amounts or introduced extra taxes. 
"It doesn't matter how much you sell your current place for; you can't buy an HDB. So, they are a bit surprised, and so are we."
HDB UNIT SELLERS WORRIED TOO
Mr Ng said one-third of his clients, comprising both condo and HDB sellers, were directly impacted by this measure. They texted him in the morning about their concerns, and he will meet them tonight to discuss next steps.
"I also have some HDB sellers who are also worried because these measures cut out a big portion of their prospective buyers," he said.
"It just so happened that this unit that I'm selling now is a five-room. So, even the 55-year-old buyers cannot purchase it as well."
Mr Ng predicted that demand for three- and four-room resale flats will rise, especially as private home owners aged 55 or older - likely retirees - looking to downgrade can buy these units without a wait-out period.
"We expect demand for these units, especially four-room because it's a more comfortable size, to shoot up as well," he said.