More restaurants implement reservation fees to prevent no-shows as bookings spike
Restaurants that implemented reservation fees told CNA they saw a marked drop in the number of last-minute cancellations and no-shows.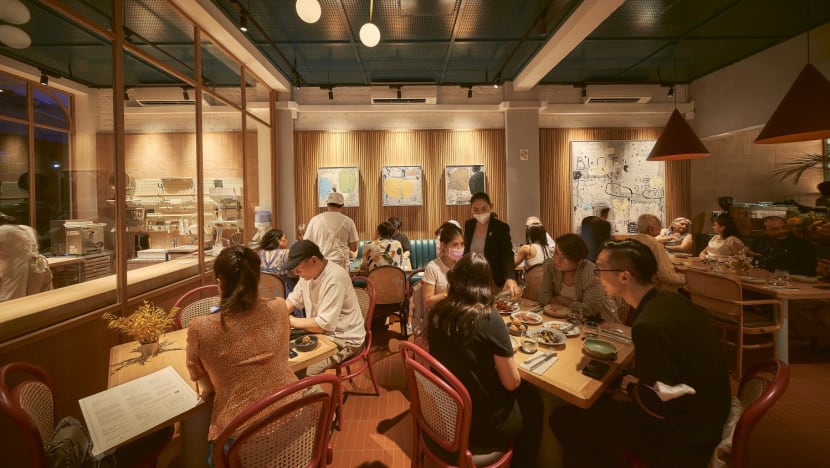 SINGAPORE: With more people dining out as the COVID-19 pandemic wanes, some restaurants now require customers to place reservation deposits or credit card holding fees to prevent no-shows or last-minute cancellations. 
Ms Tan Woan Shin, who oversees marketing and public communications at Thai restaurant Un Yang Kor Dai, said the restaurant implemented a reservation credit card holding fee of S$25 to reduce the number of no-shows. 
"We just want to reduce and avoid those customers that make multiple bookings on the same day but in different restaurants," she told CNA. 
Before it implemented a credit card holding fee, the restaurant had two to four no-shows a week. 
"After we implemented it, the rate dropped until about every month, only one or two tables do not turn up," said Ms Tan. 
In most cases when a restaurant asks for a reservation guarantee, the customer is not actually charged the fee, said the Restaurant Association of Singapore. The credit card holds the amount, and the amount is released after the meal instead of being deducted from the bill.
Other restaurants may choose to charge an actual booking fee upfront, and the deposit is later deducted from the bill. 
Grub implemented a credit card holding fee of S$50 per table for both of its outlets at Stevens Road and Junction 8 late last year. 
The fee applies to groups of five and above on weekends at the Stevens Road outlet and every day at the Junction 8 outlet, which is generally busier, marketing director Amanda Phan said. 
If customers cancel their reservation with less than 24 hours' notice or do not show up, they forfeit their deposit. 
This has been "very helpful" to reduce no-shows, said Ms Phan, adding that more customers now call if they need to cancel the reservation instead of simply not showing up. 
Restaurant company The Cicheti Group said its outlets received complaints when they first implemented a holding fee because customers thought it was a charge on their credit card. 
"This reservation credit card hold is not a charge at all," said managing partner Ronald Kamiyama. "Their bank will put it there and hold it, but we don't receive that money at all unless we go ahead into our system and charge for it." 
IMPACT OF THE PANDEMIC
Since the pandemic, more customers make reservations instead of walking in, restaurants told CNA. This is especially so for bigger groups, as safe-distancing measures had made it more difficult to get tables. 
But some diners make bookings at multiple restaurants on the same day, and only decide on the day itself where they want to go, resulting in no-shows or last-minute cancellations, said restaurant owners and managers. 
The Cicheti Group, known for its casual dining Italian restaurants, implemented a credit card holding fee about six months after the pandemic started, said Mr Kamiyama. 
"We were never planning to do so in the past. We did notice that even before COVID, people would book on a weekend or whichever day and then they wouldn't show up. Depending on the outlet, it was okay, it wasn't a big deal for us because we did take some walk-ins from the outside. 
"When COVID started, it became really bad because we relied on reservations. Not many people were walking around to walk into our restaurants." 
Before the holding fee, some of the group's outlets saw about 10 no-shows each weekend, said Mr Kamiyama. 
"When people don't show up we give them a call. But (they) were also not responding to calls or not getting back to us," he said, adding that they would wait for the guests thinking that they were late, and deny walk-in guests the table. 
"Ultimately, we would lose the table completely because of that." 
The group currently requires reservation holds of S$20 to S$40 per person, depending on the outlet. A busier outlet, like Cicheti along Kandahar Street, which sees more walk-in customers, would have a lower reservation hold fee. 
"It's just a matter of communication, right? It really doesn't take much to pick up a phone and call an outlet if you're not coming. It's okay if people cancel, but at least let us know so that we can give the table to somebody else," said Mr Kamiyama.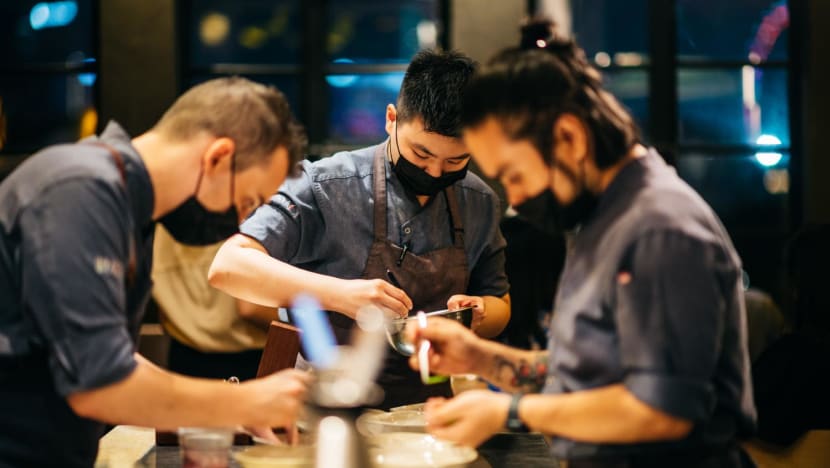 Grub saw more reservations throughout the pandemic, and as a result, there were more no-shows even though staff called customers the day before their reservation to confirm their attendance, said Ms Phan. 
"For now, people make the reservation, then if they don't want to come, at least they will tell us … Sometimes people say I got COVID or my friend got COVID, we generally don't take the deposit. 
"Even if you inform us a few hours before, it helps a lot. Then we just release the table for walk-ins to come in." 
The company was initially hesitant to implement a holding fee for fear of turning customers away. Some customers are also not willing to leave their credit card details for a booking at a more casual restaurant like Grub, Ms Phan acknowledged.
But the no-shows pushed the team to go ahead with the holding fee. 
"We call them and they confirm and say they're coming, and we hold the table for them. But they don't come, and we call them and they just either ignore our call or say they can't make it anymore. But by then we would already have left that table empty for 45 minutes," said Ms Phan. 
"It happened to us quite a few times … We were left with no choice," she said. 
Sometimes, the restaurant would be empty although there was a long queue of walk-in customers waiting outside.
"It was quite a double whammy. The walk-ins cannot sit and the reservations don't turn up or they're late and they don't even bother to call." 
FINE DINING VS CASUAL DINING
Having a credit card hold or reservation deposit is becoming a widely accepted practice around the world, especially in fine dining, said a spokesperson for the Restaurant Association of Singapore. 
"Not so much for casual restaurants. This is because the cost of the premium ingredients, the high menu price and limited seating capacity of such restaurants make it prudent for fine dining to do so." 
Marketing director for the il Lido group of restaurants Evelyn Yo noted that with online booking portals like Chope, taking a credit card holding fee has become more of a standard practice across the industry. 
The il Lido group is best known for its one-Michelin-starred restaurants Braci at Boat Quay and Art at National Gallery. It also runs casual dining restaurants Amo and Gemma, and two bars, Southbridge and Levant. 
At its Michelin-star restaurants, the group takes a reservation credit card hold of S$50 per diner. At its other establishments, this only applies to groups of five and above. Customers are not charged if they cancel the reservation with at least 24 hours' notice. 
"Especially in the fraternity of Michelin-starred fine-dining restaurants, I dare say that this is a very friendly policy. Some of our colleagues are charging full menu price or half menu price, or even S$100 (per head)," said Ms Yo. 
The group's restaurants saw a "quite significant" number of last-minute cancellations and no-shows in the past few years, with many diners citing COVID-19-related reasons. 
"During this time, we were flexible with it, especially with the few waves throughout COVID," said Ms Yo, adding that they did not charge the penalty for last-minute cancellations and no-shows who wrote in to plead their case. 
When asked whether the group plans to make its cancellation policy more stringent as the pandemic eases, Ms Yo said there are fewer last-minute cancellations now that the big infection waves are over. 
"I think it just serves as a gentle reminder that we're taking your reservation seriously. If you are not able to show … We like to give our diners the benefit of the doubt, but stereotypically Singaporeans respond to the carrot and the stick," she added. 
"So sometimes you impose a bit of a penalty to remind them don't take this casually, we've got a waitlist, we'd like to welcome other paying guests and not hold your table." 
Not all restaurants have been successful at implementing a booking fee. Enjoy Eating House & Bar, which has outlets at Jalan Besar and Stevens Road, tried to implement a reservation deposit earlier this year but many customers were unwilling to pay the fee, said its co-owner James Ang. 
Initially, the restaurant would charge between S$50 and S$100 depending on the size of the table. For example, a group of 10 people would need to pay S$50 to reserve a table. Customers could transfer the sum through PayNow or other digital payment methods, and it would be deducted from the bill after the meal. 
"But recently, we decided to stop doing this, and only take deposits for reservations above 16 pax," said Mr Ang. 
"There was a lot of miscommunication, customers weren't willing to pay the deposit. I feel that the Singaporean culture is perhaps not ready for paying money for a reservation …Because of the operational issues that it caused, we decided to raise (the number)."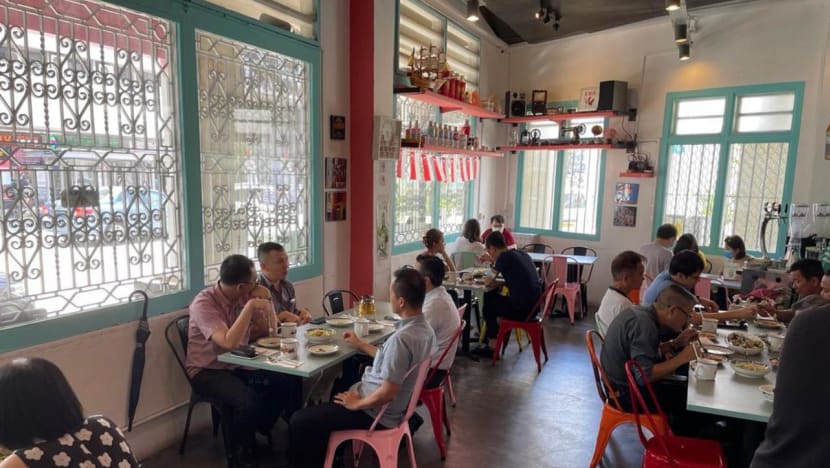 The team wanted to implement a reservation deposit because both outlets had limited capacity and can seat only 40 to 50 people. 
"Let's say a big group of 10 pax or more ... it's about 25 per cent of our capacity. So if the big groups don't show, then it impacts our sales because we reject other tables to keep the reservation," Mr Ang said. 
The restaurant saw the number of last-minute cancellations and no-shows peak with the COVID-19 infection waves, he added. 
"Pre-COVID, what we experienced is that there's still cancellations and no-shows, but the walk-ins would quite easily make up for that most of the time," said the restaurant owner. 
"But with the pandemic coming in, business has been suffering, walk-ins have dropped also. So the impact of the no-shows and cancellations is actually bigger on the restaurants."