Grilled, fried or stewed: Eateries in Singapore serving up silkworms without approval
A check online and at food establishments found that several Chinese and Korean eateries were selling silkworm pupae, despite it not being approved for consumption in Singapore.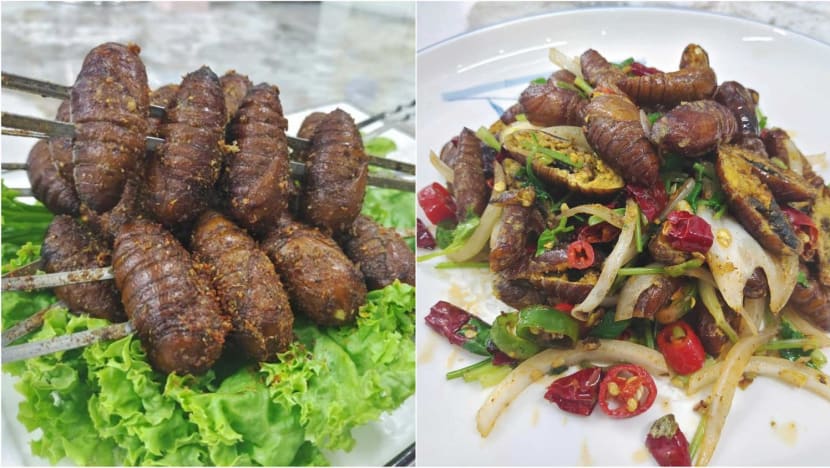 SINGAPORE: The sale of insects for consumption has not yet been approved in Singapore, but some eateries are already serving up dishes with creepy-crawlies. 
A check online and at food establishments found several Chinese and Korean restaurants here selling silkworm pupae – usually grilled, fried or stewed in soups.
Chuan Chuan Le, a Chinese restaurant in Jalan Besar specialising in grilled skewers, put up a post on its Facebook page last month introducing two of its new dishes: Stir-fried silkworms and grilled silkworms.
Silkworms were also on the menu at Ode to Joy Dining, a coffee shop stall in Midview City selling grilled food and mala xiang guo, a spicy, tongue-numbing stir-fry of vegetables and meats.
Another grilled skewers restaurant, Tang Men Chuan Chuan in Orchard Plaza, offered chilli-fried silkworms at S$28.80 (US$21.70) for order on food delivery platforms. 
The sale of silkworm pupae and other insect products for consumption is currently not allowed, said the Singapore Food Agency (SFA) in response to CNA queries.
"Members of the public who come across illegal sales of insects or insect products for food should report to SFA via the online feedback form, which we will investigate," said the agency's spokesperson.
When CNA visited Chuan Chuan Le last Thursday (Mar 23) afternoon, the silkworm dishes were not listed on the menu. But employees confirmed that they were available for order. 
The employees claimed that silkworms were allowed to be sold as food in Singapore, but said they did not know where the pupae were imported from.
"There are grilled ones and stir-fried ones. The grilled ones come in a stick of four, and the stir-fried ones are mixed with chilli and other spices," an employee said.
Each skewer of grilled silkworms costs S$2 and the stir-fried version costs S$16. Both dishes sell "pretty well", she said.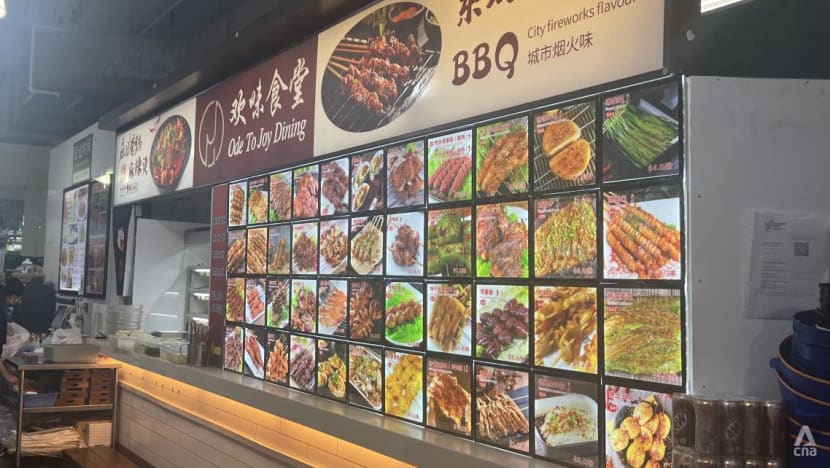 CNA also visited Ode to Joy Dining, which offers grilled or stir-fried silkworms.
The eatery started serving silkworms on Mar 8, and the grilled version is especially popular, an employee said. 
CNA successfully ordered a skewer of four grilled silkworms for S$5.
A plate of stir-fried silkworms costs S$19.80, and both dishes are also available for takeaway.
In response to questions about whether it was legal to serve this, the employee only said that it is "rare" for silkworms to be sold as food in Singapore.
​​​​​At least two Korean restaurants in Singapore also at some point sold silkworm pupae as food – reviews online pointed to the dish being available at Badam in Tanjong Pagar and Oven & Fried Chicken in Bukit Timah.
However, the dish did not appear to be listed on their menus when CNA visited. In response to queries, Badam said on WhatsApp that it "sometimes" sells the dish but was unwilling to elaborate. Employees at Oven & Fried Chicken refused to comment.
PUBLIC CONSULTATION
SFA conducted a public consultation between October and December last year to seek feedback on regulating insects for consumption.
As part of the consultation, 16 species of insects and insect products were identified for possible approval as food in Singapore, said SFA. Besides silkworm pupae, these include crickets, grasshoppers, beetles, mealworms, moths and honeybees.
The commercial farming of insects for human consumption and animal feed has been promoted by the United Nations' Food and Agriculture Organisation in recent years, the SFA said in October. 
In Singapore, more than 10 companies have expressed interest in importing insect food products or insect farming. 
Companies intending to import or farm insects for consumption have to meet certain requirements for food safety, SFA said at the time. 
These requirements include providing documentary proof that the imported insects were farmed in "regulated establishments with food safety controls" and that no pathogens or harmful contaminants were used in the rearing or feeding of the insects. 
Those who want to import or farm insects without a history of human consumption must conduct and submit safety assessments to SFA before the product is allowed for sale.