Singapore Turf Club closure: 'It's not the end', says one riding school that moved there three months ago
Riding school Bukit Timah Saddle Club had just moved from its historic home in Bukit Timah to its new home at the Singapore Turf Club three months ago.
SINGAPORE: The fate of some 80 horses at one riding school is hanging in the balance, just months after they moved to the Singapore Turf Club in Kranji. 
Bukit Timah Saddle Club, as well as other tenants there, may be forced to find a new home in the next two to three years. 
This comes as the Singapore Turf Club site will be handed back to the government in 2027 for redevelopment.
Spectatorship for local horse racing has declined over the years and the space in Kranji can be redeveloped to better meet Singapore's future land use needs, the Ministry of Finance (MOF) and Ministry of National Development (MND) said on Monday (Jun 5). 
The site will be used for housing and other potential projects, including leisure and recreation.
TENANTS SHOCKED AT CLOSURE 
For the team at the Bukit Timah Saddle Club, the news of the closure came as a shock. 
The riding school had recently moved from its historic grounds at Bukit Timah to its new home at the Singapore Turf Club, just three months ago at the end of February.
It had also spent a substantial amount to refurbish the grounds for activities such as dressage and riding lessons.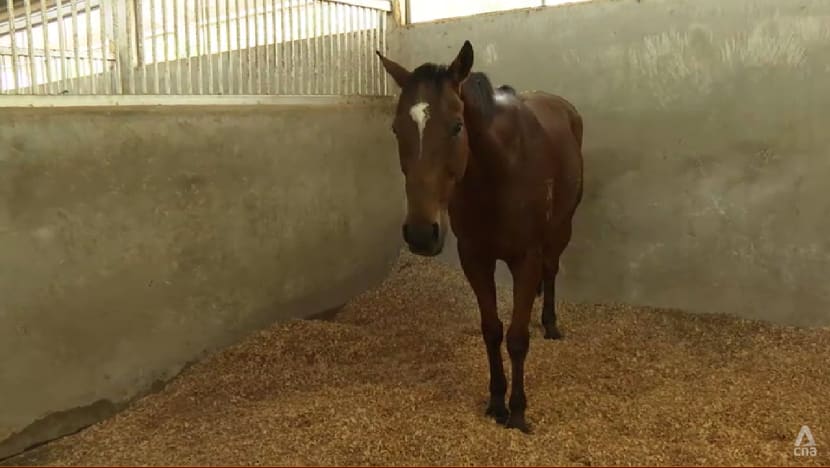 "We had to build a new walker, so they can exercise with the other riders," said Bukit Timah Saddle Club general manager Stephanie Poupard. "We (built) a shelter, then we had to build a new arena."
When asked about having to leave again after refurbishing the space, Ms Poupard said: "Of course it's sad. The first time we heard the news yesterday, it was a bit of a de-motivation at the beginning. 
"But after that, we realised it's not the end. We have to work to keep it going."
MANAGING LIKELY HIGHER COSTS
She said Bukit Timah Saddle Club will remain at Kranji for the next two years before its lease expires. After that, it may renew its lease for another year.
In the meantime, it will write to authorities in hopes of remaining at the site for good.
Even so, it expects costs of supplies to rise with the Singapore Turf Club's phased departure, said Ms Poupard, noting that supplies are usually delivered together.
She added: "Everything is imported. The food is imported. The hay is imported. The wood chip is imported. 
"When we reduce the quantity, I'm sure the cost will be more expensive."
Maintaining a horse also does not come cheap, costing around S$4,000 each month.
Bukit Timah Saddle Club has 80 horses, while more than 30 others are privately owned in its liveries.
It is also planning to take in five former racing horses from the Singapore Turf Club, which will export its 700 horses to countries such as Malaysia before it shuts.
Meanwhile, Gallop Stable, which takes in retired horses, said it is willing to house the remaining ones that do not get exported.
But the company, which runs two stables in Bukit Timah and Pasir Ris, said it takes several months to rehabilitate a horse.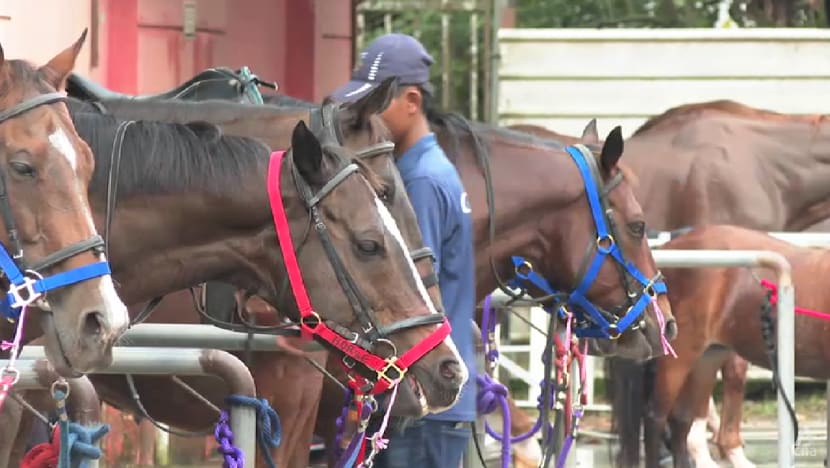 This could be between six months to a year, said Gallop Stable director Joanne Lee. 
"It usually starts with their food, so we give them food to make them a little calmer. And then we also introduce them to their surroundings here, the people, and we let them socialise with other horses."
RETRENCHED STAFF TO RECEIVE SUPPORT
Gallop Stable said it is also open to taking in skilled workers.
When the Singapore Turf Club closes, all 350 employees will be retrenched in phases, with the first round taking place in about 16 months.
The club said that the employees will receive support during the transition, including a retrenchment package, personal career guidance and skills-training courses.
Over the next three years, it will engage with stakeholders and address their respective needs, Singapore Turf Club said on Monday. 
"A phased approach based on business needs will be deployed to ensure the continuation of successful operations and a smooth handover."