Pritam Singh questions 'suspicious' circumstances of release of Tan Chuan-Jin's hot-mic video
The Leader of the Opposition said he has received questions about whether the release of the hot mic video was a "false flag".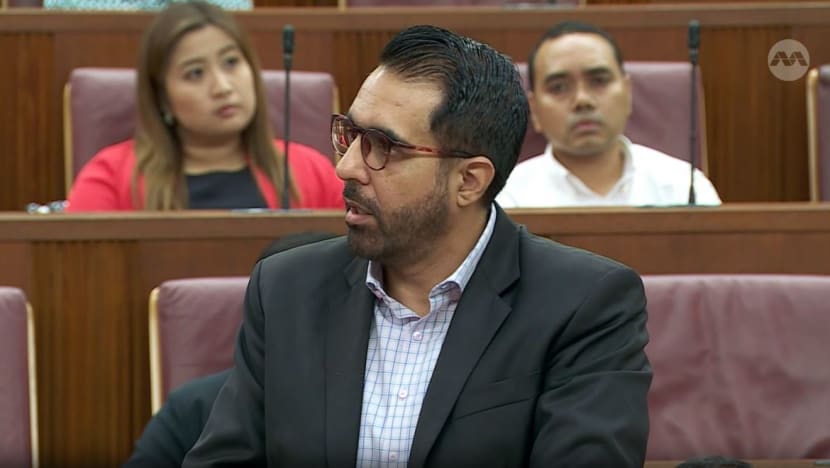 SINGAPORE: Leader of the Opposition Pritam Singh on Wednesday (Aug 2) questioned whether the circumstances around the release of an online video of former Speaker Tan Chuan-Jin's hot-mic incident were suspicious.
A Reddit post on Jul 11 pointed to a video where Mr Tan can be heard muttering "f****** populist" following a speech by Workers' Party Member of Parliament (MP) Jamus Lim during a parliamentary sitting on Apr 17.
After the post was made, Mr Tan apologised to Assoc Prof Lim. About a week later, Mr Tan resigned as an MP and from the People's Action Party over an extramarital affair with a fellow MP.
Wednesday's parliamentary sitting was the first since the hot mic incident came to light, and Leader of the House Indranee Rajah raised a point of order to address the matter.
Mr Tan's remark "was not fully audible on the normal livestream, save for a slight burble of sound at the end; and, as far as I'm aware, it was not audible to members in the chamber at the time the words were uttered", she said.
"However, that burble of sound on the livestream was obviously noticed. It was amplified and circulated some three months later, which then brought the incident to the attention of members and the public."
POLICE INVESTIGATION?
Mr Singh asked if Ms Indranee would refer the video to the police to investigate who had released it.
Ms Indranee said that the police investigate criminal offences, and that this question had not occurred to her as it was not clear that amplifying audio was an offence. "If that were the case, then many videos that are put out by many people would be an offence," she added.
Mr Singh said his question was about the duration of time that it took for the hot-mic video to become public.
"I'm not sure whether the Leader considers there to be something suspicious about that. There is also the matter of what we came to know later, of a long-running affair between (Mr Tan) and another MP," he said.
Ms Indranee reiterated that she was unsure if releasing the video after Mr Tan had already made the comments constituted an offence, but added that individuals can make a police report if they consider it to be so.
Mr Singh then said that he was referring to "the total circumstances of the timing of this video coming out", and added that the police sometimes investigate before concluding whether there was an offence.
"I'm just asking in the case of the personality involved, the Speaker of the House, a very senior member of government, whether there would be some thought placed on the circumstances of how that video came to be circulated in public.
"I wasn't speaking of a specific disclosure of an offence, but the total circumstances – that query whether there could be something more to it."
Mr Singh added that some individuals had come to him with questions of whether it was a "false flag" incident, referring to an act that is designed to pin blame or responsibility on another party.
Ms Indranee replied: "I think Mr Singh is aware that one only refers matters for investigation by the police if an offence has been committed. The police do not generally investigate things which are not offences.
"At the moment, it is not apparent to me that there is an offence. But should ... something further come up which indicates that an offence may have occurred, then the matter can be reconsidered at that time."
FORMAL APOLOGY BY TAN CHUAN-JIN
Before the exchange with Mr Singh, Ms Indranee read out a formal apology by Mr Tan to the House, in which he "unreservedly" withdrew the comment directed at Assoc Prof Lim.
Ms Indranee said that the usual approach to unparliamentary language is to require a withdrawal and an apology, and that Mr Tan had agreed to this after she communicated to him that it was necessary.
She also highlighted two precedents involving the use of unparliamentary language in the House.
After a sitting in November 1995, a complaint was made against then MP Ling How Doong for "(describing) the speech made by another MP in vulgar terms, (calling) the other MP a word questioning the legitimacy of his birth, and (referring) to him using an anatomical term".
The matter was closed when Mr Ling, at a subsequent sitting, withdrew his remarks and apologised to the House.
At another sitting in March 2005, Nominated MP Associate Professor Ong Soh Khim uttered unparliamentary words that were not captured in the official record. Several complaints were made against her.
The matter similarly ended when Assoc Prof Ong apologised to the House for using unparliamentary language.
Turning back to the present incident, Ms Indranee said that Mr Tan had apologised three times – to the public, to Assoc Prof Lim and to parliament.
"As such, my view is that the specific matter of Mr Tan's use of unparliamentary language does not require any further action, and this regrettable incident can be brought to a close," she said.
SYLVIA LIM, LEONG MUN WAI QUESTION INDRANEE
MP Sylvia Lim (WP-Aljunied) asked Ms Indranee to clarify whether she was exercising any authority as Leader of the House when she communicated to Mr Tan that an apology was necessary.
"The Speaker is the master of the chamber, he has the power to punish us. But it's a question mark as to who has the power to punish him if there is any unparliamentary conduct," she said.
Ms Lim said that from her research into other jurisdictions, a motion of regret filed by backbencher MPs was the usual practice.
Ms Indranee replied that she was not exercising any authority over Mr Tan, and had only indicated her view to him as Leader of the House.
She added that she did not have the power to conclude the matter, and that if any MP had another view, it was up to them to pursue it.
Non-Constituency MP Leong Mun Wai asked why the Leader of the House did not think it necessary for Foreign Minister Vivian Balakrishnan to formally apologise when he was caught making comments about Mr Leong on a hot mic.
Mr Leong was referring to a previous incident in which a voice was heard saying "he's illiterate" and "seriously, how did he get into (Raffles Institution)? Must have been a lousy school" during a livestream of a parliamentary sitting.
Dr Balakrishnan later apologised to the Progress Singapore Party politician in a call.
Ms Indranee said that typically, the Speaker rules on such matters and it is for the person who has the right to complain – in that case, Mr Leong – to raise the issue.
"I have raised it here simply because it is the Speaker who had uttered the words, and other members can raise a complaint if they wish," she said.
"But I felt that it was appropriate that as Leader, I should address it. And of course, he's no longer here in parliament to deal with it, so somebody has to raise it."