IN FOCUS: Are Singapore's youth fighting more - or simply filming more acts of violence?
After a video went viral of a group of girls attacking another in a carpark, CNA looks at whether social media has had a role in fanning the flames of violent and aggressive acts among young people. 
SINGAPORE: Punched, kicked, dragged by her hair and flung multiple times to the floor of a car park, the girl cries out in distress.
But her tormentors - three 15-year-old girls - offer only mocking laughs in return, and continue raining blows on their victim in a viral clip circulating in August.
The same month, another video spreads online like wildfire, this time of a St Andrew's Secondary School student aggressively confronting a school staff member and screaming threats such as "I'll end your life right now".
More clips later emerge on social media, showing who appears to be the same boy scrapping with other students in a school toilet and along a corridor, fully aware they are being filmed as others also stand around watching. 
In May, footage of international school students tussling at a void deck - complete with boxing gloves - and in the company of at least 10 onlookers, draws the attention of online crowds and subsequently, the police.
These videos, along with several others of youth in brawls and free-for-alls, have racked up hundreds of thousands of shares, reposts and reactions to the shocking scenes on display.
They are only the latest servings in a buffet of disconcerting imagery to consume and regurgitate at the tap of a button - and they have sparked heated debate.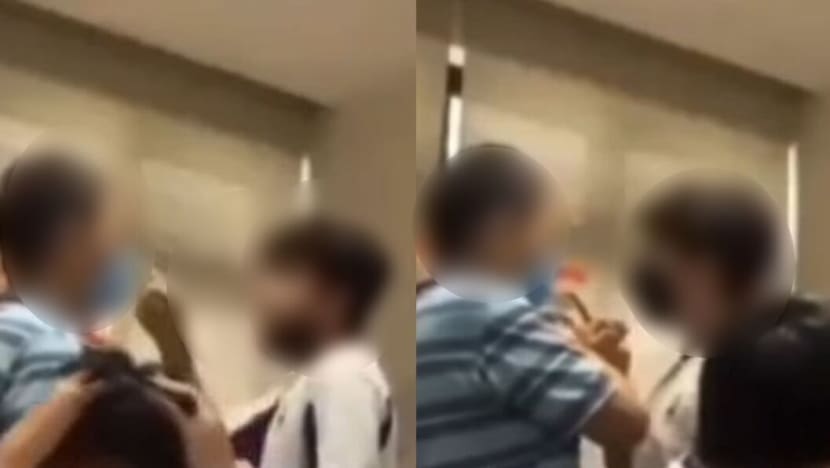 Several lament a perceived upswing in aggression and violence among youth, asking if social media platforms should be held accountable for hosting and perhaps even enabling these trends.
 
Public data - along with observations by social workers, educators, behavioural experts and people who engaged in fights themselves - show a mixed picture of whether youth in Singapore are partaking in more violence these days.
 
Some tell CNA that the more pressing issue is that of bullying, which often goes undiscovered.
 
But all agree that it is worth exploring if social media has fanned the flames and perpetuated, among the young, an increasingly visible spectacle of violence.
"IMMEDIATE GRATIFICATION"
Police statistics show that the number of people aged 21 and below arrested for rioting has steadily dropped over the last decade, from 462 cases in 2011 to 150 in 2020.
It reflects efforts by the police to clamp down on organised crime - in recent times, multiple operations against gang activities have been conducted, and those arrested included individuals below the age of 21 - with some as young as 16.
"In the 80s, in the 90s, when you see the gangs fight - (they were) very violent. I think the intensity was higher," said Mr Ong Teck Chye, the assistant director of residential and outreach services at the Boys' Town charity, which helps children and youth in need. 
 
"Is there really more violence (now)? Everybody's always saying that every generation that follows is worse, right?"
 
Figures from the police also reveal, however, that the number of those aged 21 and below arrested for causing serious hurt rose from 62 cases in 2011 to 77 in 2020.
For some observers, this suggests a shift away from mass brawls toward settling disputes one-to-one or in smaller groups.
 
Men who participated in fights in their youth told CNA it could also be a case of violence becoming more visible – and in part motivated by a pursuit of online clout.
 
Their names have been changed to avoid identification.
 
"I believe fights have always happened, but people just didn't video them as much and subsequently, didn't post them online," said Charles, who began brawling at the age of 19. 
 
"The rise of awareness of such incidents shouldn't be attributed to more incidents, but to our access to online content."
 
He said it is possible that fights are filmed and uploaded – sometimes by aggressors themselves - to pressure, blackmail or embarrass their victims, or gain a reputation.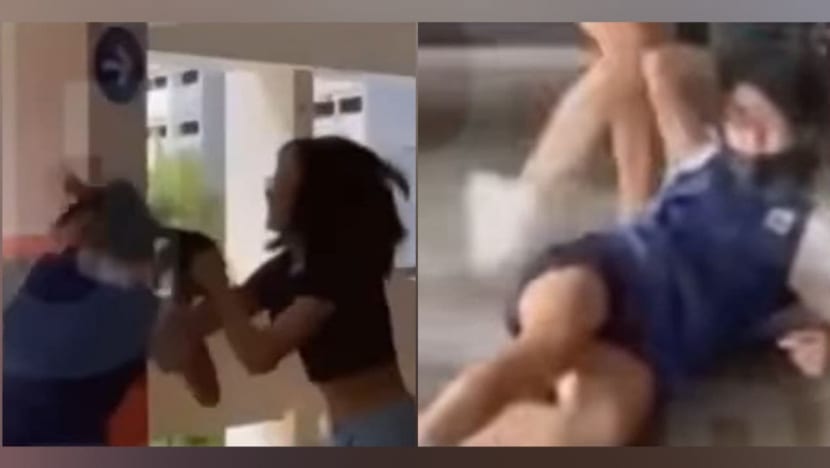 Social worker Wong Ying Li, who heads the youth and community mental health departments at social service agency Fei Yue, agreed.
 
"Attention via notoriety could be a motivating factor," she said.
"For those who upload videos - and they may not be the youth who were involved in the physically violent behaviour - social media provides immediate gratification and it meets the youth's need for recognition and achievement."
"I'M NOT SO DUMB"
Sociologist Omer Ali Saifudeen from the Singapore University of Social Sciences notes that such behaviour takes place against the backdrop of an already "readily available" spectacle of violence online.
He cites the likes of terrorist Brenton Tarrant, who in 2019 livestreamed his murder of 51 people at two mosques in New Zealand.
People grow increasingly desensitised and there is the danger that this "sets the standards in terms of the norms and values of what is okay", said Dr Omer.
Layered onto an appetite for capturing and spreading incidents of violence in hopes of gaining virality, the act takes on a life of its own, with an added dimension of "broadcasting" power over a victim.
"So the next time you feel someone needs to be taught a lesson you film it, and you'll be celebrated for it … That kind of messaging is going up," Dr Omer added.
"We never quite got past our own schadenfreude. We never quite got out of the Colosseum," said the lecturer.
He was referring to the historic Roman amphitheatre notorious for its gladiatorial contests and other public spectacles.
CNA asked tech firms Twitter, TikTok and Meta – parent of Facebook and Instagram - for information and statistics relating to content on their platforms featuring youth violence. All declined to comment.
Ms Adrienne Sng, a clinical psychologist at Boys' Town, said, however, that her research shows no proof of social media leading to violent behaviour.
 
When exposed to violent content on platforms, youth may realise the possibility of behaving in such ways or become more accepting or tolerant of violence as a part of life. 
 
But the youth that she works with rarely emulate what they see online, said Ms Sng, and in fact speak of such acts almost derisively – such as by insisting "I'm not so dumb".
 
Former and current teachers told CNA that the real problem, instead, is an "observable" increase in the number of students being bullied, threatened, ostracised or ridiculed by schoolmates – with many of these going unreported.
POWER IMBALANCES
Last year, Minister of State for Education Sun Xueling revealed that in 2020, there were two bullying incidents for every 1,000 primary school students, and five bullying incidents for every 1,000 secondary school students. The proportions were the same in 2019, but exact figures were not provided.
The education and social and family development ministries did not immediately respond to CNA's requests for comment and for the latest data.
A 2018 study by the Programme for International Student Assessment (PISA) found that 26 per cent of students in Singapore reported being bullied at least a few times a month - on par with levels in the United States.
Ms Sng described bullying as a subset of youth violence, and involving a constellation of behaviours: It is unwarranted, has intention to harm, is repeatedly performed over a period of time and involves a power imbalance in interpersonal relationships.
The August video of teenage girls scuffling in the car park also led to some comments saying that this was a clear case of bullying.
Dr Omer believes bullying should not be considered distinct from violence.
He said it is an embodiment of "cultural violence" - where someone is considered "less acceptable" or as needing to be put down, by another person with their own sense of superiority.
"This is how violence is escalated," he said in response to the video of the girls in the car park. 
"You start with something small, verbal, and then you get away with it. (Then) you push the envelope a little bit more because you're emboldened."
How then can a young person be steered away from a path of violence? One commonly found suggestion among online reactions: Cane them if need be.
Dr Omer said caning might have had a deterrent effect when its use was more normalised. "It does have that kind of immediate terror …  It's the easiest thing to turn to," he noted. 
But there will always be those who keep receiving corporal punishment and never improve.
"They carry that resentment forward, it never quite gets resolved, and you see recidivism happening," said Dr Omer. "There's no easy answer." 
TACKLING TRIGGERS
Ms Wong from Fei Yue said that from a youth social worker's perspective, all parties involved in violent or bullying behaviour – whether aggressor or victim - are viewed as in need of support and intervention.
Having such incidents published and propagated widely can be unhelpful for all parties, she added.
"They may be shamed or even glorified at times by their act. The former affects their mental well-being while the latter internalises their negative identities and perpetuates the behaviour," said Ms Wong, recommending that people refrain from sharing videos of violent acts.
Observers said however that it would be a tall order to tear youth away from their screens – and could even backfire. Attempting to police uploads of violent videos could also end up diverting their attention and energies in other questionable directions.
Max, who started getting into dust-ups with others at the age of 11, said that social media can also function as a deterrent.
"Youth who are more aware of their surroundings may stop acts of bullying upon being recorded, to not have evidence against them," he said.
"And with technology these days, it's also easier to identify victims and the bullies."
Ms Sng from Boys' Town points to an entire ecosystem in place – schools, youth groups and media platforms offering education and mental health strategies – working to encourage positive youth development instead.
"Youth need to know they are supported, have resources and can have positive experiences growing up," she said.
This would then form a protective net to catch, early on, any underlying factors that could lead to violent behaviour - including neglect, abuse, or even a genetic disposition towards aggression.
A former educator who wanted to be known only as Peter agreed.
"No child is capable of hurt unless provoked by some emotional or mental triggers," he said.
Parents, on their part, must not allow underlying triggers to go unresolved, whether by denying their children proper attention or not acknowledging their own overprotectiveness.
"The younger generation … they want people to understand them," said Peter. "It's vital that we show care and the human touch to (them) so that they learn respect and empathy for their peers."
"These are lessons which can only be taught by human interaction, care and attention - and cannot be taught through technology."