Pakistan amplifies demands at COP27 for loss and damage progress in wake of deadly floods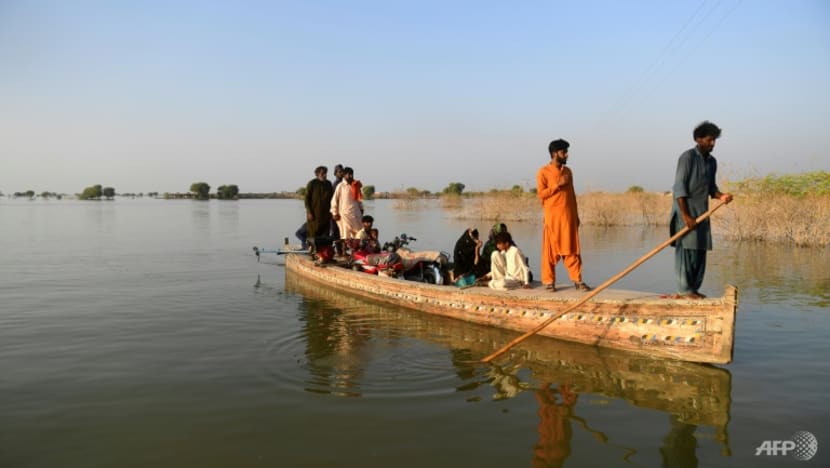 SHARM EL-SHEIKH, Egypt: Pakistan's climate minister said catastrophic floods this year have set the country back half a century, as she amplified her calls for the developed world to come to the negotiating table on providing more financial assistance.
Sherry Rehman spoke to CNA on the sidelines of the United Nations climate change summit in Egypt, and urged a decision on loss and damage to be made at COP27, while her people continued to struggle.
"There are 33 million people impacted. We have women and children and they need a predictable future to look towards," Ms Rehman said on Thursday (Nov 10).
"Their livelihoods have been completely swept away, whether their cattle or livestock or the croplands that they depended on. And that's something that is very much the urgent need of the hour."
Loss and damage would involve the mobilisation of finance from richer nations that have historically caused climate change to those countries on the front lines reeling from the increasingly costly impacts.
It is on the official agenda of COP for the first time amid growing frustration from developing nations that the vast majority of current climate funding has been directed to mitigation, or efforts to slow down the warming of the planet.
Loss and damage funds would be designed to assist countries suffering from impacts that they cannot avoid or adapt to, and delegates are expected to push for a formal mechanism to deliver those funds.
According to the World Bank, the floods have caused US$30 billion of damage, while impacts of climate stress in Pakistan could top nearly $US350 billion by 2030.
These are enormous sums that countries like Pakistan are struggling to absorb, on the back of repeat disasters, including floods, prolonged droughts and wildfires. As the current chairman of the G77 coalition of developing nations, Pakistan has been the leading voice at COP27 in pushing the cause.
"Getting loss and damage on the agenda is very important, it's a message of hope. But it is not enough," Ms Rehman said.
"There needs to be a facility this year, not three years later in discussions. There needs to be a window or fund or facility that actually addresses and starts feeding loss and damage funds."
Newly elected COP president Sameh Shoukry noted at the opening of the summit that the agenda will not involve liability or compensation, a sticking point for wealthier nations in the past.
Ms Rehman said Pakistan was intent on cooperation, not being adversarial about their claims for money.
"We can't pay this alone for other people's pollution. So, I'm going to be very clear. I don't want to be offensive. The bargain between the Global North and Global South has to actually work. This bargain is broken right now.
"It should neither be reparations, which is very extreme, or compensation, which is adversarial and doesn't really get you anywhere at a diplomatic or negotiating table, or charity," she said.
"We want this to be part of a predictable, agile, and when-in-need series of climate transfers of resources to people who are suffering the loss and damage, without being the polluters."
The latest climate data shows the planet is on track for 1.7 degrees Celsius of warming by the end of the century, missing the target of 1.5 degrees Celsius, seen as a crucial tipping point, beyond which even more damaging climate-driven extreme events will occur.
"What goes on in Pakistan will not stay in Pakistan. Because if one ecosystem starts dying it takes down the next and the next, Ms Rehman said.
"There's always money for war. So there's got to be money to save lives, right?