Singapore committed to decarbonisation goals while uplifting workers in the transformation: Grace Fu
Singapore's Minister for Sustainability and the Environment Grace Fu delivered a keynote address and participated in a panel discussion about breakthroughs needed for a greener economy. 
SINGAPORE: Singapore is committed to meeting decarbonisation goals by 2050 and will help workers along in the process of industry transformation, said Minister for Sustainability and the Environment Grace Fu on Tuesday (Jun 6). 
Ms Fu delivered a keynote address at the opening of Ecosperity Week, an annual sustainability event by Temasek that brings together global business leaders, policy-makers, investors and academics to address climate issues. More than 600 such individuals attended Tuesday morning's conference. 
Themed Breakthroughs for Net Zero, this year's event will be held at the Sands Expo and Convention Centre from Jun 6 to Jun 8, with a focus on fast-tracking and financing decarbonisation, among other issues. 
Apart from Ms Fu, Minister for National Development Desmond Lee and Senior Minister and Coordinating Minister for Social Policies Tharman Shanmugaratnam are expected to deliver speeches in the remaining two days of the conference. 
During her keynote address, Ms Fu said that Singapore is committed to meeting its national climate target to achieve net zero emissions by 2050. 
Citing a report that mentioned finance, technology and international cooperation as three critical enablers for accelerated climate action, Ms Fu elaborated on how Singapore could contribute in these aspects. 
Singapore must accelerate the development of decarbonisation technologies to make them commercially viable in order to harness their potential for decarbonisation at scale, Ms Fu said. 
She raised the example of low-carbon hydrogen as a potential alternative to fossil fuels in the maritime and aviation sectors. Hydrogen can potentially supply up to half of Singapore's power needs by 2050, she said. 
"More importantly, it has the potential to unlock global energy trade, through its carrier forms that can be stored and transported over long distances. This will connect regions with abundant low-cost renewable energy with those that have limited renewable energy potential. 
"However, the technology and supply chains are still nascent, and large-scale deployment has not yet been demonstrated."
Another problem was the shortfall in funds to finance net zero goals. The solution to address this, Ms Fu said, is the scaling of blended finance, which is public, multilateral, or philanthropic funding "coming in as catalytic capital, to improve the bankability of green projects and encourage private investments". 
The development of credible carbon markets is another breakthrough in finance, as carbon credits are key instruments that "channel financing to mitigation projects which would otherwise not be bankable nor implementable", said Ms Fu. 
"(Singapore) will allow companies to use high-quality international carbon credits to offset up to five per cent of their taxable emissions from next year onwards. This could spur local demand in carbon markets, hence supporting the growth of a vibrant international carbon market and channel financing to mitigation projects internationally," she added.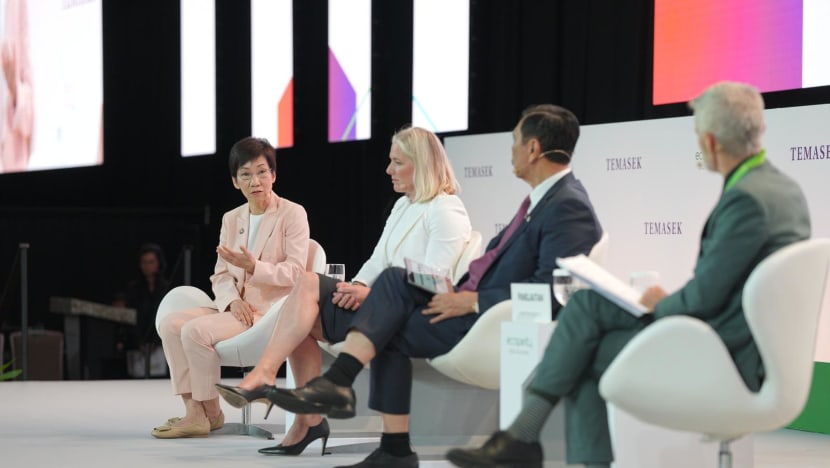 PANEL DISCUSSION ON DECARBONISATION AND GROWTH
After the address, Ms Fu joined UN High-Level Expert Group on Net-Zero Commitments of Non-State Entities Chair Catherine McKenna, and Indonesia's Coordinating Minister for Maritime and Investment Affairs Luhut Binsar Pandjaitan for a 40-minute panel discussion on whether decarbonisation comes at the expense of economic growth. 
The discussion was moderated by Professor Benjamin Cashore, the director of the Institute for Environment and Sustainability at the Lee Kuan Yew School of Public Policy.
Noting that the Asia Pacific region accounts for about two-thirds of the world's 2 billion workers who had fewer social protections, Professor Cashore asked Ms Fu what the government's role was in strengthening social safety nets while transitioning to a low carbon economy. 
He also asked what kind of training was needed for workers to be able to participate in the new green economy.
In her response, Ms Fu noted that Singapore needed to be aware of the impacts on the workforce in the process of climate action. 
"What are the things that we need to do to galvanise the private sector, the people sector, and also how do we harness the resources that are out there?" she asked. 
The minister cited Singapore's 23 industry transformation maps that ranged from advanced manufacturing to chemicals. 
"How do we make each worker thrive post-COVID, and that really I think is the objective of the government. 
"Climate change ... is a horizontal that cuts across all sectors, we have to think about moving the workforce towards a low carbon future. So really, across the sector, we have to think about what would be the element that needs to go in? How do we want to transform the industry?"
Climate action was not just about looking for new fields, but also about making every industry's operations more energy efficient, added Ms Fu.
"And in this process, not only do we have to train the new entrants to the job market, we have to ensure that all our workers in their respective industries are uplifted and trained."
Using the cleaning industry as an example, Ms Fu said multitasking was a way cleaners can afford better pay. 
"They're not just looking at basic cleaning, they're looking at how do I assess facilities, if there are broken lights for example, can I do some simple repair, if there's a security issue, can I also respond? 
"So it's really about multitasking and making the job a lot more value-adding to the company. And hopefully it's really about moving from the bottom up, industry by industry that we want to make this transition an inclusive one." 
Professor Cashore also asked Ms Fu how a small city-state with limited renewable options like Singapore can do internationally and domestically to overcome its constraints. 
In response, Ms Fu noted that 98 per cent of Singapore's power source is natural gas, which is the cleanest form of fossil fuel, though this was not an ideal arrangement. 
While Singapore was looking for solutions, these were not commercially viable on a large scale yet and so the country will see a greater reliance on natural gas for some time before substitutes come in. 
For vehicles for example, the government has announced policies on low-carbon vehicles. 
"All the ICE (internal combustion engine) vehicles that we are used to seeing on the roads probably you won't see that from 2040 onwards, so there will be a time, a transition period, where we're going to electrify even more than before alternative fuel is found, we are probably going to use natural gas for some time to come."