From poachers to protectors: In the 'Guilin of Thailand', locals lead efforts to conserve ancient rainforest
Asia's Great Climate Frontiers: In the rainforests of southern Thailand, locals are spearheading efforts in environmental protection. In the last part of a monthly series, CNA looks at the catalysts to changing attitudes and hope for the future.
SURAT THANI, Thailand: The rangers move in formation, alert as they weave through dense foliage and wade across waist deep rivers. The rainforest is loud with the siren calls of birds hidden in the canopy.
From afar, the group might be mistaken for a military unit. The men - some experienced and others as young as 19 - wear camouflage fatigues, grip rifles and mean business. 
But their success in recent years means they are more likely to be looking for elephants to monitor than poachers to catch. 
The rangers form the forest protection unit of Khao Sok National Park in Surat Thani province in Thailand's south. Their patrol missions can last as long as 14 days as they venture deep into the wilderness. 
Most of Khao Sok comprises virgin rainforest. It's dense and humid, part of an ancient rainforest system that's older than the Amazon.
The area has a dark past; the site of a deadly plague, a guerilla conflict zone and an immense flood. Today though, it is a beacon of eco-tourism and a good example of successful environmental protection.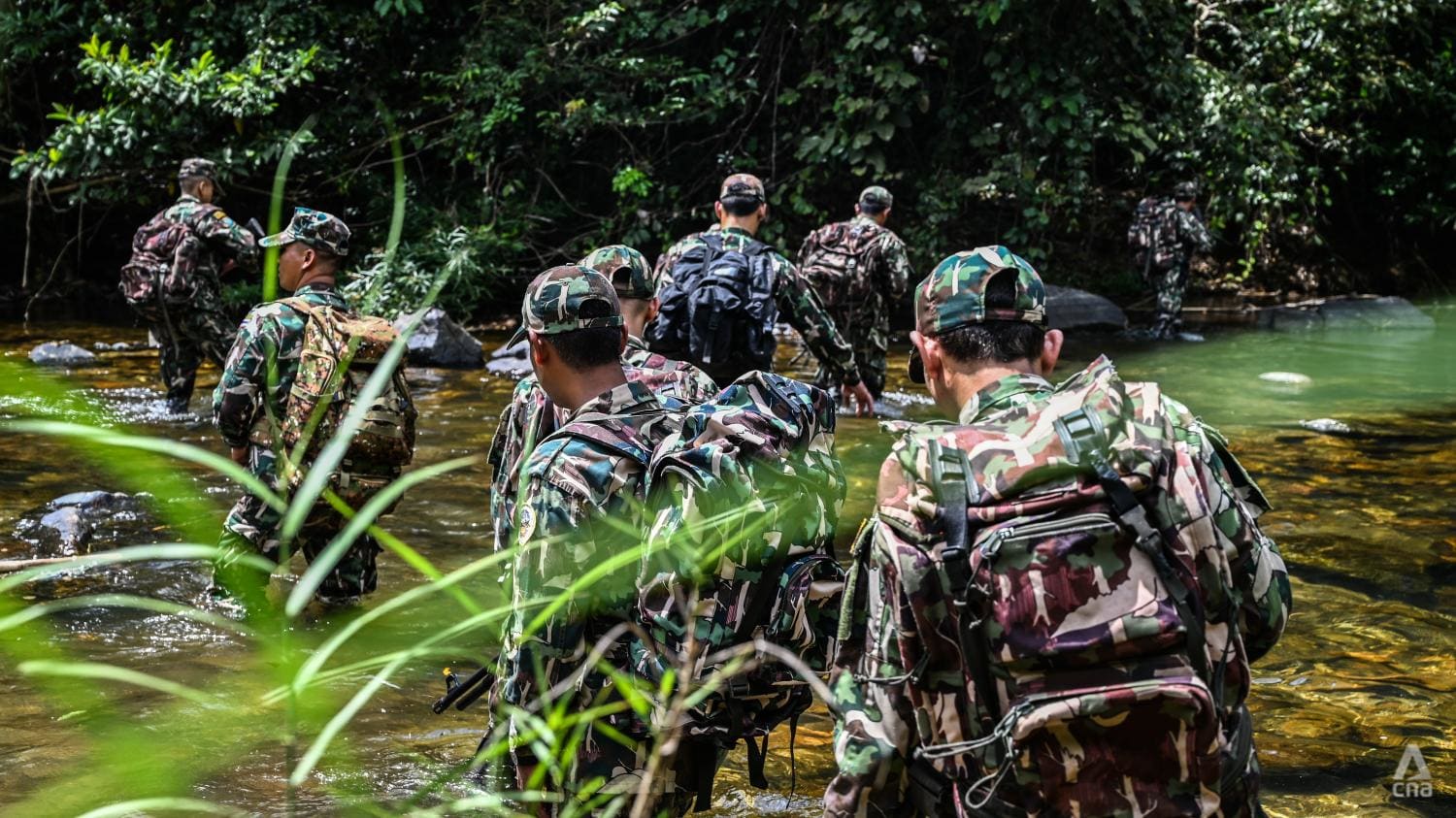 Rainforests are a defining feature of many parts of Southeast Asia, from the great green expanses of Borneo to Cambodia's misty Cardamom Mountains. They are critical as a tool to fight climate change.
Over the past few decades, much has been lost through illegal deforestation, logging and land use changes. Yet in recent years, many parts of Southeast Asia have seen those trends starting to reverse.
In Thailand, a country where forest clearing and wildlife poaching was once rife, local communities are discovering the benefits that can be unlocked when nature is preserved rather than destroyed.
The Khao Sok rangers stop now and then to document what they find on patrol. Their discoveries are mostly mundane, like plastic bottles. 
But everything is recorded and mapped. Even these small things indicate human activity that will need to be monitored.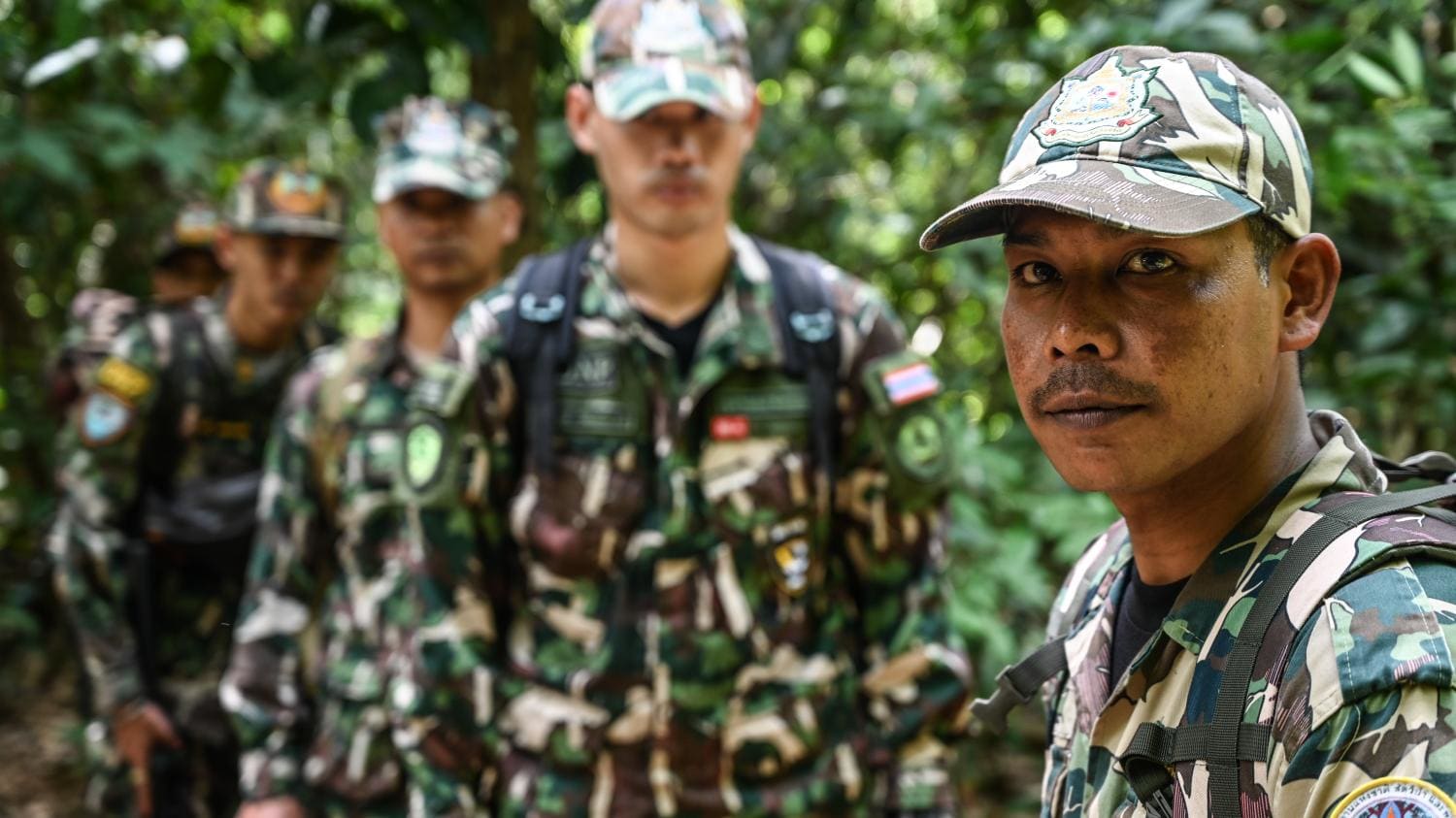 The rangers are also looking for animal food sources, like fruit trees to better understand the wildlife in the area.
The group pauses to examine claw marks on a tall tree. Signs of a bear looking for honey, they conclude. They seem happy about the discovery - a sign that nature is mostly undisturbed in this area.
The coordinates are logged and the group presses on, under the guidance of its captain, Ponchai Yenchai.
He has been doing this for 20 years, but his family has a much longer history in this rainforest.
"Originally, every family here had fathers who were working like poachers. They weren't actual poachers but rather would search for food," Ponchai said.
"We didn't have any laws or a national park at the time. So, it's normal that they would go and find wildlife. They didn't sell them but they did it for survival. 
"I followed my father from when I was a child. We looked for things here and there. So, I learned which spots had a lot of animals, and which spots had resources, such as fruit trees or seasonal plants that we can eat. It was knowledge passed from generation to generation," he recounted.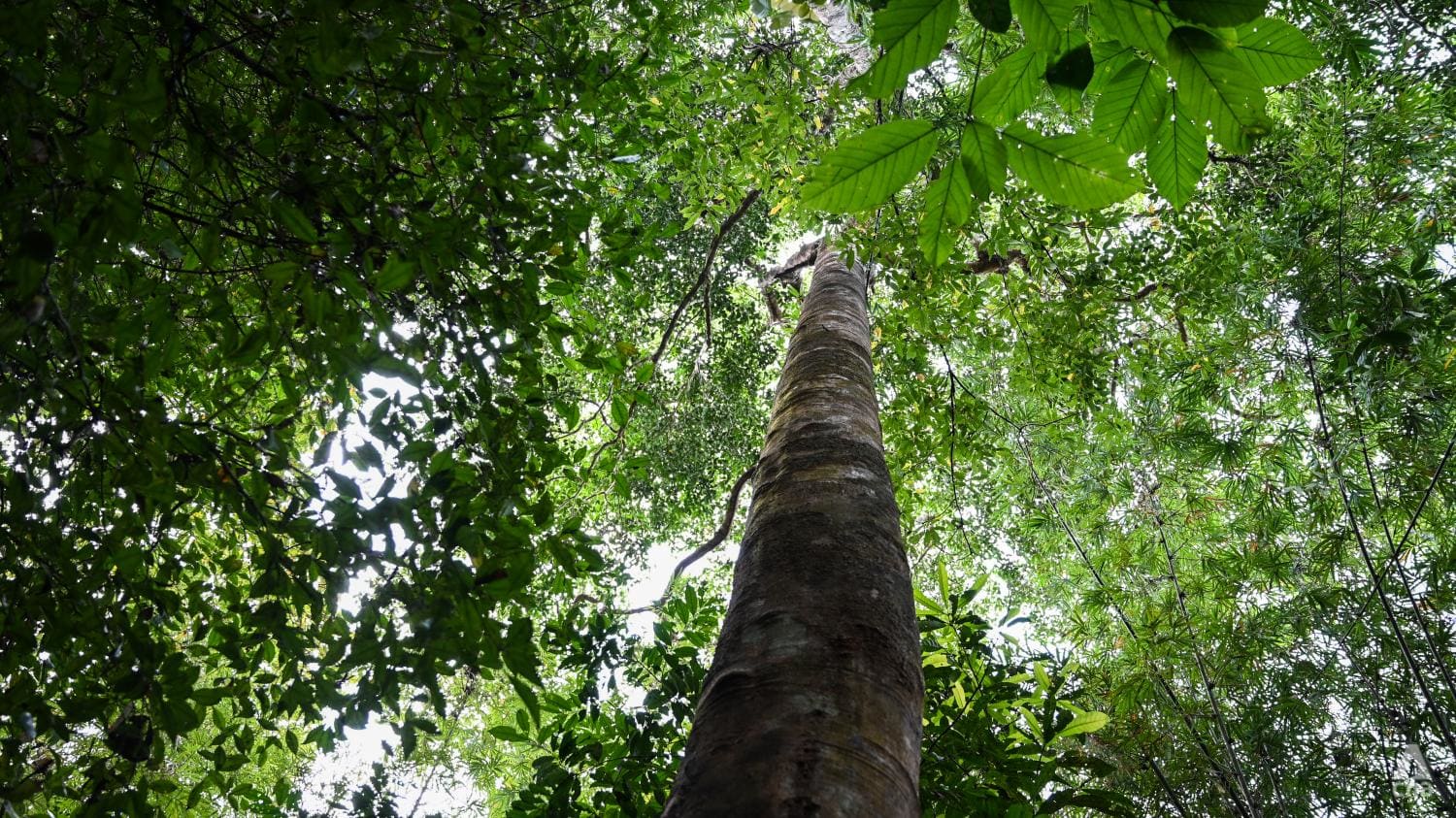 Poachers are now the protectors throughout Khao Sok. Local villagers are now tour guides, leading international tourists to all corners of the park. 
"When former poachers saw that there were a lot of tourists coming, they switched from wildlife hunting to become tour guides and boat operators. They also opened restaurants or shops. This means they can earn a direct income and it isn't illegal," said Terdthai Kwanthong, the chief of Khao Sok National Park.
"This makes people help with the conservation of nature. Life here is a lot different than in the past. They've joined us and cooperate in taking care of the forest and wildlife. 
"This is why incidents of encroachment, destruction of resources and poaching of wildlife are now zero."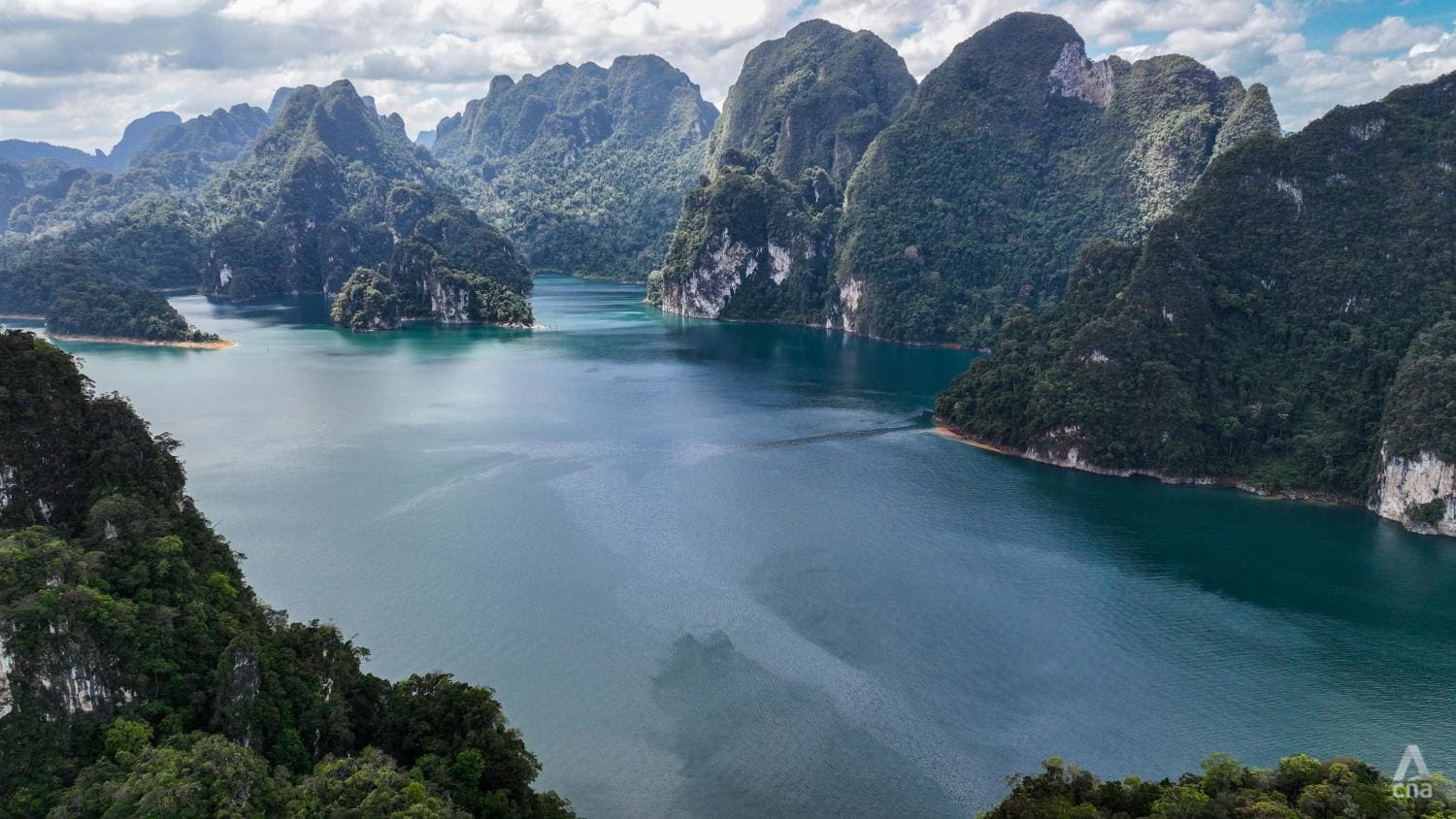 OLD PAIN, NEW OPPORTUNITIES 
Khao Sok has changed; not just the people who used to live in and rely on the forest but on a massive landscape scale.
In the 1980s, the construction of a hydroelectric dam project flooded 162 sq km of forest. Just two years earlier, the area had been decreed a national park, meaning no logging or mining was permitted.
With the country in need of electricity, the dam project was made a priority. The flooding that resulted caused massive upheaval. Many animals drowned and everyone living in villages in the area was forced out.
Karun Pengchan, now 78 years old and residing on the outskirts of the national park, remembers that time with a lingering sorrow. 
"My children and my wife didn't do anything complicated – we just had enough to eat," the retired teacher said. 
"One day, the sub-district chiefs said that there would be a survey and a dam would be built. We needed to be prepared. We might not be able to live here in our old place. 
"We lived there until the rumours turned into real life. Once they started drilling the tunnel, the villagers were certain that this was serious.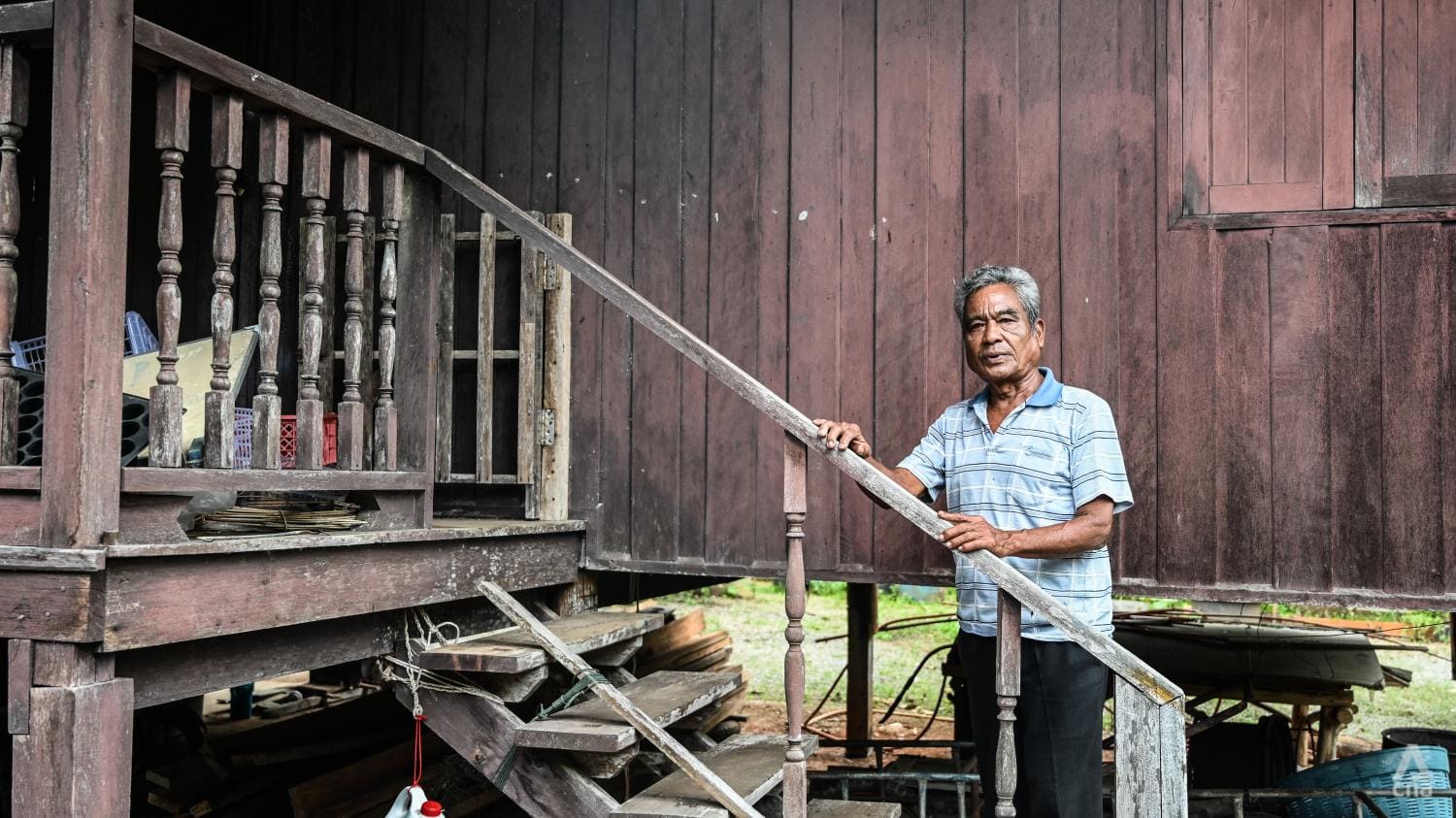 "I say that we lost everything. Whoever has to leave the place they used to live in, the bed they used to sleep in, the house they used to stay in, what would they feel? We cannot find the words that describe it all. 
"My wife and I memorised where our house was by heart. We can point where it is. If we take a boat with our children and grandchildren now, we can tell them that our house was here and our land was here," he said.
Despite the sad memories of life before the dam for some, today Khao Sok draws hordes of international visitors to forest trekking and exploring the aquamarine waters and dramatic limestone peaks. 
The place has been labelled the "Guilin of Thailand", for its similarities to China's famous karst landscape. And the influx of money to the area has been a catalyst for local behaviours to change.
Eco-tourism can be a strong potential strategy to reward, compensate and incentivise local communities for better environmental protection in Thailand, according to Regan Pairojmahakij, a senior program officer at RECOFTC, an international not-for-profit assisting local communities to actively manage forests in Asia and the Pacific.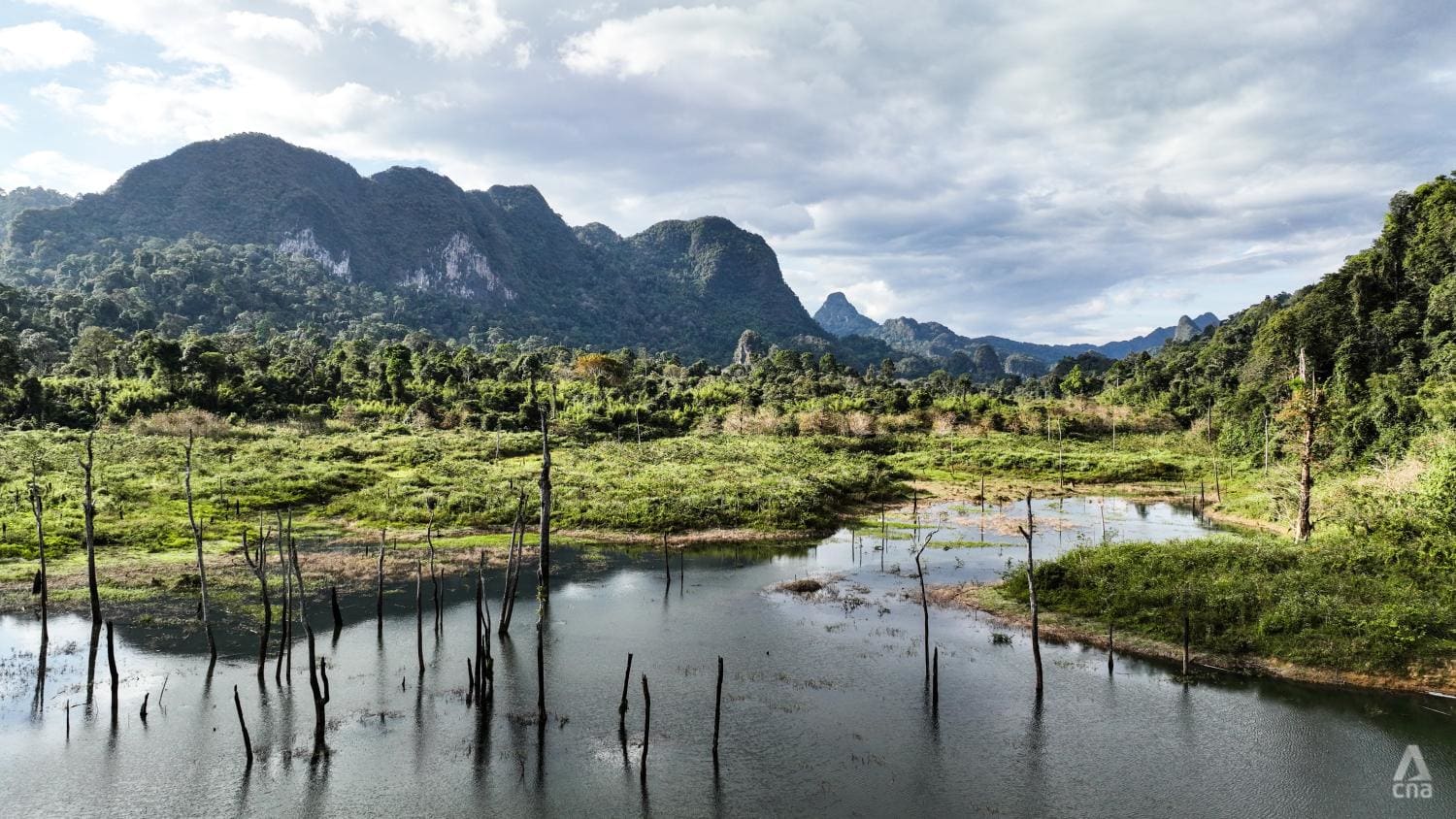 "People are confronted with difficult choices and trade-offs. And when you want to send grandma to the hospital, and your kids to school, this takes money," she said.
"A lot of indigenous people and local communities that live in and around forests have long relied on subsistence type of economies that are not cash-based. So this puts them in a difficult position to try and acquire hard currency. And the forest has become the go-to place for that. 
"If we can offer them alternative benefits, including direct payments or direct financing, I think it's essential in allowing them the same basic rights that anybody else would expect to be able to take care of their families and improve their own livelihoods."
She suggested this could be through ecotourism, by supporting local supply chains for forest products and new and emerging markets for carbon or biodiversity.
"I personally see great promise and something really transformative as we start to see markets offering incentives and recognising these really marginalised historically impoverished groups for the absolutely vital role that they play in protecting the remaining shreds of ecosystems that we rely on as a global community for our survival," Pairojmahakij added.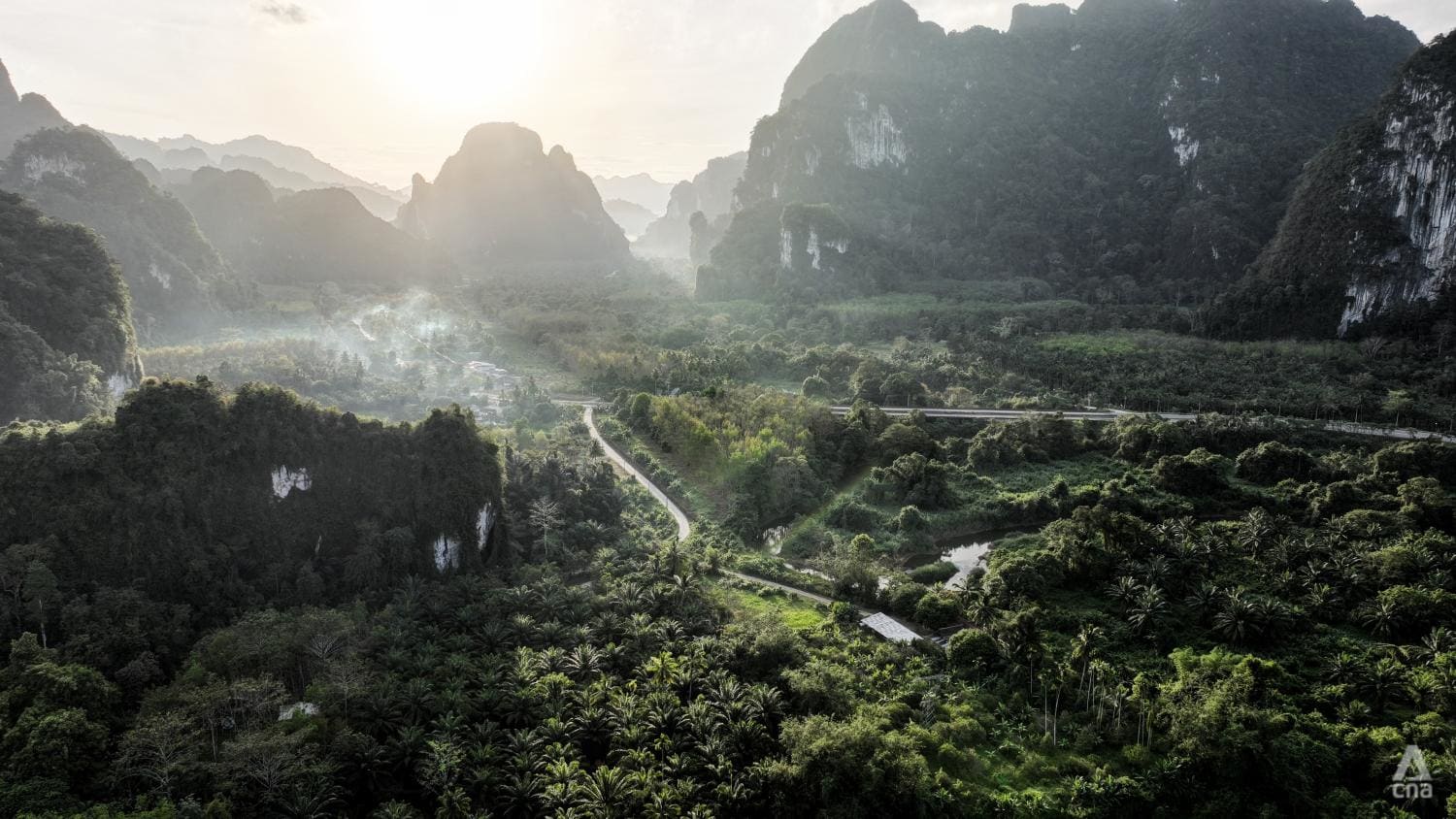 REVIVING THE OLD FOREST
Thailand is on a more hopeful path when it comes to looking after its forests. Just like several of its ASEAN counterparts, deforestation rates have dropped in recent years. Tree cover loss in the country in 2021 was down 38 per cent compared to 2017, according to data from Global Forest Watch.
The country recently joined an international coalition pledging support for a global goal to protect or conserve at least 30 per cent of the planet's land and ocean by the end of the decade.
Tropical forests like those in southern Thailand are vital as carbon sinks that help absorb harmful emissions that cause global warming, making them a critical part of climate change mitigation efforts.
"They're one of the highest carbon sequestering forest types that exist. They're relatively more resilient in the face of climate change, as opposed to say the dry deciduous forests in northern parts of these countries which are much more subject to drought as well as wildfires," RECOFTC's Pairojmahakij said.
When forests are cut down or burnt, the carbon stored within their trees and soil is released, and no more carbon dioxide can be absorbed in the future.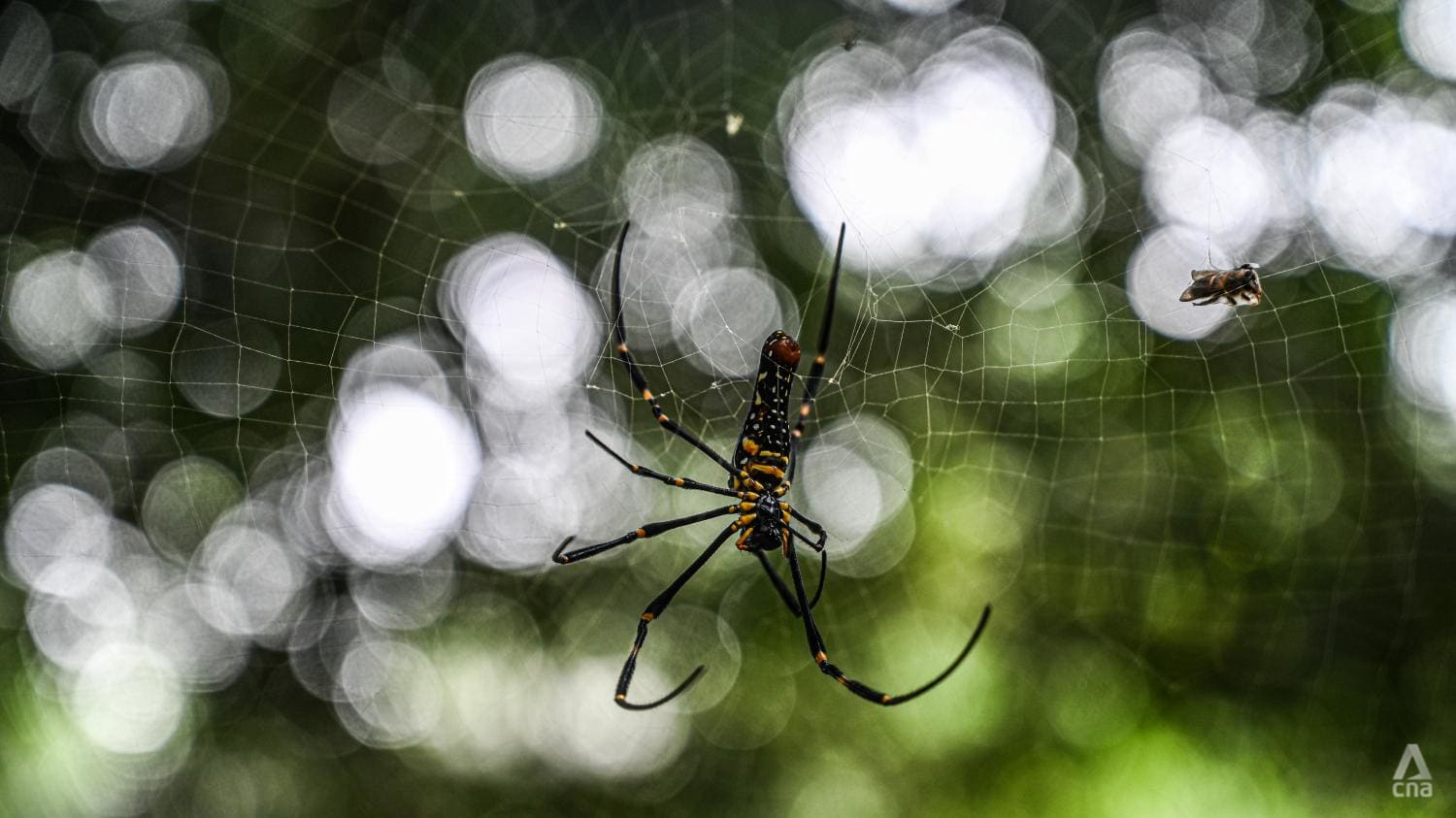 All around Surat Thani province, examples of land use changes that have resulted in primary rainforest being transformed into economic concessions are everywhere. 
Especially as extraction from the rainforest became illegal, local communities have sought alternative ways to earn an income. Palm oil, rubber, coffee and pineapple plantations dominate the landscape.
While most of this is a permanent shift, in small pockets close to Khao Sok, efforts to revive the forest are underway.
Anurak Community Lodge is on the edge of the national park. It is surrounded by jungle but most of its grounds are quite different; they are full of palm oil trees. This land used to be a plantation.
The man who used to own this land is 48-year-old Natthawut Chuphet. He sold it to the current owners but now works at the lodge as a hiking guide.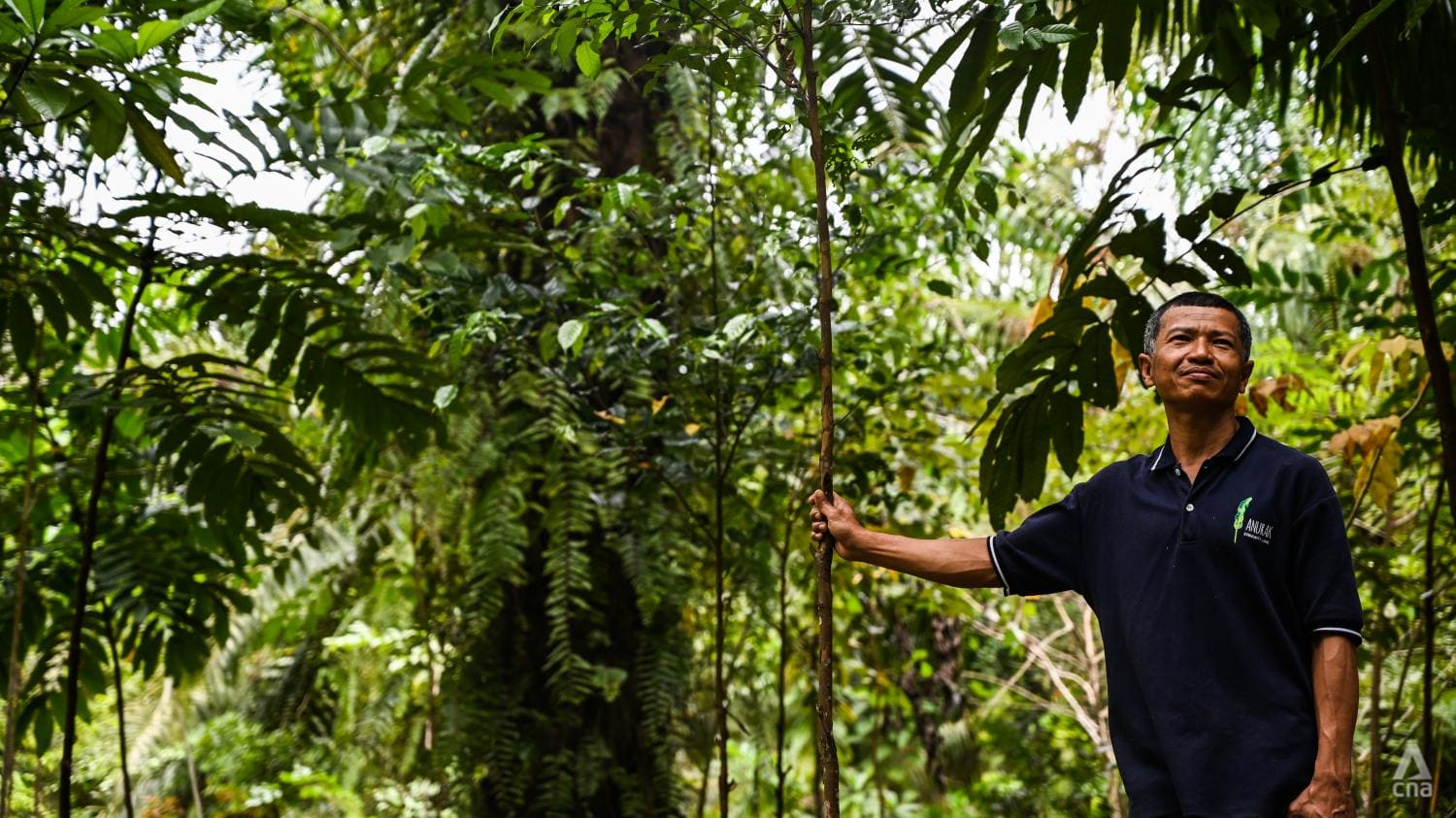 He is also in charge of one of Anurak's sustainability programmes to reforest this area. Slowly the palm trees are being replaced by indigenous ones.
"We took care of this land for around 70 or 80 years after migrating here since the generation of our ancestors. They grew rambutans and coffee but it wasn't fruitful. So, they planted oil palm instead," Natthawut said.
"Reforestation has started. In the next 10 years, it will definitely look like the forest in the old days. A lot of trees have been planted. 
"In the future, I think that nature will be so abundant like in the past, and everybody will understand about conserving nature for the next generations. And if we can conserve more nature, there will be a lot of guests too," he said.
The impacts of mass tourism stand as a threat to the balance that is being worked out around Khao Sok.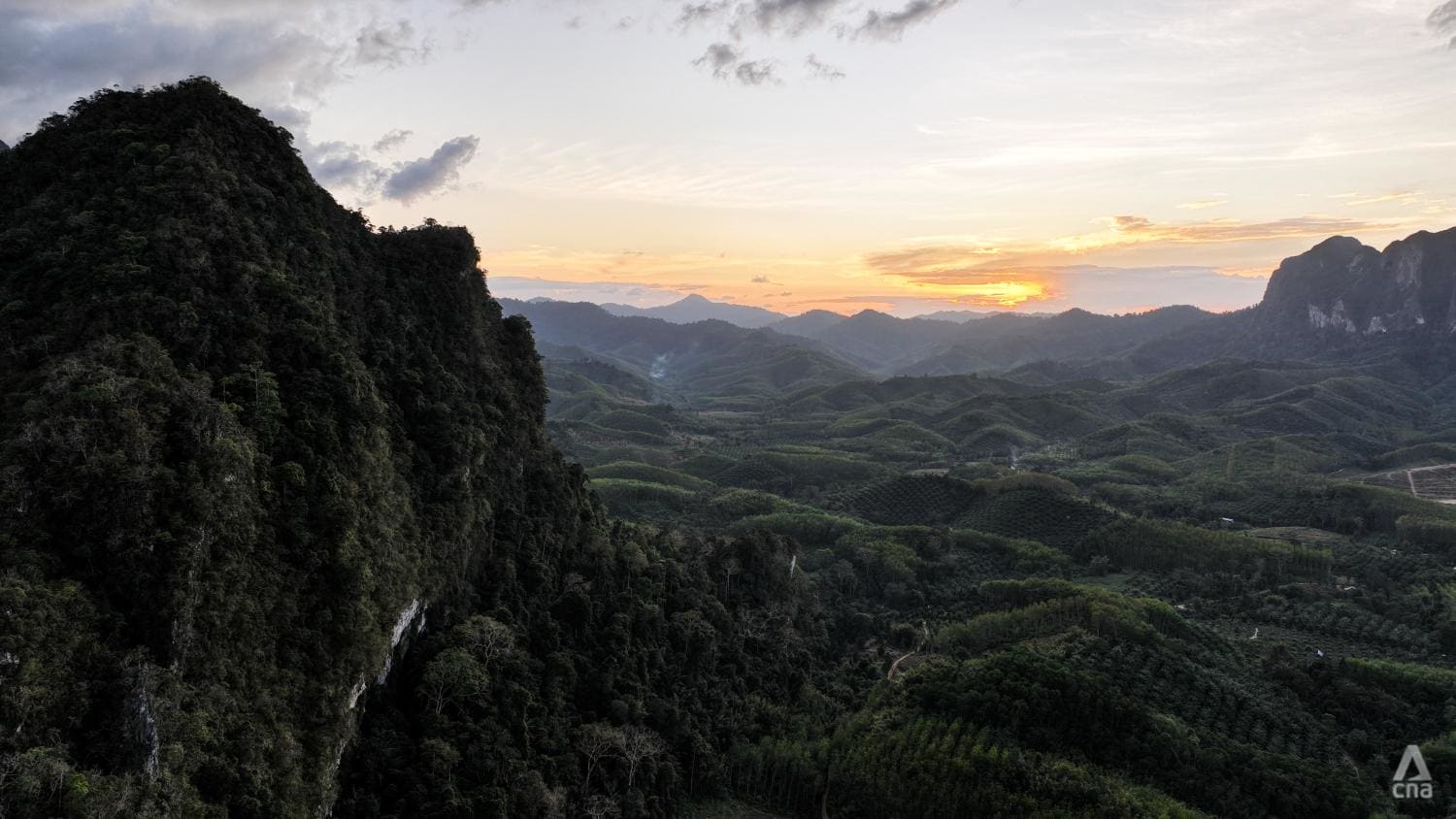 With locals who treasure the landscape shaping the future, there is hope that this precious rainforest ecosystem can continue to prosper though.
Park ranger Ponchai is one of them - proud of the role he plays in keeping the place of his ancestors safe. 
"This is my home. If we take care of it, people will come and see our work and develop our area further," he said.
"If we don't take care of our home, then we can't hope for people to take care of it, right?" 
Additional reporting by Ryn Jirenuwat.