Homeless in some parts of the US suffer as hot weather takes a toll on mental health
Early evidence shows that for every 1 degree Celsius increase in temperature, there can be a 6 per cent associated spike in rates of violence and up to a 2 per cent rise in suicide.
TEXAS: Hot weather can take a toll on mental health and impact cognitive function, with society's most vulnerable at the highest risk of facing various health issues, a growing body of evidence suggests. 
This summer has seen record breaking temperatures across the world. In some places in the United States, the heat has lingered above 40 degrees Celsius for weeks on end.
Research on the effects of long-term exposure to extreme heat is still in the beginning stages, but early evidence has been sobering. Studies in the US show that for every 1 degree Celsius increase in temperature, there can be a 6 per cent associated spike in rates of violence and up to a 2 per cent rise in suicide.
"We don't have a certifiable answer to what the cause of that link is. However, we have theories," said Dr Joshua Wortzel, chair of the American Psychiatric Association's Committee on Climate Change and Mental Health. 
"We know that heat can impact sleep, and that sleep when dysregulated can lead to a variety of mental health conditions."
EXTREME WEATHER DETRIMENTAL TO HEALTH
In particular, repeat exposure to extreme weather can be detrimental to the nearly 600,000 homeless people in the US, about 20 per cent of whom are already suffering from a serious mental illness, according to the National Alliance on Mental Health.
To complicate matters, studies also show that some psychoactive drugs may limit a person's ability to sweat or cool, leading to higher death rates among the mentally ill during heatwaves.
For the past four years, Ms Mary Miller has called a park in East Austin home. Most of her belongings are scattered in tattered plastic bins.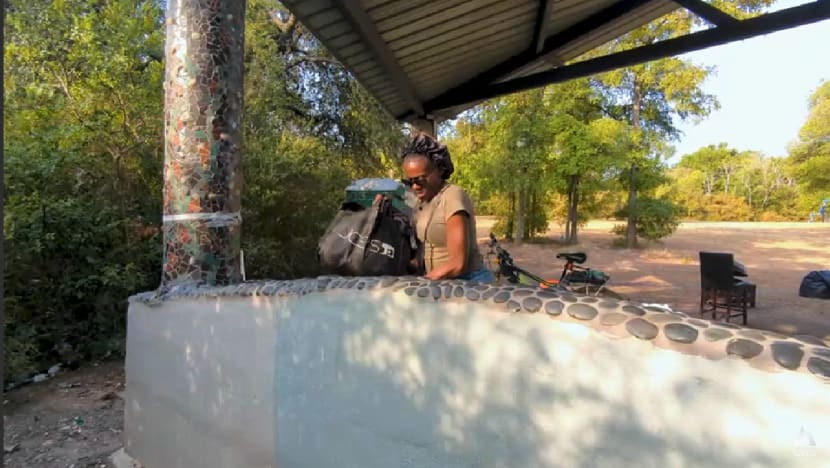 While living on the streets is tough, she said the excessively long heat spells this summer have made life unbearable.
"It's excruciating," she said. "It feels like your brain is frying sometimes out here. It gets so hot."
At one point this summer, temperatures in Austin were over 38 degrees Celsius for a record 45 days straight with little reprieve at night.
The Hungry Hill Foundation, which works with the homeless community in East Austin, provides food and water as well as workforce development to help them transition back into a life of self-sufficiency.
Its community engagement director Kermit Hyder said that while cooling centres help, they are only a short-term solution.
RESOURCES NEEDED TO TACKLE CLIMATE CHANGE ISSUES
What is needed, he added, is more government funding to get the homeless permanently off the streets, especially as temperatures continue to rise.
Mr Hyder called on the government to open up the resources, "or we're going to continue to have a rising problem of increased unhoused residents, and increased unhoused residents dying out here on our streets, in our parks where kids play". 
Earlier this year, a bipartisan group of US lawmakers introduced a Bill that would set aside US$36 million in grants for mental health care in communities facing climate change, which could include more resources for the homeless population.
Scientists believe the intensity and frequency of this year's summer heat will become the norm going forward.
"We need funding. We need political and popular support for these kinds of interventions," said Dr Wortzel, whose research interests include the impacts of climate change on paediatric mental health. 
"And from a research standpoint, we need to have a larger investment in seeing how we can support people who are struggling with the impacts of climate change on their mental health."