Five on Friday: 5 products to feed your instant noodle mania
In CNA's regular look at what hit the headlines during the week, Five on Friday explores some unique instant noodle-themed products. 
SINGAPORE: Hands up if you've had instant noodles in the past month. 
Beyond being a wallet-friendly meal or a comforting midnight snack, instant noodle mania is real. From viral challenges to photogenic museums, we just can't get enough of this salty, and sometimes spicy, umami-bomb. 
Despite also having fallen victim to rising inflation costs, there is no doubt that it will remain a shelf staple for many households. 
Slurping down a piping hot bowl noodles goes beyond just convenience. It triggers a warm and fuzzy sense of nostalgia – the taste of chicken Maggi mee prepared by a doting loved one to the thrill of sharing your first cup noodle outside a convenience store with classmates after school.
For those who are seeking to revel in or expand their instant noodle craze even further, consider these offbeat offerings:
MAKEUP
Cup noodles can make you feel good – but what if they could help you look good as well? The product development team at Nissin have heard your pleas. 
In its collaboration with cosmetics brand HipDot, the instant noodle giant launched a range of products for the face.
The lip creams, which can double as blush, come in fiery shades of red, orange and gold. Their names? Hot sauce, lemon and sesame. 
"These tones were inspired by our favorite add on sauces to our warm Cup Noodles cup," said the HipDot website.
The palette, which takes inspiration from Cup Noodles soup, counts diced carrot, roasted corn and soy sauce among its hues though no word if it tastes any good. 
TEAM CORIANDER
The world is clearly divided into Coriander Lovers and Coriander Haters.
For those who are into their greens, the company behind Thailand's famous MAMA instant noodles has got just the thing for you. 
This coriander cup noodle, under the President Rice brand, is ready to be consumed in just four minutes and lists dried coriander and coriander flavouring among its ingredients. 
Several online reviews describe the dish as salty, peppery and herby, with reactions ranging from "quite interesting" to "I can't imagine eating this entire bowl". Dare to try, coriander fans?
TOOTHPASTE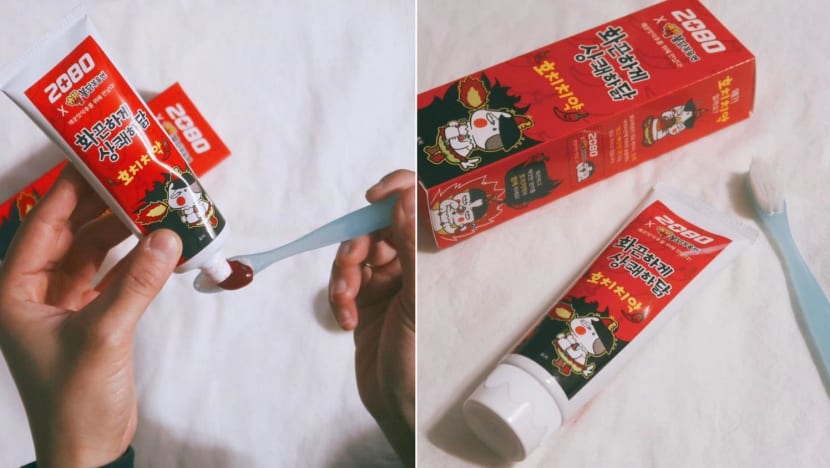 Remember the fire noodle challenge that was all the rage online? They've upped the stakes with toothpaste. 
Refresh your mouth with Samyang's 2080 Hochi Toothpaste, named after the cartoon chicken mascot of the brand's spicy hot instant ramen. 
Although the limited-edition collection with hygiene produce manufacturer Aekyung was released in 2020, the red toothpastes are still available via various online retailers. 
According to Aju Business Daily, there are two flavours to choose from – a normal version with mild spiciness and the "nuclear spiciness" option that promises "burning hot" flavour. 
An online listing describes the oral healthcare item as "refreshing" and claims it can help prevent bad breath.
Your dentist will be proud. 
HUMIDIFIER
If you simply can't get enough of the instant noodle aesthetic, this humidifier that looks just like a steaming hot, ready to eat Nissin snack will have you covered. 
Sold alongside a commemorative book marking the 50th anniversary of the release of Cup Noodles, the humidifier can be used anywhere, from the home to the car, said Japanese publisher Takarajimasha. 
The humidifier can produce ultra-fine mist for up to seven hours, it added in a press release. Instead of noodles, it comes with a USB cable for charging. 
A review by SoraNews24 showed that the item comes with a warning to not fill it with boiling water. And no, it is not edible and neither does it smell like ramen. But in terms of design, you'll have a choice between the original packaging as well as seafood. 
ICE CREAM
Ice cream is always a great idea – but how about when it's Indomie flavoured?    
Indonesian dessert company holi.icecream debuted a limited run of Indomie ice cream in August 2020, complete with fried shallots. Several months later, they also launched an Indomie Chicken Curry version that has since sold out. 
The owners of the online ice cream shop previously told The Jakarta Post that they were inspired by their love for Indomie and their habit of needing dessert after a meal. They first trialled the product on unsuspecting family members who enjoyed it. 
Several comments on their Instagram account remarked on the novelty of the dessert while one user simply said: "This is not right."
Due to strong demand, holi.icecream announced on Aug 18 this year that the company will be bringing back a limited run of popular flavours including Indomie Goreng.