Six months on, businesses in once-busy Itaewon district still reeling from deadly Halloween crowd crush
Business owners remain optimistic Itaewon will once again be the must-go place for foreigners and locals in South Korea.
QUIET STREETS OF ITAEWON
South Korea's minister of SMEs (small and medium-size enterprises) and Startups Lee Young said she hoped to see the place come to life again. Her ministry oversees many of the businesses there. 
"There was pain but there were also people who united with strong vitality to achieve recovery," she noted. 
"I think they will be able to overcome this, and make this into a better, more meaningful place beyond pain."
She told CNA that credit card spending has shown signs of recovery in the first three months of this year, but it was nowhere near what businesses used to make before the tragedy.
Celebrities who have exhibited their artworks as part of a project to revive Itaewon hoped that the neighbourhood would recover soon.
South Korean rapper Kim Eun-young, known by her stage name Cheetah, said: "It's not just me, but there are so many other artists here who have brought their beautiful artworks to be displayed here. 
"The hope for all of us, I believe, is to save this Itaewon alley. I think we all feel the same."
Footfall has improved in many parts of Itaewon, but less so around the spot where the crush took place, said observers. 
Posters and messages of condolence still line the walls along the street.
BUSINESSES ALSO RECOVERING FROM COVID-19 OUTBREAK
Business owners said the last few months were tough, as memories of the incident linger.
"The hardest part is that I still have the unforgettable pain in my heart. But since livelihood is important, that whole process was tough too," said Mr Yoo Tae-hyuk, vice president of the Itaewon Special Tourism Zone Association.
"Owners who were burdened with their monthly rents and employee salaries took part-time jobs.
"They have now returned to their own businesses and are helping each other to revitalise the commercial district for Itaewon."
Observers believe there is still a long way to go for these businesses, which were also badly hit by the outbreak of the COVID-19 pandemic.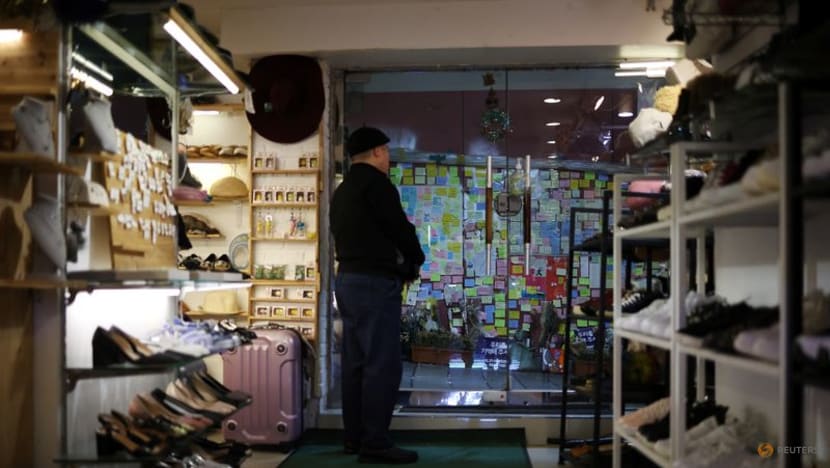 Sales have recovered to 30 per cent of what they were before the crowd crush. 
But business owners said they remain optimistic Itaewon will once again be the must-go place for foreigners and locals in South Korea.
Mr Kwak Beom-jo, owner of bar Sector 118, said: "There were no customers after the tragedy. But with events like this, people are coming back with good feelings.
"I am so happy. It's been so long since we had this many people."