CNA Explains: What to watch out for as Malaysia's parliamentary meeting kicks off
The three-week meeting is expected to pass the anti-party hopping Bill and provide indications on the state of bipartisan cooperation in the Lower House.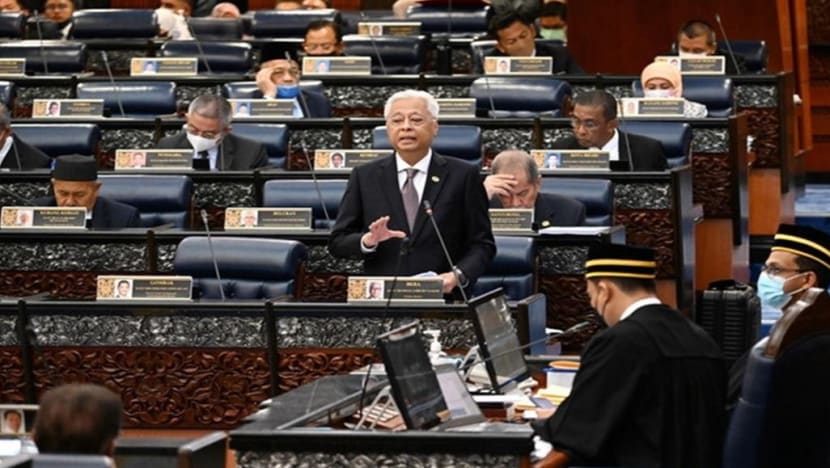 KUALA LUMPUR: Malaysia's Lower House meets for the second meeting of its fifth term beginning Monday (Jul 18). 
The MPs have 12 days to mull over a number of Bills, chief of which is the anti-party hopping Bill that will prevent politicians elected on one party's platform from defecting to another.
This meeting will be held through Aug 4, just a few days after the perceived expiry date of the Memorandum of Understanding (MOU) on bipartisan cooperation, the political ceasefire pledged by Prime Minister Ismail Sabri Yaakob and opposition bloc Pakatan Harapan (PH) in September last year.
As calls for the general election gain momentum, primarily from the ruling United Malays National Organisation (UMNO), the current meeting could provide an indication on the possible timeframes for the dissolution of parliament. 
Here are the key events that are likely to transpire in this meeting. 
1. Passing of the anti-party hopping Bill
After being delayed several times, the anti-party hopping Bill is expected to be debated in this meeting.  
If passed, the law could come into force by September, de facto law minister Wan Junaidi Tuanku Jaafar had said last week.
"The plan is for the Bill to be debated on Jul 27 and Jul 28 in the Lower House, but this is at the discretion of the Lower House speaker," he said in a statement on July 13.
According to the Bill, MPs have to vacate their seat if they quit or cease to become a member of their political party. 
Those who stand in the election as independents will also lose their seat if they join a political party later, Malaysiakini reported. 
If a seat is declared to be vacant, an election must be held within 60 days. 
However, MPs can retain their seat if they are sacked by their party.
They will also not lose their seat if their party leaves a political coalition to join or form another coalition.
The report added that the five-year ban on MPs who quit their seat and trigger a by-election will be removed. This means that MPs who are disqualified for party hopping are allowed to stand in the by-election for their seat. 
Mr Wan Junaidi had previously said that there has been "political unrest" in Malaysia since the last general election in 2018, which has seen 39 MPs switching political allegiances and three prime ministers being appointed to the post.  
2. Tabling of anti-smoking and anti-sexual harassment Bills 
Besides the anti-hopping party Bill, other Bills that will be closely watched include the anti-smoking and anti-sexual harassment Bills.
Health Minister Khairy Jamaluddin had said that Malaysia planned to introduce a new law to ban smoking and the possession of tobacco products, including electronic vaporisers, for people born after 2005 as a "generational end game" for smoking. 
Mr Khairy was previously reported by New Straits Times as saying that under the proposed Act, people born in and after 2005 will be prohibited from smoking, buying or possessing any type of smoking products, including electronic cigarettes or vape products, even after they reach 18 years old.
He added that traders and cigarette vendors would not be allowed to sell smoking products to those covered by the ban.
The Anti-Sexual Harassment Bill 2021, meanwhile, will be tabled for second reading, after its first reading in December last year.
According to a report by Malay Mail, the law was proposed to provide for a right of redress for any person who has been sexually harassed, the establishment of the Tribunal for Anti-Sexual Harassment and the promotion of sexual harassment awareness. 
3. Election of a new deputy speaker
The post of second deputy speaker has been vacant for almost a year, since Pengerang MP Azalina Othman Said resigned in August last year.
Madam Azalina had previously cited the conflict of roles and responsibilities between an UMNO supreme council member and a deputy speaker, as well as her frustrations with the institutional defects of the parliament as among the reasons for her resignation.
The appointment of a new deputy speaker has been deferred in past parliament meetings.
According to the parliament portal, two deputy speakers must be appointed based on Clause (1) (b) Article 57 of the Federal Constitution in which they are chosen from among the members of the House of Representatives. 
In September last year, it was reported that the government would propose amendments to the Constitution to create a third deputy speaker post, which would be held by the opposition. 
The election of a deputy speaker has been scheduled as the first item in Monday's order paper.
However, Mr Wan Junaidi, the de facto law minister, tabled a motion on Monday for the election to be postponed to the next parliament meeting.  
The next meeting, which is 31 days long, will run from Oct 25 to Dec 15.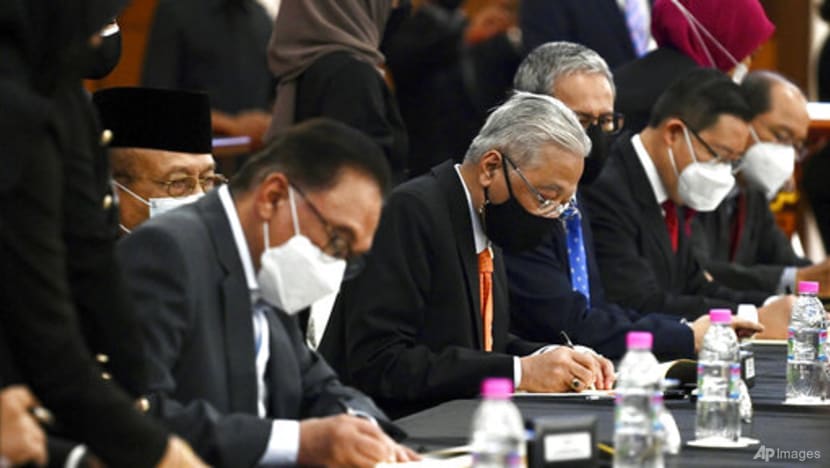 4. Discussion on bipartisan cooperation MOU in tandem with parliament meeting 
The MOU was inked in September 2021 in parliament to strengthen political stability amid the COVID-19 pandemic, following turmoil that saw the change of government and the recalibration of political alliances. 
Mr Ismail Sabri represented the government in the MOU signing while Mr Anwar Ibrahim, Mr Lim Guan Eng, Mr Mohamad Sabu and Mr Wilfred Madius Tangau represented the four component parties of PH. 
The deal will be in effect from the date of signing until parliament is dissolved, and the MOU stated that the government has promised not to dissolve parliament before Jul 31.
As part of the deal, Mr Ismail Sabri offered a list of parliamentary and government administration reforms in exchange for support.
In April, the prime minister said he would abide by UMNO's decision that the MOU should not be extended beyond Jul 31.
While the next general election is not due until September 2023, UMNO has been pushing for an early poll. 
Mr Anwar, the opposition leader, said on Sunday at Parti Keadilan Rakyat's annual general meeting that the MOU may not necessarily expire at the end of the month.
He said ending the MOU in July could force a general election while there are some immediate concerns that must first be addressed.
He added that PH will discuss and deliberate the matter further, and he will meet Mr Ismail Sabri this week to inform him that PH does not want to be part of UMNO's strategy to hold "early or late general election".