Malaysian enforcement agencies investigating unity government MPs, not just opposition lawmakers: Anwar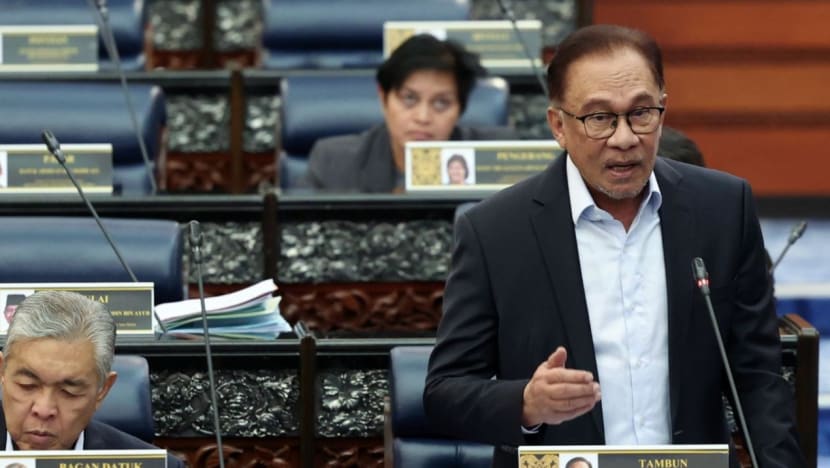 KUALA LUMPUR: There are ongoing investigations against lawmakers that are part of the government bloc by enforcement agencies, Malaysia's Prime Minister Anwar Ibrahim said on Tuesday (Mar 28). 
However, Mr Anwar did not name who these lawmakers were, nor did he elaborate on the types of investigations against them. 
"I don't know specifically, but I was informed that there are indeed investigations involving the opposition and also the government bloc. 
"I don't know their positions … I only asked the enforcement authorities and they confirmed that there are indeed investigations," said Mr Anwar during the Prime Minister's Question and Answer Session (PMQ) in parliament. 
"Whether prosecution will be made or not is up to the enforcement body which is the Attorney-General's Chambers (AGC)." 
Mr Anwar was responding to a supplementary question posed by Rantau Panjang Member of Parliament Siti Zailah Mohd Yusoff who asked whether any investigations were being carried out against members from the government bloc apart from those in the opposition. 
"Apart from the prosecution of leaders and politicians in the opposition bloc, are any investigations being carried out against parliamentarians in the government bloc … so that there is no dispute about selective prosecution," asked Ms Siti Zailah, who is from the Parti Islam Se-Malaysia (PAS).
PAS is a component party of the Perikatan Nasional (PN) coalition, whose chairman Muhyiddin Yassin is facing charges in relation to the alleged misuse of funds from a COVID-19 stimulus initiative.
Others facing charges in court in relation to the Jana Wibawa programme include members of the Parti Pribumi Bersatu Malaysia (Bersatu), of which Muhyiddin is the president. 
Separately, Ms Siti Zailah on Tuesday asked Mr Anwar whether there were any investigations into funds received by political parties that are part of the government. 
"If there is … concern that there is an element of corruption in donations to Parti Keadilan Rakyat (PKR), that (issue) can be raised, I have no problem (with it)," said Mr Anwar, who is also the PKR president. 
He added that donations to political parties are legally allowed but that it is an offence under the law if the political funds are linked to the awarding of contracts.
"There is no contradiction from a legal point of view for any person to donate to a political party.
"(The issue is) the element of corruption when the awarding of a contract (obligates) the person who obtains the contract to provide funds to the company or individual or party," said Mr Anwar. 
Last month, Mr Anwar told parliament that members of his own party will not be spared in his agenda to rid the country of corruption. 
"I cannot guarantee that my own party is 100 per cent clean, like how Members on the other side say they are all clean. It's clear that's not true," said Mr Anwar. 
"I want to let the people understand that the country cannot be safe without values, manners and character. We can succeed in the economy, but fail in governance that involves corruption and abuse of power, which has become the norm."