Barisan Nasional eyes general election after Johor win, Pakatan Harapan forced back to drawing board: Analysts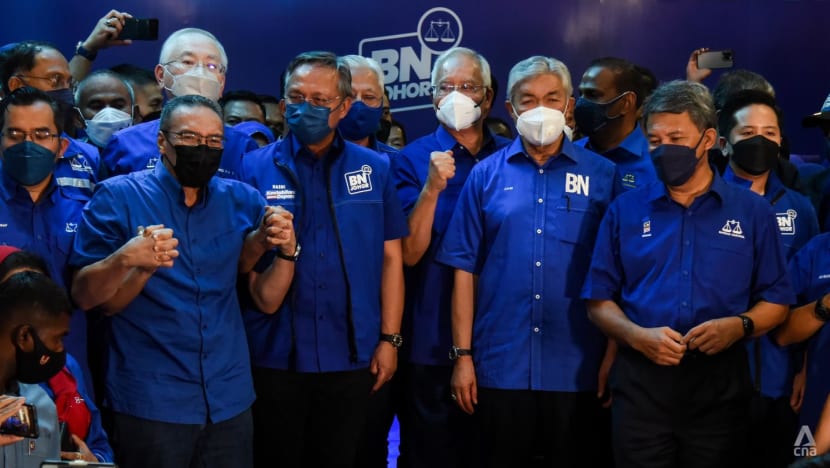 JOHOR BAHRU: Barisan Nasional (BN) clinched an emphatic victory in the Johor state election on Saturday (Mar 12), winning 40 out of 56 seats in the state assembly. 
The result even surpassed the coalition's target of a two-thirds majority, with BN chairman Ahmad Zahid Hamidi declaring that the results were beyond expectations. 
"We feel that this victory is a present for all Johoreans who have placed their confidence in BN again," said Ahmad Zahid in a victory speech after results were announced. 
On the other hand, Saturday's polling results proved disappointing for the Pakatan Harapan (PH) and Perikatan Nasional (PN) coalitions. 
PH, comprising the Democratic Action Party (DAP), Parti Keadilan Rakyat (PKR) and Parti Amanah Negara (Amanah) clinched just 12 seats. PN, which consists of Parti Pribumi Bersatu Malaysia (Bersatu), Parti Islam Se-Malaysia (PAS) and Parti Gerakan Rakyat Malaysia (Gerakan), won three seats. 
Youth-based party Malaysian United Democratic Alliance (MUDA), which was making its political debut, won a seat. 
The result was an especially sweet victory for BN and its main component party United Malay National Organisation (UMNO), after they lost the Johor state government to the PH opposition in 2018. 
It was the first time in Malaysia's history that Johor, considered a BN stronghold and bastion of UMNO, fell to the opposition.
Following the results in 2018, PH presided over the Johor state government. However, following a political manoeuvre known as the "Sheraton Move" in February 2020 that saw Bersatu leaving PH, the coalition was ousted from the federal government.
The PH Johor state government also fell, and a new government made up of BN and PN took over until the state assembly was dissolved in January. 
With BN's comeback in the Johor polls, analysts believe that the coalition would likely push for a general election to be held in the near future. 
Other parties, especially the main opposition coalition PH, need to return to the drawing board and reexamine their strategies if they want to win the next general election, they told CNA. 
BN'S VICTORY PILES PRESSURE ON PM ISMAIL SABRI TO HOLD GE 
Analysts who spoke to CNA said that BN's victory was the result of careful planning by the coalition leaders. 
BN's victory in 40 seats on Saturday was more than double the 19 seats the coalition won in 2018. 
Among the BN component parties, UMNO won 33 seats, the Malaysian Chinese Association (MCA) secured four seats while the Malaysian Indian Congress (MIC) clinched three seats. 
Besides winning seats across the east coast and central parts of Johor, which are areas described as UMNO strongholds, BN also won in seats with a sizable minority population such as Yong Peng, Paloh and Pekan Nenas. 
They also clinched urban seats in southern Johor like Larkin and Kota Iskandar, which were won by PH in 2018. 
Professor James Chin, director of the Asia Institute Tasmania at the University of Tasmania, told CNA that after BN clinched a resounding victory in the Melaka state election in November last year, they saw a momentum of support by the people and wanted to seize on it. 
"There was a coherent political strategy and long-term planning by the BN/UMNO machinery long before the campaign period," said Prof Chin. 
"They already knew what they wanted to do and have been working the ground long before any whiff of elections," he added. 
He added that following BN's victories in both the Melaka and Johor state elections, the coalition is now likely to pressure Prime Minister Ismail Sabri Yaakob to dissolve parliament soon. 
"They cannot delay the GE because they are afraid they might lose the momentum they have built. The two recent victories also mean that they are much more confident going into the GE. 
"And if you feel that you are going to do very well, there will be less infighting, better coordination, and this gives them a big advantage for national polls," Prof Chin said. 
When Mr Ismail Sabri arrived at the coalition's election headquarters as results were being announced on Saturday night, supporters and grassroots members directed chants of "dissolve parliament" to him, an indication that there may be growing pressure from within the party to hold federal polls imminently. 
Dr Oh Ei Sun, political analyst with the Singapore Institute of International Affairs, posited that BN chairman and UMNO president Ahmad Zahid is likely to push for national polls as soon as possible as the win in Johor means that he still holds the cards in candidate nomination. 
"It remains to be seen how strong (Prime Minister) Ismail Sabri could resist this pressure," said Dr Oh. 
Observers have outlined that there are two main camps within UMNO. One is led by Ahmad Zahid and former prime minister Najib Razak, both of them facing corruption charges, while the other includes politicians led by Mr Ismail Sabri. 
Analysts said that holding a general election may not be in Mr Ismail Sabri's interest as his stint as prime minister would be cut short. He was appointed to the post in August last year after a number of UMNO MPs led by Ahmad Zahid withdrew their support for Mr Muhyiddin Yassin, who was the prime minister from Bersatu. 
Dr Serina Rahman, an analyst of Malaysia politics who is also a visiting fellow at the ISEAS-Yusof Ishak Institute, told CNA that the way forward could be clear in the next few weeks as UMNO is set to hold its general assembly next week. 
"BN is clearly energised (by the Johor results)," said Dr Serina. 
"The big decisions will be made at the general assembly. Much more to observe in the coming weeks," she added.
PH NEEDS TO GO BACK TO DRAWING BOARD 
PH had originally won 30 of the 56 state seats in Johor during the 14th general election in May 2018, when Dr Mahathir Mohamad-led Bersatu was part of the coalition. 
The coalition now has just 12 seats left after Saturday. 
However, perhaps the writing was already on the wall when PH started their Johor campaign in "disarray", said Dr Serina.  
"They were even disagreeing over logos. It's hard for new voters to find strength in a coalition that does not seem able to work together with a cohesive strategy - and there was an overwhelming sentiment that PH had failed during the short time it was in power," she said.
PKR, a main component of PH, decided to use its own logo while Amanah and DAP contested under the PH logo. 
PKR won only one of the 20 seats it contested, losing deposits in seven seats, while Amanah won one of the 16 seats it contested, losing deposits in four seats. 
DAP was the best performer as it won 10 seats but lost four of the seats it contested to MCA.
Political analyst Dr Sivamurugan Pandian from Universiti Sains Malaysia said that PH seemed to have lost trust among the electorate and even confidence among themselves since their win in 2018.
He said besides the logo issue in Johor, there were also disagreements in the Melaka polls last year, where PKR insisted on fielding candidates who had jumped ship from UMNO.   
"All these three parties must go back to the drawing board and look at what is the real cause. If they want to come back, they must avoid repeating the issues brought up in 2018 such as 1MDB (1Malaysia Development Bhd) and Najib. They must move forward. 
"That's why the Chinese voters are upset. There was kind of a protest vote against DAP as well. They should revisit and look at new issues that are not brought up by other parties. The character assassination is getting irrelevant. It is a traditional way of campaigning," he said. 
Dr Sivamurugan also said that the split votes among the opposition played a role in PH's loss.
"In 2018, it was one against one and not many multicornered fights. We still need a strong viable opposition for a strong check and balance to the government," he said.
He added that the low voter turnout of less than 55 per cent also contributed to PH's poor performance. 
Meanwhile, Prof Chin said PH has to do a lot of soul searching, especially as its chairman Anwar Ibrahim has made too many political mistakes in recent times. 
He noted how Mr Anwar had declared that he had a "strong, formidable, convincing majority" to form a new government in September 2020, but this move ultimately never materialised. 
He also noted how PH and PKR have failed under Mr Anwar's leadership in the Melaka, Sarawak and Johor state elections. 
"He has to resign. If Anwar is the PM candidate for the next GE, they can kiss the election goodbye," he said. 
PN'S POOR JOHOR SHOWING A POWERFUL BLOW TO MUHYIDDIN 
PN's poor result has dealt a powerful blow to Mr Muhyiddin, the coalition's chairman and Bersatu president. 
Bersatu, which won nine seats in 2018, only won two seats this time.  
Mr Muhyiddin was also at the forefront of PN's and Bersatu campaigning efforts. The former prime minister, who is Pagoh MP, has a strong presence in Johor and was hoping to utilise his popularity in the state to help PN's cause. 
After Saturday's results, Mr Muhyiddin said in a press conference that he was prepared to resign from his post in the coalition. 
"I am ready anytime if party members make a decision about my position. I will accept it. We practise democracy," he said.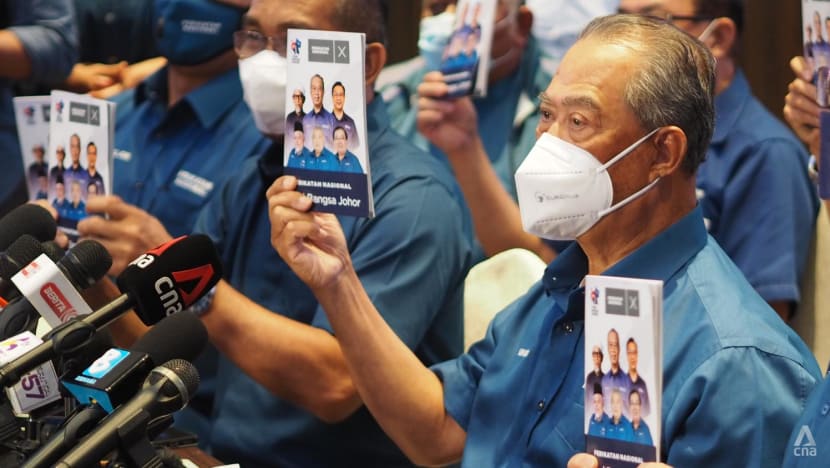 Dr Serina posited that PN's poor showing at the polls is a clear indication that people still remember Mr Muhyiddin's stint as prime minister when he was heavily criticised for poor management of the COVID-19 pandemic. 
Mr Muhyiddin resigned as prime minister in August. He was the shortest-serving prime minister in the country's history, having occupied the top office for less than 18 months. 
"This is a clear indication of people's unhappiness with his management of the pandemic and Malaysia's economy," said Dr Serina. 
Mr Muhyiddin was UMNO's deputy president when he was dropped as deputy prime minister in 2015 following his criticisms over Najib's handling of the 1MDB scandal. 
Mr Muhyiddin then teamed up with Dr Mahathir to form Bersatu, which worked with PH to claim federal power in the previous general election.
The two politicians eventually fell out when Mr Muhyiddin led Bersatu out of PH in 2020, triggering the fall of the PH federal administration headed by Dr Mahathir, who was subsequently sacked from Bersatu. 
Prof Chin said that the Johor results were a signal that voters in the Malay heartlands do not see Bersatu as capable as UMNO in representing them . 
"Bersatu has only one more shot. At the next GE if they perform the same as they did in Johor, the party will collapse internally," he claimed.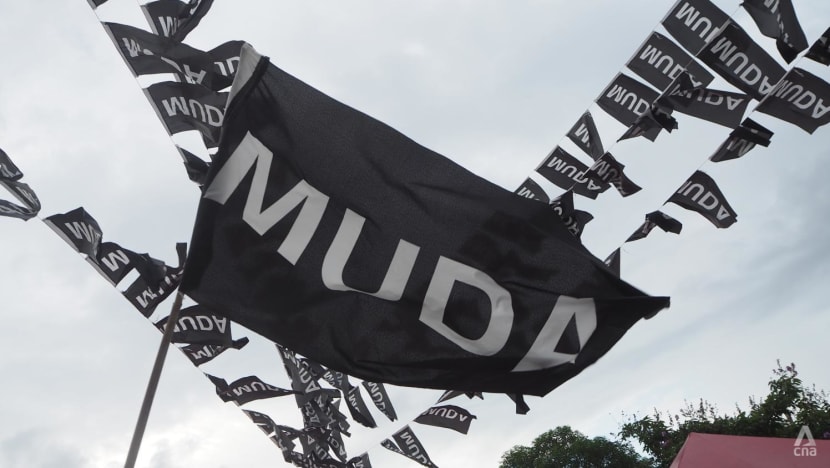 MUDA, PEJUANG AND WARISAN SHOULD WORK WITH OTHER PARTIES
The Johor polls also saw many parties making their debuts.
Parti Pejuang Tanah Air (Pejuang), which was founded by Dr Mahathir after he left Bersatu, contested 42 seats, while the Sabah-based Parti Warisan (Warisan) and MUDA contested seven seats respectively.
It was Warisan's first time contesting in Peninsular Malaysia.
Both Pejuang and Warisan lost their deposits in all the seats they contested.
Pejuang president Mukhriz Mahathir said that the party's poor performance could be attributed to a lack of recognition by voters as it was a new party.  
Dr Sivamurugan said these parties contested the Johor election to test the support they have on the ground. Warisan took part in the polls as there is a sizable population of Sabahans in Johor, he said. 
"They have to reconsider working with other opposition parties. Going solo as a new party requires machinery, logistics and manpower," he said.
MUDA, on the other hand, clashed with PKR in one seat even though it had an understanding with PH in the Johor polls. 
"They shouldn't have contested against PKR in Larkin as it created campaigning problems among themselves," said Dr Sivamurugan.
MUDA emerged victorious in one seat in Puteri Wangsa, with its secretary-general Amira Aisya garnering a majority of 7,114 votes.  
Unlike Pejuang and Warisan, MUDA did not lose any of its deposits in the other six seats it contested.
Dr Oh said teaming up appeared to be beneficial to both PH and MUDA.
"DAP depended on MUDA to pull some Malay votes in urban and suburban mixed seats, while MUDA benefited from PH supporters, such as in Puteri Wangsa," he said.
He however said that it was still too early to tell if the party helmed by former youth and sports minister Syed Saddiq Syed Abdul Rahman could be a rising force in Malaysian politics.
"They won in a seat where there was no other PH candidate," he said.