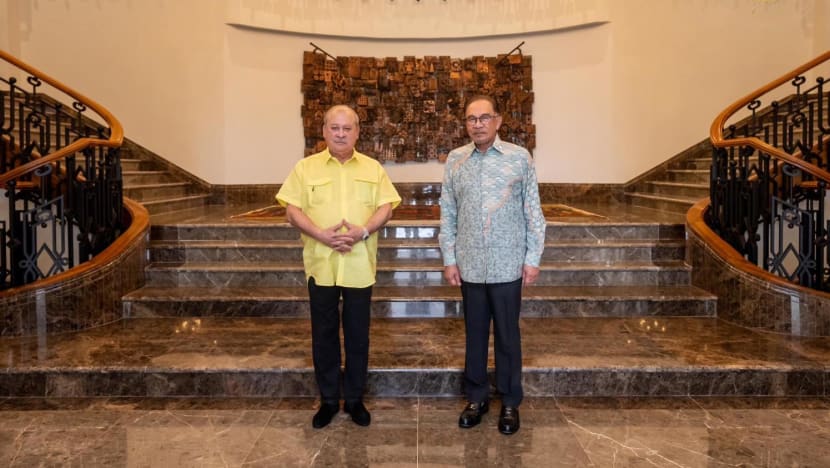 JOHOR BAHRU: Johor ruler Sultan Ibrahim Ibni Almarhum Sultan Iskandar said the state government's relationship with the federal government has improved under Malaysian Prime Minister Anwar Ibrahim. 
Sultan Ibrahim said that he has been getting along well with the Pakatan Harapan (PH) chairman, who leads the unity government. 
"We have worked very well together. I would say it's better than any other previous prime ministers," Sultan Ibrahim was quoted as saying by The Star on Thursday (Mar 23). 
He also expressed satisfaction that his proposals to develop Johor had received the required consideration from the federal government. 
"We consult each other and exchange ideas on how we can develop the state better," said Sultan Ibrahim, adding that this is done at meetings or via phone calls.
"At least today, this government is looking into our concerns seriously," he said, according to The Star. 
Previously, Sultan Ibrahim had reportedly been critical of how Johor was treated by the federal government under former prime ministers. 
Last June, local media reported that Sultan Ibrahim expressed his disappointment over unfulfilled promises and lack of federal funds for Johor under the previous administration led by Mr Ismail Sabri Yaakob. 
According to Free Malaysia Today (FMT), the ruler said he felt as if the state was being "treated like a stepchild".
"I feel that Johor is being treated like a stepchild even though we are among the top contributors to the national economy," Sultan Ibrahim was quoted as saying by FMT.
Separately, Sultan Ibrahim also stressed that the country's reputation has been damaged by corruption. He urged Mr Anwar and the relevant agencies to take action, adding that the "whole system" needs to be cleaned up. 
"Change. Clean up the whole system and clear the corrupt, no matter who they are," said Sultan Ibrahim, according to The Star. 
As part of his clampdown on corruption, Mr Anwar told the country's civil servants in November last year that approvals for government procurement can no longer be given without a tender process. 
He said then that the government under his leadership will not allow for financial leakages and corruption to continue, adding that the image of the civil service must be restored. 
Earlier in January, it was reported that Malaysia scored lower again in Transparency International's annual Corruption Perception Index 2022 (CPI 2022). 
The index ranks 180 countries and territories around the world by their perceived levels of public sector corruption, scoring on a scale of 0 (highly corrupt) to 100 (very clean).
According to the anti-graft group's latest report, Malaysia had a CPI score of 47 for 2022. This a six-point drop over the preceding three years.
FMT reported that, in 2019, Malaysia had a CPI score of 53, but this reduced to 51 in 2020, and 48 in 2021.