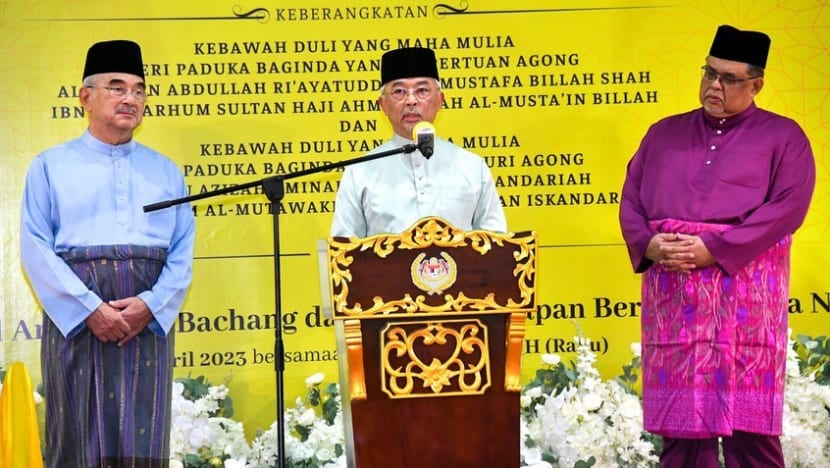 KUALA LUMPUR: Malaysia's King Al-Sultan Abdullah Ri'ayatuddin Al-Mustafa Billah Shah on Wednesday (April 5) urged Muslims to do their part to safeguard mosques from turning into a political arena. 
"I will always remind (everyone), especially those in Pahang, that the mosque should not be mixed with political elements at all," said the king, who is also the ruler of the state of Pahang, when officiating the Ar-Razzaq Mosque in Melaka. 
The king added that the harmony of the mosque must be maintained by all Muslims, not just the leaders.
"We do not want the institution of the mosque to be a place where we are divided. 
"We all have to decide that the harmony of the mosque will be maintained by us Muslims, not just the leaders, but more importantly, the congregation of the mosque," he said. 
In a statement on Wednesday, the king also stressed that the mosque needs to be an institution that is sufficiently holy, noble and respected, as well as an example to other religions.
The king's speech comes after a series of bans in several Malaysian states preventing politicians from giving speeches in mosques. 
On Mar 2, Terengganu ruler Sultan Mizan Zainal Abidin banned politicians from delivering religious talks and sermons in mosques and surau (small prayer halls) in the state. 
Terengganu's Islamic Religious and Malay Customs Council (MAIDAM) stressed that mosques and surau should never be misused to create anxiety, restlessness or discord among the community. And this includes activities or programmes that have an element of politics, the council said.
Despite the ban, Parti Islam Se-Malaysia (PAS) president Abdul Hadi Awang reportedly has continued to give religious lectures in the state. 
According to The Star, he said that there was nothing wrong with Muslim politicians delivering sermons in mosques or at prayer halls as it was important for leaders to speak up on various matters including politics.
"We have to understand … when we talk about Islam, we cannot separate politics from religion.
"Even the Prophet Muhammad talks about politics in his sermons. There is nothing wrong and we have a duty to talk about it," Mr Abdul Hadi was quoted as saying by The Star.
On Mar 7, the state of Perak also implemented a ban on politicians from giving talks at mosques and prayer halls.
According to the New Straits Times, Perak Islamic Religious Department director Harith Fadzilah Abdul Halim said that among those prohibited from teaching and giving talks at mosques and prayer halls include members of parliament, state assemblymen and individuals who hold office in any political party.
In Johor, state Crown Prince Tunku Ismail - who is the chairman of the state's Islamic Religious Council - on Jan 18 ordered that besides the ban on religious talks in mosques, all activities involving religious discourse as well as the speakers involved must first be approved by the relevant religious bodies.
In Selangor, the state Islamic Religious Council (MAIS) in 2021 revoked the Islamic teaching certificate of political activists for fear that their certificate would be misused to benefit political parties. 
Last month, Selangor ruler Sultan Sharafuddin Idris Shah also issued a reminder that mosques and surau should not be used for political platforms.