Can Anwar unite Malaysia? He has a small window to do so, say analysts
Mr Anwar's extensive portfolio puts him in a good position to forge trust between the parties and different segments of society, observers said. But he needs to move fast.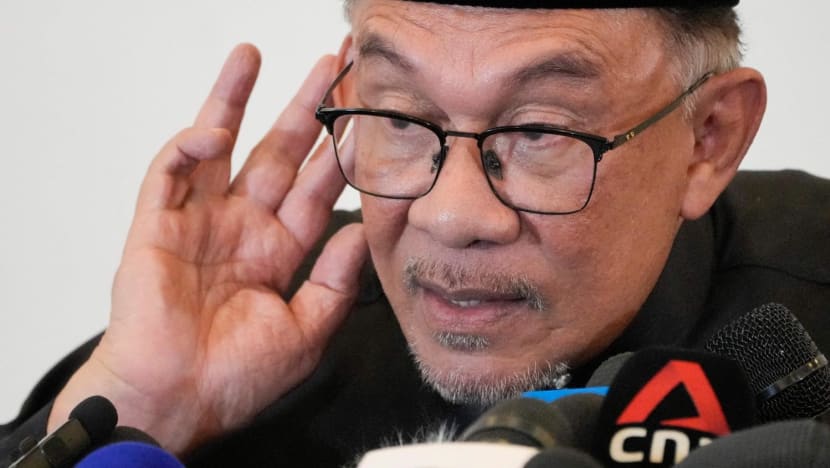 SINGAPORE: Observers are optimistic that Malaysia's new Prime Minister Anwar Ibrahim can be a uniting force for the country, where turbulent politics over the past few years has spilled over to its economy.
But he has a short window to instill confidence in his government, they said.
With deep political polarisation evident from the election results, Mr Anwar's extensive portfolio puts him in a good position to forge trust between the parties and different segments of society, analyst Saleena Saleem told CNA938's Asia First on Friday (Nov 25). 
"If anyone can do it, I think he can. I think he will prioritise inclusive governance, he is going to want to keep open dialogue with his partners in the unity government to maintain a stable government," said Ms Saleem, a visiting research scholar at Boston University.
"This is a politician with roots in Islamic civil society activism, who has refashioned himself as a Muslim democrat, and has championed for a more inclusive style of governance in Malaysia," she said, adding that this is in stark contrast to the Malay-centric stance from nationalist parties.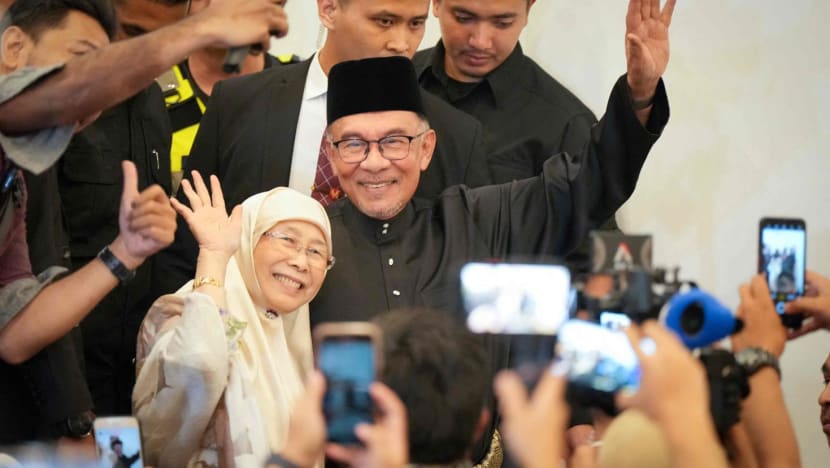 She also said Mr Anwar has the experience of managing different political parties and keeping them within his coalition, despite them having very different visions for Malaysia.
Ms Saleem added that Mr Anwar has a track record of putting society's grievances ahead of his own. She cited the example of how he buried the hatchet to work with former prime minister Mahathir Mohamad to "pursue the more important goal" of the historic ousting of Barisan Nasional (BN) in the 2018 election.
FIRST TASKS IN PARLIAMENT
Mr Anwar was sworn in as Malaysia's 10th prime minister on Thursday, and said he will lead a unity government comprising the main coalitions of Pakatan Harapan (PH), BN, Gabungan Parti Sarawak (GPS) and Gabungan Rakyat Sabah (GRS). He has left the door open for other coalitions or parties to join.
The new prime minister said that the economy and inflation will be his immediate concerns, a move Dr James Chin, Professor of Asian Studies at the University of Tasmania, believes will be welcomed by Malaysians, regardless of how they voted.
Dr Chin told CNA's Asia First that as a trading nation, it will be difficult for the economy if the Malaysian ringgit is not stable.
Markets reacted enthusiastically immediately after Mr Anwar's appointment, with the ringgit jumping 1.8 per cent against the US dollar and the stock market posting its strongest gains in more than two years.
However, Dr Chin said that Mr Anwar needs to "hit the ground running" and reform key parts of the government in order to bring about political stability. A huge part of that weighs on who he chooses to be part of his cabinet.
"It's quite clear that we need a lot of reforms in Malaysia and he doesn't have a lot of time. The most important thing for him now is to balance the cabinet between those who represent the core party and those who represent what we call the reformists," he said.
A CONFIDENCE VOTE SO SOON?
Mr Anwar's promise to call for a confidence vote on his leadership during the next parliamentary sitting on Dec 19 is a "really good move", because "then nobody can question the legitimacy" of his government, said Dr Chin. 
While Dr Chin said he "has no doubts" that Mr Anwar can get the support of the 112 lawmakers needed for a simple majority, the prime minister will need an upwards of 120 votes for more obvious support and a more stable government.
Following the confidence vote, Mr Anwar's first task should be to table and pass a revised budget, which will give Malaysians and investors a sense of how he plans to steer Malaysia through an expected economic downturn next year, said analysts.
"All eyes will be on what kind of policies he is going to implement to increase market confidence. Income and job levels have to be raised enough for people to weather the impending economic downturn," said Ms Saleem.
CAUTIOUS ON SENSITIVE ISSUES
Mr Anwar is likely to be cautious on controversial issues, such as corruption, and race and religion, said observers.
Although corruption was a key issue for voters during the general election, and a major reason that analysts said brought about the downfall of the once-dominant BN coalition, Mr Anwar is expected to put the current cases "on the backburner" for the moment, said Dr Chin.
This is because he will likely not want to upset the alliance's fragile relationship with the 30 BN lawmakers, he said. However, Dr Chin foresees that Mr Anwar will likely clamp down on future corruption cases that happen during his tenure.
On race and religion, Mr Anwar is likely to thread carefully, said Ms Saleem. In his first address as prime minister, Mr Anwar vowed to continue to uphold the special rights of Malays.
"In the past, he may have stated that he would support the dismantling of the pro-Malay policies in favour of needs-based policies. But I don't think he will make that a priority anytime soon, seeing that the (election) results show that a majority of Malays voted for PN (Perikatan Nasional) over PH," said Ms Saleem.
Anwar's PH coalition, which includes parties representing minorities, is looking well equipped to handle concerns regarding race and religion, said Dr Johan Saravanamuttu, adjunct senior fellow from the Malaysia Studies Programme at the S Rajaratnam School of International Studies (RSIS).
However, there is a need for a more pronounced Ministry of National Unity with more power, that would put in place legislation to promote and enforce harmony between races by criminalising provocative acts, he told CNA's Asia Tonight on Thursday.
"(We need) some legislation that would help to mend the frictions occurring within Malaysia's multi-racial, multi-ethnic, multi-religious society," Dr Saravanamuttu said.
"There needs to be some kind of race relations act, for example, that would prevent some of the extremists from making the kinds of inflammatory statements that they often make," he added.
MAKING THE UNITY GOVERNMENT WORK
For his unity government to work, Mr Anwar has to consider rival coalition PN's demands, especially since the latter houses the party with the largest individual victory during the election – Parti Islam Se-Malaysia (PAS).
He said Mr Anwar would likely need to look closely at the manifestos of all parties, especially those with huge wins like PAS, to cobble together different policies for the unity government to work.
"Sometimes we cannot have every single party involved in the running of government. But if we have enough of the major components or players, I think we are able to create that momentum towards a national unity approach to government," he said.
Failing to do so might result in disgruntlement from opposing parties or even from within his own coalition, cautioned Ms Saleem, adding that it could affect the Malaysian public.
"There is such deep political division that his unity government is going to be vulnerable to attacks from PN, who wants to make itself relevant, and possibly from within as well from BN. So if Anwar is to lead a stable government to full term, he needs to gain trust from all parties," she said.
"What's happening at the political level, and the politisation of race and religion inevitably can affect people at the grassroots level. People can get their emotions swayed, so there is always that danger there and we have seen that happen," she added. 
When asked if this means the prime minister has a short window to instill confidence in his administration, Ms Saleem replied: "Yes, he has to start work immediately".
You may also be interested in: