Muhyiddin questions Malaysia PM Anwar's decision to sign maritime border agreement with Indonesia
The territorial seas treaties signed by Malaysia and Indonesia earlier this week involved the Sulawesi Sea and the southernmost part of the Straits of Melaka.
SEREMBAN, Negeri Sembilan: Perikatan Nasional chairman Muhyiddin Yassin has urged Malaysian Prime Minister Anwar Ibrahim to explain why he signed treaties with Indonesia which has led to the delimitation of territorial seas.
Speaking during the coalition's rally in Negeri Sembilan on Saturday night (Jun 10) ahead of state polls, Mr Muhyiddin questioned whether the agreements signed over the last week would mean Malaysia was compromising on matters relating to national sovereignty and international borders.
On Thursday, Indonesia and Malaysia signed six bilateral instruments relating to border crossings, trade, cooperation in investment promotions, mutual recognition of halal certification for domestic products, as well as two treaties relating to the delimitation of territorial seas. 
The announcements were made during Indonesian president Joko Widodo's two-day visit to Malaysia.
The territorial seas treaties involved the Sulawesi Sea and the southernmost part of the Straits of Melaka. Mr Widodo later expressed appreciation for the agreement, saying it had "taken 18 years to be solved".
In his speech on Saturday, Mr Muhyiddin said he felt "uneasy" when he learnt of the agreement.
"When I was prime minister (of Malaysia), this was among the (bilateral) issues that we could not resolve. We discussed and discussed but could never reach a resolution. It involves sensitive matters relating to the borders of Johor and Sabah," he added.
"Indonesia are our friends but on matters of national sovereignty, we can't compromise. We shouldn't let up even an inch. When it comes to international borders, we must defend our right and national sovereignty."
"I hope (Anwar) will explain this matter to the people and be transparent. I am not making any accusations, but I want him to give an explanation."
Mr Muhyiddin added that during his tenure as Malaysia's prime minister, he was then advised by maritime experts not to sign off on the agreement.
"On matters of national sovereignty and international borders with other countries, he must not make these decisions willy-nilly. I want him to explain and make a statement to the people why and what was agreed," he reiterated.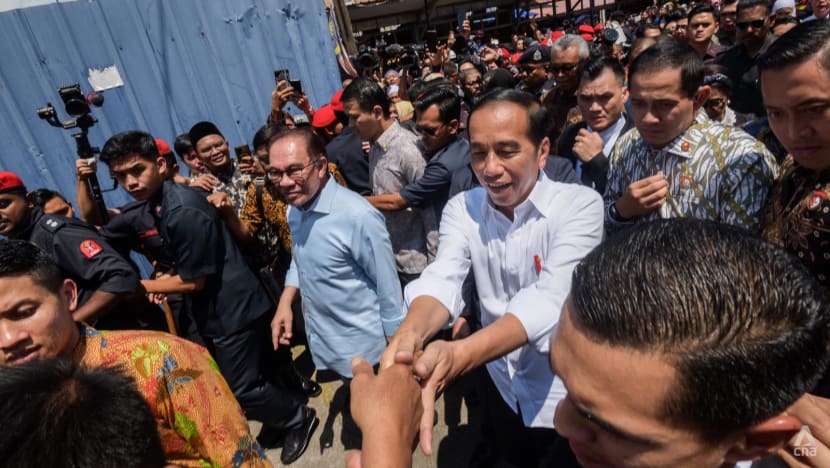 Mr Anwar and Mr Widodo witnessed the signing of the treaties on Thursday.
In a joint statement after their meeting, the leaders said the signing of the treaties will provide a strong foundation for future maritime boundary negotiations. They pledged to resolve other land boundary issues by June 2024.
CNA has reached out to Malaysia's Prime Minister's Office for comment on the matter.
UNITY GOVERNMENT HAVE NOT BEEN EFFECTIVE IN RESOLVING COST OF LIVING ISSUES: MUHYIDDIN
During the same speech in front of thousands of supporters in Seremban on Saturday, Mr Muhyiddin also criticised Mr Anwar's unity government's performance over the last six months. He said that issues relating to the economy and costs of living have gotten worse since Mr Anwar came to power in November 2022.
The Parti Pribumi Bersatu Malaysia (Bersatu) president urged voters to send a message during the upcoming six state elections to effect change in Putrajaya.
"We are in a poverty crisis … and the unity government has not been effective. There have not been positive steps at all, in terms of costs of living especially. The cost of food items, services have gone up. Sugar, milk, eggs, meat, there hasn't been any signs of falling prices," said Mr Muhyiddin.
"These prices are typically set by the market, but the function of the government is to stabilise the prices, and if this continues, our lives will get worse and the people will suffer."
The upcoming state elections in Kedah, Kelantan, Terengganu, Negeri Sembilan, Selangor and Penang is expected to be fiercely contested between Mr Muhyiddin's PN coalition and the unity government coalition, which is led by Anwar's Pakatan Harapan (PH) and Barisan Nasional (BN).
Observers have pointed out that although PN did not manage to form the government after the 2022 General Election, there is a growing wave of support for PN and its main component party Parti Islam Se-Malaysia (PAS).
PAS emerged from the general election as the single biggest party in Malaysia's parliament, raising questions of whether religious populism could be a winning strategy in the country.
However, Mr Muhyiddin in his speech played down the "green wave" phenomenon and maintained that there was growing support "among all races" for PN as a coalition.
"They say there is a green wave happening, but it's not just a green wave. It's a wave of support (for PN) by people who want change," said Mr Muhyiddin.
"The (state polls) is a referendum on the unity government and based on how you vote, it can shake and change Putrajaya."
During the PN rally in Negeri Sembilan, the coalition also unveiled that former BN secretary-general Annuar Musa had been confirmed as a new PAS member.
Mr Annuar was sacked as BN secretary-general in January 2021 as he was reportedly not toeing the party lines set by United Malays National Organisation president (UMNO) Ahmad Zahid Hamidi.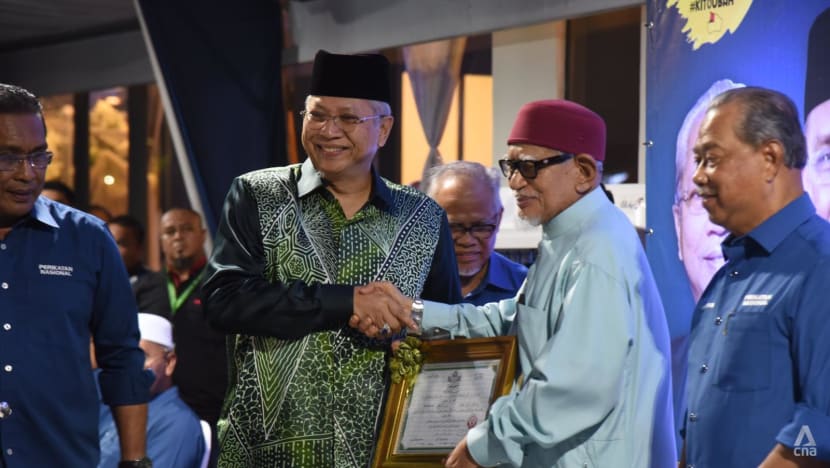 During the rally, PAS secretary-general Takiyuddin Hassan said that Mr Annuar was among 3,000 new members who joined the party recently.
He added that many of these members were formerly from UMNO and had served the party in various capacities.  
After he was formally introduced as a PAS member, Mr Annuar expressed gratitude that his application to join the party was accepted.
"I am thankful that tonight I can be together with all PN supporters on this historic day for me. (My decision) was not influenced by anyone," he added.
Earlier on Saturday, UMNO president Ahmad Zahid said that the party was open to taking back members that have appealed their suspension or expulsion from the party.
He said that UMNO's disciplinary board would evaluate their appeals before bringing them to the party's supreme council for finalisation.
Former health minister Khairy Jamaluddin and former supreme council member Noh Omar were among those who were expelled from the party after the 15th general election.