She has a master's but no job and lives on discount coupons. In China, there are many like her
Even amid record urban youth unemployment, official statistics may not paint a full picture. Employers are increasingly asking for a master's degree, even when roles do not justify it. The programme Insight finds out how Chinese youths are coping.
NANJING: In 2015, when Lingshan was deciding what to study in university, China's property market was booming and civil engineering seemed a lucrative choice. 
Fast forward seven years and Lingshan, who graduated with a master's degree last year, is in an awkward situation. She has been unemployed for a year and is living in an apartment merely 8 square metres in size in the eastern city of Nanjing. 
"Why did I study civil engineering? Oh my, that was stupid," said Lingshan, who asked to be identified by her online alias. 
"I had wanted to work for a real estate developer but by the time I graduated, they were going bust one after another," she recalled. 
"I was hit in the face by the downturn." 
China's property crisis unfolded when developer Evergrande, which had over US$300 billion in liabilities, defaulted in 2021. Since then, companies accounting for 40 per cent of Chinese home sales have defaulted, reported Reuters, and the crisis has now engulfed another major developer, Country Garden.
According to Chinese media reports, the country's top 50 property developers cut 200,000 jobs last year. With many homes unfinished and property prices continuing to decline, there is no light at the end of the tunnel.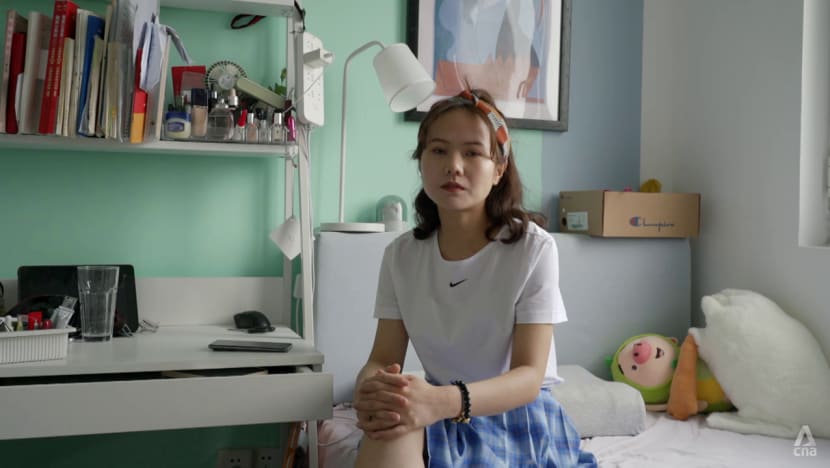 Lingshan recently received another reality check from an employment consultant. "If you still want to stay in civil engineering, your resume is a bit awkward," the consultant, Xu Hongfei, told her.
"First, you are a woman, so you can't work at construction sites. Normally they hire men to do that," he continued. "Also, most companies would only recruit from the graduating class. Right now, that's the Class of 2024, and you graduated in 2022."
China's unemployment data and social media chatter show Lingshan is not alone in her predicament.
Urban unemployment of those aged 16 to 24 rose to a record-high of 21.3 per cent in June, and a cohort of 11.6 million students finished tertiary education this summer to enter what's possibly the toughest job market in recent history. 
According to an analysis by news provider CNBC of Chinese state media reports, a record 7.7 million people took the civil service exam in this year's application round, vying for over 200,000 government jobs at the national and provincial level. 
The official statistics may also not paint a full picture. For one, there are people originally from rural areas who, when unable to find employment in cities, would return to their hometowns, said Bert Hofman, director of the National University of Singapore's (NUS) East Asian Institute.
"As such, they are not measured as unemployed in urban areas," he said.
Last month, the Chinese government said it would temporarily stop releasing data on youth unemployment, citing the need to "further improve and optimise labour force survey statistics".
WATCH: China's Youth Unemployment At Record Highs: Meet The Jobless Graduates (46:08)
'IT KEEPS GETTING MORE COMPETITIVE'
The cut-throat competition for jobs has led to Xu receiving new enquiries weekly. He helps fresh graduates navigate the job market and is currently working with 200 paying clients.
When he left school in 2009, China was producing about half the number of graduates each year than now, he told the programme Insight.
"It keeps getting more competitive," he said. 
There are only so many jobs. You went to a good school? I went to a better school. You did a good internship? I did a better internship. That's the competition."
Employers are increasingly demanding at least a master's degree for office jobs, even when the position hardly justifies it.
"To an employer, hiring is costly," said Xu. An employer may have this perspective: "I don't have a lot of time to spend on hiring, I am busy. So I will only pick among the master's (degree holders)," Xu explained.
"Of course, I know some bachelor's (degree holders) are also outstanding, but employers have no time to discover (them)."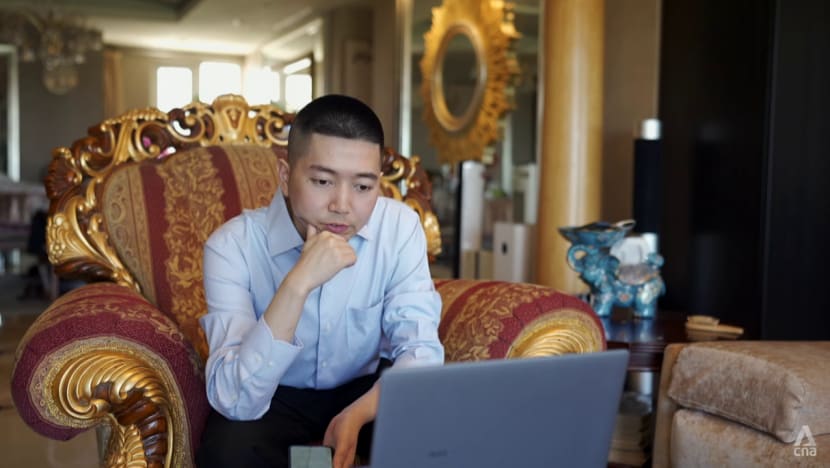 Besides China's zero-COVID policy and weaker-than-expected post-COVID recovery, Zhang Yifan, a professor from the Chinese University of Hong Kong's (CUHK) department of economics, pointed to "questionable economic policies" that have made the job market tougher for youths. 
These include the regulatory crackdown on property developers' accumulation of debt, which led to the implosion of the housing market, as well as curbs on the after-school tuition industry in a bid to reduce academic stress. 
The authorities also clamped down on influential tech companies like Tencent and Alibaba. 
"These industries all used to be very vibrant, and absorbed a lot of young workers," said Zhang. Large private education company New Oriental Education Group, for instance, laid off more than 60,000 workers in 2021, he cited.
ONLINE MEMES AND SCARRING EFFECTS
Young jobseekers' frustrations have been laid bare on social media. They have generated internet memes likening themselves to a fictional failed scholar named Kong Yiji, spawning the term "Kong Yiji literature" as well as a rap song which was swiftly censored by the government.
Earlier this year, graduating master's student Xiami posted an online video about his fruitless hunt.
"I went to a job fair today, and it destroyed my last shred of confidence. Just look at the enormous amount of people there. The last time I saw this many people was when I went to do a COVID-19 test," he said.
It went viral, garnering close to half a million views on video site Bilibili. 
"I don't think it was me (who) went viral, it was the difficulties of finding a job," he told Insight.
The sentiment had been brewing for a while. It just needed a spark to explode, and I was the spark." 
Xiami, who asked to be known by an alias, is the son of farmers in Shandong who moved to Shanghai for his studies – one of the few in his village to do so.
He started his job search in February and sent "at least 200" resumes to potential employers.
"I was initially optimistic," said Xiami, who studied Chinese literature. "I thought I could find a job in three months. But six months later, I still couldn't land anything." 
"I remember thinking – it's time to wake up, there's no future for me," he added.
Xiami eventually landed a job as a management trainee with a parcel delivery company. He earns less than 10,000 yuan (S$1,860) a month and, as a start, will work as a rider. 
"I've taken it in stride," he said simply. "At least I have a way forward."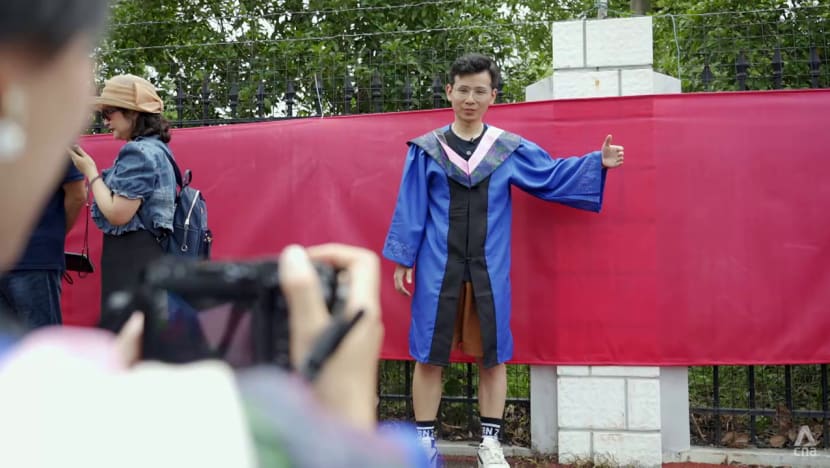 Beyond the venting of unhappiness online, rising youth unemployment could pose a risk to China's social and political stability. 
Observers note that at 21.3 per cent, China's youth unemployment rate is just below the 23.4 per cent in the Arab region in 2010.
High youth unemployment was "one of the factors contributing to the Arab Spring", noted Zhang, the professor from CUHK, referring to the series of uprisings in the Middle East and North Africa in 2010 and 2011. 
There are also "strong links" between youth unemployment and social issues like drug abuse and crime. "It goes beyond the young people themselves, and is very costly to society," he said.
There are also ramifications on China's economy. 
There is a "scarring effect" from being out of employment for an extended spell. "(Their) skills may be obsolete after a long period of unemployment... it will have a long-lasting effect for the future," Zhang said.  
"Their income will not be able to recover to the normal level, even with 10 or 15 years of work experience." 
The youth account for about 20 per cent of consumption in China, said Louise Loo, China economist with Oxford Economics. "A big (source) of consumption is out of the workforce," she said. "So that does affect the extent to which consumption can be a driver for growth in the long term." 
The authorities have rolled out various measures to boost youth employment. Anhui and Guizhou provinces have asked state-owned enterprises to ensure at least half of their new hires are fresh graduates, news outlet South China Morning Post reported last month.
In Hunan province, graduate recruitment has been added to the annual performance appraisals for executives at state companies, it reported.
Henan province came up with a 100-day plan from May to August to "dynamically clear" youth unemployment. Measures included promoting jobs in public institutions and state-owned enterprises, second degrees, and grassroots or rural employment projects, Reuters reported.
'CAN'T EVEN SUPPORT YOURSELF'
China's youth unemployment situation highlights mismatches in skills, and the expectations of youths and employers.
Qiang, who is from China's southwest, recently graduated in eldercare – a relevant skill in a rapidly ageing country. But he is no longer keen on putting his degree to use. "It pays too little, and the hours are long," he said. 
"You need to be on standby 24 hours a day and do night shifts. When on probation, the salary is only 1,500 to 2,000 yuan (S$279 to S$372)," he said. "Even when you are confirmed, you get paid at most 3,000 yuan (S$558)."
Bantering with friends over a meal, one of them quipped: "Become a care worker? Who's going to marry you? You want to be single forever? With the salary of a care worker, you can't even afford to have a cat."
Another friend piped up: "Can't even support yourself, forget about the cat."
Qiang's parents, who own two restaurants, had hoped to help him open his own care centre after he graduated. But after three years of COVID-19 lockdowns, they no longer had the financial ability to do so.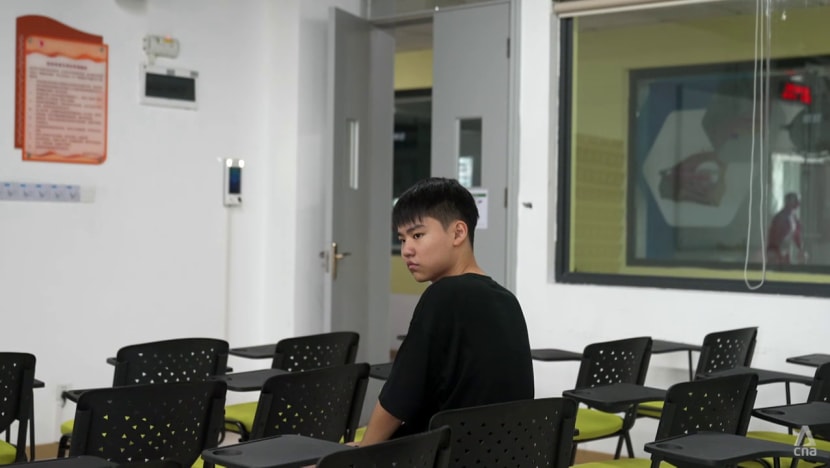 "As countries grow into becoming a middle-income economy, and aspire to be a high-income economy, the expectations of people also change," explained Maria Ana Lugo, a senior economist at the World Bank. Youths have higher expectations than their parents did back in the day, and expect a certain level of income and type of work.
People entering the labour force now are far better educated than those leaving the labour force, added Hofman.
"(Those) leaving the labour force now, they've got about six to seven years of education. (Those) entering the labour force, they have about 12 years of education."
This will be good for China's growth in the medium term, he said. But in the shorter term, there might be some issues of frictional unemployment and temporary "over-education".
'THE FACTORY DIDN'T NEED MORE WORKERS'
If graduates are feeling demoralised, their peers with associate degrees or less are even more daunted.
After speaking to some recruiters at a job fair in Ningxia, Ma Youhu, who has a three-year associate degree from a tertiary vocational training institution and past experience working in electronics factories, lamented: "Even bachelor's (degree holders) can't find jobs, let alone me... That's the reality. There's nothing I can do."
His younger brother, Cunjun, graduated from high school in July and ventured to Xiamen in search of a job.
He had done a previous stint at a factory in Xiamen that made cameras for iPhones. "In the first month, I got paid 4,000 yuan (S$744). Then it went up to 5,000 yuan (S$930). I gave 10,000 yuan (S$1,860) to my family and bought myself a phone," he recounted. "When I went back this year, the factory didn't need more workers."
As some Western economies teeter on a recession and more countries seek to "de-risk" their economic dependence on China, the country's exports have taken a hit and fallen year-on-year every month since May.
Cunjun has tried farming but his home in Xihaigu, on the Chinese Loess Plateau, is one of the driest places in China.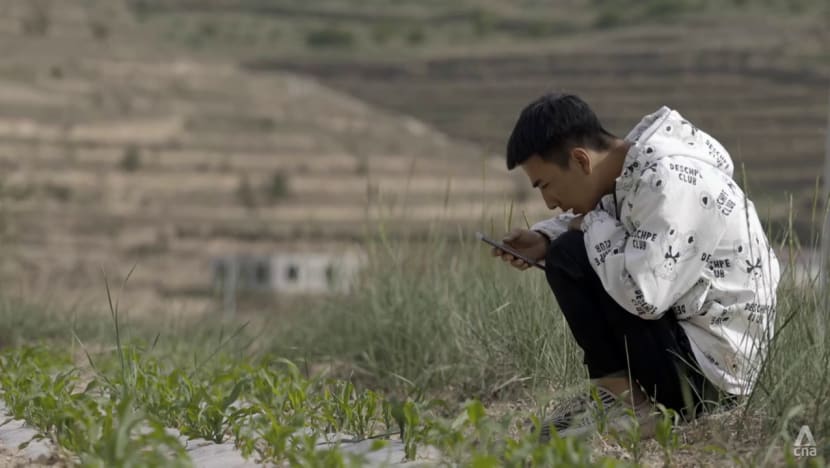 With China's Ministry of Education forecasting a shortage of nearly 30 million manufacturing workers by 2025, Cunjun may well find his way back to a factory in future.
For now, he has a job at a construction site in Yinchuan, Ningxia's capital, and was paid 300 yuan (S$56) on his first day.
The search continues for his brother Youhu, as it does for Lingshan.
She has turned to livestreaming to pay the bills, putting her life on display for tips. A recent session bagged her over 20 yuan (S$3.70). "Thank you for feeding me," she told her audience. "I want to buy a bowl of instant noodles. I can even afford to add some meat."
While she waits for online superstardom, she hunts for discounts and uses coupons on the online shopping platform Taobao, doing what she can to stretch her money. 
"I try to lower consumption in every possible way," she said. 
"I don't socialise or eat out. I don't want an apartment or to get married. I just need some food to subsist."
Watch this episode of
Insight here
.
The programme airs on Thursdays at 9pm.