Commentary: Our Shanghai office emptied out as colleagues stayed home sick with COVID-19
Following a swift change in its COVID-19 policy, China's major cities turned into ghost towns overnight as the population battled widespread infection and medical supply crunches. Shanghai-based Singaporean Ye Jiayi gives us an inside look at the situation on the ground.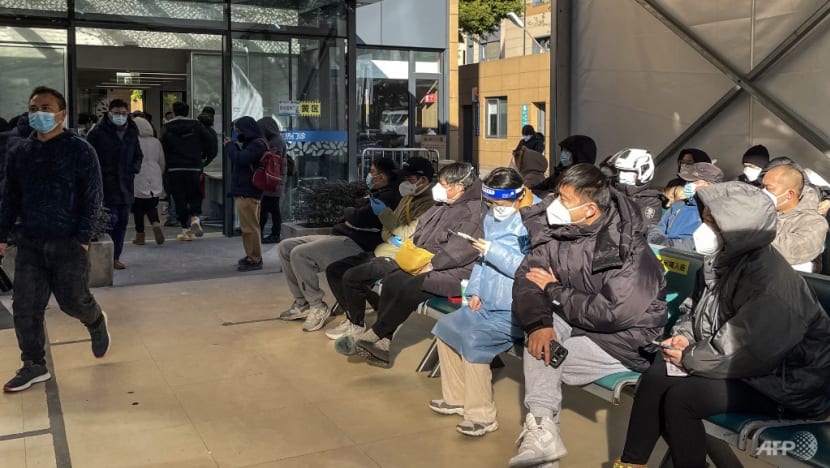 SHANGHAI: On Dec 7, just weeks after the unprecedented protests that took place across Chinese cities in response to the government's strict COVID-19 policies, Beijing made a surprising announcement that it would ease some of its hardline zero-COVID restrictions.
Frequent mass testing would be scrapped for most of the general population, and people with mild infections would be able to isolate at home instead of in government facilities.
This was a major move, especially for residents who had spent the last three years living under the uncertainty of having snap lockdowns imposed at any time, and most people having to take PCR (polymerase chain reaction) tests every two days.
Although China's National Health Commission had made the announcement, things at the provincial level took a few days to be updated. This meant that even as PCR testing booths across Shanghai gradually shut down, health codes were still being tracked in the city and we still needed a 48-hour negative test result to travel around.
I was unable to find a testing booth in the vicinity of my apartment, and started to wonder if I would have to miss my own birthday party that weekend.
I shouldn't have worried. In a matter of days, Shanghai stopped the tracking of health codes entirely. After three long years of scanning QR codes before stepping into any building, establishment or even a taxi, residents could now move around freely.
This change was celebrated by many ­– and served as an indicator of things to come.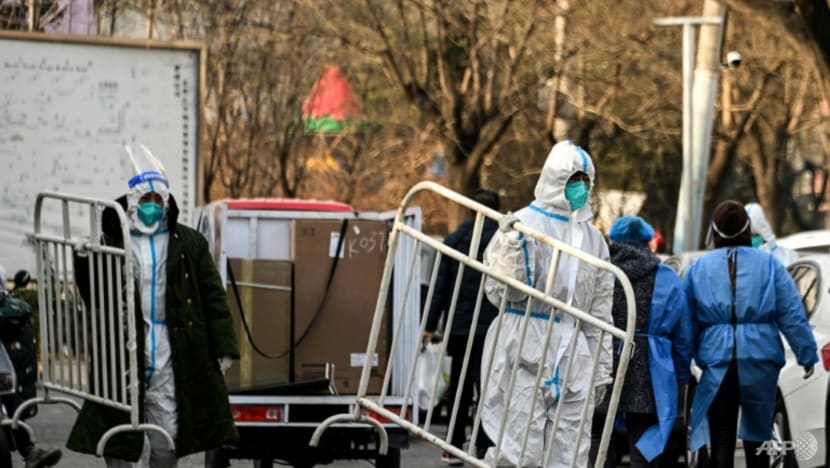 WIDESPREAD INFECTION
The following Monday on Dec 12, I arrived at the office to see most of my colleagues masked up – a sight that I had not seen since the early days of the pandemic in 2020. Our HR department released a circular later that day, informing us that four of our co-workers had tested positive.
The virus spread like wildfire in the days that followed, and I watched the office empty out as more colleagues caught COVID-19. With no guidelines and restrictions in place, the rate at which the infection was spreading was uncontrollable.
By the following week, only a handful of people were in the office – about three-quarters of our workforce were home and sick. Companies across Shanghai were experiencing the same phenomenon.
The streets of Shanghai were largely empty as people recovered from COVID-19 at home. Restaurants were deserted, and shops (even major luxury brand boutiques) were closed because of the manpower crunch. Everyone was ill.
At this point, it was virtually impossible not to get infected.
"I went to the hairdresser the other day and when he learned I hadn't caught COVID-19 yet, he asked if it was because I had no friends and no social life," a Singaporean friend laughingly related to me over dinner one evening that week.
"I hope I get it soon, though. Then I'll be over and done with it."
She didn't have to wait long. She got a text from her boyfriend shortly after, informing her that he had tested positive. Within two days, she was down with COVID-19 too.
Her sentiment was echoed by many of my friends and co-workers in China. While some of them remained wary of the virus, most welcomed this wave and hoped that it would soon mark the end of this COVID-19 chapter in their lives.
MEDICAL SUPPLY SHORTAGE
Before long, antigen rapid test (ART) kits were in short supply, and could no longer be purchased online. Over-the-counter medication for flu and cold, including painkillers, were out of stock everywhere.
I found myself sending out medicine packages with lozenges, pills for sore throats and flu, and paracetamol to friends who fell sick during this wave. I had, thankfully, recently returned from a two-month trip to Singapore and had stocked up on a variety of over-the-counter medicine.
The supply shortage was so bad that tech giant Tencent launched a Pandemic Mutual Aid mini app within WeChat to allow users to put up location-based posts about medication they urgently needed. Users who could spare medicines could choose to respond to these requests through the app.
Hospitals were completely overwhelmed. A friend's wife was due to give birth in two weeks when a sudden COVID-19 infection led to irregularities in the baby's heartbeat.
What he expected to be a routine hospital visit turned into a 72-hour nightmare. Beds were in extremely short supply, and partners were expected to double-up as caregivers as staff could not cope with the volume of patients, he shared.
THE CHRISTMAS SURPRISE
By the time Christmas Eve rolled around, I found myself sitting across the dining table from only one other Singaporean friend, eating takeaway. All our friends were COVID-19 positive, and we had to cancel our planned Christmas gatherings.
We were the only two left standing – only because we had just gotten COVID-19 in Singapore three months ago. Both of us had taken three shots of the Sinovac vaccine in China before our respective trips home to Singapore, but the virus came for us anyway.
She mused aloud about the turn of events in China over the past few weeks. None of us had expected change that swift.
Rumours about a further revision to quarantine regulations for inbound international travellers had been circulating for some time as well. Bloomberg released a piece on Dec 22 about China planning to cut from January quarantine requirements to three days of monitoring instead of government quarantine. State media, however, had yet to confirm any of this.
On Dec 26, it was finally official. State media reported that China would scrap all centralised quarantine requirements for travellers entering China from Jan 8.
It was the Christmas miracle none of us had dared to hope for. This marked the end of three years of strict border controls in the world's second-largest economy and the start of a new chapter.
And so, for the first time in three years, I will finally get to spend Chinese New Year at home in Singapore without having to worry about spending days in quarantine upon return to Shanghai.
Ye Jiayi is a Singaporean who works in the digital research and consulting space in Shanghai.