Commentary: WhatsApp in-chat transactions could shake up Singapore's e-payment scene - but how safe are they?
WhatsApp's new in-chat payment is a tempting proposition for Singapore businesses and consumers, but it raises questions on security and privacy, says fintech CEO Jonathan Chang.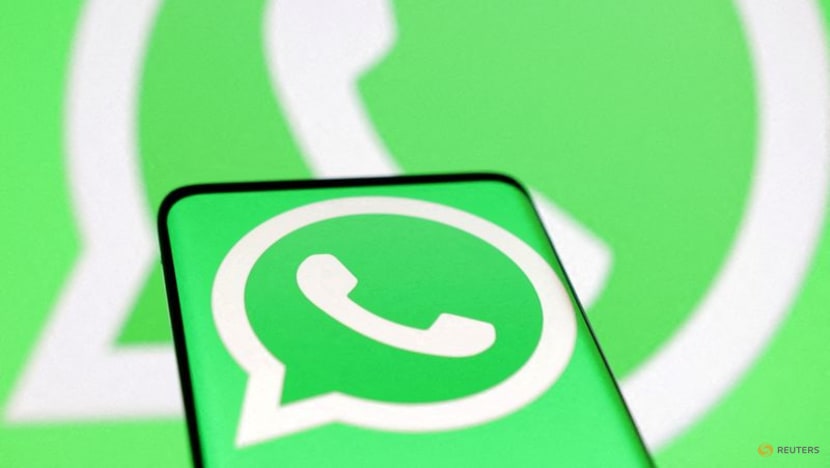 SINGAPORE: The world of digital payments is evolving rapidly, and WhatsApp's recent move to introduce in-chat payments to the Singapore market is a testament to that fact.
The moves of Meta, WhatsApp's parent company, in the financial sphere are anticipated to revolutionise local businesses and stimulate competition among the region's e-payment players. Yet, it also raises questions on security, privacy, and the risk of scams and fraud.
WhatsApp has a staggering 4.6 million users in Singapore, making it a strategic region for rolling out its payment feature. Already available in Brazil and India, the service is now being extended to Singapore-based businesses. This in-chat payment system opens a gateway for businesses to tap into a vast customer base directly within the messaging app.
The integration of commerce into the daily communication routine of millions could potentially stimulate business growth, customer engagement and convenience. This ease of transaction is further complemented by the lack of transaction fees and limits (at least for now), making it a tempting proposition for both businesses and consumers.
LEVELLING THE PLAYING FIELD FOR BUSINESSES AND E-PAYMENT USERS
Small- and medium-size enterprises (SMEs) stand to benefit significantly from this tool, providing much needed accessibility for customer engagement beyond the basic messaging feature. Payments are seamlessly integrated into the messaging app, making the buying process straightforward and efficient.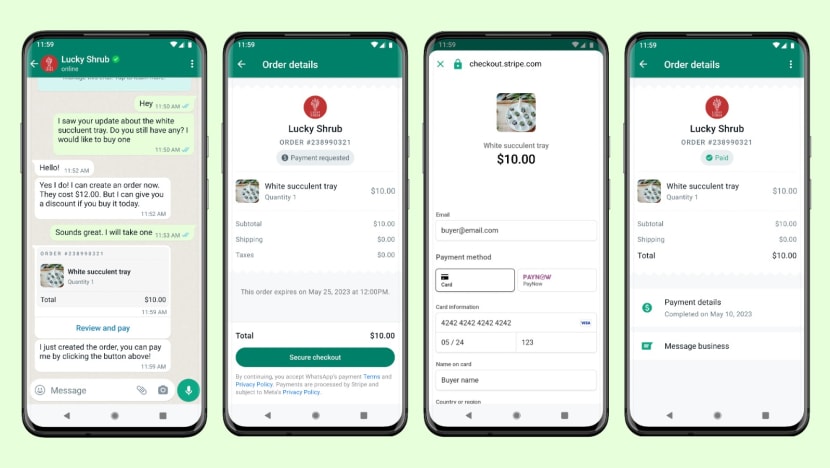 Businesses can leverage this feature to serve customers better without the need for a sophisticated, often costly, e-commerce and payment infrastructure. The ease of transaction could lead to increased sales as customers find it more convenient to shop and pay without leaving the app.
Just look at how much time people spend scrolling through TikTok, interacting with brands and making purchases. In 2022, Southeast Asian users spent US$4.4 billion on the platform, twice more than in 2021. 
WhatsApp's in-chat payments could be a game changer for some businesses that are still struggling to establish an online presence, enabling them to compete with larger companies on a more level playing field.
The DBS digital banking outages in May and March, which left customers inconvenienced and frustrated, highlight the vulnerabilities of the e-payment ecosystem and the need for more diverse alternatives.
Perhaps WhatsApp's payment feature could spark healthy competition among Singapore's e-payment players to enhance service reliability and resilience. This, of course, could benefit end-customers.
COMPETITION AND SECURITY CONCERNS
WhatsApp has stated that it doesn't collect transaction fees for now. Questions arise: Is this a sustainable business model? Will WhatsApp eventually charge businesses and customers? How soon, and how much?
Will transaction data be used for targeted advertising, as Facebook has done in the past? How will this data be protected?
WhatsApp will need to offer pricing transparency and comprehensive answers to these questions to avoid a bait-and-switch approach. This method of "free-to-try" is similar to what car-sharing apps did in their early days, attracting customers onto their platforms before nudging out competitors and eventually increasing prices.
Another concern is that the in-chat payments have no transaction limits, thus, this could lead to a higher risk of scams and financial fraud. In 2020, Brazil's central bank suspended WhatsApp payment over concerns about competition, efficiency and data privacy before approving it almost three years later, pointing to potential roadblocks in the way.
WhatsApp has attempted to address some security concerns. Payments are processed through trusted financial service provider Stripe, following industry-standard practices such as encryption and tokenisation. Furthermore, WhatsApp said that customer data will go directly to the payment partner and won't be processed or seen by the messaging app.
It is reassuring that WhatsApp has policies in place to verify the identity of users eligible for the payment feature. However, ensuring the complete security of financial transactions in a platform primarily designed for messaging will be a stern test. It's also crucial to acknowledge that no system is foolproof, and cybersecurity threats and data breaches are a constant in the digital world.
PROTECTING USERS AGAINST SCAMS
Perhaps another concern is not just the technical aspect of security but also user behaviour. With more than 4.6 million users in Singapore, educating individuals about cyber safety and potential scam techniques is a challenge in itself.
There is no shortage of news of people getting scammed in Singapore via SMSes, social media apps and phone calls. Moreover, with AI-powered scammers, we are truly in unchartered territory. The sheer scale of WhatsApp's user base might inadvertently become a playground for fraudsters.
The Monetary Authority of Singapore could play a pivotal role in safeguarding Singapore's businesses and consumers, ensuring the protection of users' data and money. But ultimately, the success of WhatsApp's in-app payments will hinge on striking a balance between the convenience of seamless transactions and robust security measures.
Security measures like multi-factor authentication, real-time fraud detection and secure data storage should be in place to mitigate these risks. It is also crucial that businesses and consumers remain vigilant about potential threats when customer data has become a commodity on the dark web.
As the feature rolls out to more businesses in the coming months, hopefully the in-app payments feature can navigate security and privacy challenges successfully. A cautious and thoughtful execution of the new WhatsApp in-chat payments will benefit SMEs with increased sales and outreach, and customers with ease of payment and a smoother shopping experience.
Dr Jonathan Chang is CEO of Fintopia Indonesia, public policy advisor and award-winning researcher.
LISTEN - Money Mind: 5 things to know about cybercrime