Commentary: Are we ready for a cashless Singapore? Lessons from DBS' digital banking outage
Even as we inch closer to a world where digital transactions are de rigueur, the DBS digital banking disruption proves that spare cash is always handy, says Cherie Tseng, Chief Operating Officer of Secur Solutions Group.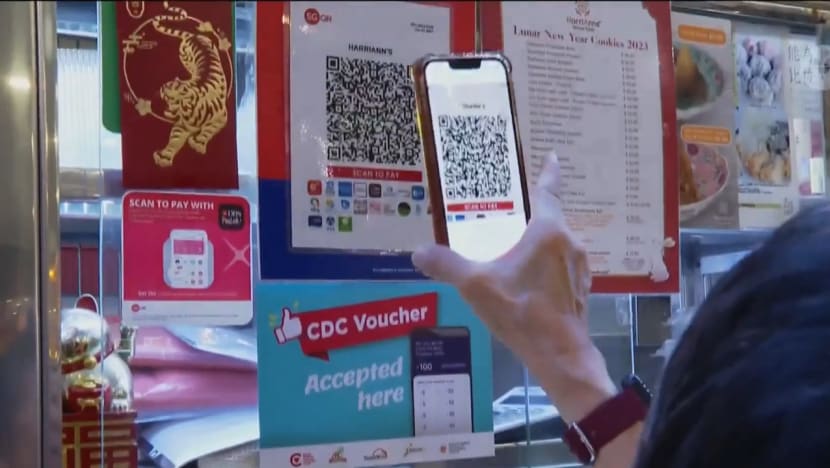 SINGAPORE: People were up in arms when DBS digital banking services, including PayLah! and digibank Mobile and Online, were disrupted for hours on Wednesday (Mar 29).
This happened days after PayLah! users faced delays in receiving their cashback in a S$3 meal subsidy initiative, caused by a high volume of log-ins.
The frustration consumers and businesses feel when digital banking goes awry is understandable. According to the Visa Consumer Payment Attitudes Study conducted in October 2022, about half of Singapore consumers use mobile payments (52 per cent) and QR code payments (48 per cent).
Contactless payments have gained traction since the pandemic struck, but there is still some way to go for Singapore to become a truly cashless society. Sixty-three per cent of consumers have tried to go cashless (including paying by card), but only 42 per cent succeeded in doing so for a week.
This also isn't the first time mobile payment services went down in Singapore. In November 2021, DBS digital banking services had a two-day-long outage due to access control server issues.
If the infrastructure that supports mobile payments is not foolproof, should we always keep some spare cash on hand?
THE MARCH TOWARDS A CASHLESS WAY OF LIFE
All around the world, countries see a cashless way of life as preferred and sought after. The World Economic Forum concedes that "the question is no longer if digital cash will arrive but when and how".
Sweden leads the charge, planning to go entirely cashless within the year with its economy going fully digital. Just as it led the world back in the day by issuing the world's first bank notes, it pioneers the way to phase it out. Studies suggest that Sweden could eliminate cash entirely by 2024.
China has been steadily working to enable a cashless country with a massive government push for the adoption of the e-yuan. Two private banks have ended services for coins and banknotes.
The same trajectory is mirrored in South Korea where their 100 per cent mobile phone adoption rate allows all to transact digitally. They also have a keen interest in blockchain technology and talk of the S-coin is underway.
THE SURPRISING RESILIENCE OF CASH
But as it turns out, cash continues to surprise us with its resilience. In a 2014 opinion piece on the Atlantic titled The Hubris of Trying to Eliminate Cash, Conor Friedersdorf makes the case for the retention of cash payments in society, citing the check-and-balance mechanism it has on centralised power and its allowance for customer privacy.
Cash, he argues, adds a layer of resilience to our financial system, enabling a diversification between the physical and virtual. Of the advocates and evangelists of a cashless tomorrow, he says, "They imagine that simplicity (of a cashless society) on paper will lead to real-world utopia".
In a 2018 parliament response to whether Singapore is seeking to eliminate cash, then Deputy Prime Minister Tharman Shanmugaratnam answered that Singapore does not aim to be a completely cashless society. "Cash has been with us for centuries, and will be around for quite some time more," he said.
Even as our adoption of digital payment technology increases, so does our use of cash. Monetary Authority of Singapore (MAS) data shows that in 2021, currency in circulation reached S$60 billion (US$45 billion), more than double the value circulating in 2012.
A 2022 survey conducted by Lee Kuan Yew School of Public Policy and UOB found that three in four Singaporeans still visit the ATM several times a month.
On the ground, small retail points like hawkers still prefer cash, citing convenience and being cheated by nefarious customers who show screenshots of prior transactions as proof of payment.
This pattern is seen even in Europe. Despite its large digital banking footprint, Norway is considering forcing businesses to still accept cash due to issues with public access and infrastructure reliability. In Switzerland, local groups have earned the right to force a vote to ensure cash retains its position in society.
Local bank outage aside, when a cyclone hit New Zealand in February, it did more than rip up properties and upend lives. Felled power lines and telecommunication capabilities meant that people were unable to pay for vital goods such as food and water for days after cash machines and payment systems were knocked out.
"What it is showing is the importance of physical cash still in society today," Reserve Bank of New Zealand assistant governor Karen Silk said in an interview on the crisis, adding that she was unsure if there could ever be a truly cashless society.
CASH, THE OUSTED KING
Disruptions to online banking systems are not minor inconveniences. They affect the countless transactions customers and businesses make that keep daily life running.
The Monetary Authority of Singapore called DBS' most recent disruption "unacceptable". It previously slapped the bank with a S$930 million capital requirement following the November 2021 outage.
We are inching closer to a world where digital transactions are de rigueur. While it is reaching to say that cash is still king, Wednesday's outage proves that it is handy for us to keep at least some petty cash on hand.
Instead of expecting a secondary technology layer to act as the business continuity plan, cash fills that role with this simplicity of use and innate resilience. Suffice to say, cash retains its importance even if it has been ousted from its throne.
Cherie Tseng is Chief Operations Officer of Secur Solutions Group and editor with The Birthday Collective.
You may also be interested in: