Commentary: Why do MRT priority seats seem to bring out the worst in us?
When commuters fight over who should get a priority seat on public transport, it often raises the question of whether some have grown to feel entitled, says Tracy Lee.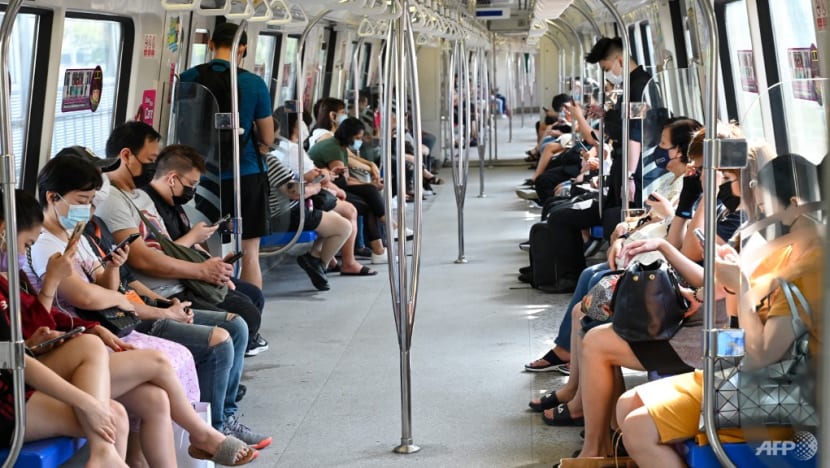 SINGAPORE: With her Minion-like physique, snazzy purple outfit, round cherry-red spectacles, jaunty flower in her hair and a smile on her face, most of us would have met Stacey - or as she's more commonly known, Stand-Up Stacey.
The Land Transport Authority (LTA) cartoon mascot is a common sight in MRT carriages, on huge stickers right behind the priority seats that read: "Show you care. Offer this seat". Yet, poor Stand-Up Stacey and commuters recently had the misfortune to witness two men verbally abuse each other, ostensibly over priority seats.
A video circulating on social media showed an older man berating a younger man seated in the priority seat, using phrases such as "you not Singaporean" and "stupid guy". The younger man responded with a volley of insults, pointing out that giving up his seat is "not in the Constitution. It's not the law".
Have priority seats, intended to nudge the best in us, somehow brought out the worst in us?
Netizens had plenty to say about this incident - on both sides. Some advocated showing graciousness by offering seats to older people without waiting to be asked, especially as priority seats are designated near the doors for convenience. Others pointed out that young commuters also paid their fare and could be tired from working the whole day.
A few took issue with the needlessly aggressive tone of both parties. One even made ableist comments about not taking public transport if one cannot stand, completely missing the point that a well-designed public transport system is supposed to be affordable, accessible and inclusive.
A SENSE OF ENTITLEMENT
Do priority seats breed a sense of entitlement in some? A recurrent criticism - that can spill into ageism - is that some elderly feel entitled to these seats.
One comment sarcastically pointed out that some older people cannot stand for a long time on public transport but had no problem in a long 4D queue. Another said some seniors liked to "go around trying to be hero" and would accuse others of bullying or not respecting them.
In this viral incident, the younger man reportedly said that the older man did have a seat opposite him but had started scolding him before alighting at Bukit Gombak station.
This sense of entitlement may lead to false accusations against people who truly need a seat, but do not appear so outwardly. How about a youthful-looking senior citizen or a pregnant woman with a rather indiscernible baby bump? Or a fit, strapping teen who just busted their knee playing football?
One recent CNA Insider report shared the experiences of young adults living with autoimmune diseases, which could cause them chronic pain or to be unsteady on their feet. One said he did not dare take a priority seat; another remembered people giving her a dirty look when she did.
PRIORITY CABINS, INSTEAD OF SEATS?
Some commuters may also be reluctant to use the priority seats even when there are no passengers with visible needs around them. Wouldn't that be a waste of perfectly good seats?
One suggested idea has been to designate a few cabins specifically for some commuters, such as seniors, those with disability or parents with young kids, and leaving the rest for everyone else.
Indeed, LTA had, in 2019, mooted a trial of MRT priority cabins. It was supposed to have taken place on the North-East Line in 2020 but was put on hold indefinitely as ridership patterns changed amid the COVID-19 pandemic.
It might help address the problem with priority seats but creates other potential headaches. What if a senior or a pregnant woman was travelling with younger, able-bodied companions? Do such groups have to split up and regroup at their destination?
Would there be outrage if commuters with non-visible disabilities used the priority cabins? Conversely, if seniors somehow end up boarding a non-priority cabin, would they be berated for doing so, or left standing because they do not have priority there?
Having priority cabins may also result in even more inconvenience if the escalators and lifts are not always situated in the same place across different stations. They may also be underutilised during rush hour, even as other commuters face an even tighter squeeze in the rest of the train.
WE SHOULDN'T NEED PRIORITY SEATS
Why do we still need to designate priority seats anyway? We can offer our seat if we notice someone in need, instead of waiting for the occupant of the priority seat to do so. Should a younger adult with a painful slipped disc ask a senior citizen to give up their priority seat or approach other commuters along the row?
We can also give up our seat if someone asks - trusting that they genuinely need it instead of fearing we are being unfairly taken advantage of. Should we expect someone to have to justify their request by explaining their condition, or even to whip out a medical certificate?
Even though the LTA is trying its utmost to encourage gracious and considerate behaviour on public transport, it's not its job to teach Singapore basic human decency or situational awareness.
Commuters may request "May I have a seat please?" stickers or lanyards if they have non-visible health conditions or disabilities, but one CNA journalist's recent experience using the lanyard was met only with furtive glances.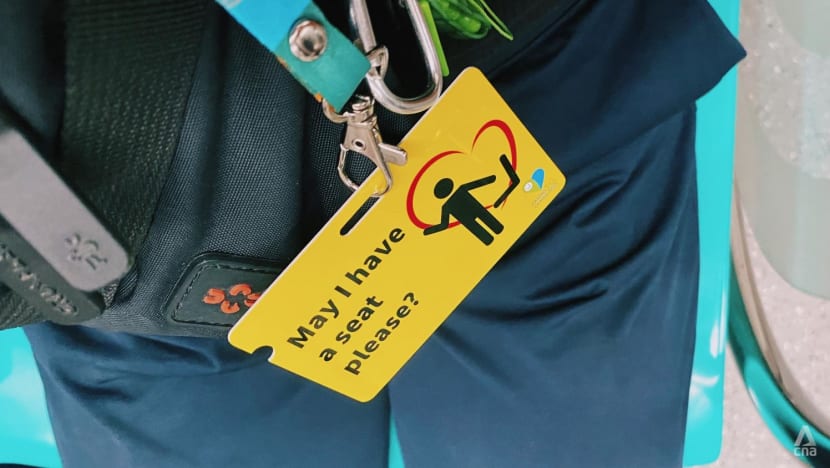 There are also "This is a wheelchair" stickers for paediatric wheelchairs that can be mistaken for prams but cannot be folded, and Priority Queue zones at bus interchanges and MRT or LRT stations. To remind commuters to give way, priority use signs have been installed at lifts, platform screen doors and designated queue zones.
PAYING ATTENTION TO OUR SURROUNDINGS
Even if parents and the education system worked together to inculcate this in children from a young age, and even if society did indeed become more caring and considerate as a whole, it seems to be that people no longer really look around and notice their surroundings.
Everyone's eyes are glued to their smartphones and their ears are deaf to everything except whatever's blasting from the depths of their noise-cancelling earphones. Maybe it's just more realistic to assume that anyone you encounter on public transport with a smartphone (practically everyone) is, in a way, visually- and hearing-impaired or sleepwalking.
That makes it all the more important to learn to engage and ask nicely for help. Anyone who needs a seat should be able to just ask and get one. And we should accept that the seated passenger might say no, if they really needed a seat too.
Tracy Lee is a freelance writer based in Singapore who writes about food, travel, fashion and beauty.