Commentary: Back to basics as the PAP confronts a changing world
In its next lap, the PAP needs to tip the pyramid to put its best resources into grassroots development, says Institute of Policy Studies' Dr Gillian Koh.
SINGAPORE: The world is going through a tumultuous period of geopolitical shifts, a climate crisis and supply chain disruptions, and Singapore will not be spared. Every day, governments and ruling parties are tested. 
As Singaporeans batten down the hatches to cope with economic challenges and a higher cost of living, there will be heated debates on strategy, values and identity.
This was the backdrop of last weekend's People's Action Party's conference, where 3,000 cadres met to elect members of its decision-making central executive committee (CEC).
The key message the leadership of the ruling party had for its members and activists was this: It is time to get back to basics and strengthen the party's ground campaign to win the political battle for the hearts and minds of Singaporeans, said Singapore Prime Minister and PAP secretary-general Lee Hsien Loong.
His deputy in Government and fellow CEC member, Mr Lawrence Wong, said that the party would work "doubly hard, triply hard" to regain the seats it lost in the 2020 General Election and secure a strong mandate to govern. Is this stating the obvious?
THE GROUND CONNECTION
Both emphasised that the Party would not throw its hands up in the air and concede to the idea that the public wants some political opposition in Parliament. For them, if the opposition only chooses to do what is politically expedient or worse, stoke the politics of anger by harping on social fault lines, then the opposition has to be opposed.
Both also made a more earnest appeal than in the past for members and branch activists to strengthen their connection internally and with the ground.
It was only recently announced that ministerial community visits, which were suspended for two years due to the COVID-19 pandemic, would re-start. This is the occasion therefore to rally the ground troops, secure the interest and engagement of ordinary citizens on behalf of the Party and as Mr Lee said, "make up for lost time".
There is fresh impetus behind this, but will it suffice and is there anything it can do differently?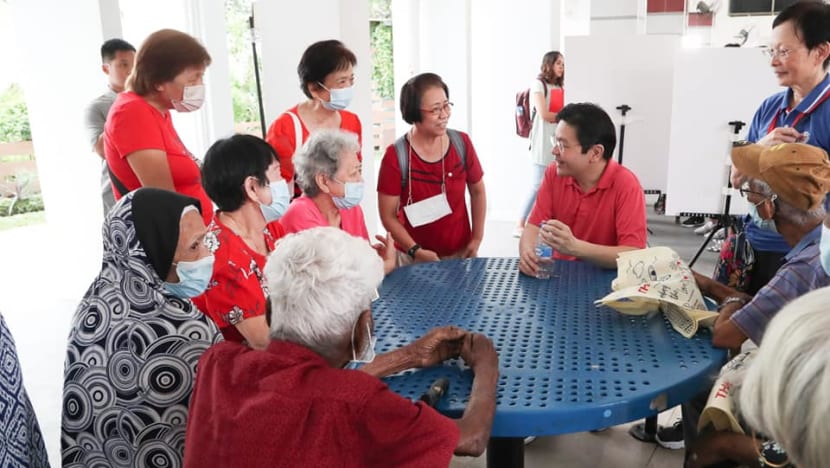 ARE LIMITATIONS A BADGE OF HONOUR?
Let us look at the opposition: Without these resources, they wear their limitations as a badge of honour. Given their novelty, they operate without the sense of intimidation of being a Member of Parliament of Singapore's grand old party.
They get themselves invited into the living rooms of heartlanders to listen, rather than to have to sell something. They are viewed as "courageous" for being on the other side of the political divide. The reception for an activist of an opposition party is in this way, different from what someone in PAP's party whites can expect.
This is not the only alternative political force the PAP has to contend with. With social media, news and views circulate directly to voters, or are published by ordinary citizens and civic activists. When friends and family send this material around, they become powerful shapers of opinion.
Mr Lee said that direct face-to-face engagement with voters is going to be vital given these changes in the political landscape. He recognised that winning the ground was not just about arguments and reasons or dollars and cents, but "friends and emotional ties that our MPs and activists form with residents", resulting in "abiding personal bonds and networks".
This is "heart" work that the PAP knows must be paired with the "head" work it is reputed for since the watershed general election in 2011, when the public said that it was "disconnected" from them.
Most of the 27 fresh faces it fielded in GE2020 had years of grassroots work, are civic activists, or have had direct interaction with the public through their professional work in the government sector.
However, the reception that members might face, especially if times seem much harder than ever, is ironically, going to be even more transactional.
Voters know the PAP has resources. Mr Wong, who needs a smooth transition to premiership, has his hands on the country's purse strings as Finance Minister. So, the instinct on the ground is to say "why can't you do more", "why do you have to do that".
In the coming days, even as the Government announces more support packages to cope with the rising cost of living, promotes upskilling of workers to get better-paying jobs, says it has affordable public housing for first-time young couples, and a plan for a sustainable Singapore and green growth, the opposition is still going to question whether the rise in Goods and Services Tax is truly necessary.
On Monday (Nov 7), opposition MPs recorded their dissent against the Goods and Services Tax (Amendment) Bill following a five-hour debate in Parliament.
Pocketbook concerns versus national fiscal strategy, with the need to provide for an ageing population – clearly not an easy conversation on competing demands and different planning horizons to tackle over tea or in Parliament.
There is also the task of persuading the general public of the need to repeal the law that criminalises sex between men, while safeguarding the right of Parliament to define marriage which currently stands as a union between a man and a woman. What is the right model for sustaining society – this is a battle of values in one of the most diverse communities on the planet – a highly contentious topic most want to avoid discussing.
TURN NEW FACES INTO OLD FACES
Singapore's political transition between the third and fourth prime ministers is set within this context. Along with the Forward Singapore exercise he launched in June this year, Mr Wong seems keenly aware that the task of strengthening the internal capacity of the PAP to engage the public effectively matters as much as getting the national policies right.
Putting partisan interests aside, the country is well-served by an open-minded, critical, and yes, savvy citizenry. This ability to be savvy has to be directed towards achieving a unity of purpose, a rolling average of political consensus around what should be the best policies that help the country navigate this era of uncertainty.
This means that in its next lap, the PAP needs to tip the pyramid to put its best resources into grassroots development and even in opposition territory – retain the old grassroots war horses while recruiting new people who can truly make emotional connections with the ground.
New faces will need to be the old faces in the community. They will need the time to sit and figure out with citizens how the Government's policies and responses to consequential global trends link up to their personal struggles or the puzzles about public policy they have.
Meanwhile, the opposition has not stood still. With the inroads the Workers' Party and Progress Singapore Party made in 2020, more would have been attracted to be party activists. Moving towards the PAP model, these parties have featured more people with mainstream professional backgrounds on their slates to suggest that they too are building up their technocratic base.
Building this internal cohesion of ideas, ideals and trust across the country and nurturing a savvy citizenry is a role for all of Singapore's political parties, but it cannot be done in short order.
Yet it is urgently needed as our own antidote to a world that is already tilted towards the politics of discontent, envy, anger and tribalism, never mind what is needed for any of these political parties' interests when the next general election is called.
Dr Gillian Koh is Deputy Director (Research) and Senior Research Fellow at the Institute of Policy Studies, National University of Singapore.