Commentary: Should we be worried about mandarin ducks and parakeets squeezing out Singapore's native birds?
Non-native birds have recently delighted bird enthusiasts and the general public. It is a great starting point to appreciate Singapore's biodiversity, says Sin Yong Chee Keita from the Bird Society of Singapore.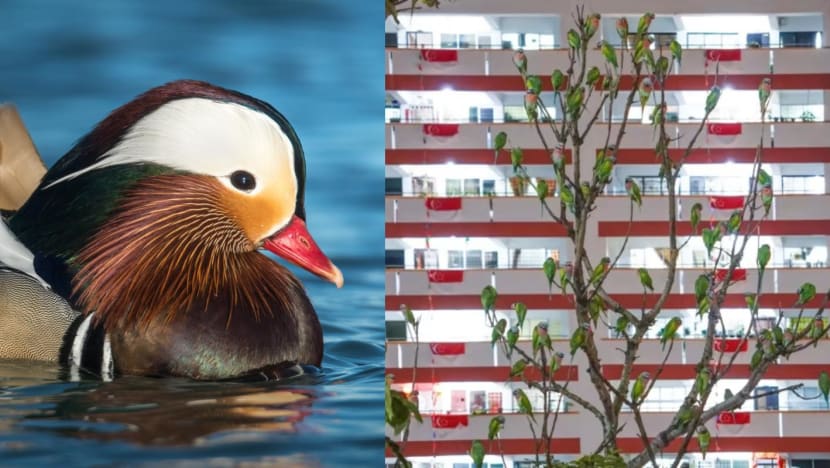 SINGAPORE: When asked about the birds in Singapore, most people would probably have a list of nuisances they "need" to live with, from noisy chickens and infamous "uwu" birds (the Asian koel) to pesky pigeons and mynas stalking hawker centres.
Every now and then, some birds get a different reaction. In recent months, one rare mandarin duck got bird enthusiasts excitedly making their way west to Clementi, while Choa Chu Kang residents admired more than 70 red-breasted parakeets perched on an otherwise bare tree.
These two species enjoy unwavering popularity in the Singapore birding community. However, neither is native to Singapore and their local statuses differ.
Singapore's birdlife has a convoluted history. Many of our native birds have been around since Sang Nila Utama's time, while some others gradually moved in from the neighbouring region due to habitat change.
What we typically call non-native species are those introduced to Singapore through human-mediated means, mainly via the pet trade. These were then released into the local ecosystem either accidentally or deliberately.
So while mandarin ducks and red-breasted parakeets are beautiful to admire, just how concerned should we be about such non-native birds posing a threat to our native birds?
NON-NATIVE DOESN'T MEAN INVASIVE
The term "invasive species" is often colloquially used to describe non-native birds such as the two species above. But there's a finer nuance here.
Non-native species which have successfully established populations are called introduced residents, and about 15 per cent of all resident species in Singapore today are classified as such. However, the term "invasive species" should only be applied to species that cause negative impact to the introduced environment, economy or society.
The mandarin duck is not considered an introduced resident as there are no local breeding populations and sightings are sporadic. It is by no means an invasive species today as their numbers in Singapore are too insignificant to exert adverse effects.
On the other hand, the red-breasted parakeet presents a more complex case study. A popular species in the pet trade, the bright green bird has established breeding populations in Singapore since the 1980s and is hard to miss.
There has been no direct evidence demonstrating the negative impact of the red-breasted parakeets in Singapore's ecosystem. These birds favour open green spaces in Singapore instead of mature secondary forests such as those in the Central Catchment Nature Reserve and are hence generally away from sites where most of Singapore's endangered resident birds reside.
The potential damage they might cause could be said to be proportionally minimal. That said, there are anecdotal reports of the parakeets fighting for nesting holes with common native birds, and we could speculate that they might compete with local cavity nesters like the common hill myna and long-tailed parakeet.
It is at present premature to classify them as an invasive species from a biological perspective.
SPORADIC CULLING MAY NOT BE A LONG-TERM SOLUTION
Some may argue that the red-breasted parakeet's raucous nature constitutes noise pollution, which could justify classifying them as invasives. We then segue into the topic of population control.
The efficacy of culling measures is surely worth evaluating and the non-native house crow is a good example to look at. In Singapore, house crows have been treated as pests due to the disturbances they pose.
Local culling efforts have resulted in a reduction of their numbers compared to two decades ago. While this might suggest that the solution is effective, the reality is that even if all house crows in Singapore were eliminated, it would just be a matter of time before they recolonise the nation from Johor.
This same logic can be extended to the red-breasted parakeets: Getting rid of the birds in Choa Chu Kang or elsewhere might work as a short-term solution, but the bird population could easily recover given their ability to rapidly reproduce and disperse.
The same problems can recur so long as the root issue of human-wildlife conflict remains unresolved, whether the "problematic" animals in question are birds, monitor lizards or otters.
Long-term effectiveness of population control measures will likely be minimal unless a huge-scale effort to exterminate the entire population is conducted, and these are massive decisions that might benefit from a nation-wide dialogue before any commitments are made.
In cases such as mynas and crows, it needs to be acknowledged that complete eradication is no longer possible. Living alongside the numerous species of animals in Singapore is a reality the nation will always have to grapple with, however unappealing the idea might be to some.
DON'T RELEASE PETS INTO LOCAL ECOSYSTEM
From a biological standpoint, invasive species are known to contribute disproportionately to the global biodiversity crisis. In Singapore's context, it is extremely difficult to predict if a shift in ecological balance could tip the scale and lead introduced residents to cause environmental damage.
That said, it is important to ensure that no additional non-natives are introduced to the ecosystem. Pet owners must not release any animals and should make the best effort to ensure they do not escape (in many cases, an escape from captivity spells a death sentence for the animals too). Feeding wild animals such as the rock pigeons is also a no-no.
It brings me joy as a birder to see feathered animals receiving a lot of media attention recently, and it is my hope for more people in Singapore to join the hobby - or obsession for some - to gain a better appreciation of the biodiversity in Singapore.
We can then have healthier conversations about co-existing with wildlife, increasing awareness of these issues, and potentially embark on projects to properly evaluate the science behind introduced avifauna in Singapore.
Sin Yong Chee Keita is the President of the Bird Society of Singapore.