Commentary: Cars are getting more expensive in Singapore - but people still want driving licences
With Singapore's public transport system levelling up and ride-hailing apps now the norm, driving your own car is no longer the symbol of freedom and independence it once was, says Annie Tan.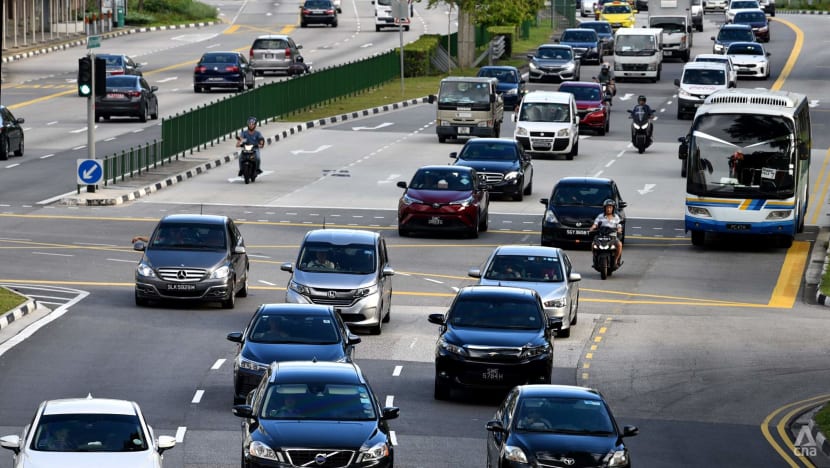 SINGAPORE: You might still remember surreal scenes of empty roads in the city centre at the height of COVID-19. Many environmentalists hailed it the "great reset" for our planet.
Well, it did not last long. Traffic and the demand for cars has returned with a vengeance, pushing Certificate of Entitlement (COE) prices to new heights. On Wednesday (Feb 22), COE premiums closed higher across the board, with open category prices reaching a record high.
Singapore is the most expensive city to buy a car, according to the Global Wealth and Lifestyle Report 2022. With road tax, insurance premiums, parking, petrol, maintenance and repairs, it could cost more each month to own a car than raise a child here.
The costs of car ownership looks set to rise, especially so for high-end cars which will incur higher additional registration fees, as announced in the Feb 14 Budget speech.
Yet many still rush to get driving licences. The demand for driving lessons is so high that many find themselves waiting for months for the next driving simulator slot. Some are even resorting to the use of queue-jumping bot services to beat the system, according to news reports.
This raises the question: Why do so many people still want to learn to drive? Is driving really an essential skill in our rapidly changing world?
NOT THE EXPRESSION OF FREEDOM IT USED TO BE
As a child of the 80s, I remember a time before the MRT. There were fewer buses running fewer routes, and they were not air-conditioned. On hot days, we would open the windows wider to let more wind in.
At that time, my dad's taxi doubled up as our family vehicle, opening our world up to many otherwise inaccessible places - an after-school drive through the winding roads leading to Upper Peirce Reservoir, an excursion to Jurong Bird Park at weekends, and the occasional trip to Changi Airport for plane-spotting. It was also a sanctuary at the end of each trip where we often fell asleep in the backseat.  
Remembering that wind-in-my-hair freedom of cruising along open roads, a few years after I started work, I too decided to get my driving licence and eventually bought a second-hand car.
At that time, it felt like an exciting milestone; a symbol of independence and freedom. It took me a few months to realise that driving was a far less liberating and enjoyable experience than I had imagined.
Because many like me also aspired to car ownership, roads became a lot more congested. I found myself navigating heavy traffic, circling crowded carparks to fight for a spot and crawling along in jams.
Driving is a stressful and tedious task that can be outsourced, freeing up time and mind space to read, chat with a friend, watch Netflix or simply unwind in the backseat. The lifestyle compromises you might end up making for a depreciating asset that you use 5 per cent of the time is not exactly the epitome of freedom.
DRIVING HAS LOST SOME OF ITS STREET CRED
For this reason, I sold my car less than two years after I purchased it, opting for a combination of cabbing and public transport. That was 10 years ago.
We have progressed since. For one, Singapore's public transport system has levelled up considerably. Today, we have six MRT lines, and are looking to add two new ones - the Jurong Regional Line and the Cross Island Line.
Ride-hailing apps link us to thousands of cars and taxis, redefining our concept of mobility. With shopping apps, food delivery apps and social media apps, we also live, consume and connect differently, reducing the need to travel.
Indeed, it seems that today, the car as a symbol of freedom and personal expression is no longer the zeitgeist of our times. After all, in a world when most people live a large part of their lives on a palm-sized phone, there is less need for something as cumbersome as a 1,500kg car.
Of course, car ownership is not merely about convenience, comfort or other practical reasons.  In fact, the high cost of cars in Singapore simply increases its desirability as a symbol of wealth and social status, and for many young Singaporeans, it is the first big purchase that shows that they have "made it".
However, today when it is possible to Grab an Audi and other luxury vehicles, car ownership is slowly losing some of its prestige as well. News of the entitled behaviour of luxury car owners, such as when a Bentley driver pushed back a security guard at Red Swastika School with his car has also created negative stereotypes of wealthy car owners.
This is amidst a new age of climate consciousness, where driving a fuel-guzzling vehicle to transport just one person seems wasteful. Owning a car no longer comes with the same bragging rights or street cred.
IS DRIVING STILL AN ESSENTIAL SKILL TO LEARN?
Given how our world is evolving, is driving still the important coming-of-age rite of passage it was 10 or 20 years ago? Or is this a dated concept born of entrenched beliefs and FOMO (fear of missing out)?
In America - a country known to have a long love affair with automobiles - Gen-Zers seem to be leaning towards the latter. Close to 40 per cent of 18-year-olds in the US did not have a driver's licence in 2018, about twice as many as in 1983, based on numbers from the Federal Highway Administration.
Even among my millennial friends, less than half who have a driver's licence actually drive. The main reasons for this are the high costs of car ownership and the convenience of alternative transport options in Singapore.
Some argue that driving is nonetheless a useful skill that could come in handy when holidaying in some parts of the US, Australia or New Zealand. But it is also quite dangerous for an inexperienced driver to navigate new roads in an unfamiliar country while on vacation.
So if you are not learning driving to buy a car in the immediate future, there is really no rush to do it. After all, with the rapid advancement of technology and our increase climate consciousness, who knows how our world and concept of mobility will change in the coming years.
Indeed, from the evolution of public transport and mindsets, to the possibility of safe self-driving vehicles in the future, learning to drive does not seem as necessary a skill to unlock today.
Annie Tan is a freelance writer based in Singapore.