Commentary: Singapore must clear the roadblocks for driverless cars
Viral videos have shown police officers struggling to get driverless cars to pull over and robo-taxis being stumped by traffic cones in the US. How can cities clear the roadblocks for a smoother roll-out of autonomous vehicles? SUSS' Ku Swee Yong and Dr Sheila Conejos weigh in.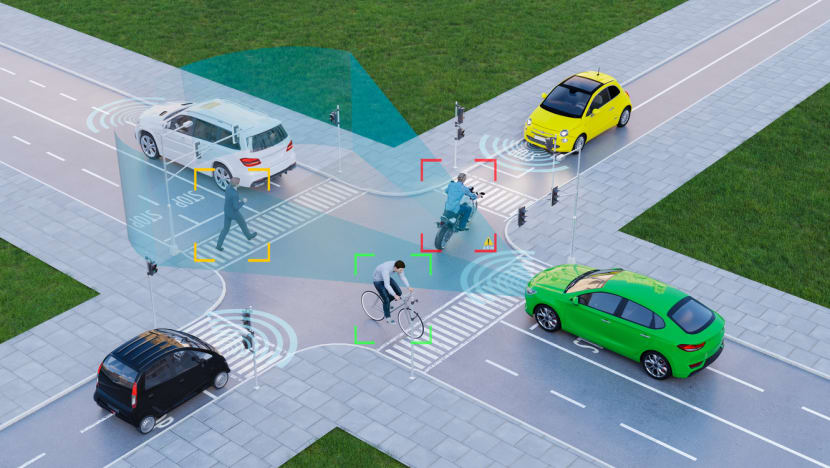 SINGAPORE: Investors have poured more than US$200 billion (S$261 billion) into autonomous vehicle (AV) technology and smart mobility since 2010.
Multiple countries and companies are vying for a piece of the multi-trillion-dollar global AV pie, investing time, money and energy towards taking drivers out of vehicles and letting vehicles move autonomously.
By 2030, the global AV market is projected to be valued at more than US$2 trillion, up from US$76 billion in 2020, according to data from market research firm Research and Markets.
But the question remains: Will the eventual benefits outweigh the billions spent?
THE CURRENT DEBATE
Conversations about the viability of AVs can become heated, even combative. Proponents tout the wide range of benefits from having fewer traffic accidents to supporting sustainability and development goals.
For example, AV manufacturers highlight the broad social benefits that such vehicles could bring, or that self-driving cars would allow motorists to become passengers, giving them more time and connectivity on the move to stay in touch with colleagues, relatives, and friends. They also say that fleets of shared AVs would operate more efficiently with less downtime, lower depreciation, less carbon pollution, and that costs of rides should come down due to the exclusion of drivers.
On the other hand, detractors point to the faults, and sometimes silly errors, of the artificial intelligence (AI) driving these cars, concluding that the technology may never receive widespread adoption.
In May 2021, a Waymo driverless taxi blocked a road in Arizona, United States, and caused a traffic jam after getting confused by traffic cones. The passenger arrived 20 minutes late at his destination.
In San Francisco last year, a hilarious video captured confused police officers - "Ain't nobody in it!" - struggling to get a vacant, driverless Cruise car to pull over for not having its headlights on.
A Bloomberg article in October 2022 titled Even After US$100 Billion, Self-Driving Cars Are Going Nowhere suggested that there are too many "edge cases" to fix and therefore we may not see any significant adoption of AVs in this lifetime.
DATA STILL BEING ACCUMULATED
Presently, most of the published research discussing the positives and negatives of having AVs in the transportation mix are forecasts and scenario studies based on logical assumptions and careful, stepwise extrapolations.
Given that robo-taxis have recently been approved for commercial operations in a handful of cities in the United States and China, real world data is still being accumulated to enable future research to provide more accurate forecasts.
Some research groups considered the two extremes of a snail-paced roll-out of AVs in cities hampered by policy inaction and a lack of infrastructure investments versus rapid adoption due to high consumer and business acceptance, supported by responsive government policies.
Other research groups imagined what the transportation landscape in their cities may look like in 2030, 2040 and 2050, when AV usage is expected to grow from 10 per cent to 90 per cent of the transportation mix.
Some studies dived deep by examining the effects of AV adoption in their cities, such as the possible changes to commuters' lifestyles, realignment of business logistics and how the urban landscape may be affected. The insights gained were useful to support policy recommendations and provide direction for urban planners, car manufacturers, property developers and related industry players.
SAVING LIVES
Industry players implicitly understand that if operating AVs safely is not the number one priority in developing the vehicles, there will be no industry to speak of.
For clarity, a "safety-first attitude" does not mean that AVs will not be involved in traffic incidents, it simply means that AVs should not be the cause of any traffic accidents.
The strong focus on safety will result in the biggest benefit that AVs could bring to the land transport network: Saving lives.
Each year, human errors in traffic accidents kill 1.3 million people worldwide. Researchers have estimated that a road transport system with no humans driving under the influence of substances, distractions from mobile phones and entertainment systems, or with fatigue and stress, could reduce traffic fatalities, injuries and damage to vehicles and infrastructure by more than 90 per cent.
A driverless public transport system will save commuters money not only from the drivers' salaries, but also from having to pay for driving lessons and getting drivers' licences.
If AVs operated by fleet owners were shared by commuters, there would be fewer cars parked and waiting for their owners to drive them. As compared to today's vehicles that remain parked more than 90 per cent of the day, shared AVs operating in fleets could be fetching passengers and delivering goods more than 12 hours each day.
We presented some of these key economic, environmental and social benefits of AVs from a peer-reviewed paper at the Real Corp 2022 conference in Vienna, Austria.
IMPACT ON JOBS
Unfortunately, the benefits mentioned above may also introduce risks and negatives to society.
While labour costs are reduced and the productivity of transportation and logistics industries go up, many drivers and transport coordinators may lose their jobs. Having safer cars and fewer accidents would also impact workers in the vehicle maintenance and repair business. High unemployment arising from the widespread adoption of AVs is perhaps the number one concern amongst workers' unions, researchers and policy makers.
Low cost robo-taxis could sway commuters away from using mass public transit (such as buses and the MRT). This could result in a lower utilisation of mass public transport systems such that taxpayers might have to provide further subsidies for them to remain operating. Furthermore, the convenience of being picked up at the door and dropped off at the door could generate additional commuter demand which is likely to result in traffic congestions.
One major downside risk often highlighted by researchers revolves around personal privacy and security. Commuters concerned about companies and government departments tracking their daily movements could avoid using robo-taxis and AVs for their personal or business trips.
Until there is sufficient trust in the technology and the companies operating the AV fleets, commuters could be wary that hackers and malicious actors might take control of the vehicles and wreak havoc.
WHERE DO WE GO FROM HERE?
Presently, it is unclear if the expected benefits will far outweigh the potential risks and billions of dollars of investments into research and trials. But the tide of technology keeps pushing forward and half a dozen cities in the world have introduced robo-taxis, driverless street cleaners and various forms of goods delivery AVs into the transportation mix.
Singapore is well-positioned to take advantage of AVs. In the five years up to 2021, there were 35,040 traffic accidents with casualties, of which 534 cases were fatal. If AVs delivered on the promise of improved road safety and slashed these numbers by half, it would be a boon to society.
Having AVs in our transportation mix will also help Singapore's ambitions to become a car-lite society. Singapore could get a running start and prepare our urban master plan and transport plan to take advantage of the potential benefits.
Early preparation will allow us to minimise the impact of the expected downside risks. For example, we could prepare for new, higher skilled jobs related to the operations and maintenance of AV systems, fleet management, customer support and so on.
Given that AVs are already deployed in parts of China and the US, we might expect to see AVs shuttling passengers and goods around Singapore within the next decade. In the meantime, let us all work on clearing the roadblocks to allow for a smoother roll-out of AVs.
Ku Swee Yong is a post-graduate researcher from the Singapore University of Social Sciences and Dr Sheila Conejos is the Head of Master of Built Environment Programme at the same institute.
This commentary is the second of a three-part series on autonomous vehicles and how Singapore might benefit from the advantages that this new technology could bring. You can read the first part of the series here.