Commentary: Not just Big Tech - there are tech talent opportunities aplenty in 'non-tech' sectors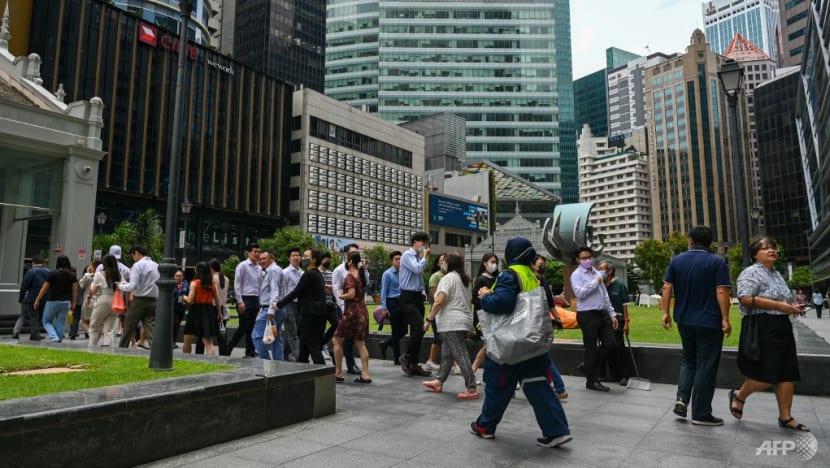 SINGAPORE: Think tech opportunities are dwindling? Think again. Although some of the world's biggest tech firms – from Microsoft and Meta to Alphabet and Amazon - have announced mass layoffs, the local demand for tech talent will remain high this year.
On Thursday (Jan 26), Minister for Communications and Information Josephine Teo said Singapore will continue to invest in developing local talent for career opportunities in tech.
It's good news for those looking to join or switch careers into tech. Competitive salaries will be all around, too - 73 per cent of Singapore firms in the tech and transformation industry will give pay rises, according to the Robert Walters Salary Survey 2023.
Tech jobs aren't just in Big Tech giants and the start-up scene; it's increasingly becoming integral to all industries and functions. The rapid adoption of digital platforms, tools and products in "non-tech" fields has opened up more talent opportunities.
Job seekers of all backgrounds who look beyond Big Tech may be pleasantly surprised to see the vast field of opportunities that await.
TECH OPPORTUNITIES ALL AROUND
Sectors or functions with significant growth potential in the next decade may not be traditionally seen as tech companies. In fact, 72 per cent of General Assembly's graduates in Singapore have been placed in sectors such as banking, consulting and advertising.
Singapore's largest banks continue to be strong hirers: OCBC said in 2022 it was keen on hiring 1,500 staff over the next three years. DBS plans on adding to its 10,000-strong tech workforce by hiring 1,000 employees a year. Meanwhile, UOB has a work-study programme with the Singapore Institute of Technology to groom tech talents to join its roster of 5,000. 
Other industries such as manufacturing, healthcare, food and beverage, and HR continue to seek tech talent to deepen their digital capabilities and adopt newer ways of working.
These include upgrades to e-commerce and data analytics or automating processes and utilising machine learning. Other traditional and legacy industries may even see the revolutionising of traditional enterprise resource planning systems with cloud, automation and cognitive tools.
These tech jobs from fields once seen as old-school will level the playing field for existing and aspiring tech talents, thanks to their hybrid nature. Meanwhile, other growing areas in tech such as AI, machine learning and the metaverse also pose growing opportunities in various industries.
ADAPTIVE SKILLS, NOT JUST DEEP TECH CAPABILITIES
Companies have to embrace disruption brought about by technology. Just as jobs that are in demand today were unheard of 10 years ago, they could also change tomorrow.
So companies will be on the lookout for job seekers with adaptive skills, not just deep tech capabilities or even prior tech experience.
For example, existing tech talents, such as backend developers, may have to pull themselves by the bootstraps and pick up new skills such as user experience (UX) and user interface (UI) design. Ditto for engineers who need to pick up data analytics to broaden their understanding of whether a programme works for their end-user.
Employers are even starting to eliminate university degrees from their hiring criteria. While skills-based hiring doesn't make degrees redundant, skills are skills - no matter how or where they are acquired.
Tech jobs aren't only for young "tech bro" stereotypes. In a tight labour market especially, hirers must widen their search for more diverse set of tech talent.
Mid-career switchers can provide great depth in terms of experience and transferable skills, including working in or leading a team and communications, if companies are willing to recognise and help them level up.
With firms expanding their recruitment scope beyond top tech university graduates, the doors are also wide open for non-degree holders and mid-career switchers to showcase acquired skills or demonstrate their motivation to learn and adapt. For example, a person with experience in customer service could pick up skills like coding and data analytics to move to software engineering and create more customer-centric tools.
PROACTIVE FOCUS TO TALENT RETENTION AND ATTRACTION
As the COVID-19 pandemic raged, businesses around the globe bore the brunt of the latest labour narratives, from the Great Resignation to quiet quitting, as workers sought to redefine workplace culture for themselves.
Some top reasons employees are no longer accepting of the status quo include unclear career development, a disconnect with the company's culture or values and a lack of workplace flexibility.
Many are in fact within companies' control, from more purposeful employee engagement to flexible work arrangements. In a skills-first environment, companies must be mindful of providing full-time or part-time training opportunities to upskill and reskill. But training cannot be for training's sake, companies must also provide the career opportunities that put those skills to use.
By investing in a talent pipeline with in-demand skills like data analytics and digital marketing, businesses can build a resilient and recession-proof workforce of tech talent.
The 2022 National Skills Report published by SkillsFuture Singapore lists customer experience management and software design among the priority skills with high demand growth in the digital economy.
BRIGHT SPOTS IN WIDER TECH SECTOR
Despite Big Tech's current challenges, there are bright spots in the wider tech industry as companies inevitably adapt and evolve to newer ways of working. As companies clamour for talent that can work within hybrid roles, job seekers need to equip themselves with job-ready, in-demand capabilities that meet the latest industry needs.
Changing industries and workplaces are shaping the future of work in 2023, and those brave enough to catch and ride the tech wave can brace themselves for a promising career move.
Dr John Fong is the Vice President & Chief Operating Officer (APAC) of New York-based education technology company General Assembly, a brand of The Adecco Group.
Thinking of a career switch to a tech job? Listen to CNA's Work It to find out more: