Commentary: Fare thee well, beloved school bus
With school bus operators set to potentially raise their fares by up to 13 per cent in 2024, it may be time to introduce our kids to the joys of public transportation, says father-of-three and marketing professional Imran Johri.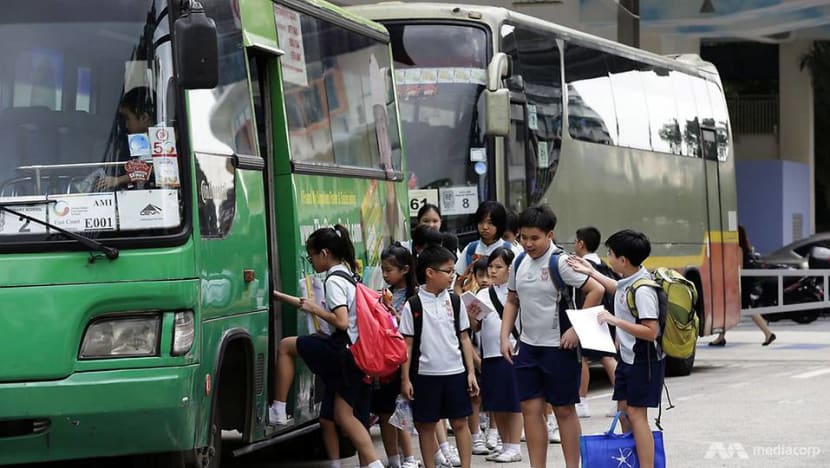 SINGAPORE: It's 1987, and it's the first day of secondary school for 13-year-old me. After years of being ferried by school bus by the venerable Uncle "Tortoise" in my primary years, taking public transport felt like being in a zombie apocalypse movie.
By 6am, the bus stop was an engorged mess of students, early shift workers and a befuddled me, a first-time commuter who was about to get schooled on the perils of the post-dawn public transportation.
With the arrival of every bus, there was pushing and shoving - and this was before the actual boarding. Each bus was a veritable sardine can, packed to the brim with anxious humans from all walks of life, fighting to get to their final destinations on time.
While I did manage to get onto the bus, it was but the first in a series of three buses that I had to get onto, in my quest to get to school before the dreaded ringing of the school bell.
So of course, this first commute had to get progressively worse.
The second bus ride was no different, but this battle included veteran wet market shoppers who bulldozed their way through the crowd, armed with moist plastic bags filled with unbelievable fishiness. There was no space in the bus for me to squeeze out of their way, and alas, my school shorts, grazed over and over again by those bags, carried an unfortunate raw seafood aroma the rest of the day.
By the time I got to Bukit Timah to hop onto the next ride, the mass of fellow commuters had multiplied exponentially, resulting in a hive of passive aggression in a multitude of school uniforms. I counted at least six uniform varietals, from secondary schools that lined the stretch of main road that was my destination for the morning.
But the main event for the morning was reserved for the tail end of my ride. As I poked my head through the crowd looking for my stop, cramped between a rotund upper secondary, presumably, rugby player student; and the pole that was next to the exit, I felt a tap on my knee.
Lo and behold, another 13-year-old boy, gaunt and pale, was gesturing for me to move away. This poor fellow had unwisely had a big breakfast, and it was for all to see as he regurgitated it all over the bus floor.
Despite all this, I still made it to school on time.
A RITE OF PASSAGE
It all sounds terrible, I know, but the worst of it was over. The insanely early commute eventually became a joy. For context, I was a school bus kid for about six years because my mother was a teacher at my primary school. So, it made great sense for us to simply school-bus together.
Hence, by the time I was a teenager and given the chance to choose my preferred secondary choice - I chose the furthest, best school that my PSLE grades allowed me to.
My choice was clearly an expression of escapism. To get away and to savour my newfound freedom via an unnecessarily long commute.
Despite the harrowing nature of the first day, I grew to enjoy the process. I made new friends with other distance-travellers in my cohort and the long journeys allowed for endless pubescent banter.
TIMES HAVE NOT CHANGED THAT MUCH
It's now 2023, and I have three kids of my own, with two in separate primary schools and one in kindergarten. The eldest takes the school bus, for her journey is the furthest of the three. The second and third are walked to school daily as we have been fortunate enough to have had them accepted to schools that are literally across the road from our block.
This is not to say that my eldest is unfortunate to have to travel further everyday - far from it. In fact, the choices my wife and I made in the schools for our children were weighed upon multivariate factors.
We considered, among many other things, the temperament of the child and if the school culture was a right fit. Would proximity be an advantage, or would it breed less resilience? Would some level of early morning preparation help with discipline? And how would it affect bedtime?
After many and still ongoing dinner table discussions, my wife and I are nowhere near the perfect solution. But we do find solace in that we've put in the due diligence in terms of the individual child's best interests.
So, with the announcement of the potential raise in fares come 2024, my wife and I are all for it. This, even though it was last raised for us at the start of 2023 by a manageable 5 per cent.
Clearly this fare hike is a move that's meted out due to necessity - the costs of running a bus service are high and the drivers and operators need to keep their livelihood sustainably going.
For all the complaints on social media about school bus fees becoming more expensive, I know that's the safest and fuss-free way for my 9-year-old daughter to get to school, sans moist fishy plastic bags.
If school bus fees are not raised to accommodate the increasing operational costs, this could give rise to a dearth of drivers and a compromised peace-of-mind on my part.
For us, our eldest is quite happy with her school bus routine and has also formed firm friendships with her bus mates from different levels.
However, when it does become financially unbearable, then we, as a family may have to find an alternative. We've made our school choices and we shall stand by them, having spent the time to consider the multiverse of ramifications of our choices.
Plus, I have absolute confidence that our public transport system, no matter how harrowing at first, will offer a solution in the worst-case scenario - mostly because I've lived and experienced it first-hand.
Imran Johri is a marketing professional and a father of three.