How do criminals get away with money laundering and why is it so hard to detect?
Discouraging and minimising money laundering requires international cooperation, cooperation among local institutions and the use of technology, experts told CNA's Heart of the Matter podcast.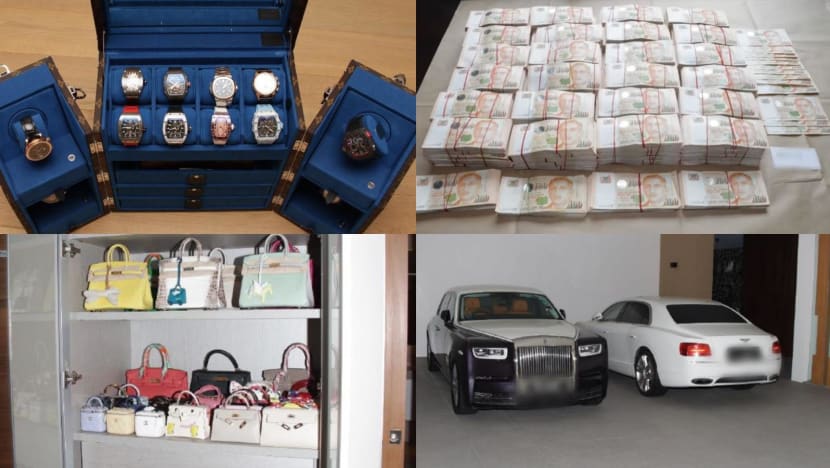 SINGAPORE: "Astonishing" was the word an international anti-money laundering expert used to describe the discovery of a case in Singapore worth more than a billion dollars involving 10 suspects.
"This kind of magnitude is quite rare," Mr Fabrizio Fioroni, an adviser on anti-money laundering and counter financing of terrorism at the United Nations Office on Drugs and Crime, told CNA's Heart of the Matter podcast.
"That's because there are some complexities and difficulties which are embedded with preventing and investigating money laundering. So having results like this … in Singapore is quite astonishing."
On Aug 15, the suspects were arrested in an islandwide anti-money laundering probe mounted by the police. The nine men and one woman have since been charged over their roles in the case involving S$1.8 billion (US$1.3 billion) worth of assets including luxury cars, houses and cash.
DECENTRALISED, CHALLENGING TO DETECT
Money laundering cases are hard to detect mainly because they are "decentralised", said lawyer Adam Maniam, who was also on the show.
The criminals will not put all their money in one place, said the director of dispute resolution at law firm Drew and Napier, whose practice areas include crime and financial services regulation.
"They're not going to put in a billion (dollars) at a time. They're going to spread it out among many different players, they're going to go to many different jurisdictions, they're going to be using different means to get the funds where they want the funds to be," he said.
The number of players involved makes it difficult for individual institutions like banks to detect anything amiss despite doing their due diligence, he said.
"Even if the transaction is not legitimate, on the face of it, there may not be enough red flags to trigger a bank, or a regulated entity from saying 'there's something wrong here, I should raise this to the authorities' because the ID checks out, the purpose checks out, and everything seems fine," he said.
"But when you take this (transaction) together with another 30, or 40 transactions, that's where the problem is."
Former director of the Corrupt Practices Investigation Bureau (CPIB) Soh Kee Hean, who is also an associate professor at the Singapore University of Social Sciences (SUSS) teaching criminal investigation, similarly said that it is a big challenge to try to identify if there were illegal transactions, or transactions that may be associated with money laundering.
"Very often, it is like looking for a needle in the haystack. But it really calls upon the agencies, the institutions, and all involved to do due diligence," he said.
The challenge in uncovering money laundering is compounded because those who want to engage in the crime will keep on devising new and creative ways of doing it, said Assoc Prof Soh.
Law enforcement agencies have to keep up and try to figure out the different methods, he added.
Besides looking at the money trail of criminal proceeds, the bad actors also need to be analysed, he said.
"You also need to look at their movements, their activities, and their interaction patterns. It is a combination of understanding money movement, as well as the person's movement, that you then get a complete picture. That is, of course, extremely difficult and challenging," he said.
WHAT ARE THE RED FLAGS?
Still, there are some red flags in transactions that can be identified, said Assoc Prof Soh.
For instance, when someone is buying a luxurious property, behaviour that can be considered "out of the ordinary" includes not viewing the property, not negotiating on the buying price and being unwilling to reveal information requested by a property agent, he said.
"Some red flags may have to be picked up, and that may tell us something is amiss," he added.
However, criminals can engage in multiple property transactions that are spread out among different property agents, several buyers and different conveyancing lawyers so as to not draw attention, he said.
While the law requires that property agents lodge suspicious transaction reports, they may not always do so as they do not want to lose their clients, he said.
"Nonetheless, it is an obligation on (the property agents') part. They should carefully evaluate, because if they 'close an eye' and merrily transact the property, they may be facilitating money laundering. And if they are not found out today, they could be found out tomorrow, a month later, and then they will face legal consequences," he said.
Some individuals may also procure passports from other jurisdictions, which "certainly does help them" if they want to engage in any illicit activity, said Mr Maniam.
He noted that bringing in a certain amount of funds to some countries can get individuals citizenship within a short period of time.
"If someone is looking at a particular transaction, and there is dual citizenship, on the face of it, the person involved may not really have anything to do with the second country, then that might be a possible indicator that the entity involved should be doing a bit more checks to ensure that the transaction is aboveboard," he said.
Attracting foreign investment in this way, however, is a legitimate process in some jurisdictions as they do not have much financial resources, said Mr Fioroni.
"The problem is that criminals try ways to misuse the system. It is difficult to discriminate between who is doing legitimate activities and who is misusing the system for committing criminal offences," he said. He added that these activities can be hard to spot and stop when the process is legitimate.
HOW TO IMPROVE THE SITUATION
To discourage and minimise money laundering there is a need to have "proper solid legislation" and "really strong political will" said Mr Fioroni.
"There is a need for the private sector in general to understand the risks that they are exposed to when they deal with their customers," he said.
He added that it is encouraging that there are initiatives facilitating discussions between the private and public sectors, and that bank officers are now skilled in recognising risks.
He said that while technology will also help the perpetrators, regulators and the private sector should examine how new technologies like artificial intelligence can help in discovering individuals who are hiding their criminal activities through thousands of transactions registered every day.
However, the reality is that the regulators will always be one step behind because when a new technology emerges, time is needed for legislation to be put in place, said Mr Maniam.
"The criminals will always be faster. What we need is cooperation. We also need legislation in place that encourages cooperation and gives the flexibility to the regulators and the authorities to do what they need to do to stop these kinds of activities," he said.
One bank filing a suspicious transaction report may not know that another bank has also filed a similar one, he noted. He pointed out that to address the issue, the Monetary Authority of Singapore (MAS) is developing a digital platform for banks to communicate with one another on suspected unusual activity.
"(These banks) might have a question mark about something but maybe in conjunction with information from Bank B, and Bank C, then they might say 'oh, yeah, actually, there's a problem'", he said.
International cooperation is also an important element, said Assoc Prof Soh.
"Money flows from country to country at a very rapid pace and it is necessary that countries are able to react," he said.
"It will not help if countries seek assistance from each other and then the response doesn't come or the response takes a very long while."