IN FOCUS: After Cineleisure Orchard lost its lustre, can new tenants bring it back?
It used to be the go-to place for youths to hang out in the 2000s, but Cineleisure Orchard fell out of fashion and now has many vacant units. CNA speaks to tenants and shoppers to chart the rise and fall of the once-popular mall on Orchard Road, and to find out if it can regain its popularity.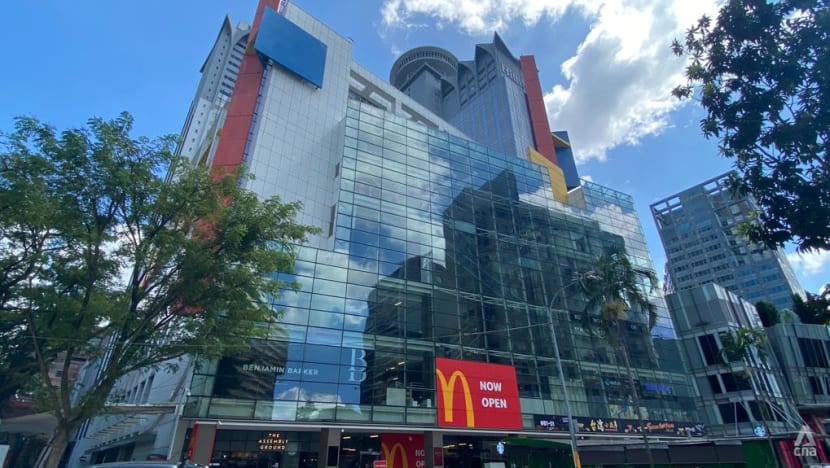 SINGAPORE: When F&B business owner Daniel Tan decided to take up a shop space at Cineleisure Orchard earlier this year, he was not unaware of the "bad publicity" surrounding the shopping mall.
The once-popular mall had come under the spotlight for dismal sights of boarded-up shopfronts and empty stores. On online forum Reddit, a post titled "What happened to Cineleisure?" garnered more than 100 comments as users reminisced about the mall's heyday as a popular spot for youths in the 2000s.
More recently, the mall's search for new tenants was mentioned by Minister of State for Trade and Industry Alvin Tan, as part of an update on the authorities' rejuvenation plan for Orchard Road.
But for Mr Tan, the director of Ah Chew Desserts Cineleisure, setting up shop at the shopping mall still made business sense given a central location that would help it to expand into the tourist market. The rent was also "slightly lower" than other malls along Orchard Road.
So far, the move seems to be paying off.
Since it opened on Mar 31, business on weekends has been comparable to its former location at Novena. While weekdays remain "relatively quiet", Mr Tan is optimistic and believes that will change soon with the addition of new F&B tenants.
The ongoing revamp of neighbouring *SCAPE, when completed by early 2024, will also add to the appeal of the area, he added.
"I think we can throw all the recent bad publicity away," Mr Tan told CNA. "The crowds will be back."
That is the hope of other tenants at Cineleisure too following years of slow business.
"To be honest, business has not been the best since opening (in 2020), especially in recent times where the mall has been deemed 'dead' by many media articles and netizens," said Mr Rodney Sim, group commercial manager of restaurant-bar GudSht.
"The overall footfall at Cineleisure has been quite low, compared to other popular malls within the vicinity."
The entry of Ah Chew Desserts has helped, said Mr Sim and three other businesses that this reporter spoke to separately. Footfall at the mall appears to have got another boost with the opening of fast-food giant McDonald's two weeks ago.
When CNA visited Cineleisure at around noon on May 30, the near 100-seater fast food restaurant was bustling with a consistent stream of patrons. This was in contrast with the quiet sight in the shopping mall that CNA observed at lunchtime during a visit on May 3.
That said, much of this increased footfall remains concentrated on the ground level for now, with businesses on the higher floors yet to feel a boost.
"It's still too early to say if things are getting better," said Mr Trazo Marsouvinie who works at mobile phone accessories shop Beadstreet on Level 2.
"TEMPORARY CLOSED" SIGNS, EARLIER CLOSING TIMES
Having worked at Cineleisure for a decade, Mr Trazo has seen the mall in its heyday as a vibrant location with shoppers, mostly youths, hanging out till late at night.
"Those days were very enjoyable. The atmosphere was always great with all the people," he recalled.
Back then, business was brisk given the mall's proximity to telco operators and mobile phone retailers nearby.
"When people get their new phones, they come here to get their accessories," said the 35-year-old sales representative. "Now, the crowd is less and people don't stay very late anymore."
Sales have since halved. And with the absence of crowds, Beadstreet – the longest-running tenant at Cineleisure currently – has brought forward its closing time.
"Last time, we closed at 11pm or 12am on weekends. But now, we close at 9pm every day," Mr Trazo said.
Beadstreet is one of the three remaining retail shops in the mall. The other two, also located on Level 2, are menswear label Benjamin Barker and streetwear fashion store Exit.
With a restaurant serving up Hainanese food and a tufting art and craft shop making up the numbers of businesses on Level 2, nearly half of the units there were last seen boarded up.
Elsewhere, the cinema, which used to take up Level 4 to 6, currently operates only on Level 5 and 6. Levels 4 and 8 are vacant, with "Temporary closed" stickers pasted over the lift buttons for these floors. 
Level 9 is taken up by indoor trampoline park Bounce Singapore, while Level 3 is home to several fitness studios and hair salons.
Down in the basement, which used to have a food court and a variety of F&B offerings, only sushi and salad chain Maki-San is open for business now.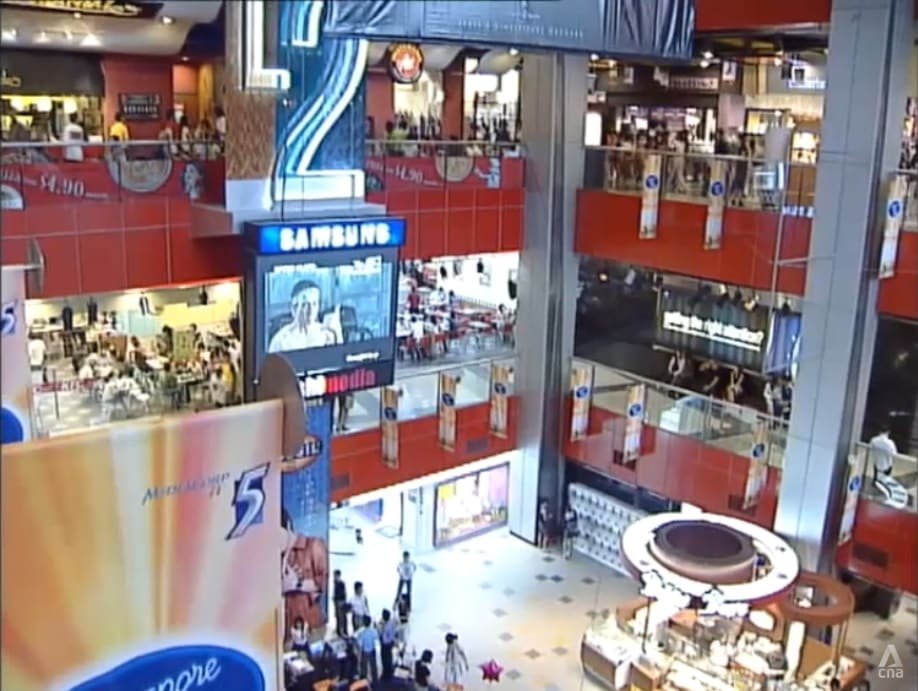 WHAT WENT WRONG?
The transformation of Cineleisure from popular mall to a comparative ghost town has been years in the making, according to those that CNA spoke to.
"Even before the pandemic, there were already a lot of shops closing. The (crowd) also started to slow down," said Mr Trazo.
Competition from newer and revamped malls along Orchard Road may have been one reason.
The prime shopping strip welcomed several new malls in 2009, such as ION Orchard, Orchard Central and 313@Somerset. Mandarin Gallery, which is located next to Cineleisure, also went through a S$200 million facelift before reopening in 2010.
Being located slightly off the main Orchard Road has made it hard for Cineleisure to compete for shoppers. The mall also does not benefit from connections with other shopping malls.
"It is a case of out of sight, out of mind," said Associate Professor Ang Swee Hoon from the Department of Marketing at the National University of Singapore (NUS) Business School.
At the same time, Cineleisure was losing its sweet spot.
"With so many shopping malls to go to, there has to be something distinctively relevant to shoppers for them to want to go to Cineleisure," added Assoc Prof Ang. "That sweet spot, unfortunately, is missing." 
Millennials who witnessed Cineleisure during its peak in the late 1990s to the early 2010s described the mall as having everything under one roof, ranging from budget-friendly fast-food chains and a cinema, to a variety of streetwear and accessories shops that appealed to the younger crowd.
Mr Darren Foo, 34, recalled spending hours at the mall every weekend with his friends.
"We always came here for movies, to eat, to shop. I used to buy all my shoes here," he said. "We could be here from like 2pm to 10pm. In between, maybe we'd go to Spinelli which was nearby at HMV Heeren."
Cineleisure was also home to a LAN gaming shop, an arcade, shops filled with Neoprint machines to take instant photos and a karaoke chain at one point.
In addition, it was the go-to spot for events, ranging from celebrity autograph sessions to auditions for the Singapore Idol singing contest, which never failed to attract large crowds.
"There were a lot of fun things to do, and you wouldn't get bored," said Mr Darren Yang, owner of fashion store Exit, who recalled spending his teenage days at the mall with friends. "It was like a collection of all the cool stuff for the young people."
But that cool factor faded as tenants made their exits. Gaming shop E2Max, for one, ceased operations at the end of 2015.
On its part, Cineleisure went through a facelift in 2019 and announced several new tenants, such as indoor playground operator Amazing Castle which was making its debut in Singapore.
However, that did not seem enough to attract shoppers, especially the young, whose preferences for shopping and leisure activities may have changed amid the rise of e-commerce and mobile games, some shoppers and tenants told CNA.
At the same time, the cinema business – a key driver of footfall at the mall – was facing stiff competition.
By 2019, the number of screens and seats operated by exhibitors in Singapore had ballooned to all-time highs. But the number of cinema-goers was falling with the arrival of online streaming services.
Then COVID-19 struck in early-2020, dealing a huge blow to the retail industry. More tenants at Cineleisure pulled down their shutters, including long-time tenant and popular sneakers store Leftfoot which has since relocated to nearby Mandarin Gallery.
The mall did attract some new tenants during the pandemic, such as WeTuft, Exit and GudSht which cited reasons such as favourable rents, the mall's central location and past success.
For example, setting up in Cineleisure "just felt right" for GudSht as the F&B brand is targeting the "80s and 90s kids" who used to hang out at the mall, said Mr Sim.
For Mr Yang, setting up shop in Cineleisure had an additional "full-circle moment".
"When we were young, this was the hot place to be," he told CNA. "I always came here with my friends so this place holds some memories for me."
"In fact, our first unit is one of the stores we went to a lot during secondary school days. We even have old photos of ourselves in the store which used to sell graphic tees," said the entrepreneur.
But while business owners still see value in having a presence in Cineleisure, shoppers were no longer enticed to hang out at the mall.
Mr Foo, for one, heads off immediately after his session at a gym on Level 3. Gesturing to the stretch of storefronts being boarded up, he said: "There's nothing to see now."
MORE CAN BE DONE
Some of these hoardings will be coming off, as a handful of new tenants start operations this month.
Art supplies store Overjoyed will open in the basement on Jun 10, according to its manager who was in the middle of tidying up the unit when CNA visited earlier this week.
 
Meanwhile, hoardings in other parts of the basement show confirmed names of tenants – sushi and yakitori restaurant Shujin and Taiwan Night Market which will be modelled after Taiwan's famous Shilin and RaoHe night markets.
These two F&B tenants are set to open this month as well, according to a spokesperson from Cineleisure.
The fate of the empty units on Level 2 and 4 remain unknown for now, with some covered up by plain white hoardings while others display contact details for leasing inquiries. Renovations appear to be underway at Level 8, which has a "Do not enter" sign displayed prominently near the lift lobby.
The mall's spokesperson told CNA that there are further plans "to unveil new tenants presenting unique concepts" in the third quarter.
"Located in the youth-centric Somerset precinct, Cineleisure has always been the 'headquarters of youths'. In our quest to continue providing unparalleled lifestyle experiences for the young and young at heart, Cineleisure will offer a vibrant gourmetainment experience around the clock," it added.
Experts said more can be done.
Currently on the list of upcoming openings, the Taiwanese night market-style food place stands out as the most interesting but its appeal remains to be seen.
"(It will be) a way forward if there are enough shoppers who crave for such food, and remain craving for them," said NUS' Assoc Prof Ang.
Beyond F&B, Cineleisure needs to spruce up its mix of retailers. 
Overall, it needs unique tenants that complement each other to provide shoppers with "a holistic and targeted experience", said Ms Lim Xiu Ru, a lecturer at the Singapore Polytechnic's School of Business.
Shoppers and tenants are also hoping for other improvements.
Those that work at the mall say there are still crowds on weekends. However, Level 2 is usually quiet as most visitors prefer to take the lifts straight to their destinations, such as the cinema and the fitness studios on the higher floors.
One reason is the mall's layout on Level 2, which requires shoppers to walk the entire level before getting to the next set of escalators. While the design came with good intentions to direct footfall to the stores, tenants and shoppers said adjustments can be made now that the level has largely emptied out.
"This has been around for a long time but it wasn't that bad previously when there were shops around. Now it's just walking through a very long and boring corridor," said Ms Jessica Lim who was at Cineleisure for a yoga class.
"It's doing more bad than good," said Mr Wong who runs WeTuft, noting that this has resulted in long queues for the lifts.
Being located at the far end of Level 2, WeTuft has received feedback from customers "about the long walk" to get to its studio. "This needs to change," Mr Wong added.
Meanwhile, others hope there can be events or activities to drive footfall.
"Our biggest concerns are whether the footfall will continue to be this low," said Mr Sim. "We hope to see more in-mall events that Cineleisure used to do in the past to draw crowds in and liven things up."
FIND A NEW NICHE
But most importantly, the once-popular mall needs to figure out a new niche for itself along the country's premier shopping belt, said Ms Lim.
The polytechnic lecturer suggested breaking away from Cineleisure's long-standing image as a place for young people, given "a limited addressable market" amid falling fertility rates. Younger consumers also have varied niche interests these days.
"Mall operators, which seek to serve a growing segment and/or focus on trends that provide sufficient opportunity to grow, will do better," she said.
One possibility is to tap into "the element of nostalgia" by targeting older millennials who frequented the mall during their adolescence and still hold fond memories of the place.
Another is to double down on attracting fitness enthusiasts who now form a key group of the mall's visitors. This can be done by revamping and curating Cineleisure's tenant mix and offerings around health, fitness and leisure, Ms Lim said.
While a cinema remains important, experts said it should no longer be depended on solely to pull in the crowds.
"If Cineleisure offers the same movies as in other cinemas, then it begs the question 'Why watch at Cineleisure?'" said Assoc Prof Ang.
The cinema operator could look to satisfy potential gaps in the market by screening non-mainstream films, although it will still have to contend with the stiff competition from at-home streaming.
"The movie industry is no longer like what it was during its heyday," she said.
Cathay Cineplex, owned by listed-entertainment firm mm2 Asia which acquired all of Cathay's cinema business in Singapore in 2017, declined to comment for this story.
For now, the older tenants are holding out.
"Hope things will pick up soon when the new F&B shops open," said Mr Trazo. "If not, it's very hard for us to sustain already and it will be a pity because we have been here for so long."