NDR 2022: Government ready to do more if cost of living rises further, says PM Lee
In his National Day Rally speech, Prime Minister Lee Hsien Loong also said it would be irresponsible not to raise the GST rate, pointing to sharp increases in healthcare and social spending.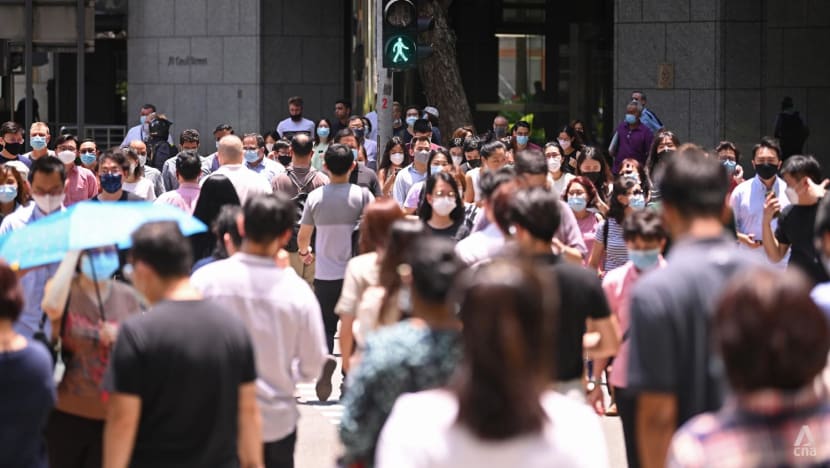 SINGAPORE: The Government is ready to do more if the situation of rising costs worsens, said Prime Minister Lee Hsien Loong on Sunday (Aug 21).
Speaking at the National Day Rally, Mr Lee acknowledged that the cost of living is something that is at the "top of everyone's minds".
Even before the Russia-Ukraine war, inflation was already becoming a problem, he said. The COVID-19 pandemic had disrupted supply chains and prompted developed countries to roll out huge spending packages. Russia's invasion of Ukraine in February worsened the situation by disrupting supplies of oil, gas and grain, pushing up global prices.
The Prime Minister said the Government is "doing everything necessary" to support Singaporeans, especially middle- and lower-income families.
This includes cash payouts, rebates under the GST Voucher-U Save scheme and for service and conservancy charges, Community Development Council vouchers and MediSave top-ups.
All these mean that a middle-income family with two young children and living in a four-room Housing Board flat can expect an additional S$2,200 in support this financial year. A lower-income family living in a three-room HDB flat can expect more support of about S$3,700.
"This will not cover fully every cost increase, but it will help lighten some of the burden on Singaporean households," Mr Lee said. "And if the situation worsens, we stand ready to do more."
The Monetary Authority of Singapore has also tightened monetary policy four times since October last year, allowing the Singapore currency to strengthen.
A stronger Singapore dollar makes travelling overseas more affordable and imported goods cheaper. But there is "a limit" to this approach, cautioned Mr Lee, noting how a stronger currency also makes the country's exports more expensive and less competitive against other countries.
"So we have to be very careful not to overdo things," he said.
Earlier in his Mandarin speech, the Prime Minister also touched on the need to raise the Goods and Services Tax (GST) even amid concerns about the cost of living.
"Some have asked: Why not just postpone, or even scrap the GST increase? I understand these sentiments.
"Not raising the GST would be a politically expedient move. However, it would be irresponsible," said Mr Lee, pointing to the country's rapidly ageing population and in turn, sharp increases in healthcare and social spending. 
"While the people worry about not having enough money to spend, the Government also worries about not having enough money. We are concerned about not having enough resources to take care of low-income families and the healthcare needs of our elderly," he added.
The Government was able to "cope better than others" with the pandemic due to its prudent management of finances and sufficient reserves.
"We should continue to save for a rainy day and plan for the future," he said.
GLOBAL ECONOMIC CONDITIONS HAVE CHANGED
On the economy, Mr Lee said Singapore has emerged strongly from the pandemic, with most sectors steadily recovering.
Although the war in Ukraine has clouded the outlook, authorities continue to expect positive growth this year. Official estimates are for the economy to grow between 3 and 4 per cent in 2022.
But the "basic reality is that international economic conditions have fundamentally changed", he said.
Mr Lee described the recent decades as "an exceptional period" with globalisation in full swing, international trade seeing rapid growth, China's economy growing exponentially and exporting goods at highly competitive prices to the world.
This brought down the cost of many products and kept prices around the world very stable, he added.
However, "this era is now over" as China's growth and exports slow. Some countries, particularly the United States and China, are raising tariffs against each other, while others are relooking supply chains to prioritise resilience and self-sufficiency. Meanwhile, companies are opting for "just-in-case", instead of "just-in-time" production.
All these trends are raising costs and pushing up inflation everywhere, including in Singapore, he said, adding that Singapore does not "have much influence over this global inflation picture".
"What is within our power is to make ourselves more productive and competitive. Then our workers can earn more, and more than make up for the higher prices of food, fuel and other imports," the Prime Minister said.
"That way we can all become better off, in real terms."
To achieve that will require Singapore to press on with economic upgrading and restructuring, double down on transformation efforts and encourage workers to upgrade their skills at every opportunity, he said.
Apart from rising prices, there are also disruptions in physical supplies. Apart from Malaysia's export ban on chickens, Indonesia also temporarily halted palm oil exports when high cooking oil prices became a political issue. India also recently banned wheat exports to keep domestic wheat prices down.
"Under pressure, faced with food shortages and rising prices, governments will put their domestic needs first," said Mr Lee. "So we must expect more arbitrary actions like these, which will impact us."
While Singapore, as a small and open economy, is heavily dependent on imports, it is "not helpless" as authorities have been actively diversifying the country's import sources.
These range from building up adequate stockpiles of food and medical essentials, investing in agri-tech to make local farms more efficient and productive, as well as pushing ahead with the goal to be able to produce 30 per cent of the country's nutritional needs locally by 2030.
These efforts were redoubled during the pandemic, Mr Lee said.
"It costs money to make our supplies more resilient. Buying from diversified sources means we don't just buy from the cheapest or the most convenient producer. Maintaining stockpiles requires space and incurs costs.
"But we must think of it as paying for insurance."