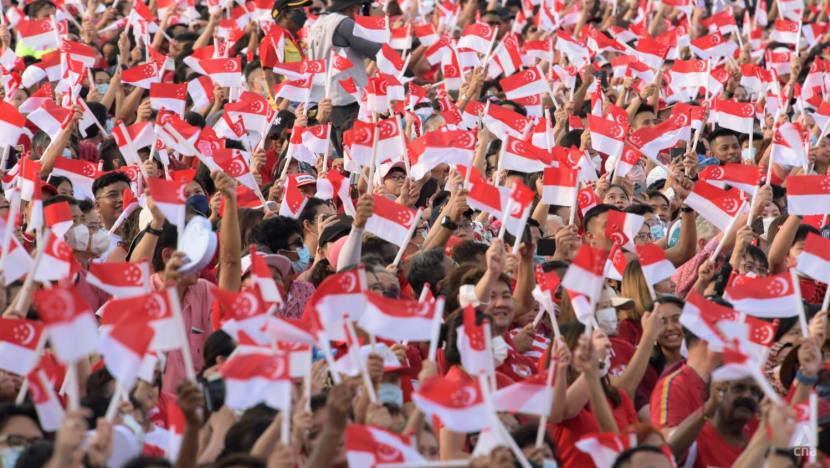 SINGAPORE: In his 2022 National Day Rally speech on Sunday (Aug 21), Prime Minister Lee Hsien Loong addressed the COVID-19 situation in Singapore and the rising cost of living amid geopolitical tensions.
The repeal of Section 377A of the Penal Code and the amendment of Singapore's Constitution to protect the definition of marriage were among the key policy and legislative announcements Mr Lee made during his speech at the Institute of Technical Education headquarters in Ang Mo Kio.
A significant portion of the Prime Minister's speech was also dedicated to upcoming infrastructure projects that will help the country retain its status as a hub for trade and aviation.
Here are the key takeaways:
1. Masks will no longer be required in most settings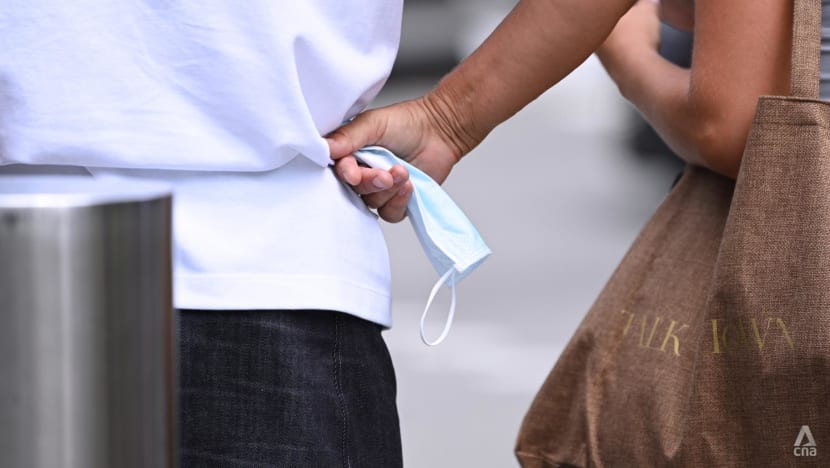 Expressing gratitude for the public's response to the COVID-19 pandemic, Mr Lee said Singapore has come a long way in its fight against the coronavirus.
With the situation stabilising, and in an effort to "prevent people from getting tired", the wearing of masks will soon become optional in most indoor and outdoor settings.
Going forward, masks will only be required on public transport and in healthcare settings, such as clinics, hospitals and nursing homes.
"But please don't take your masks off this very moment," Mr Lee said. "Please wait for the detailed announcement from the (COVID-19 task force)."
While safe management measures have gradually been lifted, the Prime Minister said the country must learn lessons from COVID-19 and be prepared for the next pandemic.
"The most important lesson is to maintain the spirit of personal and social responsibility," Mr Lee said.
"Continue to nurture trust in our society, day in, day out, during normal times, so that during the next crisis, we can again draw upon a deep reservoir of trust to see us through."
Read the full story here: Masks will be optional indoors, required only on public transport and in healthcare settings
2. Special state award will be presented to those who helped fight COVID-19
During his National Day Rally speech, Mr Lee gave several examples of how individuals and organisations have contributed to Singapore's response to the pandemic.
From a volunteer who accompanied senior citizens on their visits to vaccination centres, to companies that provided resources and industry expertise, and public officers who carried out demanding operations - sometimes at short notice.
To recognise these efforts, the Government will present a special state award to those who participated directly in the fight against the pandemic: The COVID-19 Resilience Medal.
Those who made "exceptional contributions" will also receive existing state awards such as the Commendation Medal, the Public Service Medal and the Public Administration Medal, Mr Lee said.
"We will add a special indication to the name and the insignia, to show that, this time, the medal was presented for service fighting COVID – maybe on the ribbon for the medal we will add two red lines!" the Prime Minister added.
The awards list will be released at the end of the year, with award ceremonies to be held in 2023.
3. Section 377A will be repealed while the Constitution will be amended to protect the definition of marriage - as that between a man and a woman
Addressing an issue that has been in the spotlight in recent months, Mr Lee announced that Section 377A of the Penal Code will be repealed. The controversial law criminalises sex between men in Singapore.
At the same time, the Government will also amend the Constitution to protect the legal definition of marriage, so that the matter cannot be challenged in court.
While describing Singapore as "by and large … a traditional society with conservative values", Mr Lee noted that "like every human society, we also have gay people in our midst".
"They are our fellow Singaporeans. They are our colleagues, our friends, our family members. They too want to live their own lives, participate in our community and contribute fully to Singapore," the Prime Minister said.
"And we need to find the right way to reconcile and accommodate both the traditional mores of our society, and the aspiration of gay Singaporeans to be respected and accepted."
Even among those who want to retain 377A, most do not want to see it being actively enforced and criminal penalties applied, Mr Lee noted.
The Prime Minister said that the repeal of 377A is "the right thing to do and something that most Singaporeans will now accept".
Acknowledging that most Singaporeans "do not want the repeal to trigger a drastic shift in our societal norms", and that such concerns are felt by both religious and non-religious people, Mr Lee said the Government "will maintain our current family-oriented approach".
"Hence even as we repeal 377A, we will uphold and safeguard the institution of marriage," he said, adding that under the law, only marriages between a man and a woman are recognised in Singapore. 
To prevent the definition of marriage from being challenged in court on constitutional grounds, it will be protected through a constitutional amendment.
"For some, (the repeal of 377A) will be too modest a step. For others, it will be a step taken only with great reluctance, even regret. But in a society where diverse groups have strongly held opposing views, everyone has to accept that no group can have things all their way," he said.
He called on all sides to exercise restraint "because that is the only way we can move forward as one nation together".
There will be a full debate on the matter when legislation is brought to Parliament, Mr Lee said in conclusion.
Read the full story here: Singapore to repeal Section 377A, amend Constitution to protect definition of marriage
4. Singapore must build a world-class talent pool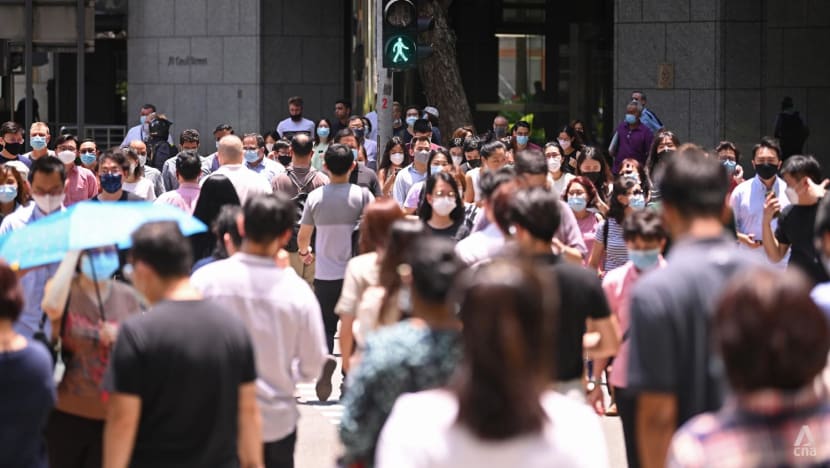 Discussing Forward Singapore, an exercise recently launched by Deputy Prime Minister Lawrence Wong, Mr Lee highlighted what must be done to "meet the enduring aspirations of every Singaporean", as the fourth-generation leadership team prepares to take the helm.
The Prime Minister said that a key pillar is building a world-class talent pool in Singapore.
While it is undeniably important for Singapore to develop its own talent and provide Singaporeans with the opportunity to reach their full potential, "we can never have enough" top talent.
"We need to focus on attracting and retaining top talent, in the same way we focus on attracting and retaining investments," he said.
"In this global contest for talent, Singapore cannot afford to be creamed off, or left behind," Mr Lee added.
The Prime Minister then addressed concerns about the impact of having large numbers of non-residents living and working in Singapore.
"The Government is following up to tackle the problems, and ease these concerns," he said.
"But while we manage the overall population of foreign professionals here, we must not stop seeking out top talent who can contribute to our Singapore Story."
Mr Lee used Singapore's biomedical sciences sector to illustrate the importance of this policy.
In the 1990s, a number of top biomedical scientists, researchers and engineers were persuaded to move to Singapore.
These top names mentored local talents, and helped to create an ecosystem that put the country on the path to becoming a biomedical hub.
Singapore's significance on the global biomedical stage was seen during the COVID-19 pandemic, with researchers here developing test kits, facilitating the sharing of COVID-19 genomic data, and enabling the country to secure vaccines and therapeutics early.
"Had we not sought out top talent 30 years ago, and then continued to build up our biomedical research teams and activities, and develop homegrown talent, all this would not have happened," Mr Lee said.
The post-pandemic world would provide a window of opportunity to bring more top talent to Singapore, said the Prime Minister.
The Ministry of Manpower, the Ministry of Trade and Industry and the economic agencies will soon be unveiling new initiatives to do this, he added.
Read the full story here: Develop Singaporeans while attracting foreigners to build 'world-class talent pool', says PM Lee
5. Singapore must stay united amid geopolitical tensions
Addressing the ongoing tensions between the United States and China, and the war between Russia and Ukraine, Mr Lee spoke of the importance of Singapore standing firm on the principles of international law.
Mr Lee described the US-China tensions, particularly over Taiwan, as "worrying", adding that the state of the two powers' relationship "is bad news for the world".
He also reiterated Singapore's stance on Russia's invasion of Ukraine, saying that Singapore's security and even existence relies on countries upholding the United Nations Charter and the "fundamental principles of sovereignty and territorial integrity".
"We cannot legitimise Russia's wrongful actions," the Prime Minister said.
Moving on to the implications of the war on the Asia-Pacific region, Mr Lee said the tensions between US-China have been further complicated by the conflict.
"We can expect more geopolitical contestation in the Asia Pacific," Mr Lee said.
"Some countries will choose a side. Others, like Singapore, will try our best to avoid being caught up in major power rivalry."
Mr Lee outlined steps that Singapore can take to be on guard against "external dangers".
The first step is to stand firm on the fundamental principles of international law.
"Taking cover and keeping quiet will hurt us in the long term," he said.
The second step is to take National Service seriously. "If we do not defend ourselves, no one is going to defend us on our behalf," Mr Lee said.
Thirdly, and most importantly, Singaporeans must remain united and be wary of attempts to sow division.
"Never allow ourselves to be divided – whether by race, religion, income, social differences or place of birth," he said.
"Stay alert against foreign actors who are looking out to exploit our vulnerabilities and to influence our people for their own interests."
Mr Lee reminded Singaporeans not to believe everything they read online.
"If we are taken in and we're divided, we will stand no chance," he said.
"But united, we can deal with any problems that come our way."
Read the full story here: Singapore must guard against hostile foreign influence, remain vigilant on social media
6. Government is prepared to do more to tackle rising cost of living
While most sectors in Singapore are recovering from the COVID-19 pandemic, including tourism and aviation, the war in Ukraine has "clouded our outlook", Mr Lee said.
The pandemic disrupted supply chains and necessitated large spending packages in developed countries, which stoked inflation. The war has also exacerbated this.
With oil and gas supplies from Russia disrupted, energy prices have been pushed up. The price of grain has also spiked as supplies from Russia and Ukraine – two major exporters – cannot be shipped out.
To combat the rising cost of living in Singapore brought about by these challenges, the Government is "doing everything necessary to support Singaporeans, especially middle- and lower-income families", Mr Lee said.
Illustrating this, the Prime Minister said that a middle-income family with two young children, staying in a four-room Housing Board (HDB) flat, can expect an additional S$2,200 in support this fiscal year.
A lower-income family staying in a three-room HDB flat, meanwhile, can expect about S$3,700 in support.
"This will not cover fully every cost increase, but it will help lighten the burden on Singaporean households," Mr Lee said.
"And if the situation worsens, we stand ready to do more."
Mr Lee noted that the Monetary Authority of Singapore has also tightened the country's exchange rate policy, making overseas travel more affordable and reducing the prices of imported goods, in Singapore dollar terms.
While some economic issues can be attributed to the pandemic and the war, Mr Lee said that conditions have also "fundamentally changed".
He described several trends that are bringing costs up and pushing up inflation, including in Singapore. Among them are: The slowing of China's growth and exports; countries raising tariffs against each other; and countries reviewing their supply chains.
"We don't have much influence over this global inflation picture," Mr Lee said.
"But what is within our power is to make ourselves more productive and competitive."
To do this, Singapore must "press on with economic upgrading and restructuring; redouble our transformation efforts; (and) encourage workers to upgrade their skills at every opportunity", Mr Lee added.
Read the full story here: Government ready to do more if cost of living rises further, says PM Lee
7. Singapore pressing ahead with major infrastructure projects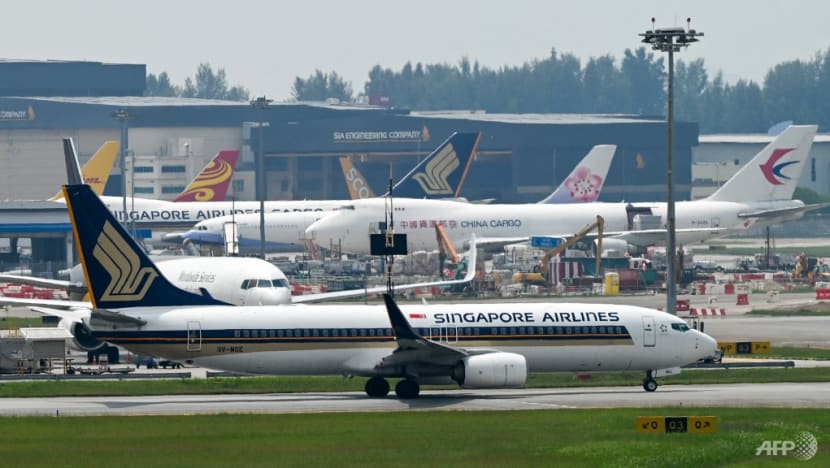 In giving an update on major infrastructure developments, Mr Lee said Singapore's progress with the Tuas Port and Changi Airport Terminal 5 have signalled to the world that the country is emerging stronger post-pandemic.  
Tuas Port is now up and running, Mr Lee said, announcing that phase one of the project has been completed. The new port is automated and digitalised, and makes use of artificial intelligence to coordinate operations.
When fully completed in about two decades' time, "we will have the world's largest fully automated port, and that should make us a leading global player in the maritime space", Mr Lee said.
Moving on to Changi Airport, the Prime Minister said that work on T5 has restarted after a two-year pause brought about by the pandemic.
The terminal has, however, been redesigned with resilience in mind, allowing it to operate more safely and flexibly during a pandemic, Mr Lee said. It has also been made greener and more energy-efficient.
A business and lifestyle destination called the Changi East Urban District will be developed next to T5, he added.
The Prime Minister also provided more details on the planned relocation and redevelopment of Paya Lebar Airbase.
Set to start in the middle of the next decade, the redevelopment may see the runway developed into a "central spine" of the future town at the site. It could be turned into a green connector or community space, Mr Lee said.
Both public and private housing will be built in the town, with the Ministry of National Development estimating that about 150,000 new homes can be built there. 
Reflecting on concerns shared by Singaporeans that the country might run out of space, the Prime Minister said: "No need to worry."
"We have done our studies and planning. We will have enough space for future generations," he said.
"Our problem is not finding the space to build enough flats, nor keeping homes affordable for Singaporeans. We know how to do that. Our problem is having enough babies to grow up and live in them!"
Read the full stories here:
Tuas Port will be world's largest fully automated port when completed in 20 years
Changi Airport's Terminal 5 project redesigned to be pandemic-ready, more energy-efficient