'I was eager to serve further': The SAF soldiers with no qualms about extending their service
One full-time national serviceman chose to enter medical school later to finish and extend his NS. Another operationally ready national serviceman continues to do in-camp training each year even though he does not need to.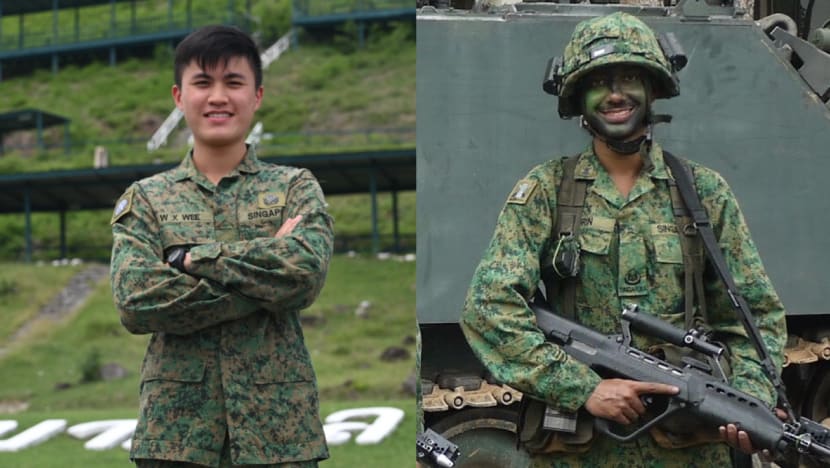 SINGAPORE: When 3rd Sergeant (NS) Shaun Wee, 21, was offered in July 2021 to study medicine at the National University of Singapore (NUS), the then-full-time national serviceman (NSF) had a difficult decision to make.
While medical school enrolment was in August that year, his operationally ready date (ORD) would only be in November.
Like all eligible male medical students in Singapore, he was given the option of disrupting full-time NS, where he was an air defence weapons specialist in the Republic of Singapore Air Force (RSAF).
This means he would enrol in NUS in August, finish around seven years of the medical course including housemanship and hospital postings, then return to the military to serve the remaining few months of service.
The other option was to finish his full-time NS and wait almost a year for the next medical school enrolment in August 2022.
He eventually chose this option, attributing his decision to his "meaningful" time in NS and his intention to continue serving the country in his air defence role.
Singapore commemorates 55 years of NS this year, more than five decades after Parliament passed the National Service (Amendment) Bill on Mar 14, 1967 to build up the newly independent country's defence force.
The Bill made NS compulsory for all 18-year-old male Singapore citizens and permanent residents.
That year, about 9,000 male youths born between Jan 1 and Jun 30 in 1949 became the first batch to be called up for NS, which has over the years become a rite of passage for many Singaporean sons.
PROS AND CONS
While weighing his options, 3SG (NS) Wee could not discount the camaraderie he shared with his NS mates.
"The friends that I met here, we've been together since almost a year, and we've been doing everything together. We've been going for exercises, training, and all the admin stuff we have to do in camp," he told CNA.
"So, I felt very bonded with my peers and I really wanted to just see it through to the end with my peers."
Beyond emotions, 3SG (NS) Wee also considered practical reasons, highlighting that a new batch of NSFs was about to join the squadron and replace the outgoing NSFs.
"I think it was more of me just wanting to continue to help with the operational commitments," he said.
"I thought that if I rejected the offer of (disruption) ... I will be able to properly and thoroughly train them to make sure that they understood their duties and roles and responsibilities well."
By this point, it was clear which option 3SG (NS) Wee was leaning towards, but there was something else to consider: An option to further extend his full-time NS by six months until May 2022.
"I would have a lot of time on my hands until school started," he said.
"I felt I wanted to do something meaningful. So when I heard that I had the opportunity to extend if I didn't disrupt, it was also one of the factors that convinced me to not disrupt and just complete my NS."
When asked why he did not intend to use the time to travel or go on an internship, he reiterated that he wanted to do something worthwhile.
As an NSF, he operated the agile multiple beam radar, a highly mobile radar that can detect low-flying and slower-moving targets, such as helicopters, 60km away.
"Having trained in the past year as an air defence weapons specialist in my unit, I felt that I was contributing meaningfully to the security of our skies," he said.
"If I go out and work part-time, there are also meaningful things that I could learn outside. But I felt I was enjoying what I did."
While one of his peers, also interested in extending his service, encouraged him to take up the option together, others were not as convinced.
"There will be those people who want to just get NS over and done with, but when we try to properly explain to them our rationale, they eventually kind of say fine, sure - makes a bit of sense," he said.
"I just told them not everyone will get the opportunity to extend their NS ... especially as our job scope or vocation is not a very common one as well. Having already trained for so long, and being good at what we're doing, it'll be a bit of a shame to waste it."
BREAKING THE NEWS
He took his intentions to his parents, unsure about how they would react.
"Of course, I had to talk to them about it. I sat down not knowing what they would think, and I told them my intentions," he said.
"When they heard ... they actually encouraged me to go ahead and do it. They felt I was going down the right path doing something meaningful. So they really supported me and I really appreciated that."
Some parents and their children would think twice about starting university one year late and entering the workface later, but 3SG (NS) Wee brushed aside such concerns.
"For me, I wasn't too worried about that. I didn't really see it as much of a problem. I've had peers from junior college who also got into medicine, and they all deferred and started school earlier," he said.
"Some people ask me, 'Don't you feel like you won't be joining them, then you are alone in a lower batch?' But actually it is quite good because now they are my seniors in school. And if I need any help, I can just ask them, and they'll be very willing to help."
Looking back, 3SG (NS) Wee said it was ultimately not a "very straightforward" decision as he had to consider different factors. He mulled over it for a week and discussed his options with his parents and friends for different perspectives.
"I also consulted with some of my peers who were already in medical school on what they thought was the best course of action, and eventually came to the conclusion that there was no harm in turning down the (disruption) and starting my university studies a year later," he said.
OVERSEAS EXERCISE
3SG (NS) Wee took the plunge and rejected the disruption before changing his ORD date on the university portal.
He spent the extra months building even closer relationships with the regulars and newcomers in his squadron, but the highlight was getting the opportunity to attend Exercise Cope Tiger in Thailand. Held from Mar 13 to 25, the exercise involved the RSAF and the Thai and US air forces.
3SG (NS) Wee said he welcomed the chance to interact with personnel from both the US and Thailand, adding that he initially perceived the Thai servicemen to be "very strong and maybe stubborn".
"But they were super nice. They were so hospitable and actually very friendly. We made friends with them, and we still keep in contact and text once in a while," he said.
"There was a language barrier; they didn't speak much English and we didn't speak Thai. Most of the time we had to use third-party apps like Google Translate to converse with each other. But it was very interesting."
The scorching weather in the day and much cooler temperatures at night also meant that he had to be resilient and persevere through "demanding conditions".
"Not many NSFs have the opportunity to participate in an overseas exercise, especially because of the COVID-19 pandemic," he said.
Overall, 3SG (NS) Wee said he had no regrets completing and extending his full-time NS, as he advised servicemen considering the option to have an "open mind" and weigh the pros and cons objectively.
"Personally, I enjoyed what I was doing and I was eager to serve further, so there was no harm in extending my service. I do not regret my decision and have learnt many valuable skills that I can apply to my life," he added.
THE "REGULAR NSMAN"
Like 3SG (NS) Wee, 1st Warrant Officer (NS) Surindranath Kaseenathan, 47, also found a way to extend his service, albeit at a much later stage.
1WO (NS) Surindranath finished full-time NS, where he was an armoured infantry specialist, in 1997. He then became an NSman, completing his in-camp training (ICT) cycles over the next decade.
In 2005, 1WO (NS) Surindranath's superiors approached him about extending his service as a volunteer NSman, based on his performance and conduct during his years of ICT. He went for interviews to talk about how far he would go.
His final NSman appointment was company sergeant major (CSM), usually the highest non-officer role in a company.
"I stated that I would like to continue. I mean, If I can contribute, I'm more than happy to contribute," he said.
"Because as far as the defence of the country is concerned, there shouldn't be an age limit in that sense. We should contribute for as long as we can. That's my personal belief."
He also wanted to act as a mentor to junior commanders, sharing his experiences with them to ease their NS experience and make it more enriching.
1WO (NS) Surindranath, who was working at the Ministry of Education headquarters then, said his employer was very supportive of his decision and did not harbour any "misgivings".
"When I said I was going to take up a higher appointment, my employers were actually very proud of me and they were very encouraging," he said.
1WO (NS) Surindranath finished his NS liabilities in 2008 and extended his service, soon becoming a regimental sergeant major (RSM) taking charge of several companies in a unit.
He now does about 30 days of ICT each year as a brigade sergeant major - an even higher appointment overseeing several units - of the 56th Singapore Armoured Brigade.
As a volunteer NSman, the current administration manager at Kheng Cheng School still gets paid his usual salary during ICT.
"Of course, on my part, I also make sure that before I go for ICT, there are proper handovers, making sure that things that need to be done are all settled," he said, calling it a "two-way thing".
"I am also thankful for my fellow colleagues who have volunteered to cover my duties in my absence."
JUGGLING COMMITMENTS
Nevertheless, 1WO (NS) Surindranath acknowledged that he had doubts about extending his service, pointing to the uncertainty around getting used to a new appointment.
"You really don't know what's in store for you. As you go up, the journey to a certain extent becomes a bit lonelier; you have less people to talk to," he said.
"When you're coming up as a CSM, you can still find out from people certain things. Even then there's only like four or five CSMs in the unit ... Becoming RSM, you're the only one in the unit. Who are you going to go to for help?
"I did share that these are the things I need help with. Of course, they were all very supportive. There was quite a bit of mentorship from above, which is what I am doing in return as well."
There were also some concerns beyond his professional life, having to balance his time between his civilian job, NS and family commitments.
"My children were both toddlers at that time and required much attention. I had to manage my time carefully, and thankfully received strong support from my family," he said.
Still, he recalled his daughter and son, then aged four and one, feeling proud when they saw him in uniform.
"Especially when they were youngsters, they look at you like you're a hero. That's very encouraging and uplifting," he said, adding that his family also attended several of his parades.
STILL SCORING IN IPPT
As a brigade sergeant major, 1WO (NS) Surindranath ensures that the units under him conduct training properly. He also gathers feedback from the ground and listens to his soldiers' challenges and concerns, saying this is important to keep up their morale.
"I always believe in leadership by example. So if you ask somebody to go there at 7am, you jolly well be there at 7am, not strut in (late) just because you have authority," he said.
"I think this is one of those things that are very important when dealing with our soldiers. Because we have to respect them. Everybody's time is important."
For the same reason, he also completes his yearly individual physical fitness test (IPPT) - achieving a silver award - even though he does not need to.
"I think fitness should be an extension of our lifestyle; it shouldn't be just to pass the IPPT," he said.
"That's what I tell my soldiers too. If you keep yourself healthy, you will have less problems downstream."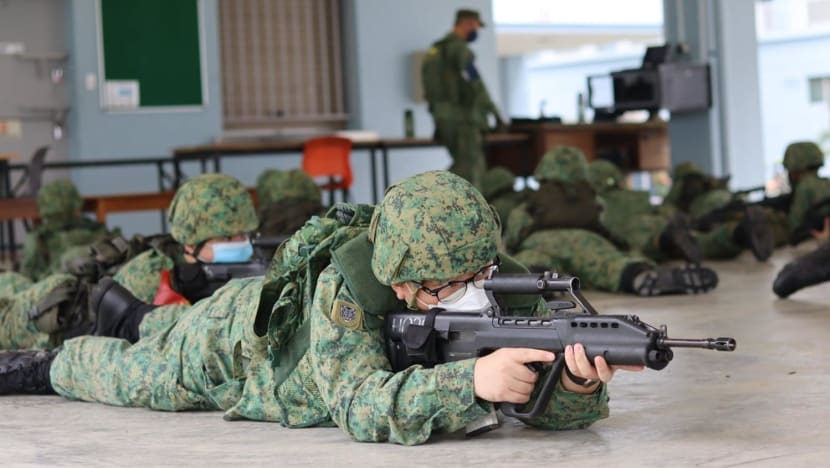 Because of his fitness, some servicemen in his units often mistake him for being a former regular. This would go on for a week before they asked him why he left the force. When he said he was never a regular, they could not believe it.
"Because, very rarely you find people at this rank who was never a regular before," he said, laughing and calling himself a "regular NSman".
"But I think generally they're more receptive in that sense when they're dealing with another NSman, because they know that you share the same experiences - you work, you come here and serve."
When asked why he did not consider signing on as a regular, 1WO (NS) Surindranath conceded that despite his "positive" experience as an NSF, he made a decision to prioritise his studies and family.
He now has a Bachelor of Arts (Merit) in English with Business from the Singapore University of Social Sciences.
"At that time, it was difficult to juggle the career and study at the same time, especially in the armed forces because it's a 24/7 job," he said.
"I have a lot of respect for regulars because it's not easy. They make a lot of sacrifices for their family. And when you're studying sometimes you have to work at night, sometimes irregular hours ... It would not have been easy at that time."
"WHY NOT ME?"
1WO (NS) Surindranath said he sees himself volunteering for about two to three years more, before someone takes over his appointment with enough runway to get used to the job.
"Frankly, nobody should stay there forever, because it will stop our succession pipeline," he said.
1WO (NS) Surindranath said he has no regrets about extending his ICT commitments, stressing that he was interested in each role he took over and how he could contribute effectively.
"I didn't want to go in and sit in a post for the sake of sitting in it and feeling or looking important. I think what is very important is that you went in and you tried to improve things (for your successor)," he added.
"Defending our country is everyone's responsibility and a way of showing our gratitude to the nation. In serving NS, instead of asking 'why me?', we should ask 'why not me?'"