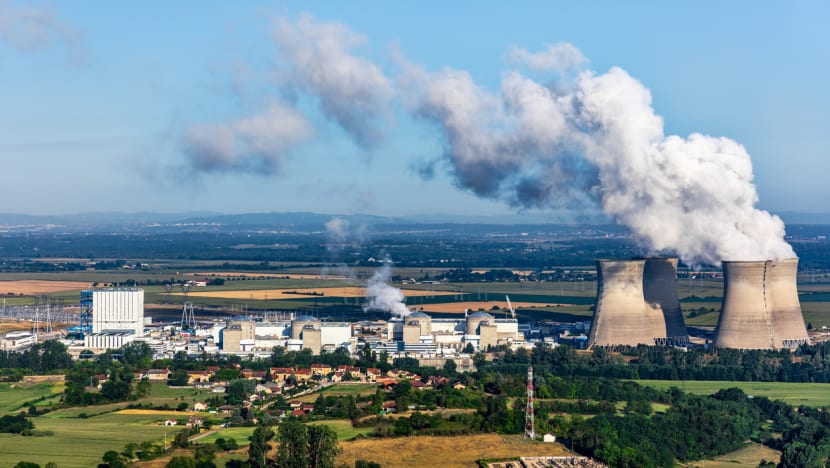 A recent report commissioned by the Energy Market Authority identified nuclear energy as a potential power source for Singapore as the country races to decarbonise and achieve its target of reaching net-zero "by or around mid-century"
While technological advancements have made nuclear and geothermal energy more viable and reliable, uncertainties such as unproven technologies as well as public perceptions about safety remain 
SINGAPORE: It is the year 2050 and Singapore has started generating nuclear power, supplying about 10 per cent of its energy needs.
It comes after decades of monitoring the progress of emerging nuclear technologies overseas and building deep capabilities to assess the safety performances of these technologies.
Meanwhile, the bulk of the country's energy is now supplied by low-carbon hydrogen, replacing natural gas as its main fuel.
This is one possible scenario of what a decarbonised Singapore power sector in 2050 may look like, according to a recent report commissioned by the Energy Market Authority (EMA).
In the Energy 2050 Committee Report, nuclear energy - which was once assessed to be unsuitable for Singapore - was identified as a potential power source for the country, along with low-carbon alternatives such as hydrogen and geothermal energy.
What is nuclear energy?
Nuclear energy is a form of energy released from the core of atoms - or the nucleus. It is considered a clean form of energy as it does not release greenhouse gases during the generation process.
It can be produced in two ways: Fission – where atoms are split into several parts – or fusion – where atoms are combined or fused together to form a larger atom. 
Today, nuclear energy harnessed around the world to produce electricity is through nuclear fission, while technology to generate electricity from fusion is at the R&D phase.
During nuclear fission, a neutron collides with a uranium atom and splits it, releasing more neutrons. These extra neutrons continue to collide with other uranium atoms, which will also split and generate additional neutrons in a multiplying effect, creating a chain reaction. Each time the reaction occurs, a large amount of energy in the form of heat and radiation is released.
The heat can be converted into electricity in a nuclear power plant, similarly to how heat from fossil fuels such as coal, gas and oil is used to generate electricity.
According to the World Economic Forum, around 10 per cent of the world's electricity - or about 4 per cent of the global energy mix - is generated by around 450 nuclear power reactors.
As of 2020, just 15 countries made up for more than 91 per cent of global nuclear power production, with the US accounting for nearly 31 per cent.
There were more than 50 additional nuclear reactors under construction in 2020, and hundreds more are planned primarily in Asia.
The report described two other scenarios through which Singapore could achieve net-zero emissions by 2050, taking into account uncertainties in geopolitics and the development of clean energy technologies.
Dr Philip Andrews-Speed, a senior principal fellow at the Energy Studies Institute, said significant developments in nuclear technology have helped to make it safer and more reliable.
This includes making reactors smaller, which can help to bring down costs, as well as reduce the impact if an accident were to occur.
Studies have also shown that death rates from the production of nuclear energy are comparable to modern renewables such as solar, wind and hydropower, and remain much lower than fossil fuels.
According to Our World in Data, which took into account death estimates from the 1986 Chernobyl disaster in Ukraine, direct and indirect deaths from the 2011 Fukushima disaster and estimated occupational deaths, nuclear energy has a death rate of 0.07 deaths per terawatt-hour.
In comparison, the death rates of brown coal and coal are around 33 and 25 per terawatt-hour respectively.
However, given Singapore's small size, even a small accident could have a devastating impact, said Dr Andrews-Speed.
"In a place with lots of empty space, that's alright. But this is why Singapore is being very cautious, and they will wait to see what happens," he said.
"Singapore will want to see how other countries deploy these different technologies, what the costs are, the management, regulation, safety, waste," he added.
"The timetable is tight and it's possible in 20 years' time that convincing results from different technologies are not suitable for Singapore, even though they may be available for lots of other places."
In Parliament last month, Minister of State for Trade and Industry Alvin Tan said new designs such as small modular reactors and Generation IV nuclear technologies have the potential to be much safer than many of the plants in operation today.
This includes the ability to cool safely and passively without requiring external systems or operator actions, especially during emergencies.
He added that nuclear fusion technology, which is being developed globally, also has the potential to be much safer as it does not cause chain reactions and produce long-lived radioactive waste.
STUDIES TO DETERMINE GEOTHERMAL ENERGY ARE UNDER WAY
Besides nuclear energy, Singapore is also considering geothermal energy as a low-carbon alternative.
Last year, EMA announced that exploratory studies will be carried out in the northern and eastern parts of Singapore to determine the country's potential of harnessing geothermal energy.
One of the study sites is Sembawang Hot Spring Park, where researchers from Nanyang Technological University (NTU), research platform TUM CREATE and Surbana Jurong are seeking to obtain temperature data and improve estimations of Singapore's geothermal resource potential.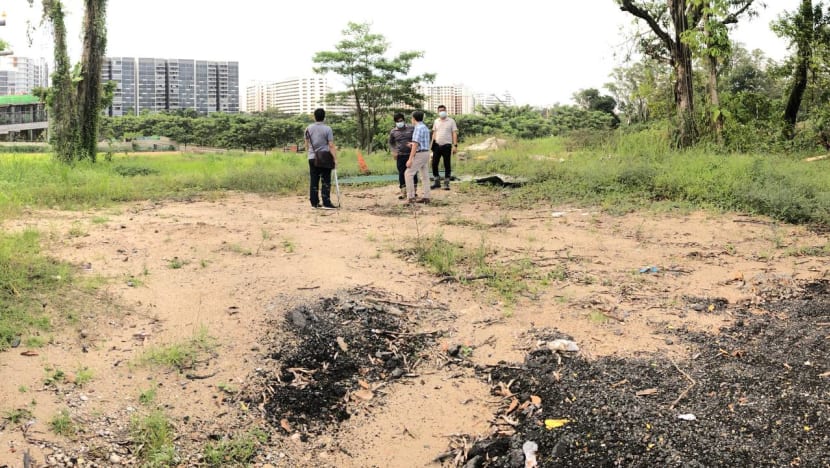 What is geothermal energy?
A renewable energy source, geothermal energy is derived from heat within the sub-surface of the earth, which is carried to the surface via water or steam.
Depending on its characteristics, geothermal energy can be used for heating and cooling, or be harnessed to generate clean electricity.
If a large amount of heat can be extracted, this can be harnessed to generate clean electricity.
In Singapore, a geothermal resource with temperatures of more than 140 degrees Celsius can be used to produce electricity, according to Associate Professor Alessandro Romagnoli from NTU's School of Mechanical and Aerospace Engineering.
Geothermal energy covers a significant share of electricity demand in countries like New Zealand, Kenya and the Philippines.
While installed capacity has increased over the years, challenges in deploying geothermal energy such as geographical limitations as well as higher per-unit capital costs remain.
As a result, geothermal energy today accounts for less than 1 per cent of globally installed renewable energy capacity.
Data from the International Renewable Energy Agency (IRENA) shows that geothermal energy made up just 0.5 per cent of total renewable energy capacity in 2021.
In comparison, hydropower and wind accounted for around 39 per cent and 26 per cent of global installed renewable energy capacity respectively last year.
Associate Professor Alessandro Romagnoli, who is leading the study, said the hot springs and high heat flow are good indicators of geothermal potential in Singapore, however the scale and depth of the resource remain unknown.
Providing an update, he said some data on temperature as well as the concentration of heat-producing elements in Singapore's granite has been collected.
"We use the data to generate our in-house geological model and near-surface temperature distribution map, which aid us in identifying the sites for our deep exploratory drillings," he said.
Assoc Prof Romagnoli added that the data from the drillings will be used to verify and constrain the computer model, to aid in resource estimation and further development plans.
EMA previously said that preliminary findings from the exploratory studies will be established by the end of this year.
The authority has also issued a request for information on conducting a geophysical survey across Singapore.
This will help to provide a more comprehensive assessment of Singapore's geothermal potential and suitable deployment locations, said Dr Karen Lythgoe, a seismologist at Earth Observatory of Singapore.
"It'll allow us to be able to understand what exactly is the heat capacity, where and how much water is flowing, where would be the best location for geothermal power plant, and whether we would get enough energy from that," she said, adding that a survey of this scale has not been conducted in Singapore before.