IN FOCUS: Do rich countries have a 'moral responsibility' to pay for the cost of climate change?
If rich countries contribute the most to climate change, do they owe a debt to poorer ones who are least responsible - yet suffer the most? CNA dives into the debate.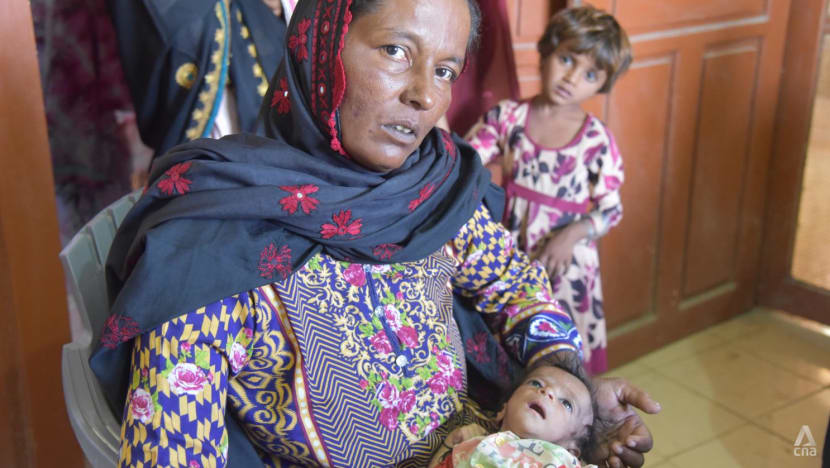 HYDERABAD, Pakistan: When heavy rains started falling in June, 60-year-old grandmother Zeba thought nothing of it.
It was the regular monsoon season in Pakistan, and the storms would surely subside, she reasoned. They always did.
But the rain never let up. It washed out the fields in her village where cotton, sugarcane and rice plants grew. It surged into houses, the mosque, schools and the office where she worked.
So much rain fell that on one night in August, Madam Zeba and the villagers of Malook Khaskheli realised their homes had become too dangerous to stay in. All 130 households fled into the dark, bringing no more than scraps of food to feed themselves.
Two months later in October, Malook Khaskheli, which lies in Pakistan's Sindh province, remained uninhabitable and accessible only by boat.
In its place was what appeared to be a lake, its horizon broken by transmission towers and flat, grey dwellings jutting out of the water. Wavy lines on the sides of buildings marked how high the floodwaters had risen.
Before fleeing, villagers had placed belongings that they hoped to retrieve on the higher levels of their houses. But these were washed away, too, and little was left to return to.
Among those who lost their homes in the floods was Afsha, 27, the wife of a soldier and mother to a four-year-old. Her family had lived in a house built by her grandparents in the village.
She was one of the luckier ones. After the disaster, she found work as a midwife, with a monthly income of 30,000 Pakistani rupees (US$135).
This lifted her above her village's average daily income of 500 Pakistani rupees, but was not enough to give her shelter. After fleeing Malook Khaskheli, her family had to seek refuge at a relief camp along a highway.
More than 1,700 people have died and 33 million have been affected this year by Pakistan's floods, which have been linked to rising temperatures.
Climate scientists from the international World Weather Attribution group found that global warming led to rainfall over the Sindh and Balochistan provinces that was up to 75 per cent more intense, and caused a heatwave that preceded the floods to be 30 times more likely to occur.
The catastrophe provides a starkly real example of the concept of  "loss and damage" - where climate impacts can no longer be avoided by simply reducing carbon emissions, and extend beyond the limits of adaptation measures.
Pakistan's Minister for Climate Change Sherry Rehman told CNA that the World Bank has estimated damages of about US$40 billion from the floods.
"We believe the loss and damage to cost a lot more as this was an unprecedented flood event, bigger than 2010 and not experienced before in Pakistan's history," said Ms Rehman, referring to the country's last flooding calamity.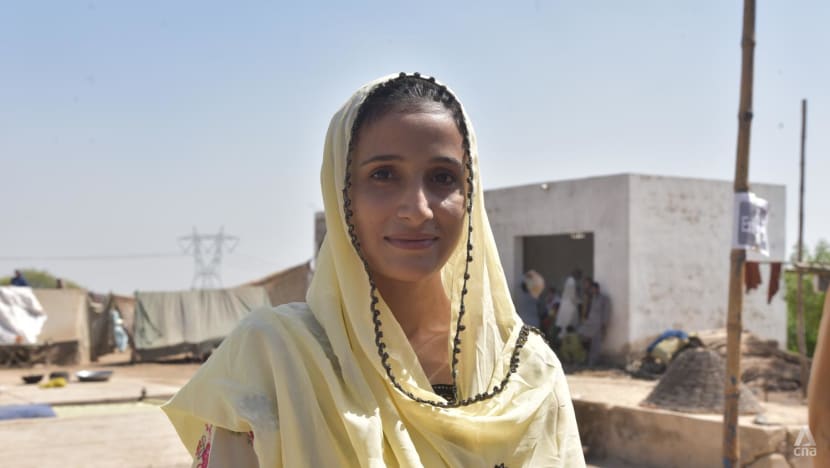 The destructive events in Pakistan have also spurred calls for compensation from those most responsible for emissions - namely, developed countries.
Having them finance loss and damage is shaping up to be a key ask of developing countries at the United Nations climate summit COP27, which convenes in Sharm el-Sheikh, Egypt from Sunday (Nov 6).
A decision on loss and damage will be a "dealmaker or dealbreaker" for COP27, said Sandeep Chamling Rai, senior adviser at the World Wildlife Fund. 
"It's a result of the moral obligation of the developed country whose economy has been built from the burning of fossil fuels," he added.
"So it is their moral responsibility to address the climate crisis that they have created in the first place."
"WE HAVE BEEN SET BACK 10 YEARS"
Pakistan's breadbasket is in its central and southern regions, where the hardest-hit provinces of Sindh and Balochistan are. Across the country, more than 3.8 million ha of crops have been affected by the floods.
It only takes one missed harvest to risk trapping a farmer in a debt cycle. After water inundated Haider Ali's cotton fields, he could not repay the 53,000 Pakistani rupees he had borrowed to sow his crop.
Such loans were traditionally taken out before each sowing season, and repaid with proceeds from the harvest. With an annual interest rate of 18 per cent, Mr Ali, 50, said his remaining options were to lease his land to another farmer, sell his livestock or do labour on another farm.
Mr Ali's neighbours in Majno Rind village described how their incomes have been slashed across a range of occupations, from rag-and-bone men to taxi drivers. Villagers usually worked as cotton-pickers in October, but there was no such employment after crops were killed.
Unusually high temperatures in Pakistan from early May had already caused crops to be planted outside their optimum timings, at higher cost and lower yield, said Dr Athar Hussain, head of the Centre for Climate Research and Development at Pakistan's COMSATS University Islamabad.
"The untimely heavy rains resulted in destruction of crops that barely survived, thus causing further economic stress on Pakistan," he said.
With resources meant for development in other areas being diverted to flood victims, an economic slowdown at the national level would be the most dangerous long-term impact of the disaster, Dr Hussain warned.
Loss and damage covers loss of not just life, property or income, but also mobility, cultural heritage and biodiversity among others, pointing to the interconnected ways in which the climate influences every aspect of life.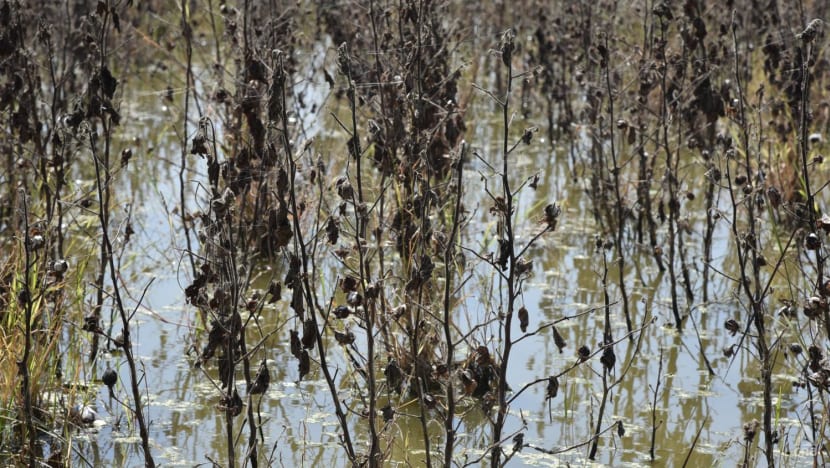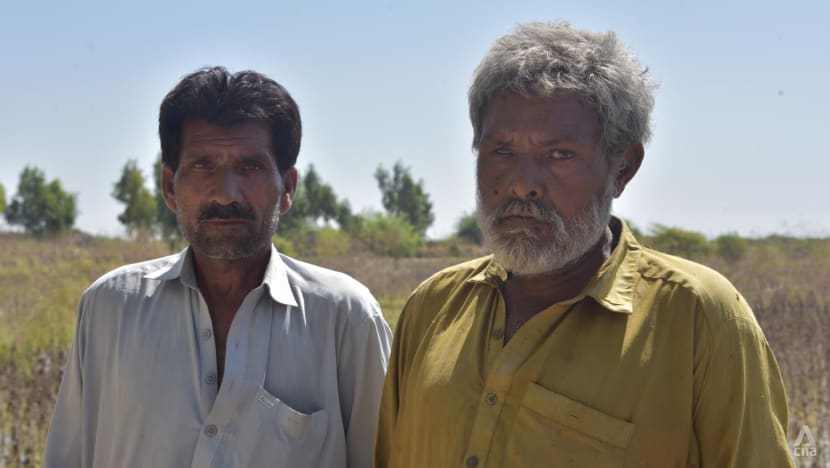 The UN's Intergovernmental Panel on Climate Change (IPCC) has said that near-term actions to limit global warming to the 1.5 degrees Celsius threshold laid out in the Paris Agreement would substantially reduce projected loss and damage.
But they cannot eliminate all of it. Instead, with more warming, more human and natural systems will reach their adaptation limits. And these climate impacts are "strongly concentrated" among the poorest vulnerable populations, said the panel.
This is because inequity and poverty lead to "soft" adaptation limits – the kind that could be overcome with more money or better technology.
Ms Rehman, the Pakistani minister, said her government expects about 15.4 million people to be pushed into "hardscrabble poverty".
Pakistan's government has repurposed parts of its budget, including climate adaptation and resilience funds, to compensate households affected by the floods, with more than US$301 million disbursed in immediate cash relief to more than 2.6 million people.
An area of up to 46,000 sq km – larger than Switzerland – remains inundated in southern Pakistan, said Ms Rehman.
"We have been set back 10 years. Everything from infrastructure, schools, hospitals (to) people's very lives need rebuilding," she said.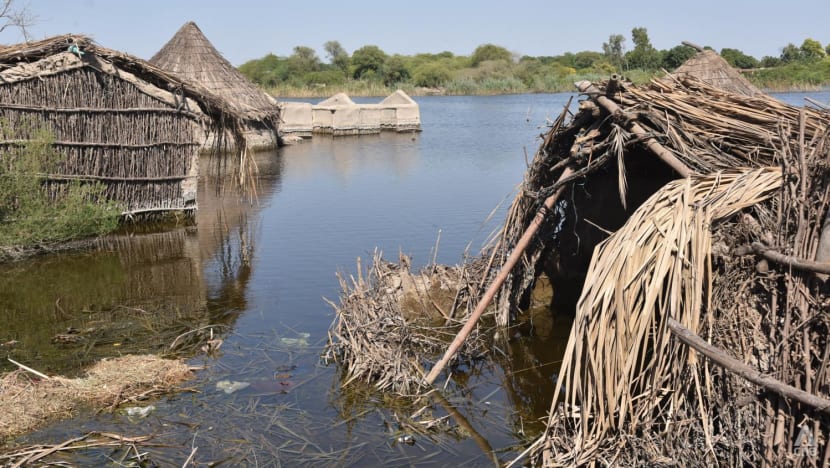 More than 13,000 km of roads and 400 bridges were destroyed across the country. Combined with damage to more than 1,400 health facilities, healthcare has been rendered "completely inaccessible" in Sindh and Balochistan, said Ms Rehman.
This could not have come at a worse time, with stagnant water from the floods driving an increase in water- and vector-borne illnesses like cholera, malaria and dengue.
Gynaecologist Dr Maira Yaqoob told CNA how the floods led to her delivering about 20 babies a day - up from seven to eight previously - at Tando Allahyar Civil Hospital, after other medical facilities were destroyed.
In October, the 27-year-old also served at a medical camp that moved around to reach pregnant women and new mothers who had lost access to healthcare in the floods.
Her patients complained of weakness, and suffered fevers and diarrhoea. She looked at sores on a mother's hands and a red, inflamed bump on her three-month-old baby's abdomen – skin infections from the filthy floodwaters.
The child lay lethargically on his mother's lap. He was malnourished, said Dr Yaqoob, who then referred him to the hospital where he could be fed.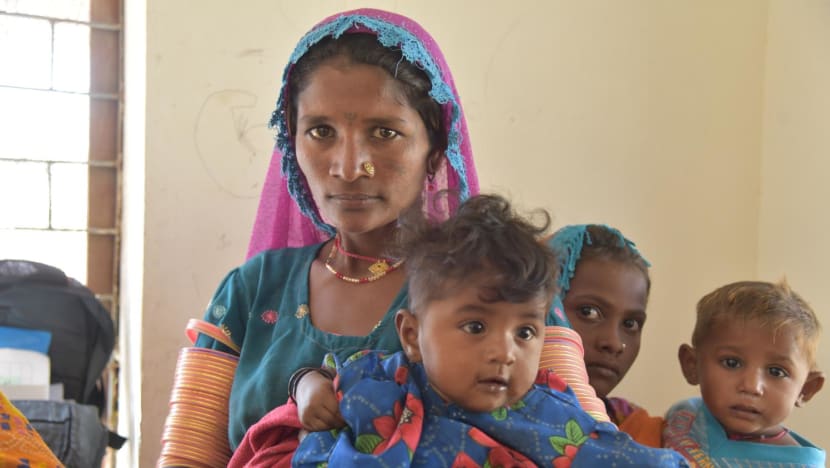 "RICH COUNTRIES MUST STEP UP"
In September, Pakistan's Prime Minister Shehbaz Sharif asked at the UN: "Why are my people paying the price of such high global warming through no fault of ours? We have no contribution in this."
At the heart of the debate over loss and damage is the tension between historical responsibility for climate change, and the disproportionate impact on vulnerable populations.
When countries signed the UN Framework Convention on Climate Change in 1992, they noted that "the largest share of historical and current global emissions of greenhouse gases has originated in developed countries".
According to the IPCC, the least developed countries and small island developing states contributed less than 0.4 per cent and 0.5 per cent respectively to historical CO2 emissions from fossil fuels and industry, between 1850 and 2019.
Pakistan itself reports a 0.9 per cent contribution to global greenhouse gas emissions.
Experts told CNA that developed countries fear legal obligations to provide finance to climate-vulnerable countries. That has made loss and damage a politically charged issue.
"It gets bogged down in terms of the developed countries seeing loss and damage as a compensation regime or reparations," said WWF's Mr Rai of the negotiations.
As the first legally binding international treaty on climate change, the Paris Agreement enshrines the importance of addressing loss and damage. But it also explicitly states that it "does not involve or provide a basis for any liability or compensation". These concerns remain on the flipside of discussions.
Another reason for stalled positions on loss and damage is slow progress in larger discussions on climate finance, said Melissa Low, research fellow at the National University of Singapore's (NUS) Centre for Nature-based Climate Solutions.
In 2009, developed countries pledged to mobilise US$100 billion a year by 2020, for climate action in developing countries. The target was missed and extended through 2025, and remains only partially met at US$83.3 billion in 2020.
Countries have the further task of hammering out, by 2025, a new collective quantified goal from a floor of US$100 billion a year.
"The gap lies in the undertaking of responsibility by the rich countries to not only fulfil their pledges but also provide compensations for the carbon-intensive lifestyles and investments that continue to increase emissions," said Ms Rehman.
As the current chair of a bloc of more than 130 developing countries at the UN, Pakistan will seek, at COP27, "concrete and structured decisions to build a formal mechanism to finance losses", said Ms Rehman.
"Loss and damage has to be put on the climate finance agenda formally. It has always been the stepchild of the larger discourse, but that needs to change now.
"As for where the money will come from, let's get real. There are plenty of funds available globally, and for attracting that, combinations of sovereign and capital market debt can be raised."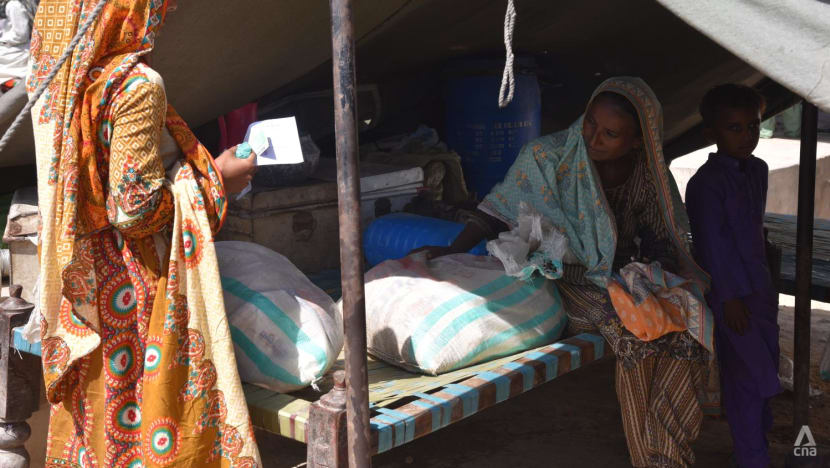 Ms Rehman said it was "important to not add debt to national treasuries that are already mobilising all domestic revenue to finance international debt servicing".
"We don't want to rely on 'disaster aid' when the big emitters are holding back on their pledges," she added.
"This crisis is not our doing. The rich countries must step up and create mechanisms for compensations as part of the long-awaited climate finance."
Ms Low, from NUS, pointed out that countries can also choose to take the lead outside the UN process.
Over the past year, Scotland and Denmark have made their own finance pledges to address loss and damage in developing countries, circumventing the lack of a global agreement.
"I don't know if we should place all our hopes on loss and damage decisions being made at the COP or Paris Agreement level, because it will be too late for some countries ultimately. They can't wait," said Ms Low, who has attended the climate conference for more than a decade.
"We talk about the COP all the time as being like the panacea or the silver bullet, but it really isn't."
SINGAPORE "TOO WELL-ADAPTED"?
Southeast Asia has also been reckoning with the climate crisis.
In September, Super Typhoon Noru swept through the Philippines, Vietnam and Thailand, killing dozens of people. Malaysia experienced flooding described as being "once in 100 years" last December, and repeated floods have become a source of trauma for victims.
Super typhoons – which used to be rare but have become "very familiar" over the last two decades – and drought are among the major climate challenges facing the region, said Dr Albert Salamanca, senior research fellow at the Stockholm Environment Institute.
The UN Economic and Social Commission for Asia and the Pacific (ESCAP) has estimated US$91 billion to US$127 billion in average annual losses from natural disasters in Southeast Asia, with up to 4.3 per cent of the region's GDP lost.
Hotspots of drought and related diseases are expected to intensify in Cambodia, Myanmar and Vietnam, with new risk hotspots emerging in Thailand, the Philippines and Indonesia in a worst-case scenario, according to the commission.
Dr Salamanca said climate change could also reverse development gains. The IPCC has observed reduced food and water security, adverse socioeconomic consequences from the widespread deterioration of ecosystems, and negative effects on physical and mental health.
Around Southeast Asia, many communities that suffer climate impacts are also "remote from centres of power" in capital cities, said Dr Salamanca.
Civil society organisations can play crucial roles in supporting them, such as by explaining the role of climate change in causing disasters as well as providing solidarity and relief and recovery assistance, he said.
Amid all this, what is Singapore's place in the debate on loss and damage?
The country reports a contribution of about 0.11 per cent to global greenhouse gas emissions. It is considered a developing country, and therefore not among the developed countries mandated to provide climate finance in the Paris Agreement.
However, there are some who think that it's appropriate for that position to be looked at.
Local environment group SG Climate Rally told CNA: "Singapore should acknowledge the role that fossil fuels have played in its development in the past and today. The wealth obtained from the fossil fuel industry needs to be paid back to those who are suffering the consequences, evident in the extreme weather events that are happening all around the world at an alarming rate."
CNA approached Singapore's Ministry of Sustainability and the Environment for information on the country's position on the matter.
Meanwhile Singapore is also feeling the effects of climate change. This year the country reported its highest May temperature ever, its wettest October in 40 years and more landslides partly attributable to higher-than-normal rainfall.
The Government has sought to highlight the issue through national awareness campaigns and revamped policies, including hiking the carbon tax and rolling out a Singapore Green Plan 2030 in a concerted push towards sustainability and net-zero emissions by 2050.
Notions of climate justice have also been bandied about in Singapore. Closely entwined with loss and damage, climate justice seeks to address the inequitable distribution of climate change effects on vulnerable populations contributing the least to it.
"While white-collar workers can live in air-conditioned environments most of the time in their offices, homes and cars, construction workers, food delivery riders and rental flat tenants have little protection from the increasingly hotter weather," SG Climate Rally explained.
Ms Low, the researcher, said there has been some local discussion on climate justice in the context of parliamentary questions about heat stress faced by migrant workers.
But Singapore has not come to a public discourse around equity yet, she said.
This might be because many in Singapore remain insulated from the worst repercussions of climate change - ironically due to successful efforts to make the country more resilient to impacts like rising sea levels, intense rainfall and food and water scarcity.
"I think Singapore is too well-adapted to the impacts of climate change," said Ho Xiang Tian, founder of environmental group LepakInSG. "People can still hide in air-conditioned areas if it's too hot, and NEWater and desalination means we can tide over dry spells without having to resort to water rationing."
"This might lead to people feeling like there's no urgency in pushing for climate action," he added.
"Who remembers which year PSI levels hit 401 in Singapore? Most severe drought in Singapore? Longest coral bleaching event in Singapore?"
Citing the years of each event in turn – 2013, 2014 and 2016 – Mr Ho then wondered, wryly, if people were even aware that corals existed in Singapore's waters.
When faced with news about climate disasters in other countries, there is also "a sense that it won't happen to us" in Singapore, he said.
Mr Ho suggested water rationing exercises or augmented and virtual reality technologies as ways for people in Singapore to experience the harsher effects of climate change.
But for victims of climate disasters, the ongoing emergency is no simulation.
Unprecedented climate events are on the rise, and will continue to force entire communities - mostly in developing countries - to leave behind places and ways of life that have served them for generations.
For Pakistan's Ms Rehman, it is clear that the time has come for developed countries to act.
"The bargain between the Global North and the South is not working and it needs to be fixed in order for the Global South to actually survive the oncoming train of climate change," she said.
"It's not going to differentiate between borders, it's not going to know the colour of skin. And words will not be enough."