PM Lee to attend 43rd ASEAN summit in Jakarta, with Myanmar crisis and China's new map under the spotlight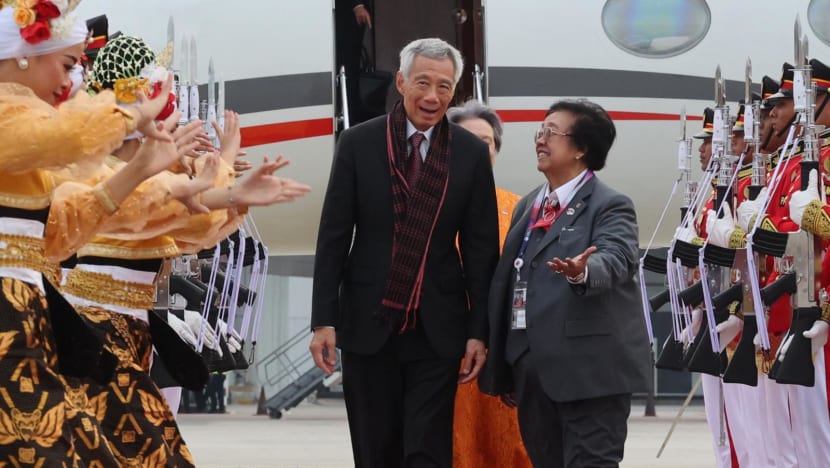 JAKARTA: Prime Minister Lee Hsien Loong will lead a Singapore delegation to the 43rd Association of Southeast Asian Nations (ASEAN) summit in Jakarta from Tuesday (Sep 5) to Thursday, where the bloc's leaders will discuss the crisis in Myanmar, among other issues. 
The meeting comes amid heightened tensions in the South China Sea, after China released a new map laying claims over large swathes disputed by some ASEAN members, triggering protests by these states.
Singapore's Prime Minister's Office (PMO) said in a statement on Monday that ASEAN leaders will discuss ways to ensure the bloc's "continued relevance and centrality in the evolving regional architecture". 
"They will exchange views on regional and international developments, including the situation in Myanmar," it said.
The leaders will also discuss strengthening ASEAN integration and expanding collaboration in key areas such as the digital and green economies.
Mr Lee will be accompanied by Minister for Foreign Affairs Vivian Balakrishnan, as well as officials from the Ministry of Foreign Affairs. In Mr Lee's absence, Deputy Prime Minister Lawrence Wong will be the Acting Prime Minister. 
CHINA'S CLAIMS
The meeting in Jakarta is the second of two summits that Indonesia is hosting as ASEAN chair. They are usually held separately, with one earlier in the year and the other later on.
According to the PMO, ASEAN leaders will also meet with "various external partners", including during individual summits with countries like Australia, Canada, China, India, Japan, the Republic of Korea, and the United States.
Chinese Premier Li Qiang will attend the summit, while the US will be represented by Vice-President Kamala Harris. US President Joe Biden will skip the summit but is expected to attend the Group of 20 (G20) Leaders' Summit in India from Sep 7 to 10. 
At an ASEAN Foreign Ministers' meeting in July, ASEAN and China agreed on guidelines to accelerate negotiations on the code of conduct for the South China Sea.
China's new map - which features an additional 10th dash to the east of Taiwan - claims almost all of the South China Sea and several land areas in India and Russia. India, Malaysia, Vietnam, Taiwan, Indonesia and the Philippines have protested the move.
For years, a number of ASEAN countries and the United States have challenged China's territorial claims in the South China Sea and tried negotiating a code of conduct to resolve disputes. 
However, negotiations have stalled due to various reasons, including the COVID-19 pandemic that made it difficult to hold in-person meetings.
When asked if ASEAN should drop the code of conduct negotiations in favour of international adjudication, Indonesia's deputy foreign affairs minister told CNA that the bloc is continuing to engage in discussions to reach a conclusion.
Mr Pahala Mansury said: "So rather than walking away, we think that it will actually be beneficial for all of the parties to be able to continue to have this dialogue."
ONGOING MYANMAR CRISIS 
This is the second year in a row that Myanmar is not invited to the regional meet, after the bloc last year made a rare decision to leave Myanmar's junta out of ASEAN summits and foreign ministers' meetings.
At the first summit in Labuan Bajo in May this year, Mr Lee told reporters that ASEAN cannot go back to "business as usual" with Myanmar, noting that "very little progress" has been made on the Five-Point Consensus.
ASEAN foreign ministers then stressed in July that the consensus remains the main peace plan for the Myanmar crisis. It includes immediately halting violence and starting constructive dialogue among the parties involved.
Earlier in June, Thailand held an informal meeting with Myanmar's military, although this was not attended by most ASEAN members, including current chair Indonesia.
Indonesia's Foreign Affairs Minister Retno Marsudi said during the July meet that the country has held intensive and broad engagements with all stakeholders in Myanmar.
"This is a very complex exercise, and it is not easy at all," she said. "We are still very much concerned to see the continuing and increasing violence in Myanmar."
Myanmar has been in crisis since the military seized power in a coup in early 2021 against the elected government of Aung San Suu Kyi.