UMNO president Ahmad Zahid could face 'close fight' in Perak amid signs of waning support
Ahead of Polling Day on Saturday, Mr Ahmad Zahid Hamidi has highlighted his proven track record in developing his hometown of Bagan Datuk.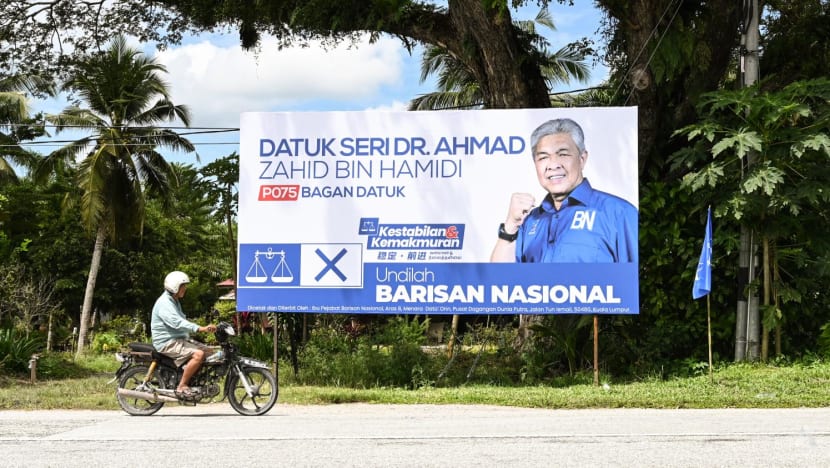 BAGAN DATUK, Perak: Posters of Malaysia's United Malays National Organisation (UMNO) president Ahmad Zahid Hamidi can be seen almost everywhere in his hometown of Bagan Datuk.
The southwestern district of Perak state has long been a stronghold of his political party and the country's oldest coalition Barisan Nasional (BN), which he also chairs.
The 69-year-old has held the Bagan Datuk parliamentary seat since 1995. Even in the previous general election of 2018 – when BN lost federal power for the first time in more than six decades – he managed to defend the seat.
"Most people here tend to support him," said local resident Te Chun Kiau, 53.
The Chinese Malaysian owns a grocery store in Bagan Datuk, where there is a high concentration of Malay voters. He believes the constituency could benefit from its incumbent representative if he gets re-elected in the upcoming election on Saturday (Nov 19).
"Even when he was deputy prime minister, he came back to his hometown every month," Mr Te added. "He stays here with us."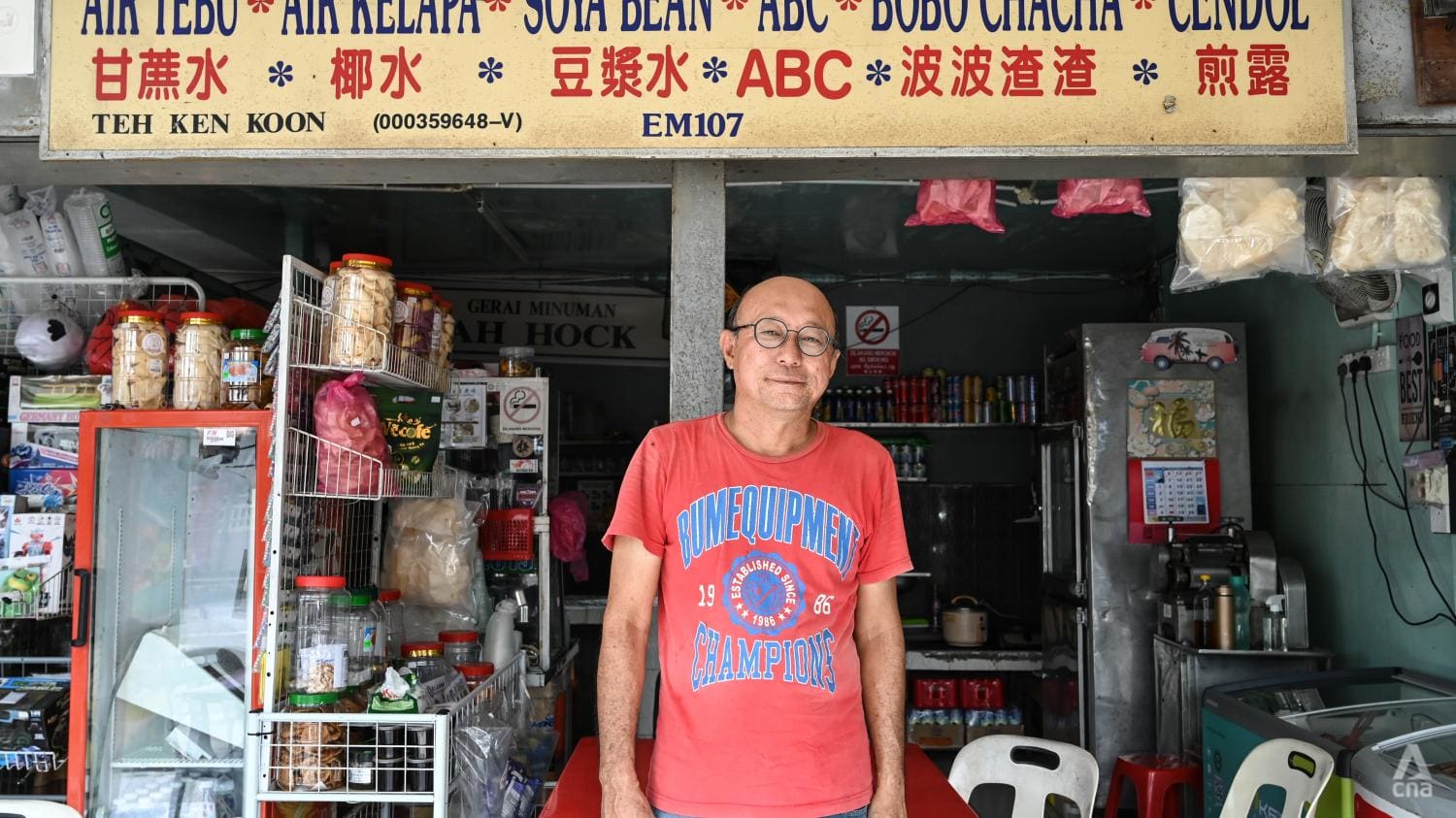 For many of his supporters, the UMNO president has a proven track record of bringing development into his hometown – from a new bridge linking Bagan Datuk with Kampung Sejagop to the floating mosque of Tuminah Hamidi and a centre for senior citizens. 
However, a closer look at the electoral margin of victory over the past years shows that Mr Ahamd Zahid's popularity may be declining, and this could translate into a difficult battle for him when voters go to the ballot boxes.
According to the results of past elections, Mr Ahmad Zahid's vote share fell from 55 per cent in 2008 to 53 per cent in 2013. In 2018, it was 51 per cent. 
In 2008, he beat his political opponent from Parti Keadilan Nasional (PKR) by 2,692 votes, compared to 12,539 votes in 2004. The margin shrank to 2,108 votes in 2013. 
But in 2018, the gap widened to 5,073 votes amid high voter turnout.
Tan Seng Keat, senior research manager at Merdeka Center –  an opinion research firm in Malaysia – explained that the 2018 result was due to a three-cornered fight with Parti Islam Se-Malaysia (PAS) entering the fray. 
The Islamist party managed to win 4,061 votes and this led to a bigger margin of victory for Mr Ahmad Zahid at the expense of Pakatan Harapan (PH), according to his analysis.
"With the current national sentiment and BN's campaign, it looks like Zahid could lose more support to Perikatan Nasional (PN), which would benefit Pakatan Harapan. Still, it's a very close fight," he said.
On Saturday, three major coalitions in Malaysia will fight to capture the federal government seat in Putrajaya. These include BN, its long-time rival PH and a relative newcomer, PN.
PN comprises PAS, Parti Pribumi Bersatu Malaysia (Bersatu) and other political groups. The coalition was formed in 2020 after Bersatu and certain PKR members defected from PH to forge a new alliance with PAS.
This resulted in the collapse of the PH government after being in power for 22 months. It is commonly known as the Sheraton Move.
Mr Ahmad Zahid's opponents this time are PH's Shamsul Iskandar Md Akin, PN's Muhammad Faiz Na'aman and independent candidate Tawfik Ismail.
RECENT POLL SHOWS INCREASE IN DISSATISFACTION 
Last month, Merdeka Center conducted a pre-election survey with 1,209 multi-ethnic respondents aged 18 and above. They were selected from across Malaysia, including all the states in Peninsular Malaysia, Sabah and Sarawak.
As of Oct 28, data on leader ratings showed an increase in dissatisfaction level for Mr Ahmad Zahid in the course of the year. It went up from 55 per cent in January to 72 per cent last month.
The UMNO president is facing various charges, including corruption and money laundering. 
Speaking to CNA in an earlier interview in Bagan Datuk, he said he is determined to clear his name.
"Of the 87 charges, I won 47 of them. My lawyers have all the evidence and document(s) to prove that I am clear," said Mr Ahmad Zahid.
"It's (a) political prosecution against me, started by the government of 22 months and continued by the government of 17 months," he added, referring to PH and PN, respectively.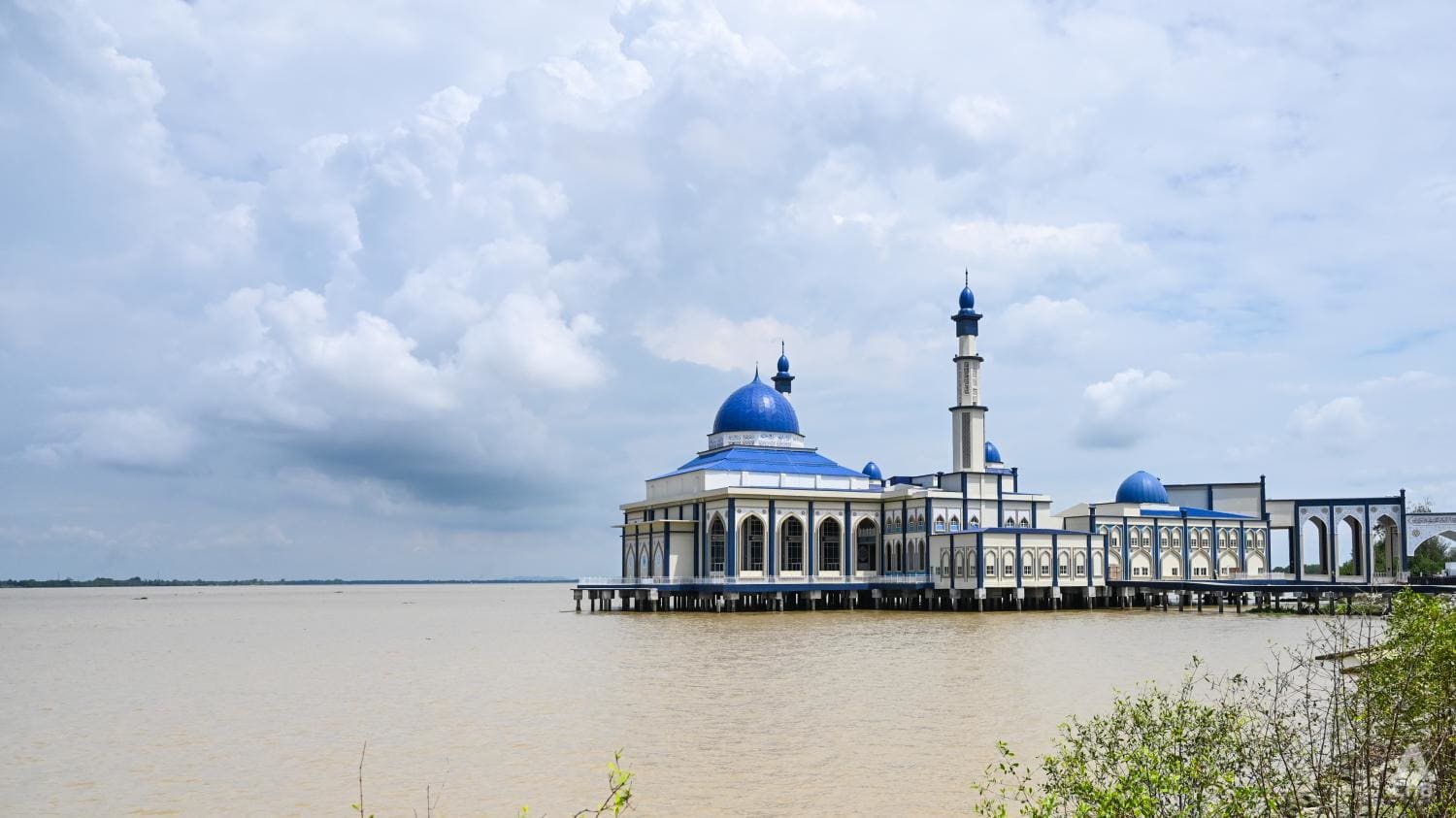 In Bagan Datuk, the various charges against Mr Ahmad Zahid have raised doubt in some voters. One of them is a 34-year-old housewife, Amilawani Ngazman. 
She said the UMNO president has helped people in the constituency and promoted several development projects in remote areas. However, the serious allegations against him have affected voter sentiments.
"I will take that into consideration because this involves the country. It has affected the hearts of the people, slightly," she told CNA.
Corruption is an important issue for her, she added, "because it can undermine the country".
Still, Ms Amilawani gave Mr Ahmad Zahid the benefit of the doubt. As the trial has yet to conclude, she said does not know for sure if all the allegations against him are true.
"If the accusations are just slander, we can accept it. But if they're true, we can't."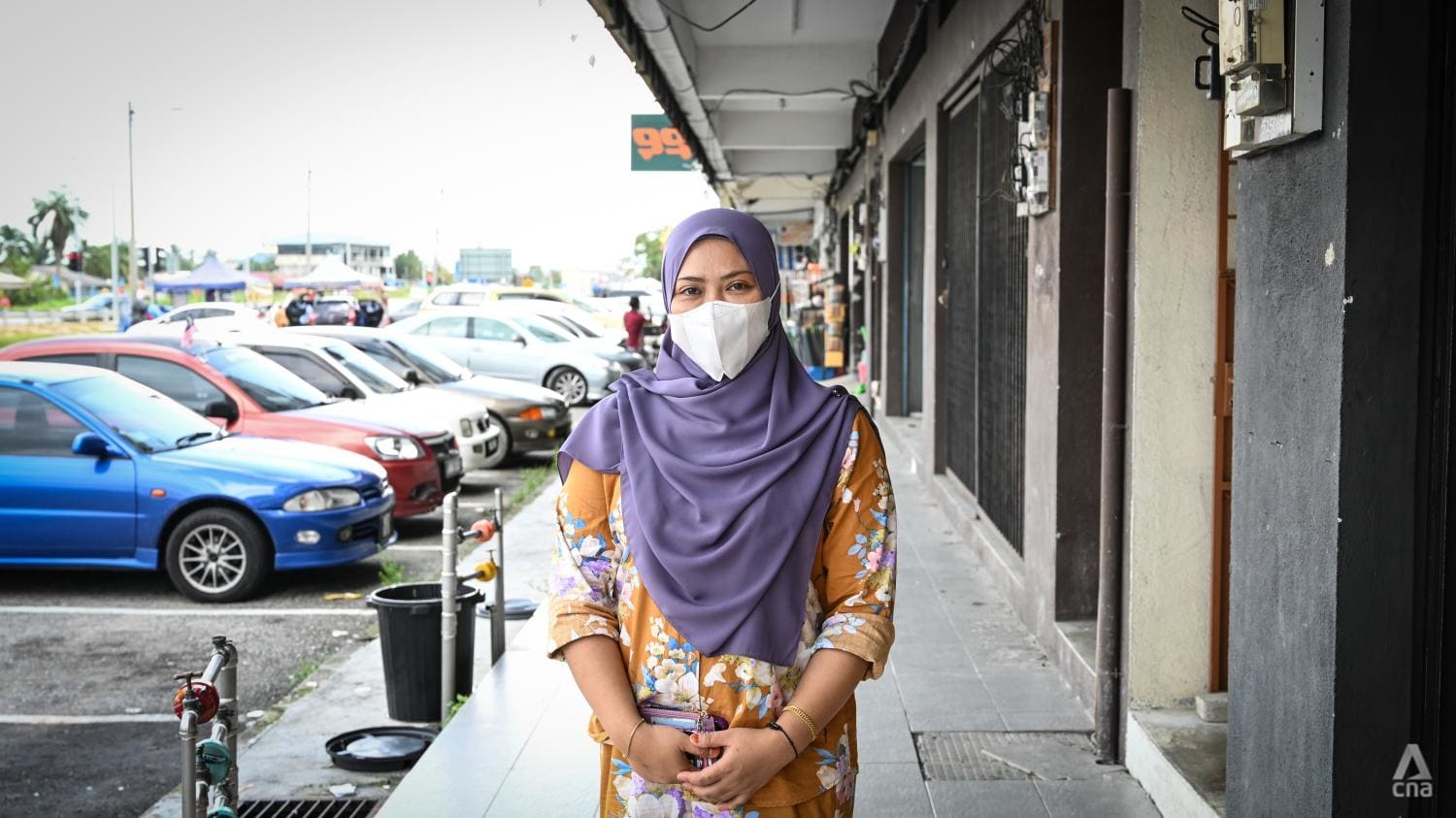 AHMAD ZAHID REMINDS VOTERS OF DEVELOPMENT EFFORTS
On Tuesday, Mr Ahmad Zahid held a campaign event in Bagan Datuk and reminded voters of what he has done for the constituency.
"What was this place before I became deputy prime minister? Bagan Datuk was the end of the cape. We'd make a U-turn when we reached Bagan Datuk, no more roads ahead in those days," he recounted.
"But when I was deputy prime minister, Bagan Datuk was no longer the end of the cape."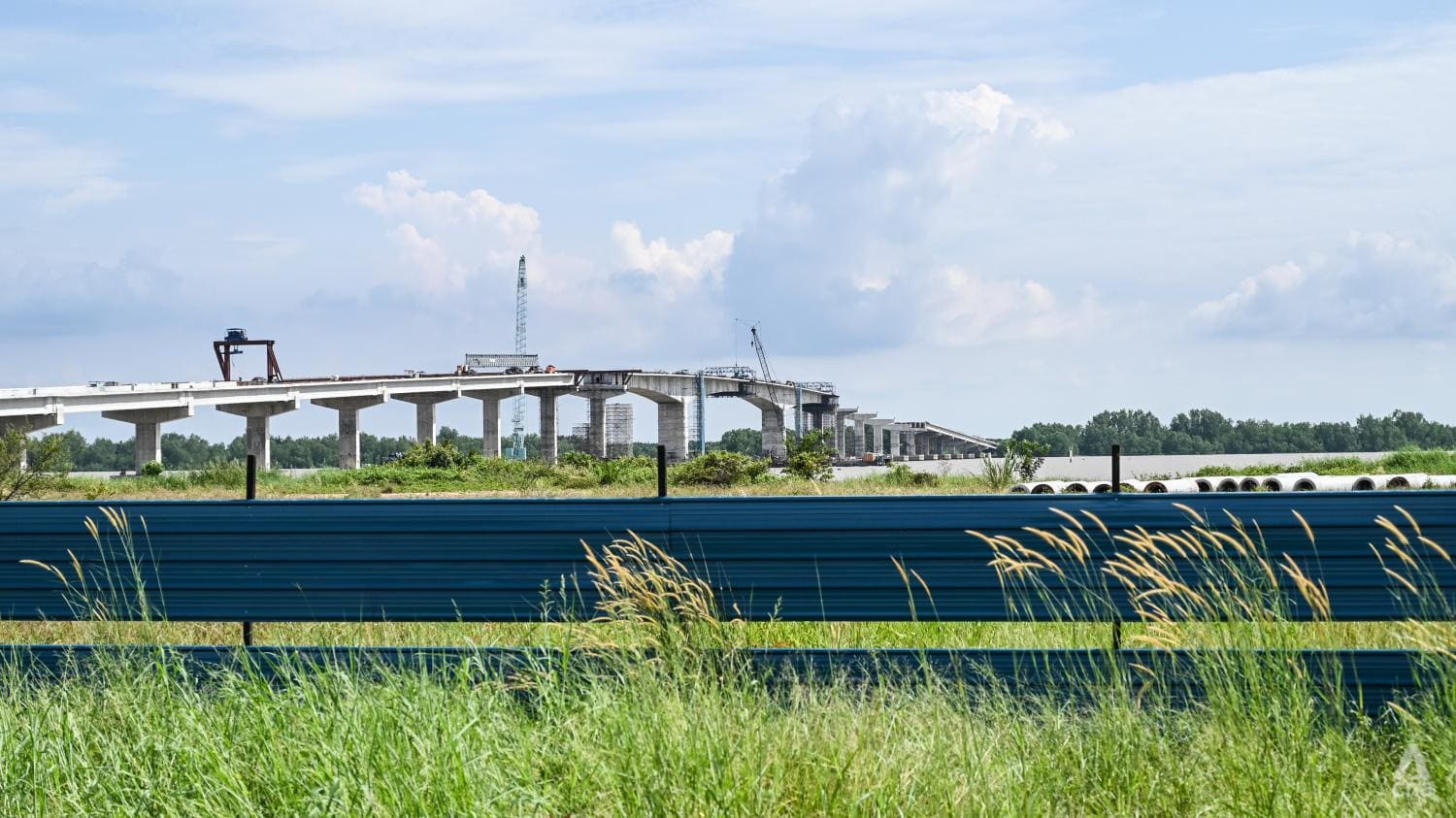 Meanwhile, Mr Shamsul Iskandar of PH said in a video posted on his Facebook page on Thursday that he will set up a municipal council in Bagan Datuk to facilitate administrative affairs if he is elected. 
"In terms of infrastructure, we will upgrade roads, ensure street lights are installed regularly and the drainage system is maintained properly. 
"For the Internet network, we want to upgrade the telecommunications infrastructure, to further increase the Internet speed for the convenience of Bagan Datuk citizens, especially for the youths," he said. 
For some voters, however, the upcoming election is more than just about their constituency and what its representative could bring to the local area.
Saravanan Chokkalingam, 56, told CNA he wants the new government to address the high cost of living, help the poor and "do something which is good for the sake of Malaysians".
"We're still suffering. This is not what we want. We only want a good life for our children," he said.
He said that he has yet to decide which party to vote for. '"When it's time to cast my vote, then I'll think about it."